Essentials oils are great for many reasons, first, you can use essential oils for many reasons, including health, physical, mental, and emotional.  There are many ways you can use essential oils like infuse with other oils, for bathe, inhale by adding in water, and so on. No surprise, it has a huge market and many companies are marketing it including doTERRA.  doTerra has quality essential oils, at the same time it has a business opportunity.  But can you make money selling doTerra essential oils, let's find out in this doTerra MLM Review.
What is doTerra MLM?
doTerra was founded in 2008 by David Stirling, Gregory Cook, Robert Young, Mark Wolfert, David Hill & Emily Wright.  It is headquartered in Utah and the core products doTerra sell are Essential Oils, Personal core products, and supplements through MLM.
Three of the co-founders of doTerra was sued Young living, for stealing trade secrets of the business as they were working for Young Living, before joining doTerra.  The issue was resolved in 2014.
doTerra continued to grow over the years and as of 2017, doTerra has over 3M wellness advocates and running its business over 100+ countries.
Are doTerra Products Worth Their Price?
doTerra products especially essential oils are quite expensive compared to their counterparts.  doTerra essential oils almost double the price of any essential oil available in the market.
If you think doTerra oils must be very good and quality products just because they are expensive, then you are wrong.  Even though doTerra essential oils are expensive, customers are not satisfied with the results and you will find many complaints about their quality.
This is the complaint about Balance Essential Grounding oil by doTerra, which claim that it can bring peace and balance in mind and body.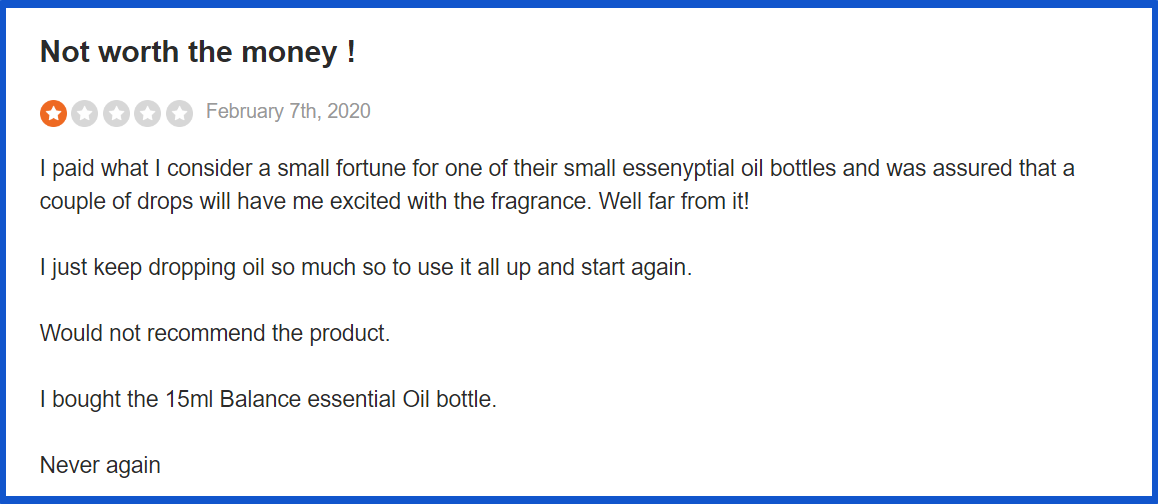 So, definitely doTerra products are not worth their price, they are priced exorbitantly.  You will find much better products with a reasonable price tag.
The doTerra MLM Opportunity
doTerra offers an opportunity to make money by selling their products as well as by building a network of people who joined under you.
The major difference between doTerra and other MLM companies is that you do not require to be sponsored by a wellness advocate.  You can directly enroll for doTerra through its website. You need to pay the membership and buy a starter kit.  There are many starter kits and you can choose any of them.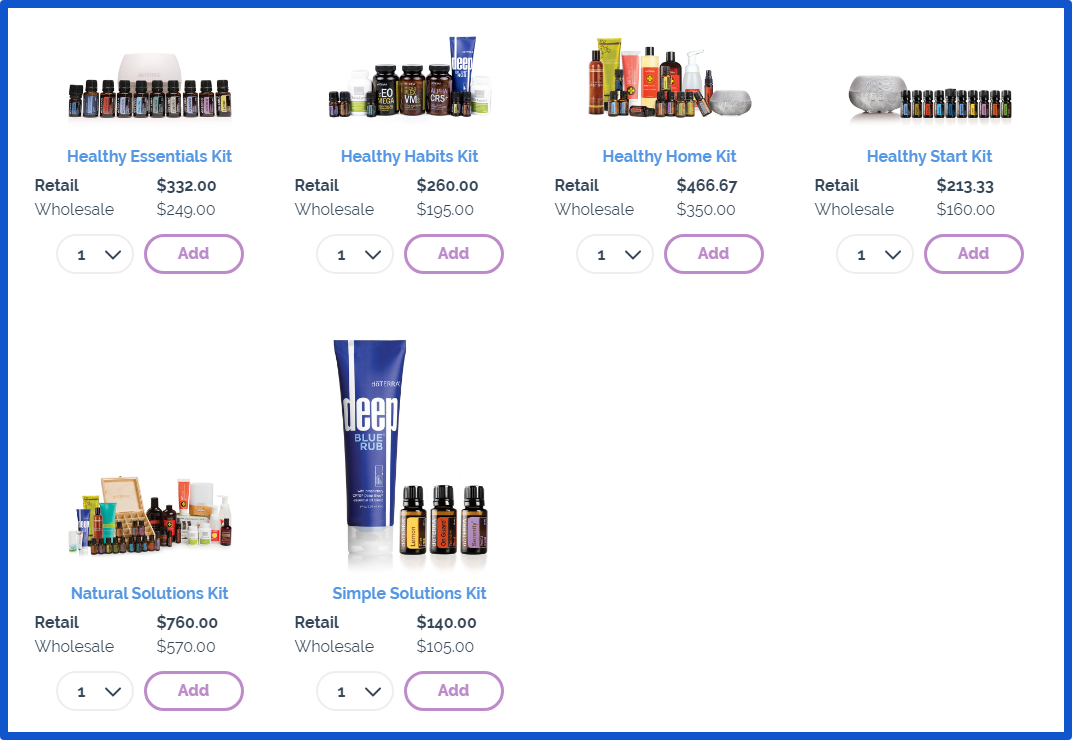 How Much Does It Cost to Join doTerra?
To join deTerra, you need to pay $35 as a membership fee, which is non-refundable.  To start with deTerra, its' compulsory to buy any of the starter kits.  If you notice in the above screenshot, the cheapest starter kit is Simple Solutions Kit, which costs $140 at a retail price and $105 at a wholesale price.
You also need to renew your membership after every 12 months to receive the benefits and commissions, if you are a wellness advocate or signed in for a wholesale membership.
So, if you want to sell the doTerra products and earn a commission, you need to sign in as a wellness advocate.  If you sign in for a wholesale membership, you will get the discount, but then you are not allowed to sell the products to others, as per doTerra's terms and conditions.
In short, you need to pay $175 upfront to start with doTerra.  Once you sign in as a wellness advocate, you can buy products at a 25% discounted price.
You also become eligible for  other benefits like:
Loyalty rewards
Shipping rewards
Free product of the month
Though it sounds good, unfortunately, customers and wellness advocates themselves are not happy with de Torra and many of them left because of their strange conditions.  You have to buy a certain number of products to be eligible for each of these benefits.
Isn't it strange, that you need to buy these benefits from deTerra, instead you getting it as a gift or reward?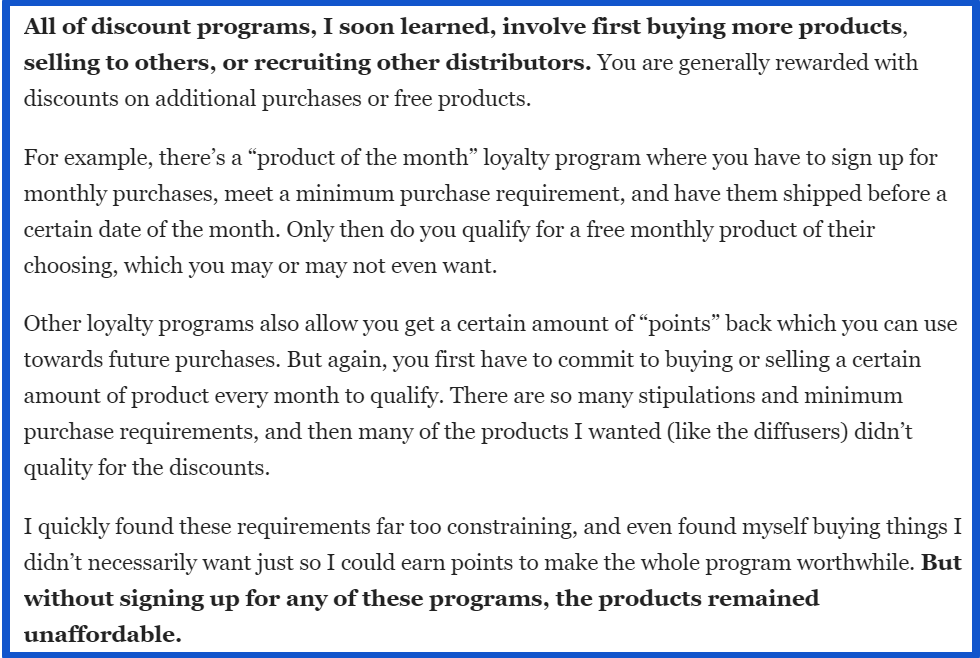 Can You Make Money with doTerra?
As a doTerra wellness advocate, you can make 25% on the products you buy or sell, apart from it you can also earn a certain % commission on the sales made by the referral in your network.
As you recruit more people and sell more products, you and your team earn greater positions in doTerra.
If you have a good network and have many people in your group, whom you can sell doTerra products, you can earn a good income.
But the tough part is to maintain a steady income with this business model, to make the situation worse all the products are available on e-commerce stores such as Amazon.  When people can buy deTerra products online, why would one buy from a wellness advocate?
Secondly, since it's an MLM opportunity, most of your success depends upon your marketing skills.  If your team members are active, you can earn a good amount of money, but if they are not active your earning potential is limited.
Pros:
deTerra Brand:
deTerra is around since 2008 and has created a brand.  No doubt, deTerra has some good products and essential oils which people like.
Not Required to Sponsor:
Unlike many other MLM companies, deTerra does not require you to sign in through a wellness advocate.  you can join directly through the deTerra website.
Good Product Discounts:
deTerra offers a direct 25% discount once you become a wellness advocate or a wholesale customer, so huge savings here.  You and your team also get some bonuses, according to your sales percentage.
Cons:
Many Complaints:
deTerra has many negative reviews across the internet including BBB.  You will find many complaints ranging from faulty products, wrong credit card charges, added unwanted products at check out and so on.
Demotion!:
Once you join deTerra, you also need to recruit other people under your belt.  If you don't recruit another member till the time of account renewal, you will be demoted to the wholesale customer and no longer you will be a doTerra wellness advocate.
Product Misrepresentation:
In 2014, doTerra Advocates have come under fire for misrepresenting products as possible cures for cancer and other conditions. Even after an FDA (Food and Drug Administration) warning, some Wellness Advocates continued to claim that products could be beneficial in the treatment of the flu and autism. Some even used testimonials as proof despite the fact that there was no scientific evidence to support them.
Is deTerra a Scam?
deTerra is an MLM company and established itself as a legit and quality brand over the years.  It is definitely not a Scam.  But the MLM module is such that, unless you make a sale you are not going to earn a dime.
Most of your success is dependent on your team members, who joined under you.  Unless they are active and making sales, your earning potential is limited.
It is a proven fact that it's very hard to earn with MLM, only a few at the top strata earns a substantial income.
Other MLM Reviews:
Recommended Read:
Why multilevel marketing won't make you rich
3 Mind-Blowing Statistics About MLMS
Conclusion:
deTerra is an MLM company and it runs like any other MLM module, but the one good thing about deTerra is offering a good 25% commission.  You need to further investigate about MLM module if you really want to join one.
It has many hidden costs like shipping charges.  You need to pay all the shipping charges yourself, that may eat up any commission that you make.
If you want to make your own money by selling products, start your own business by checking out my #1 recommendation. You'll get all the tools you need including a website, hosting, training, and 24/7 support.