Oriflame is one of the trusted brands in skincare products and was established in 1967 by Jonas and Robert of Jachnick and Bengt Hellsten.  Oriflame has more than 1000 products and a network in more than 60 countries with 3 Million Oriflame Beauty consultants.  Oriflame products are of high quality and reasonably priced.  Oriflame offers a 20% commission on the orders, so really not bad.  But can you make money selling skincare products, let's find out in this Oriflame MLM Review.
What is Oriflame MLM?
Oriflame is an MLM company that sells varied products ranging from skincare, haircare, and body care.  It was established by Jonas, Robert and Bengt Hellsten in 1967.  Oriflame has more than 1000 beauty products and headquarters in Switzerland.
Oriflame products are marketed through direct marketing and one of the USP of Oriflame products is its usage of only natural ingredients.  It does not have any endangered sources.
Are Oriflame Products Worth Their Price?
As I mentioned above Oriflame products are quality products and over the years, they never have compromised on the quality front.  Oriflame products though not organic, but consist only natural ingredients.  One of the major reasons for its popularity is its reasonable pricing of the products.  If you check the Oriflame website, you will see the pricing is very moderate.

So the combination of quality products and good pricing instantly made Oriflame a household name. And if you check the reviews on Amazon or any other e-commerce site, Oriflame products are receiving good reviews & ratings.
It is important to have good ratings on the Internet to become successful nowadays.  Not to forget that around 80% of people read internet reviews before buying any product. So it is easier to sell these products to your friends and make money.
The Oriflame MLM Opportunity
Oriflame offers an opportunity to make money by selling their products as well as by building a network of people who joined under you.
Oriflame has products for every age and group, and by selling these products you can earn up to 20% commission.  You can also earn on the sales made by your referrals or the people in your network.
You just need to pass the catalog in your group, family, and friends and wait for orders.
So it can be a good business opportunity for you.
How Much Does It Cost to Join Oriflame?
Joining Oriflame is completely free, but it is recommended to buy a starter kit that will cost you around $20.
You can recover this investment very easily while promoting Oriflame products.  You need to buy Oriflame catalogs every month, to circulate in your circle.
Your contract with Oriflame needs to be renewed every year.
Can You Make Money with Oriflame?
As an Oriflame consultant, you can make 20% on the products you buy or sell, apart from it you can also earn 13.5% commission on the sales made by the referral in your network.
As you recruit more people and sell more products, you and your team earn gifts from Oriflame.  You have also the possibility to move up the ladder of group manager, district manager or regional manager.
If you have a good network and have many people in your group, whom you can sell beauty products, you can earn a good income.
But the tough part is to maintain a steady income with this business model, to make the situation worse Oriflame makes it more difficult by restricting its promotion on social media.  You can promote Oriflame on social media but Oriflame has led down pretty tough guidelines, which makes it difficult to promote it on social media. Check out Oriflame Social Guidelines Here.
Secondly, since it's an MLM opportunity, most of your success depends upon your marketing skills.  If your team members are active, you can earn a good amount of money, but if they are not active your earning potential is limited.
Since it is very easy and cost-effective to join Oriflame, there is n number of consultants and you may find it really difficult to sell products.  Many new members may drop out of the network if they do not make consistent sales.
Oriflame products are easily available on e-commerce sites and you will get Oriflame products at much cheaper rates than its official website.  That makes the condition worse.
Let's take the example of Milk & Honey Gold Nourishing Hand & Body Cream 250gm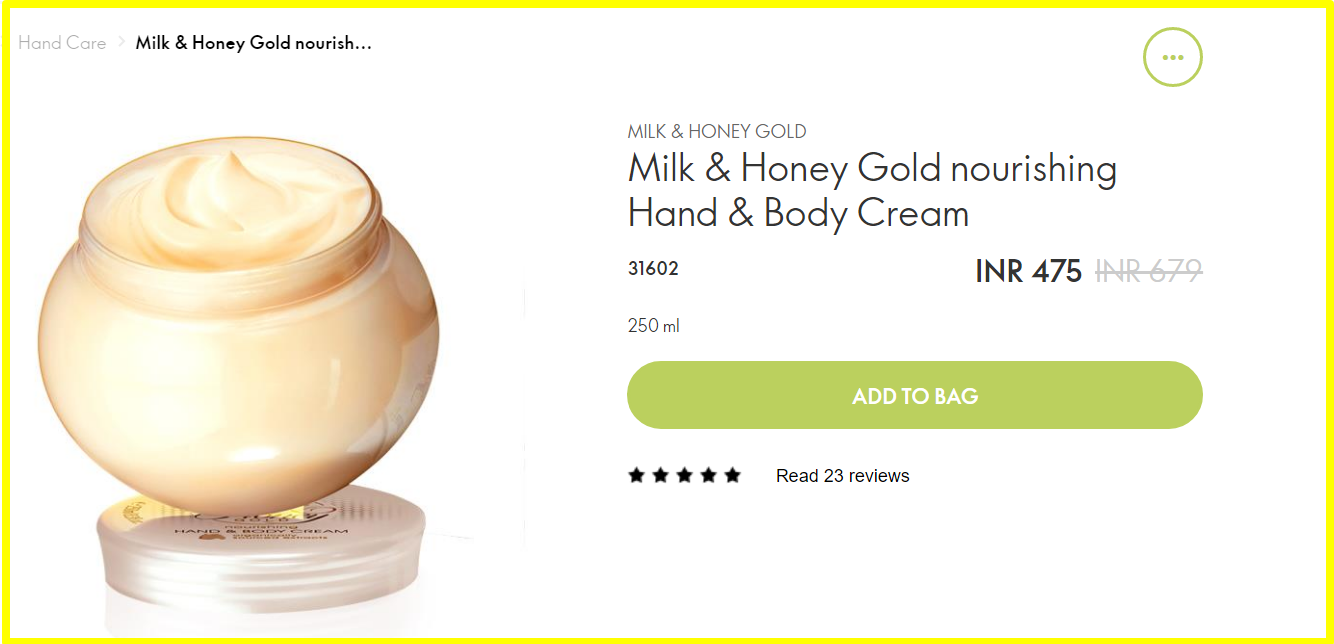 It is available for Rs.475 on Oriflame website, but if you check on Amazon and Flipkart, you will get it much cheaper.  Amazon also offers a 50% discount on some of its products.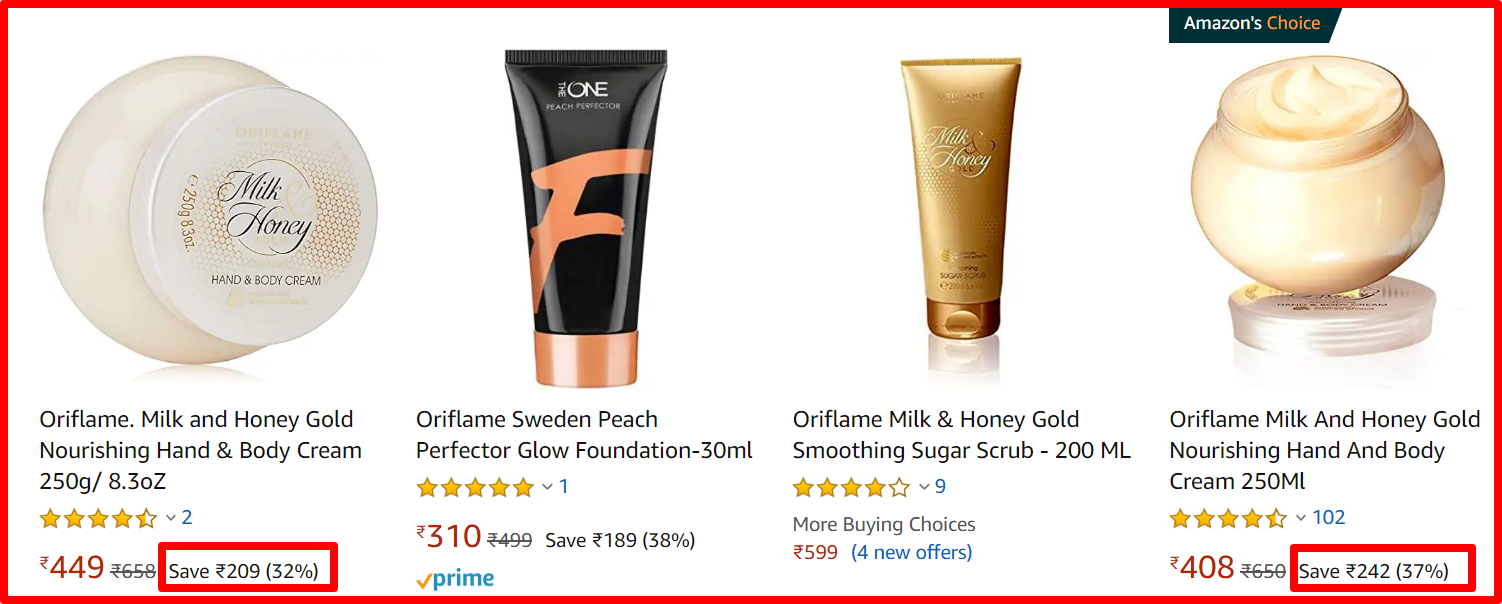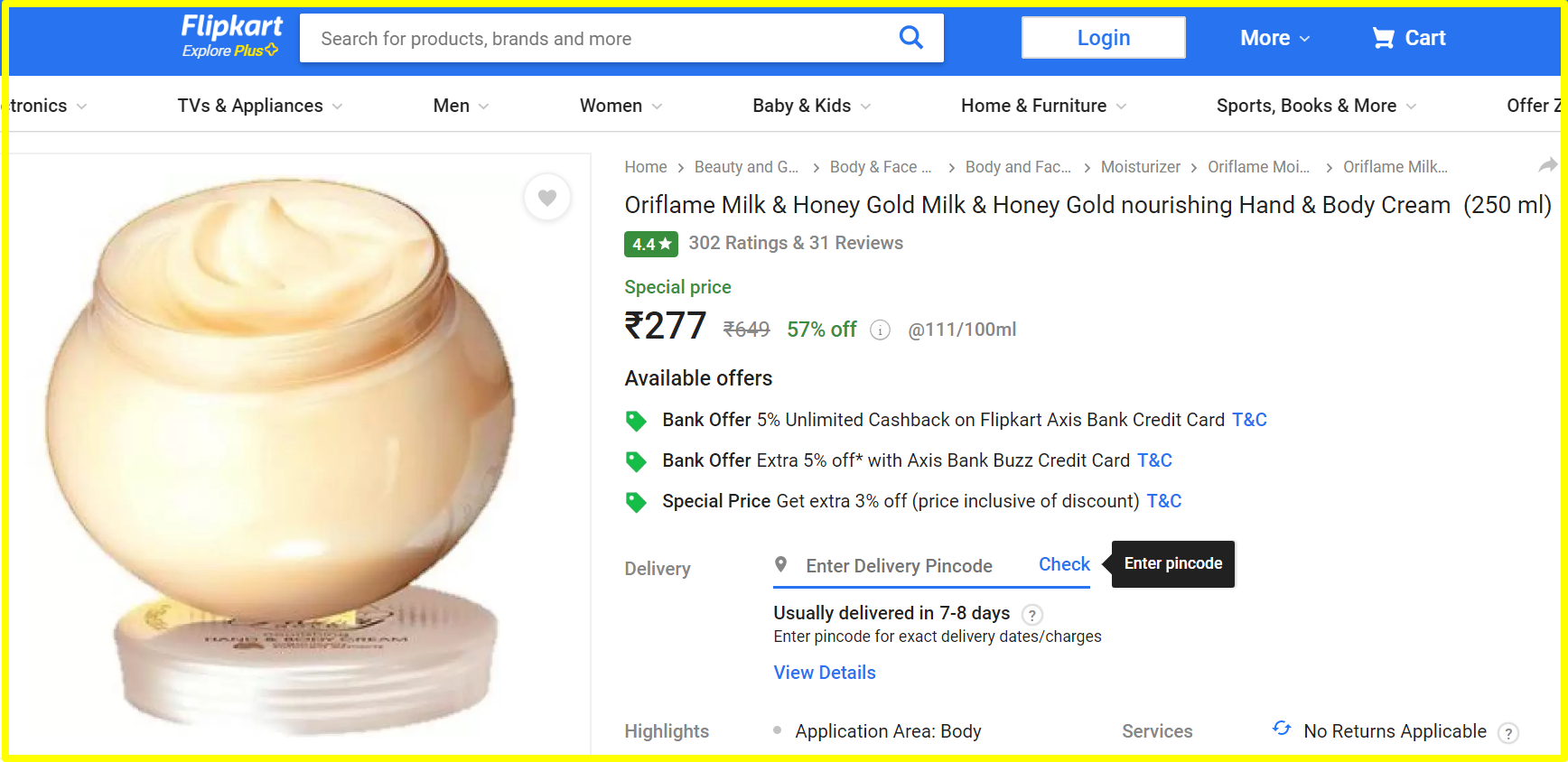 You can see that Flipkart is offering 57% off and Amazon 32-37% off on the product.  So why one will buy from an Oriflame consultant who may or may not offer even a 20% discount?
p.s: In India, Highcourt overturns order restraining Amazon from enabling the sale of Oriflame & Amway. Read Here
Pros:
No Inventory:
Unlike many MLM, you do not have to main inventory, orders are shipped either directly to the customer or back to the Consultant for distribution.
No Sign-Up Fee:
There is no signup fee for Oriflame and the starter kit is available for very reasonable rates.
Good Product Discounts:
Oriflame offers a direct 20% discount once you become the consultant, so huge savings here.  You and your team also get monthly gifts, according to your sales percentage.
VIP Customer:
Oriflame offers VIP Customer service if you do not want to become a consultant.  Becoming a VIP customer you get a lot of discounts on the whole range of Oriflame products.  Also, you can always upgrade and become an Oriflame consultant.
Cons:
Not Available in the US:
You cannot become an Oriflame consultant if you live in the US, but you can buy products through their US/UK catalog.
Animal Testing:
Oriflame does perform animal testing for their products, so if that's important to you or your potential clients, you may want to avoid this one.
Natural But Not Organic:
Oriflame products are high-quality products, they use natural ingredients but it is important to remember that it's not organic.
Is Oriflame a Scam?
Oriflame is an MLM company and established itself as a legit and quality brand over the years.  It is definitely not a Scam.  But the MLM module is such that, unless you make a sale you are not going to earn a dime.
Most of your success is dependent on your team members, who joined under you.  Unless they are active and making sales, your earning potential is limited.
It is a proven fact that it's very hard to earn with MLM, only a few at the top strata earns a substantial income.
Recommended Read: Why multilevel marketing won't make you rich
3 Mind-Blowing Statistics About MLMS
Other MLM Reviews: Tupperware MLM Review
Conclusion:
Oriflame is an MLM company and it runs like any other MLM module, though the good thing is Oriflame is offering a good 20% commission.  Still, you need to further investigate about MLM module and if you really want to join one.
It has many hidden costs like shipping charges.  You need to pay all the shipping charges for yourself, that may eat up any commission that you make.
If you want to make your own money by selling products, start your own business by checking out my #1 recommendation. You'll get all the tools you need including a website, hosting, training, and 24/7 support.