Welcome to My Review of World Ventures!
Do you want to earn money from World Ventures? or do you searching if World Ventures is a scam or a legit opportunity to earn money?
First of all, I want to congratulate you for doing your own due diligence and for sure, is the Best Way To Avoid Scams Online and save your hard-earned money.
Let me help you to find out the truth about World Ventures and guide you in the right direction to make money online.
Also, let me be completely transparent with you, I am not associate with World Ventures in any form.  So rest assured I'm not here to pitch or sell anything to you!
World Ventures Review
Company Name: World Ventures
Website URL: World Ventures.com
Owner: Wayne Nugent
Launched in: 2005
Revenue: $926 million (2016)
Industry: Travel, Multi-Level Marketing
Recommended: NO
What Is World Ventures All About?
World ventures established by Wayne Nugent and Mike Azcul in 2005, two multi-millionaires in the Internet marketing who believed that they can build Mary Kay of Travel.
Their dream come true when their opponent and MLM behemoth YTB International, went through a series of investigation and lawsuit, resulting in the bankruptcy of the company after they were found operating Pyramid and engaging in deceptive marketing.
This opens the door for World Ventures and today the company grows from $15 million to $377 million and 194,110 salespeople.
But as we have seen in most cases the success of Multi-Level companies are short-lived due to excessively high turnover.
In 2014, The World Ventures was forced to close its operations in Nigeria, after sued by the Nigerian government and designated it as a Pyramid scheme.
In 2016, the former top earners of the company itself filed a lawsuit against it, alleging the company has terminated their contracts in order to funnel their commission to the executive team, as a result of all these disputes Mike Azcue has to step down and today Josh Paine serves as WorldVentures' CEO.
World Ventures Products:
World Ventures primarily markets Dream Trips Memberships, Primarily through Rovia Travels.  Dream Tips Memberships offers Travel and Travel Services discounts.
World Ventures has a close connection with Rovia Travels as it owns the Rovia Travels.
WorldVentures' splits their DreamTrips memberships into three tiers.
DreamTrips Gold membership costs $143 and then $56.99 a month.
DreamTrips Gold provides basic access to WorldVentures' travel booking engine.
DreamTrips Platinum membership costs $1200 and then $99.99 a month.
In short, World Ventures offers great deals on hotels, activities and day trips, cruises and car rentals through its website.  But by just being its member does not give you free vacations.
So if you are a frequent traveler, you should consider its membership but if you travel only once or twice a year you may not find the value.  Say if you choose Platinum membership you pay $99.99, total $1200 per year, most of the products, services, and facilities you never use.
The main difference between Gold and Platinum membership is you get additional benefits like 7-day advance booking, access to exclusive DreamTrip experiences as well as upgrades such as resort credits, lift tickets, etc.  You also get to use 50% more of your Trip points.
Also, you get cash awards for referring members to Gold, Platinum and titanium membership of each $20, $50 and $100.
You also earn Points for referring to Gold, Platinum, and Titanium memberships, 100, 200 for Platinum and 300 for titanium membership.
You can watch the full video: WorldVentures Compensation Plan 2019
You can also enroll 4 members, gold, Platinum or Titanium, and can wave off your monthly subscription.
I've spent some time digging through all the layers to get into the heart of the system and discover if it's just another scam or there is a possibility that this system works, but I found many Red Flags of World Ventures.
Let's Discuss Red Flags of World Ventures
The success rate in MLM companies are very low, and 80% of affiliates do not make any commission.
So do you think it's a viable option to earn a passive income online?  Other than this you need to invest heavily in their plans unless you are not able to achieve any commission.
In majority of the cases, it is the higher tire which earns most of the commission.
Pyramid Schemes are not legal in most of the countries.  Every country has different legal constraints and rules regarding Pyramid Schemes.  Most of the countries do not allow Pyramid Schemes.  So it is important to check your country's legal rules and regulations before joining it.
Poor Rating on BBB
Another aspect which you must pay attention before joining MLM is customer satisfaction.  But World Ventures has alarming number of complaints on BBB.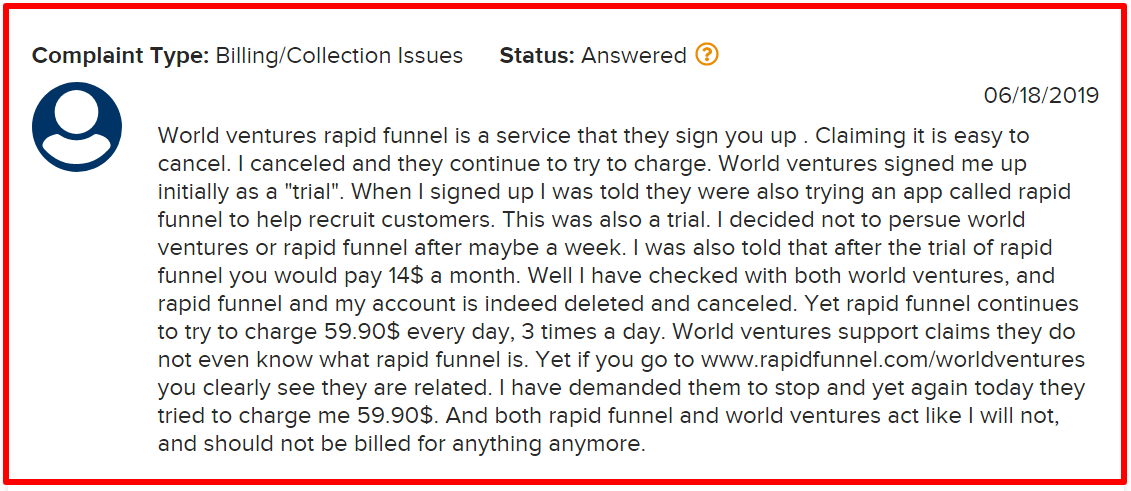 check for more Complaints on BBB Here.
World Venture has a poor rating on BBB with C+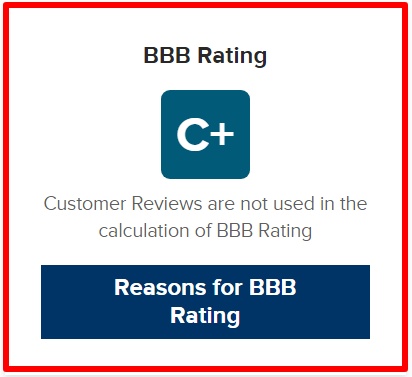 Is World Ventures A Scam?
World Ventures is in the market from 2015 and has a large number of following and presence on the Internet.
I would not say it is a SCAM, but definitely I would not recommend World Ventures to anyone.
First of all it has a growing number of complaints with some major issues on BBB, which you must not neglect.
It requires you to invest heavily, with very low to no guarantee of return because the nature of MLM schemes.  I think it's very risky to invest in pyramid schemes.
In most of the countries pyramid schemes are not allowed, so check before you invest in these schemes.
MOBE a multimillionaire company was banned by FTC, on the ground of being pyramid scheme, so one can expect that all these multimillionaire companies are on the radar of FTC.
Rather than wasting your time on another system that does not deliver, why not take a look at My # 1 Recommendation below.

.
It is the platform where I am working for the last few years and learned about online marketing.  But if you want to earn legitimate money, you need to commit to this program.
Legitimate Opportunities Requires Legitimate Effort
Making Money Online is much like any other business, which requires hard work, Patience, and Persistence.
The people who fail online is because of their wrong mindset.  People who do not want to work hard, or they want to put in little or no effort to get the results.
The business module which I highly recommend is not a get rich scheme.  You need to work hard and work hard consistently.  This is the method which has succeeded in the past and will be successful in the future years also.  It is a time-proven method.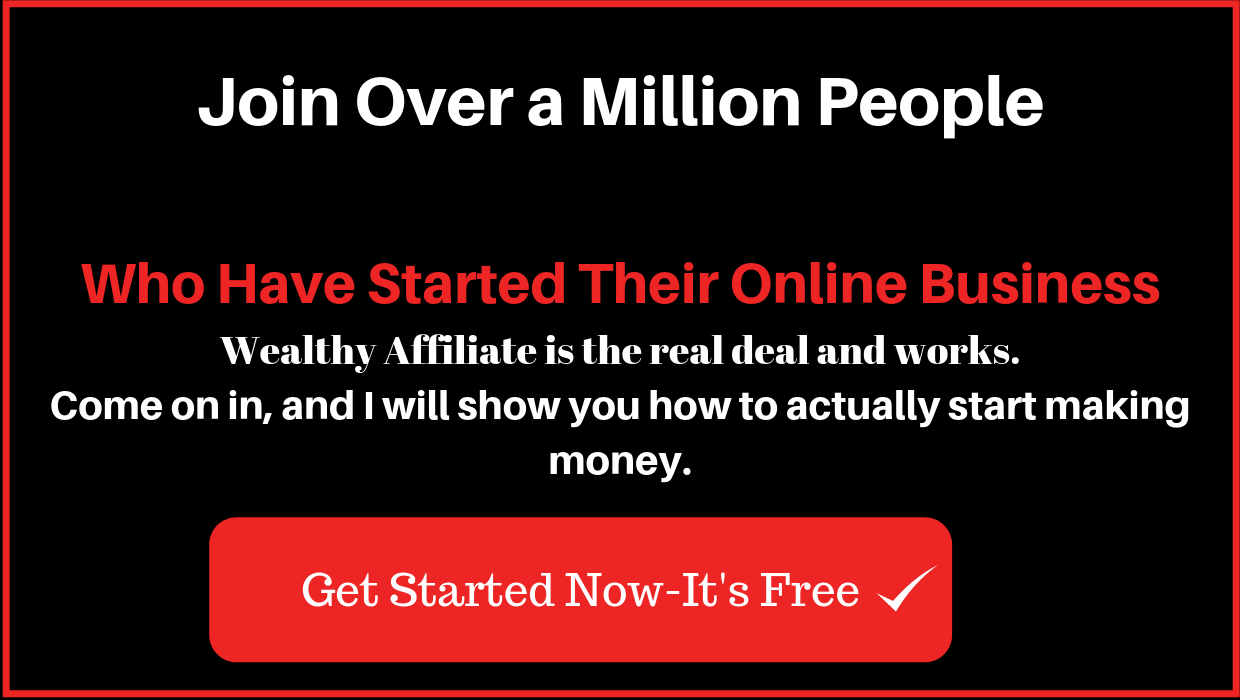 Why I am so sure about this program?
I like to recommend my readers those programs/ products which will add value to their life, and I am sure you will thank me for introducing this program to you!
It is Free to Join
The most important thing that it is free to join, you do not need to pay a single dime while joining.  And I would also like you to go through the Starter Membership, see whether this program is for you.  Take full advantage of Starter Membership and if it suits you, Go Premium!
The Support is amazing
When you are building an online business, sometimes it becomes lonely.  You need encouragement and support from others.  this platform has an inbuilt support system in the form of an amazing community of more than 1.5+ members.  Live chat, PM, Blog are some of the ways to communicate and get support from the community.
Beginner Friendly
When I joined this platform I was totally unaware of the technical stuff and had very little to no experience working online.  But the platform is for anyone who wants to build an online business.
One-Stop Destination for becoming Successful Online
Most of the tools and training which one need to be successful is available on the platform, so you do not need to go elsewhere for any further additional services.  You can easily Build and prosper your online business Under ONe Roof.
Legitimacy
The platform teaches you the most popular earning method of online marketing i.e. affiliate marketing.
Affiliate Marketing is a very legit and sure way of earning money online, but the success depends on you.  The success is proportionately related to the hard work you put in your work.
Lastly, I have personally been with the platform
I personally working on this platform for the last few years, and am really lucky to find this platform.  It is one of the most advanced platforms online and most importantly, the environment within the community is very helping, caring and encouraging!
Since it is free to join, I highly recommend you to check out this program.

I hope the Review of World Venture has helped you to make an informed decision.
Don't hesitate to share it with whoever you believe that will benefit from it!
If there's something else you want to know or you have any questions, please feel free to leave a comment below and I'll get back to you ASAP! ?
Whatever you do next, I wish you nothing but the best 🙂
Jivita