Introduction of Emotional Intelligence 2.0
Emotional Intelligence 2.o is the new version of The Emotional Intelligence Quick Book.  Emotional Intelligence 2.0 was published on 2nd July 2009.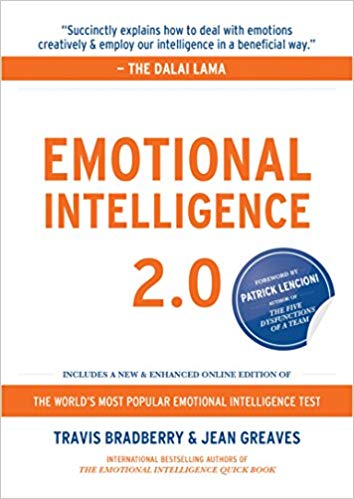 Emotional Intelligence 2.0 is a must-read book for many reasons.  It is a general concept that Intelligence Quotient (IQ) is more important to achieve success in any field.
But Treve Bradberry and Jean Greaves, in this book explained the importance of Emotional Quotient(EQ) is more important to achieve success.  They have also provided stats to prove their findings.
According to Wikipedia– "Emotional intelligence (EI), emotional leadership (EL), emotional quotient (EQ) and emotional intelligence quotient (EIQ), is the capability of individuals to recognize their own emotions and those of others, discern between different feelings and label them appropriately, use emotional information to guide thinking and behavior, and manage and/or adjust emotions to adapt to environments or achieve one's goal(s)"
The term Emotional Intelligence first appeared in the 1964 paper by Michael Beldoch.  Thereafter, it continued to be criticized by the scientific community.  But lately, with the latest research, it is very clear that Emotional Intelligence(EI) has a specific role important than IQ, in every aspect of our life.
Travis & Jean has beautifully described emotional intelligence in a very simple language in this book.  They have divided Emotional Intelligence into four segments, which makes easy to understand the core of this subject.
What is Emotional Intelligence and Does it affect our Professional life?
Emotional Intelligence is the #1 medium for professional success and personal excellence.  Emotional Intelligence is the main component which can help us to exceed our goals and achieving our fullest potential.
EQ is so important to success that it accounts for 58 percent of performance in all types of jobs.
The link between EQ and earnings is so direct that every point increases in EQ adds $1,300 to an annual salary. Naturally, people with high EQs make more money – an average of $29,000 more per year than people with low EQs.
Sp, What are the skills of Emotional Quotient?
Decision Making
Time Management
Change Tolerance
Assertiveness
Empathy
Stress Tolerance
Presentation Skills
Social skills
Customer service
Anger Management
Accountability
Flexibility
Trust
We need to check ourselves on the above points and should take effort to grow these skills.  A little effort grows a lot.
Further, Emotional Intelligence is divided into Personal Competence & Social Competence
Personal Competence – Self Awareness & Self Management
Social Competence – Social Awareness & Relationship Management.
Self Awareness:
Self Awareness is your ability to accurately perceive your own emotions at the moment and understand your tendencies across situations.
Self-awareness includes staying on top of your typical reactions to a specific event, challenges, and people.
Self Management:
Self-management is what happens when you act or do not act.  It is independent on your self-awareness and in the second major part of personal competence.
This means managing your emotional reactions to situations and people.
Social Awareness:
Social awareness is your ability to accurately pick up on emotions in other people and understand what is really going on with them.
This often means perceiving what other people thinking even if you do not feel the same way.  To be socially aware you have to spot and understand people's emotions while you're right there in the middle of it.
Relationship Management:
Relationship Management is also the bond you build with others over time.  People who manage relationships well are able to see the benefit of connecting with many different people, even those they are not fond of.
The Writer Duo has given ample examples and detailed explanation, and step by step list of attributes of each level.
We need to daily work on these skills and take proper action to improve skills.
The book has been very popular since it is published and has great reviews on the Internet.

Pros and Cons of Emotional Intelligence
Pros
Making EQ, more practical and easy to apply in every aspect of our daily life.
Simple tips and guidance to develop emotional intelligence in all four skills
In the end, an online test for testing Emotional Intelligence.
Daily you can take a trait and work on it.
Cons
Some people find it too basic, but I thin who never heard of EQ, is the perfect book for its simplicity.
I personally found no Cons, as it helps a lot to improve your EQ in an easy and time tested strategies.
Conclusion:
In today's world, when people are busy in the computer, and blackberries, Emotional Intelligence comes very hand to bridge the gap between people, in personal and professional lives.
Emotional Intelligence not only tells you what the problems are but also tells how to solve these problems.  It gives you a thorough review of different problems on each level.
Especially Relationship Management Strategies is quite useful to find out where you go wrong.  Also these remedies you can apply in both your personal and professional life.
All relationships take time, effort and know how.  17 relationship management skills can be learned and applied.
The four skills for emotional intelligence: Self Awareness, Self Management. Social Awareness & Social Management are very easy to understand and apply.
Emotional Intelligence is a must read, and I highly recommend this to enhance your overall emotional bondings with everyone.
Buy Emotional Intelligence 2.0 on Amazon.