Disclosure: This is a sponsored post.
Tired of spending hours editing videos and struggling with complex video production tools? Look no further! In this FlexClip Review, I will try to provide a solution to streamline your video creation process and alleviate the pain of traditional editing methods.
FlexClip is an all-in-one web tool designed for creating videos, movies, and slideshows quickly and effortlessly. With its user-friendly interface and powerful editing tools, FlexClip empowers users to take full control over the video appearance, background music, and more.
Whether you're a beginner or a professional, FlexClip provides the necessary features to enhance your creativity and produce stunning videos. The most exciting aspect of FlexClip is its cutting-edge AI integration, allowing users to create videos within minutes. From scripting to final video production, FlexClip AI handles every step of the process seamlessly. In this FlexClip review, we will explore the inner workings of FlexClip and highlight the platform's user-friendly interface that makes video creation a breeze.
Design and Quality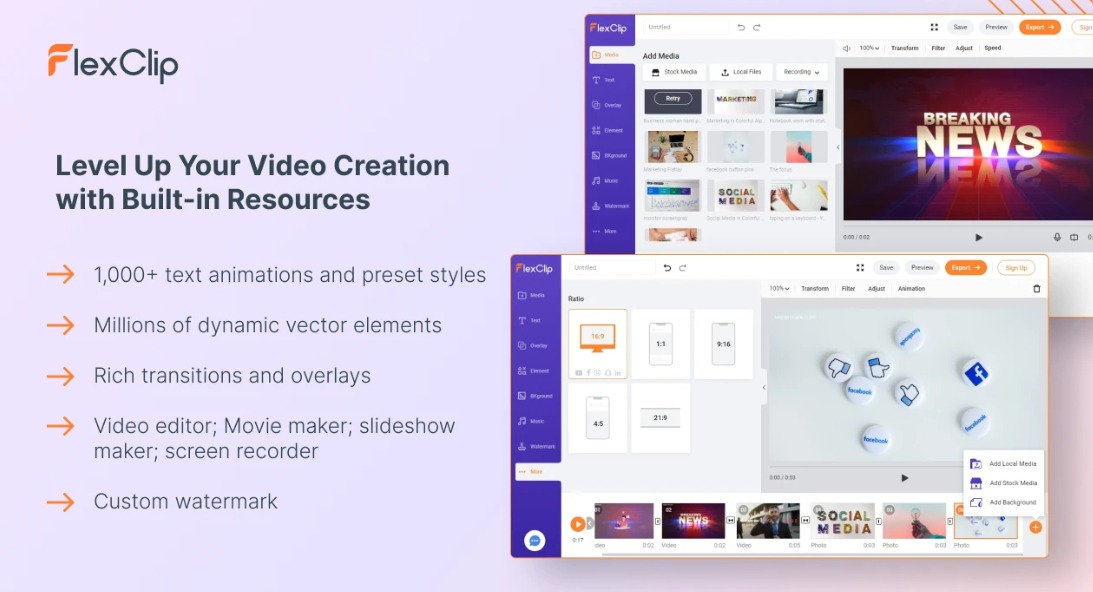 FlexClip boasts an intuitive and clean storyboard layout, making it easy to organize and edit your video clips. It also provides a vast collection of stock images, videos, and music to choose from, allowing you to find the perfect assets for your project, including wedding slideshows, vlogs, real estate promotions, movie trailers, fashion collages, and more. These templates can be used for different purposes such as YouTube intros and outros, podcast intros, social media posts, and promotional videos.
The templates provided are professionally designed and cover a wide range of themes, saving you time and effort in the creative process. Additionally, FlexClip supports various photo and video formats, ensuring compatibility with your existing media files.
Key Features and Functionality
FlexClip goes above and beyond to empower users with a wide range of key features that revolutionize the way videos are created. With its intuitive interface and powerful editing capabilities, this software puts you in complete control of your video production.
One of the standout features of FlexClip is its flexibility in editing options. Whether you need to trim clips, split footage, or add captivating text and animations, FlexClip provides a seamless editing experience. You can effortlessly customize your videos to match your creative vision, making each project unique and personalized.
Additionally, FlexClip understands the importance of high-quality output. With the ability to export videos in 720p HD and 1080p Full-HD resolutions, your final product will have a professional look and feel. Gone are the days of compromising on video quality—FlexClip ensures that your videos are visually stunning, regardless of the platform or audience.
Say goodbye to the limitations of traditional editing tools and embrace the power of FlexClip. Its comprehensive suite of features and impressive export options will elevate your video creation process to new heights, allowing you to unleash your creativity without any technical barriers. Get ready to produce captivating videos that leave a lasting impression.
Benefits for Users
The key features and functionality of FlexClip bring several benefits to users. Firstly, the easy-to-use interface and clean storyboard layout make video editing accessible to beginners and professionals alike.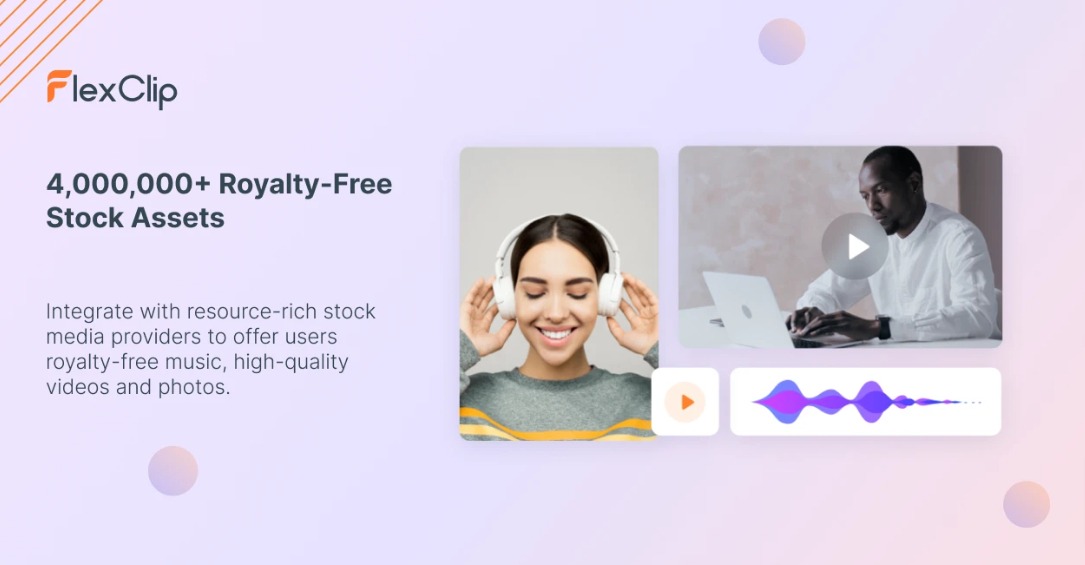 The extensive library of stock images, videos, and music offers a wide range of creative options and saves users the hassle of searching for external resources.
The flexibility in editing features allows for the complete customization of videos, resulting in unique and engaging content.
Furthermore, the high-resolution export options ensure that your videos look crisp and professional.
Watch this YouTube Video to see how to create videos with FlexClip AI
Newest AI Additions
By leveraging the power of artificial intelligence, FlexClip offers users an intuitive and streamlined experience, enabling them to create professional-looking videos with ease.
Whether it's turning text into engaging visuals, generating video scripts effortlessly, or accessing relevant images through AI technology, FlexClip empowers users to bring their creative vision to life in a simple and efficient manner.
My favorite feature is the AI Video Script, which I've used to create video scripts on various topics, including some challenging ones, and it consistently performs its task flawlessly.
Text to Video
The Text to Video feature is a game-changer in the world of video creation, Powered by artificial intelligence, this feature allows users to effortlessly transform written content into captivating videos.
Users can simply input their text, and FlexClip's AI technology analyzes the content to generate appropriate visual scenes and background music that align with the text's tone and meaning.
This innovative tool eliminates the need for manual scene selection, making it incredibly efficient and time-saving for users to create engaging videos from written material.
2. AI Video Script
With the AI Video Script feature, FlexClip 5.0 offers users the ability to generate video scripts with just a single click.
This AI-powered functionality is designed to simplify the process of creating video content. Users can input their desired script, and the AI technology intelligently analyzes the text to generate suitable scenes and background music that complement the script's theme and message.
This eliminates the difficult task of manually searching for appropriate scenes, enabling users to focus on the creative aspects of their videos.
3. AI Image Generator
Finding the right images for video projects can be time-consuming and challenging. However, FlexClip 5.0's AI Image Generator feature revolutionizes this process.
By simply entering keywords relevant to their video content, users can generate a wide variety of visually appealing and contextually relevant images automatically.
This eliminates the need to search for images in external libraries or invest in expensive stock photos. With the AI Image Generator, users can easily access a vast collection of images that perfectly align with their video project, saving both time and effort.
Comparison with Similar Products
When compared to similar products, FlexClip stands out for its user-friendly interface, extensive template library, and flexible editing features.
Other video editing tools may have a steeper learning curve or limited resources, whereas FlexClip offers a seamless editing experience and a vast collection of professionally designed templates.
The ability to customize videos with text, animations, and music sets FlexClip apart from other tools that may lack such features.
Pros and Cons
Like any product, FlexClip has its strengths and weaknesses. Let's take a closer look at the pros and cons:
Pros:
Intuitive and easy-to-use interface
Extensive library of stock images, videos, and music
Flexible editing features for customization
High-resolution export options
Professional-looking templates for various themes
Clean storyboard layout for efficient organization
Compatibility with different photo and video formats
Cons:
Occasional lags and performance issues reported by some users
Subtitle features could offer more customization options
Team feature limitations in lifetime plans
User Experiences and Testimonials
Users have shared their genuine experiences and testimonials about FlexClip online. You will find good reviews for FlexClip all across the internet including Appsumo.
One user expressed being highly impressed with the program's intuitive interface and praised the customer support for their responsiveness.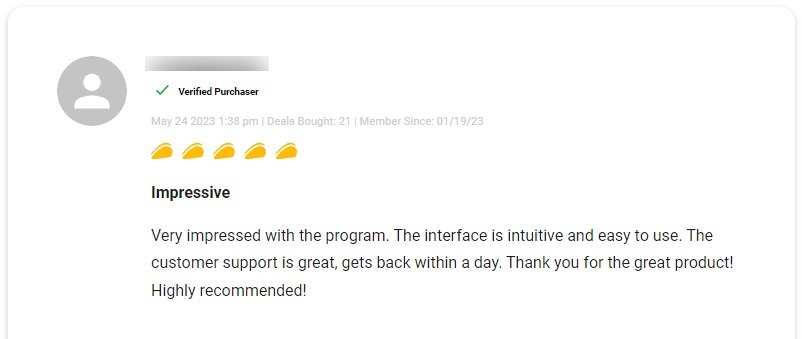 Another user labeled FlexClip as the best video software they have ever used, emphasizing their recommendation.
While some users reported issues with screen recording and video quality, the overall consensus leans towards positive experiences and satisfaction with the product.
Recommended Read:
How To Use Videos To Increase Sales
Tips and Tricks for Getting the Most Out of FlexClip
To maximize your experience with FlexClip, here are some tips and tricks
Explore the Template Library: FlexClip offers a wide range of professionally designed templates for various themes and purposes. Take the time to browse through the template library and choose the one that best fits your project. Templates can serve as a great starting point and inspiration for your videos.
Customize with Text and Animations: FlexClip allows you to add text and animations to your videos, making them more engaging and informative. Experiment with different fonts, sizes, and animation styles to create visually appealing text overlays. This feature is particularly useful for adding titles, captions, or explanatory text to your videos.
Utilize Stock Media: FlexClip provides a vast collection of stock images, videos, and music to enhance your videos. Instead of spending time searching for external resources, take advantage of the built-in library. You can search for specific keywords or browse different categories to find the perfect media assets for your project.
Fine-Tune Your Clips: FlexClip offers editing features such as trim, split, and merge, allowing you to refine your video clips. Use these tools to remove unwanted sections, rearrange the order of clips, or combine multiple clips into one cohesive sequence. This level of control ensures that your videos flow smoothly and convey your intended message.
Experiment with Transitions: Transitions can add a professional touch to your videos and help create seamless visual transitions between clips. FlexClip offers a variety of transition effects, such as fades, slides, and wipes. Try out different transitions to find the ones that complement your video style and content.
Enhance with Background Music: Background music can greatly enhance the mood and impact of your videos. FlexClip provides a library of royalty-free music tracks that you can easily add to your projects. Take the time to choose music that aligns with the tone and theme of your video, and adjust the volume to ensure a balanced audio mix.
Preview and Fine-Tune: Before finalizing your video, make sure to preview it to get a sense of how it flows and looks. Use the playback controls to review your video and make any necessary adjustments. Pay attention to the timing, transitions, text overlays, and overall visual appeal. Making small tweaks can significantly improve the final result.
Export in High Resolution: FlexClip allows you to export your videos in high resolutions, including 720p HD and 1080p Full-HD. If your project requires a professional look, select the highest resolution option available. Keep in mind that higher resolutions may result in larger file sizes, so consider the platform or medium where you'll be sharing your video.
Collaboration Tools: FlexClip offers collaboration features that allow multiple users to work on the same project simultaneously. If you're working with a team or seeking feedback from others, utilize the collaboration tools to streamline the editing process and ensure a cohesive end result.
Support and Inspiration: If you encounter any difficulties or have questions about using FlexClip, don't hesitate to reach out to their customer support. They are there to assist you and provide guidance. Additionally, you can explore FlexClip's website and social media channels for tutorials, tips, and inspiration from other users.
Conclusion:
FlexClip is a game-changer when it comes to video creation with AI technology. On the other hand with its user-friendly interface and versatile editing options, anyone can create professional-looking videos with ease.
The ability to customize your videos with text, animations, music, and watermarks adds a personal touch to your projects. Moreover, the high-resolution export options ensure that your final videos look visually appealing.
Whether you're a beginner or an experienced video creator, FlexClip empowers you to bring your ideas to life. By following the above tips, you'll be able to leverage the features and capabilities of FlexClip to create impressive and professional-looking videos. Enjoy the creative process and have fun exploring the possibilities!
Get ready to rock the social media world with your epic creations. Lights, camera, FlexClip!