Welcome to The Jaaxy Keyword Tool Review!
The importance of keyword research cannot be enough emphasized with the ever-growing popularity of online marketing. Whether you are a blogger or you tuber, you need a Top Keyword Research Tool, to get indexed in Search Engines like Google, Bing, and Yahoo.
There is no use to create great content and nobody is reading it because the article is not properly optimized through proper keyword research. Your content needs to be indexed and ranked by top search engines, and that is only to be done by keyword research.
What is Keyword Research?
A keyword is a word or set of words, typed by people in search engines like Google, Bing, and Yahoo, while searching for something like shop, services, etc. or to find their desired results. Keywords drive a targeted audience to your business for free. Using the right keywords is of the utmost importance for converting traffic into sales.
>>Read Also: KEYWORD RESEARCH – WHAT AND WHY?<<
So when there are so many popular tools available for keyword research, why I am recommending Jaaxy as a top keyword research tool online?
One of the prime reasons I am recommending Jaaxy is it's a product of Wealthy Affiliate, whoever has been with WA for even a short term, vouch by the quality of WA platform, product, and the support.

There are many reasons why I think Jaaxy is one of the Top Keyword Research Tool.
Is Jaaxy a mere keyword research tool?
With Jaaxy Keyword Tool you can do more than mere Keyword Research :
SEO Campaigns for self and professional uses
Profitable niche pursuing
Domain Flipping
site flipping
See rankings on the SERPs
Useful for Local marketing/business
Spy on competitors
Alphabet soup
Brainstorm HQ
Let's start Keyword Research with Jaaxy
The three most important metrics for Keyword Research
Competition for any particular keyword
Traffic for keyword
the keyword should make human sense.
"Tip: Keywords with Low Competition / Low Hanging Fruit with a reasonable amount of traffic is good for SEO." 
How to do Keyword Research with Jaaxy?
Enter the seed keyword in the provided area, enter and with one click you will get all needed data.

In the above example, "Lose Weight" is the seed keyword, enter it and you will get all the above data in seconds, with a single click. I will explain how to read this data, it's super eeeasy !
The first left-hand column provides you with additional keywords / niches-sub niches.  You can use this information in many ways. You can create a number of articles from this data or you can choose which niche is profitable for making money within seconds.
Average: Average monthly searches for the keyword
Traffic: gives you the average monthly traffic, you can expect for the keyword.
QSR: the most important one, is the competition for the keyword / or the total web pages available all over the world for the keyword !! Lower is better !! which means low competition and a higher number of chances to get ranked in Google !!
KQI: Keyword Quality Indicator, really easy to understand, nice visual representation for keywords, green for great, go for this keyword, yellow for OK and red for no, a very poor keyword for getting the ranking!
SEO: The most amazing feature of the Jaaxy, is a calculation based on traffic and competition. The higher the better, it scales on 1-100. The higher number indicates you will rank for this keyword on the first page !!
Domains: This shows all available (TLD) domains for the keyword.
Watch a short video on Finding a Domain/Niche in 2 Minutes with Jaaxy
I find Jaaxy very easy and useful to find gold nuggets / perfect keywords for getting ranked with the help of the Jaaxy.
"Knowing which keyword will get rankings is pure power and can lead to a good deal of traffic." -Mr.Kyle
So finding good keywords is a must for getting good traffic to any campaign.
Another good technique
Using the Alphabet soup technique is another good technique for finding keywords using Jaaxy or you can use any other keyword tool to search keywords using Alphabet soup.
"What is the Alphabet soup technique and how it works?"
First, we use Google to find out what keywords are available, let's say you type the word "keyword" in Google, it typically shows the most popular searches first. So the result is
now you get 4 new brand keywords to use, keyword tool as the most popular search. Dump this keyword in Jaaxy, you will get following results
So you see, you get another bunch of keywords for this root keyword, you can continue with each of these results, and you will get other numbers of keywords!
you will never miss a single gold nugget/potential good keyword with Jaaxy. The amazing thing here is that you get the exact number of competition for each keyword.
Now we will apply all the alphabets from a to z with our root /seed keyword search term "keyword"
now again you will find new keywords, choose anyone and dump into Jaaxy,
You will get some amazing low competition keywords ( marked as red arrows, Green icons for the keywords which are saved into a list ), you can go on with alphabet b, c, and so on.
Use the same technique, (a-z alphabets), but before your seed keyword. Apply alphabets (a-z) before your seed keyword.
With Jaaxy and alphabet soup technique you will never run out of keywords but you will have too many keywords to work for.
Domain Flipping and Niche research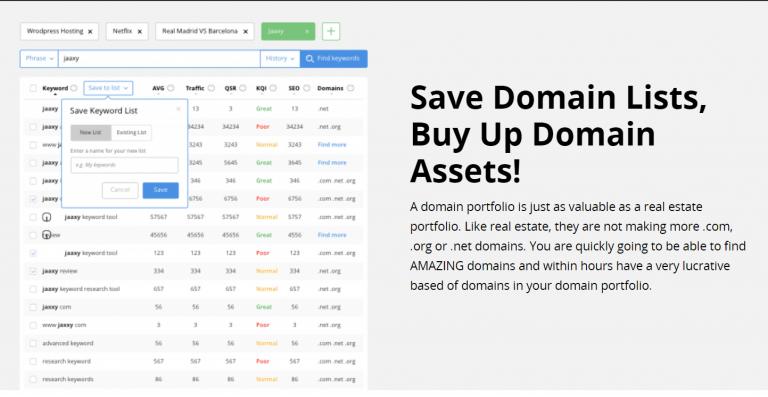 Some features like Domain availability, make it possible to find out available TLD easily. One can use this data in many ways like to find out useful and profitable niches, for domain flipping.
Some more features of Jaaxy
Site rank: To easily find out your website's / article's ranking on Google
Search Analysis: This feature allows you to find out the position of your keyword for a selected search engine like Google, Bing, and Yahoo.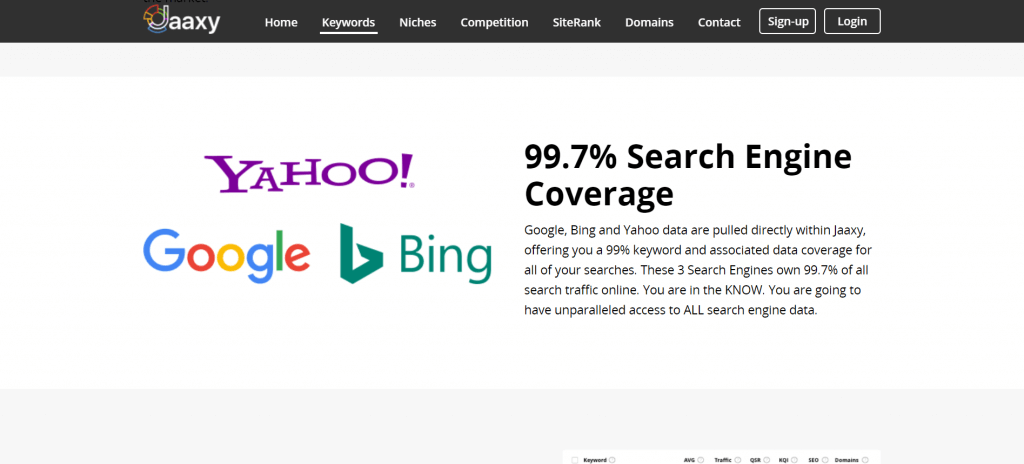 Search History: It allows you to search for all your past keyword research with Jaaxy.
Brainstorm feature: gives additional related keywords, can be used for LSI ( Latent Semantic Indexing Keyword)
for finding out sub-niches / micro niches
to find out where your keyword ranks on Google, Yahoo, Alexa, Amazon best-sellers and Twitter trends.
Save list: You can save your keywords in a new list or an existing list created earlier.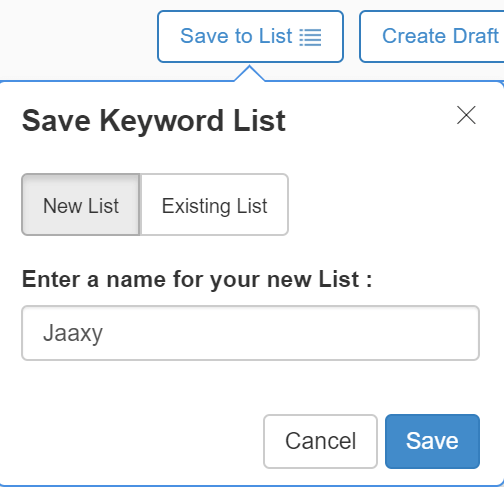 Affiliate program suggests available affiliate programs for your niche, thus saves your time and labor to search all affiliate programs.

Niches, Keywords, Success: Guide for how to do niche research
Domain Industry Secrets: Guide for domain flipping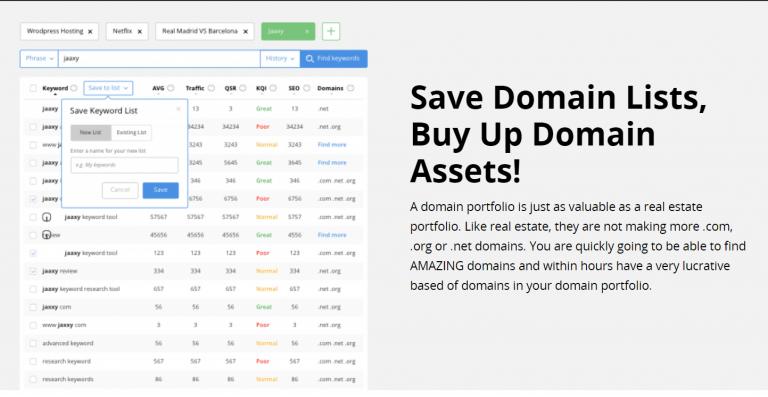 in all downloadable format, for a free account of Jaaxy
I recommend you see for yourself how easy it is to find the best keywords for your projects. Type in a seed keyword, and you will get all exclusive data in just a fraction of the second. See for yourself !!
BONUS: 30 free searches, with this FREE JAAXY ACCOUNT!

you must be curious to know by now that who owns Jaaxy?
Jaaxy software is owned and developed by the same duo Karl and Carson, who also developed Wealthy Affiliate. If you know anything about WA, I am sure you will no doubt about the quality, the support and the training provided by their team.
How much does Jaaxy cost?
Jaaxy comes with 30 free searches when you signed, but Jaaxy also offers Jaaxy Lite, Jaaxy Pro, and Jaaxy Enterprise, for advanced users.
Jaaxy lite is free for all the members, Jaaxy Pro is $49/mo and Jaaxy  Enterprise is $99/mo.
Jaaxy Pro and Jaaxy Enterprise have much-advanced options to use, so go ahead and choose the Jaaxy that suits YOU!
Results with Jaaxy Keyword Tool
Jaaxy gives excellent results, the most common are get ranked on the first page of Google !!
An added bonus for you
Now you know the importance of Keywords, build a massive list of keywords.
Watch this training on how to build a keyword list.
Building a Massive List of Awesome Keywords
An hour-long webinar is only available to premium members of WA !!
Conclusion and Verdict
Jaaxy is the best online keyword research tool available for its easy to use surface without any learning curve, I came across some keyword tools that need a minimum of 5 /6 hours basic study to know how exactly it works.
Pricing is the next big feature with Jaaxy. Some keyword tools are so expensive, offers primary accounts starting from $120 per month, vs. mere $49 per month, for Jaaxy!
" Jaaxy gives results with lightning speed, so it is a huge time-saver."
Definitely, I will suggest and recommend Jaaxy Research Tool for your SUCCESS !!
I would like to know which Keyword tool you use? Use this free Jaaxy keyword tool, and please let me know how do you find it? Do you have any queries, doubts or problems relating to Jaaxy? Feel free to give any suggestions.
Get Unlimited Keyword searches with WA Premium, In Less Than A $1 Per Day.