There are many ways you can make passive income and a few of my fav. are blogging, affiliate marketing, and creating YouTube videos.  The number one on my list is blogging because you have a great tool when you have your own website,  not only you share your thoughts, opinions, and expertise on your chosen topic but you can help thousands of people who are searching for authentic and reliable information.  And if you are a blogger, you create a ton of content in form of blogs, images, social media posts, videos, and so on.  You have already passed through the process of becoming an author when you have a blog.  The next step in branching out and establishing yourself could be creating a Kindle book.
It may sound daunting and overwhelming to create a book and publish it on Amazon, it's easier than you think if you follow a procedure.  By this article, I want to encourage you to think of the possibility of launching your own book on KDP(Kindle Direct Publishing) and earn passive income.
Why Should You Write An E-Book?
If you are like me looking to create different streams of passive income, then definitely you should try to write and publish an e-book on Kindle.  There are a few things that you should consider if you are questioning why should you write an e-book.
E-books are huge today and the popularity of e-books is continuously increasing. We all love to read books and the joy of reading a book in hand is something else.  But as technology continue to grow, we are getting more opportunities to read books according to our suitability and compatibility.
Today we can read books at the comfort of our home, on our devices like smartphones, tablets, and so on.  You will find many leading businesses are investing in the self-publishing sector, the newest one jumping on the bandwagon is Tiktok.
TikTok's owner ByteDance has just invested $170 million into China's largest ebook readers and publishers, Zhangyue.
Google is going to convert ebooks to audiobooks, still in beta, that will employ AI and auto-generated narrators.
Amazon is the most popular among all with its share of the ebook market is 67%.
So you will see that many big names are investing in e-books in some of the other forms because there is a huge demand for e-books.  The following data will show the increasing trend in e-books.
Ebooks and Audiobooks Usage In Schools Exploded in 2020.  38,000 schools in 71 countries saw an 80% increase over the last year with the usage of ebooks and audiobooks.
 In the US, on a year-to-date basis, ebook sales were up 16.5%, generating $956.3 million for the first ten months of 2020. Ebooks accounted for 10% of all trade sales in October.
Self-publishing is way ahead of traditional publishing, and here is what Google Trend says about it.
And that's why I think it's a great opportunity for everyone to create an additional source of income.  For many KDP has generated thousands of dollars by creating Kindle books.
If you already have a blog, and you know the procedure of creating content, then you are half done.
Even if you are not a writer but have expertise in any field you can easily create an e-book with the help of KDP.
Why Kindle Direct Publishing(KDP)?
Kindle Direct Publishing is one of the best options to publish your book because it has it's own marketplace to sell books and many promotional strategies, which will help you to get more sales.
Kindle Direct Publishing is Amazon.com's e-book publishing unit launched in November 2007, concurrently with the first Amazon Kindle device. Amazon launched Kindle Direct Publishing (KDP), originally called Digital Text Platform, to be used by authors and publishers, to independently publish their books directly to the Kindle Store.
Authors can upload documents in several formats for delivery, these documents may be written in 34 languages.  It means you can write in more than one language if you wish to.
In 2016, Amazon also added a paperback option, which uses print-on-demand technology intending to offer digital and print to self-publishers. Amazon has been promoting to its authors the capability of publishing both e-books and paperbacks through the same platform.
Amazon has the KDP Select publishing option that requires 100 percent exclusivity — e-book publishing under this option cannot be sold anywhere else.
While under KDP Select, an author can offer the book free for five days or discount it for up to seven days through a countdown deal, while still earning 70% royalties.
The author can opt-out from KDP select ninety days after enrollment. If no action is taken, it will auto-renew the book for another ninety days.
Outside of limited deals, e-books permanently priced below $2.99 only get 35% royalties.
All KDP Select books are included in Kindle Unlimited, which is a monthly subscription that allows unlimited reading of e-books.
So this format helps many authors to earn a substantial income as well as it's a profitable module for Amazon also.
Every time an author's e-book is borrowed and pages are read, the author earns a share of a monthly fund, which was $1.2 million in April 2014, $11 million in July 2015, and currently $28.5 million, for a per-page rate of about half a cent.
Total royalties paid out to self-publishers on Amazon KDP were over $260 million in 2018, increasing to over $300 million in 2019.
Steps To Publish An E-book
There are a few steps that you should understand before dive into e-book publishing.  These are basic steps that you will go through while publishing an e-book.
Write your eBook
Create an Amazon KDP account
Format your eBook for publishing
Add your eBook details
Choose keywords & categories
Select an eBook publishing date
Upload your eBook files
Publish your eBook
Create an eBook promotion plan
The most important thing is creating an Amazon KDP account is completely free.  KDP has its own free resources to guide you through all the process.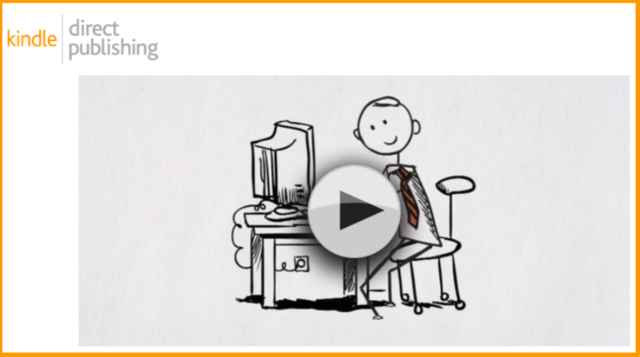 Benefits of Publishing an E-book
Really easy to publish:
Today self-publishing has become really easy.  If you have your content ready, it can be published with a click.  I never thought that publishing a book can be so easy. (Though my book is yet not published, am going through the process).  Many platforms provide this facility but KDP is my first recommendation.
Low-Cost
If you are under the impression that you have to invest a lot of money to publish a book then you are wrong.  There are some steps where you may want to invest like cover design, formatting but you can do it completely free with resources like Canva for e-book covers.  Expenses can be as high or low as you make it.
Maximized Your Reach
Once you publish your e-book, Amazon makes it available on all its storefronts across the world.  Amazon currently has 13 marketplaces: USA, UK, Germany, France, Canada, Japan, India, Italy, Spain, Mexico, Brazil, and China, Australia, and Amazon Singapore are launching soon.  So just imagine the people you are connecting through your book.
Passive Income In Form of Royalty
KDP offers two royalty options for your book: 35% and 70%.
If your book is below $2.99, you must choose 35%. Between $2.99 and $9.99, you are paid 70% of the sale of your eBook.
So you will continue to get these royalties for life if you continue to promote your book on different platforms.
There is no limit on how many books you can publish, so if you continue to write more books, more earnings.
Grow Your Business
E-books are the best way to grow your reach, expand your brand.  Many bloggers, entrepreneurs leverage this tool to expand their business.  An E-book is a great funnel at the same time a great way to build raving fans and customers.
More Resources For Creating Your Own Kindle Book
Apart from KDP, there are a ton of resources to create your own self-published book.  But it can be overwhelming to go through every possible resource.  So I want to list down some resources that you can check out to simplify the process.  Also, do your own diligence, search the internet, and follow what suits you best.
First of all, it's important to have the right mindset for creating your own e-book.  No doubt many people are earning thousands of dollars, but it's not a get rich scheme.
You will find people like Steve Scott who showed his earnings from e-books which average out to about $40,000 per month.
Hugh Howey, the author of the best-selling, Wool series, has received offers from Hollywood to turn his book into a movie.
But there are also people like Nick Stephenson, who never wanted to become an author, and not earned too much when first published his book.  He later figures out how to make more sales and he shared his findings in this video. so check out his interview.
Nick also has its own YouTube Channel by the same name, so it can be a great resource.
Check Here
Self Publishing School YouTube Channel has many wonderful videos.
The Story Studio Podcast – Writing, Storytelling, and Marketing Advice for Writers & Business
Do You Need To Take A Formal Course  To Create E-book?
Creating an e-book can be overwhelming at first, but once you follow a procedure it becomes much easier.  I have mentioned all the steps that are necessary to create your own e-book.  But I think it's always better to have a mentor who guides you through each step.
It's important to choose a mentor who has already gone through the process and already has published e-books under the belt.
Jim Cockrum
Hundreds of thousands follow Jim online. Why? Having authored multiple successful Kindle, hardback, and ebook titles which includes all-time best-selling ebook for online entrepreneurs.
His course has all the details for a self-publishing e-book.
Proven Self- Publishing entire course Costs $297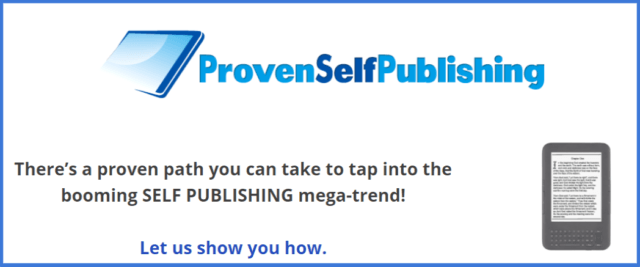 The course has many features like:
Put the Kindle Direct Publishing (KDP) platform to work for you
Sell your books directly via your own website
Use Createspace, Amazon's simple paperback service
Use Audible & Itunes audiobooks as a simple alternative
Leverage additional platforms
Have a solid marketing plan
Use the art of valuable writing
Build your brand
Want to know more about Proven Self Publishing Click Here.
D'vorah Lansky
D'vorah is the bestselling author of over 35 books and 40 online courses. Since 2007 she has taught thousands of authors and entrepreneurs across the globe, how to transform their knowledge into books, workbooks, products, and online courses.
D'vorah has an excellent course on creating Kindle books, Explore The Capabilities of Kindle.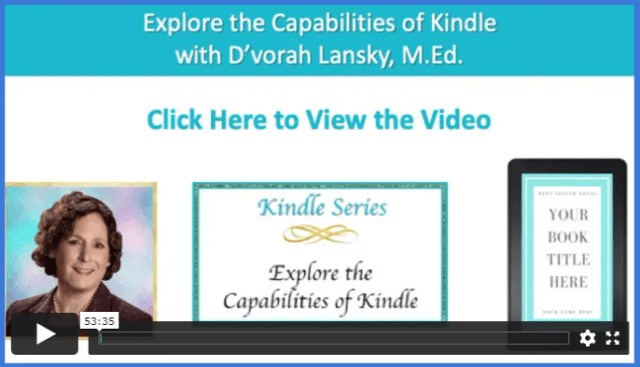 D'vorah has created this course in much detail.  She not only covers how to create a Kindle book but she also describes and shows how to create other forms of books for Kindle.
For example:
How to transform your workbook into a Kindle book, useful as you can't publish a blank book on Kindle
Create Top Tips Kindle Books, especially useful for bloggers.
publishing a Kindle series, useful for boosting your momentum.
The best part of this course is D'vorah has added many useful resources that can be useful for students like each module's action guide, which can be downloaded.
You will also get a Slide handout for each module which can be downloaded and add your own findings on the session.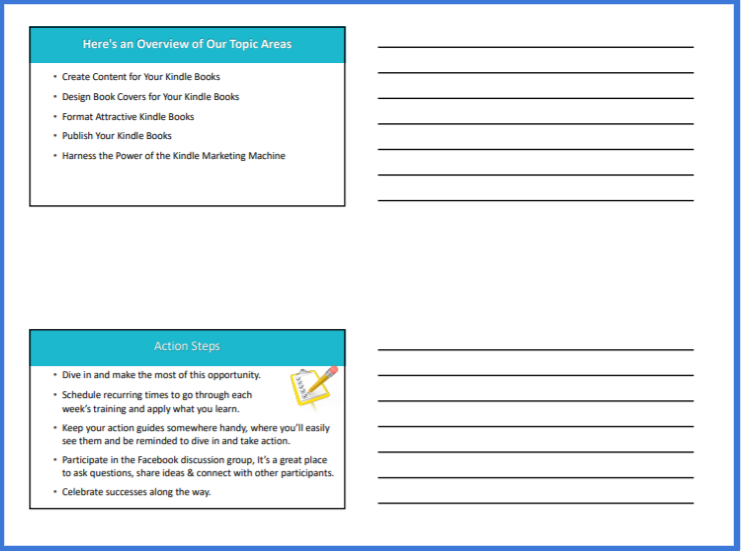 Sometimes you also get a checklist for a particular module.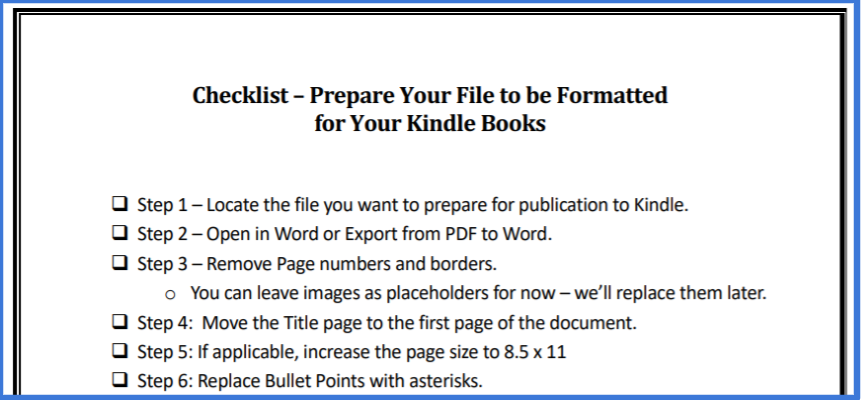 The reason I recommend to take a formal class is that there are many more things when it comes to formatting the content.
D'vorah has explained many things that I have not found in many other classes.  If you read the above checklist, she asked to remove any borders and bullet points, because when you upload your content with bullet points, it looks really weird in the final draft.
I was pleasantly surprised by the clarity of the topic and the way she has provided all the information in the video format.  Videos are in detail whenever needed, and sometimes she divided the videos into 5 to 10 minutes.
As a bonus, you will also be featured in their Kindle Showcase, where you get additional promotion.
So a must checkout course, if you want to publish your own Kindle Book.
Explore The Capabilities of Kindle: Entire course for $147,
Click the image below for a Free Wabinar and a $50 discount.
Kindle Book Promotion
Kindle book promotion is another beast altogether, and you need to have a plan ready to go before you publish your e-book.
There are many ways you can promote your book, including Amazon's paid advertising.  You can also leverage your email list and your website to promote your e-book.
Having your own website can be really helpful in promoting your book, as you need to promote your book for many days after you publish your book.
You will get many useful tips on promoting your e-book in How To Make Real Money On Amazon.
In this post, Ayodeji has given many tips on how to promote your e-books.  So you need to have a good understanding of how social media works and to best optimize your website for your book promotion.
Check out Wealthy Affiliate, which not only offers a website, hosting & training totally free but you also learn about all social media platforms like Pinterest, Instagram, and Facebook for FREE.
Conclusion:
Creating your e-book can be a great source of income if you follow the procedure strategically.  I know it can be overwhelming but it becomes much easier once you really start working on your project.
Kindle Direct Publishing(KDP) is the best option for beginners as it has established itself over the years.  Not to forget the visibility you get when you publish your e-book on Amazon.
It's also important to check out different resources like YouTube and the wide material available on the Internet.
I can't enough emphasize the need for a mentor to guide you along the way, you get a lot of tips on different topics.  I personally got a ton of tips when I enrolled for the D'vorah's Course.  I am in the process of publishing my first book on Amazon.  Once it's published I will share it with all of you.
Published!  An Unconventional Outlook Toward Reiki
I hope this article is helpful to you, and if you have any questions let me know in the comments below.
Also, share your tips and experience if you have already published your book on Amazon.