Are you a busy woman, hardly find time to eat healthy all the time?  You are so busy that most of the time you miss your lunch and feel undernourished?
This is the problem of almost every working woman, who missed their lunch because of their busy office schedules.
Oziva Protein & Herbs Whey Protein Powder is a great protein supplement specially made for women. It contains Whey Protein, plus Ayurvedic Herbs like Shatavri, Tulsi, Green Tea Extract and Flaxseed (rich in Omega 3)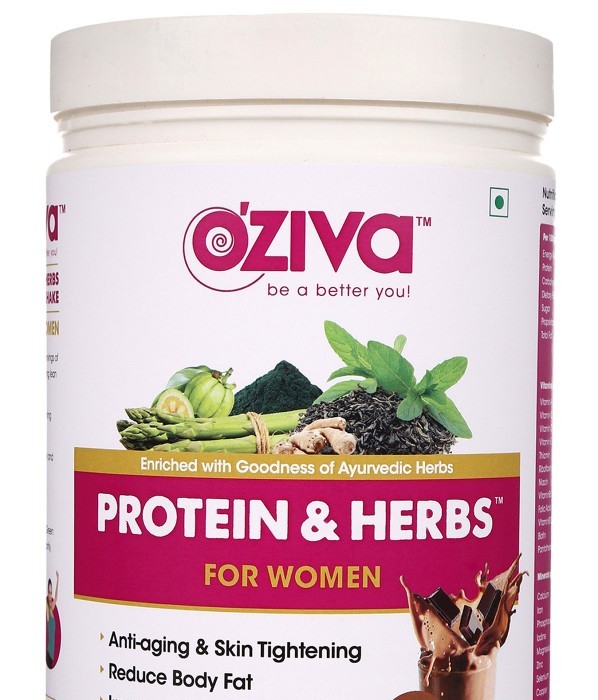 Protein Powder is an effective tool for women looking to lose fat, tone up and improve strength. Plus, protein powders are a convenient and healthy addition to on-the-go meals and snacks.
What is Oziva Protein & Herbs Whey Protein Powder?
Oziva Protein and Herbs Whey Protein Powder are specially designed for women. The ingredients like Tulsi and Shatavari are especially helpful for Women.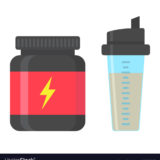 Shatavari is widely recommended in Ayurveda. Ayurveda speaks highly of Shatavari particularly in the context of women's health. Ayurvedic texts claim that Shatavari literally strengthens a woman.  Mainly useful in hormonal balance, anti-fungal, and anti-candidal, increasing plasma and white blood cell count in the blood.
Tulsi can be very helpful in treating hormonal imbalance.  Tulsi is also believed to affect the secretion of dopamine and serotonin into the brain. This indirectly enables one to stay stress-free and calm, since these neurotransmitters regulate psychological health and mood.
Green Tea
Green tea is very useful for weight loss, thanks to the anti-oxidants and nutrients that provide innumerable health benefits.  Many studies have shown that Green Tea increases fat burning which helps to cut the extra flab. Massive range of Catechins, present in Green Tea, helps burn fat and boost metabolism- is the key to lose weight.
Flaxseed
Flaxseed is helpful in many ways.  Flaxseed is a good source of fiber and aid in digestion and prevents constipation. Regular consumption of flaxseed is good for your skin, it prevents cancer and facilitate weight loss.
Whey Protein – It's a highly digestible milk-derived protein that contains all nine of the essential amino acids your body can't make on its own.  This is why whey protein is considered a "complete" source of protein.
How OZiva Protein & Herb Whey Powder Can Help You?
1.OZiva Protein and Herbs offer 22 grams of protein per serving of 30 grams giving it a protein content of 73%. Protein is sourced from whey protein concentrate and whey protein isolate of which isolate is the main source.
2. All four herbs mentioned above increases fat burns, increases stamina and energy.
3. BCAA: This product offers 6.5 BCAA per serving.  Branch Chain Amino Acids (BCAA) improves the body's protein uptake, muscle growth, and repair.
4. multivitamins: includes 28 vitamins and minerals,  combines Whey Isolate and Whey Concentrate
5. The product is gluten and soy-free
6. The product can be used as a pre and post-workout
7. Maintains healthy hair &skin;
8. Supports mental clarity, alertness, and focus.
Read the Review of Benefits of  Oziva Protein and Herbs
Nutritional Specification
Serving Size
30 g
Protein
22 g
Protein per 100g
73 g
Total Carbohydrate
5.7 g
Total Fat
1.35 g
Ingredients
Vitamin A: 1500 IU
Vitamin C: 18 mg
Vitamin D: 60 IU
Vitamin E: 9 IU
Thiamine: 1.4 mg
Riboflavin: 1.2 mg
Quality:
Protein & Herbs Shake is a product of a perfect, nutrition-rich formulation by experts after months of extensive research. This product has undergone thorough safety and quality checks and has been manufactured at an FSSAI certified facility.
Pros and Cons
Pros:
1. Listed as Amazon's Choice of product.
2.Consultation Support 
It was absolutely free when I got the product and the nutritionist was very helpful in answering my queries.  If you have any diet-related queries, reach out to the panelist and they will offer you a customized diet plan.
3.Home-Based Workouts
Home-based workouts are available if you want to.  choose from a variety of goal-based workouts, pick your time and exercise!
It gives more than 22g of protein in one 30g scoop. I found I am more active on days I drink the shake.
The packaging is something that I liked the most. It is truly designed keeping a woman in mind
It is low in sugar as compared to other Protein Shakes
Available in different flavors.
4. Great reviews of Verified Users on Amazon

Most of the customers are happy with this product and have some great reviews on Amazon.
Review by Amazon Verified Customer on flavor: Cate Mocha,
I am totally in love with this product. I take it everyday after my workout and helps me so much in restoring the energy levels and alertness. Also don't have to worry about my daily protein intake as it provides protein equivalent to 6 eggs. The herbs in this shake is suppose to provide me added benefits as I am only on the first pack of it, I don't know how that is helping yet but I do feel that my skin has improved on this shake and acne problems have reduced. I am not sure if it's Coz of this protein but I feel so. Rest one of the tastiest protein shakes I have ever had. Give it a go!
Available in three flavors. – Chocolate, Cafe Mocha and Vanilla Almond
Its a perfect after workout drink and taste amazing. Will be definitely repurchasing it. I have it with water and one spoon of unsweetened cocoa powder which is a perfect meal replacement but if had as a smoothie with milk/almond milk and banana/any fruit of choice will be filling for 3 to 4 hrs
Cons
1. Some complaint about the taste, but the product is available in different flavors.  So you can always try a different flavor if you don't like one
2. Some Customer also complains about stomach problems.
Conclusion
Oziva Protein and Herbs whey Protein Powder is full of great ingredients, vitamins, and miners.  This Product is India's first  Protein Supplement especially crafted for women, and really helpful.  Harnessing Ancient Wisdom of Ayurveda backed by Modern Day Research.
Where to Buy?
Oziva Protein & Herbs Whey Protein Powder With Multivitamins For Women is available on Amazon
Read My Review on :
OZIVA GREENS AND HERBS REVIEW – A MUST HAVE MORNING DRINK
Bonus Gift for You!
Shop on Official Website of Oziva and
 Get a gift of RS.250/- Click Here.
If you have any queries or doubts about the product, feel free to comment below.  Would you like to share your experience with all of us if you have used this product?
Is this article helpful to you? if yes, share it with your family & friends.