If you're an entrepreneur looking to boost your website's traffic and sales without spending endless hours on social media, then Pin Profit Academy might be the game-changer you've been searching for. In this Pin Profit Review, I'll discuss the purpose and key features of Pin Profit Academy, its main features, benefits, pros, and cons, to help you make an informed decision to choose the best Pinterest marketing strategist for you and your business.
In full honesty, I am a current member of the Pin Profit Academy (PPA) and have personally experienced remarkable results in terms of my website traffic. I must say, I am in awe of the exceptional tools and comprehensive courses offered within the academy. Heather, the founder and instructor, has created a supportive and encouraging environment that truly sets PPA apart.
The strategies and techniques shared in the courses are practical, actionable, and tailored specifically for Pinterest. Heather's expertise in leveraging the power of Pinterest as a marketing tool is truly unmatched.
What sets PPA apart from other academies is the level of support and engagement you receive as a member. Heather is actively involved in the community, providing valuable insights, answering questions, and offering personalized guidance. The community is filled with like-minded individuals who are passionate about Pinterest marketing and eager to help one another succeed.
That being said, let's dive into different features of Pin Profit Acedemy.
Purpose and Key Features
Pin Profit Academy is a comprehensive membership program and community designed to help you create, market, and sell your products and services using Pinterest. It offers a range of resources and training modules that cover various aspects of Pinterest marketing. Whether you're a beginner or an experienced marketer, Pin Profit Academy aims to provide you with the knowledge and tools to harness the power of Pinterest and grow your online presence.
Wide Variety of Courses
The courses within Pin Profit Academy are impressive. The program offers a well-organized structure with modules that guide you through each step of the Pinterest marketing process. The content is presented in a clear and concise manner, making it easy to understand and implement. Additionally, the resources provided, such as Pinterest templates for Canva and Google Analytics dashboards, enhance the overall experience and add value to the program. The list of all the courses in PPA is listed below.
Key Features
Pin Profit Academy offers a wide range of key features and functionalities to help you achieve your marketing goals. The membership includes monthly meetings that dive deeper into specific topics, new Pinterest templates for creating visually appealing pins, monthly Q&A calls and live training sessions to address your queries, and access to a private Facebook community for networking and support. Furthermore, the program covers essential topics like building a solid Pinterest foundation, keyword research, creating clickable Pins, marketing automation, and understanding analytics. Latest addition is using AI in Pinterest Strategy, Pin Titles, and Description, with prompts.
Benefits
By joining Pin Profit Academy, users can reap several benefits. Firstly, they can wake up to increased sales and email list subscribers each day, thanks to the strategies taught in the program.
Secondly, with the help of Pinterest Analytics and Google Analytics, users gain insights into their website's performance and can make data-driven decisions. You will also get a specifically curated Pinterest GA dashboard.
Additionally, Pin Profit Academy empowers users to give their audience what they want when they want it, resulting in improved engagement and customer satisfaction.
Finally, by automating their Pinterest marketing efforts, users can save time and focus on other aspects of their business. You will learn different automation tools including Tailwind to ease the process
Pin Profit Academy Breakdown
When it comes to an all-in-one Pinterest course for organic traffic you will learn more than you could imagine with Pin Profit Academy.
You will learn how to:
Grow your brand on the platform
Keyword like a pro
Automate your strategy
Grow your sales from Pinterest
Read the data and make decisions
Grow your email list so you can grow your income
Create pins that your audience will click on
How to use Canva & not get stuck in the weeds wasting precious time
How to organize your content for efficient marketing
Monthly Q&A Calls
Monthly Hot Seat Calls
Monthly Live Strategy or Workflow Builds
Private Community
Exclusive Pinterest Templates Monthly
Pinterest Algorithm Updates Regularly
& So Much More!
Various Payment Options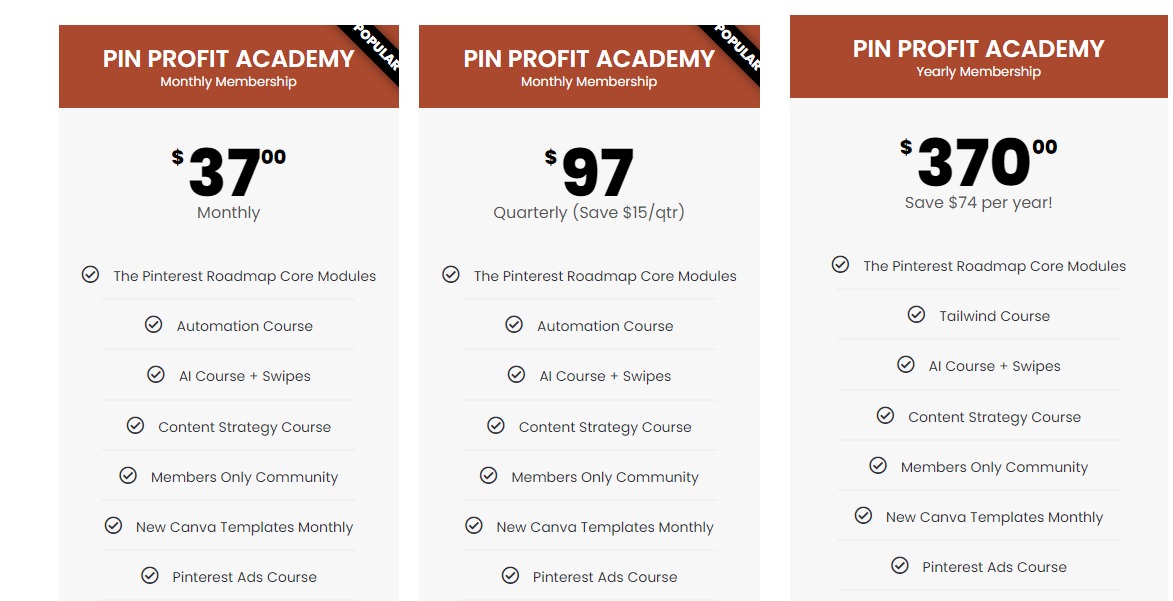 Pin Profit Academy offers flexible payment options to accommodate different budget preferences. Whether you prefer to pay on a monthly, quarterly, or yearly basis, Pin Profit Academy has you covered.
1. Monthly Payment Option:
For those who prefer a more flexible payment schedule, Pin Profit Academy offers a monthly payment option. By choosing this option, you can pay a fixed monthly membership fee to access the program's training modules, resources, templates, and community. This payment option allows you to spread out the cost over time while still benefiting from all the features Pin Profit Academy has to offer.
2. Quarterly Payment Option:
If you're looking for a balance between flexibility and commitment, Pin Profit Academy's quarterly payment option might be the ideal choice for you. By selecting this option, you can make a payment every three months, giving you access to the program's content and resources during that period. This option provides a more affordable rate compared to the monthly option while still allowing you to maintain flexibility in your payment schedule.
3. Yearly Payment Option:
For those who are committed to long-term success and want to maximize savings, Pin Profit Academy offers a yearly payment option. By choosing this option, you make a single payment for the entire year, unlocking access to the program's resources and updates for the duration of your membership. The yearly payment option often comes with a discounted rate, making it the most cost-effective choice for those who are dedicated to utilizing Pinterest as a marketing channel.
Pin Profit Academy's wide range of payment options sets it apart from other academies in the industry. Whether you prefer to pay on a monthly basis for more flexibility or opt for quarterly or yearly payments for better savings, Pin Profit Academy ensures that you have a choice that fits your needs.
Regardless of the payment option you choose, you will have access to all the valuable training, resources, expert sessions, and community support that Pin Profit Academy offers. So, select the payment option that aligns with your financial goals and start harnessing the power of Pinterest to drive traffic and boost your business's success.
Comparison with Similar Products:
While there are other Pinterest marketing courses available, Pin Profit Academy stands out due to its comprehensive approach and the range of resources it offers. Unlike some courses that focus solely on basic strategies, Pin Profit Academy covers a wide spectrum of topics, from foundational aspects to advanced techniques. The inclusion of monthly Zoom meetings, hot seat sessions, profile audits, and expert sessions further sets it apart, providing users with continuous learning opportunities.
Pros and Cons:
Like any product, Pin Profit Academy has its pros and cons.
Pros:
One of the significant advantages is the wealth of resources provided, including Pinterest templates,Various courses on Pinterest, expert training sessions, and more.
The program's community aspect allows users to connect with like-minded individuals and seek support.
Various Payment Options are what sets PPA apart. No one in the industry has a monthly payment option.
Cons:
On the downside, the sheer volume of content may be overwhelming for some users, especially those who prefer a more streamlined approach.
Check out her YouTube Channel for Free Tips
On her channel, Heather generously shares a wealth of valuable tips and insights specifically focused on Pinterest marketing. With her extensive knowledge and experience in the field, Heather provides actionable strategies, in-depth tutorials, and expert advice to help entrepreneurs and marketers excel in their Pinterest endeavors.
User Testimonials:
Pin Profit Academy has garnered positive feedback from its users. Lindsay Leiviska, a satisfied user, mentions how the program helped her gain greater traffic to her website, emphasizing Heather's genuine support and practical training.
Samantha Munoz highlights how Pin Profit Academy made Pinterest her highest traffic referrer and increased her daily email list opt-ins. These testimonials indicate the program's effectiveness and the value users have derived from their membership in Pin Profit Academy.
Tips and Tricks for Maximizing Results:
To maximize your results with Pin Profit Academy, here are some tips and tricks to keep in mind:
1. Take advantage of the monthly Zoom Calls: Each month, Heather organizes 3-4 meetings that delve deeper into specific Pinterest marketing topics. Make sure to go through these meetings and implement the strategies discussed to stay updated with the latest trends and techniques.
2. Engage with the community: The private Facebook community within Pin Profit Academy is a valuable resource for networking and support. Engage with other members, ask questions, and share your experiences. Collaborating with like-minded individuals can provide fresh perspectives and insights that can enhance your Pinterest marketing efforts.
3. Experiment with Pinterest templates: Every month Pin Profit Academy provides ready-made Pinterest templates for Canva, making it easy to create visually appealing pins. Don't be afraid to experiment with different designs, colors, and layouts to find what resonates best with your audience. Remember, eye-catching pins are more likely to attract clicks and drive traffic to your website.
4. Utilize automation tools: Pin Profit Academy covers marketing automation techniques that can save you time and streamline your Pinterest marketing efforts. Explore the recommended automation tools and strategies taught in the program to schedule pins, analyze performance, and manage your account more efficiently.
Most importantly, Heather doesn't suggest or recommend paid tools to beginners. She has her unique strategy to implement directly on the Pinterest scheduler.
5. Continuously analyze and optimize: Pinterest Analytics and Google Analytics are powerful tools discussed in Pin Profit Academy. Regularly analyze your website's performance, track key metrics, and identify areas for improvement. Use this data to optimize your pinning strategy, content creation, and overall marketing approach to achieve better results over time.
FAQ Section:
1. Is Pin Profit Academy suitable for beginners?
Yes, Pin Profit Academy caters to both beginners and experienced marketers. The program starts with foundational topics and gradually progresses to more advanced techniques, ensuring that users of all skill levels can benefit from the training.
2. Can I access the content immediately after joining?
Yes, upon joining Pin Profit Academy, you gain immediate access to the training modules, templates, and resources. This allows you to start implementing the strategies and seeing results as soon as possible.
3. Is there a money-back guarantee?
Yes, Pin Profit Academy offers a money-back guarantee within a specified time frame. If you're unsatisfied with the program or feel it doesn't meet your expectations, you can request a refund.
Conclusion
Pin Profit Academy is a comprehensive and well-designed program that offers valuable resources and training for harnessing the power of Pinterest marketing. With its extensive coverage of various topics, monthly volumes, expert sessions, and a supportive community, it stands out as a reliable solution for entrepreneurs looking to increase website traffic and sales.
While the volume of content may be overwhelming for some, the program's wealth of resources ensures that users have access to all the tools and knowledge they need to succeed. The positive testimonials from satisfied users further validate the effectiveness of Pin Profit Academy's strategies.
If you're ready to take your Pinterest marketing to the next level and want to boost your website's traffic and sales, Pin Profit Academy is definitely worth considering. Invest in your business and leverage the power of Pinterest with this comprehensive program.