Selling Products is skill right?  But what if you have to sell a product like a toilet paper?  tough and easy at the same time, isn't it?  But Better Planet Paper comes with a better idea of selling toilet paper. Pairing it with the environment and promoting their own brand in the name of plant trees is I think too much.  I can't help but remember the browser"Ecosia" who made the same claims.  Ecosia announced that every search you made help them to plant a tree.  In a few months, Ecosai was under scrutiny and found that it was involved in unethical ways to collect your information.  In this Better Planet Paper MLM Review, let's find out if it will really help the environment.
What is Better Planet Paper?
Better Planet Paper is a new MLM company founded in April, 2018by Scott Kufus.  It is headquartered in Florida.  It sells environmentally safe toilet paper.
It also works with profit and non-profit organizations to plant trees. by selling toilet paper that is good for the Environment.  Every time you place an order for toilet paper, Better Planet Paper will plant a tree.
You can register online and order your toilet paper and help the environment and a discount for you.
It sounds great because we all want to protect the environment in some or the other way.  Better Planet Paper helps us to do it by buying toilet paper directly from their website.
How Does It Work?
There are 3 different ways to get started with Better Planet Paper:
Become A Customer:
You can either sign up online or through a representative.  You would buy products as per your monthly consumption and two trees will be planted.
2. Become A Member:
If you become a member, you will earn an income by getting others enrolling in the scheme.  Two trees will be planted.
3.Get Three Friends To Join:
When three or more of your friends join, your own monthly paper will be free and eight trees will be planted.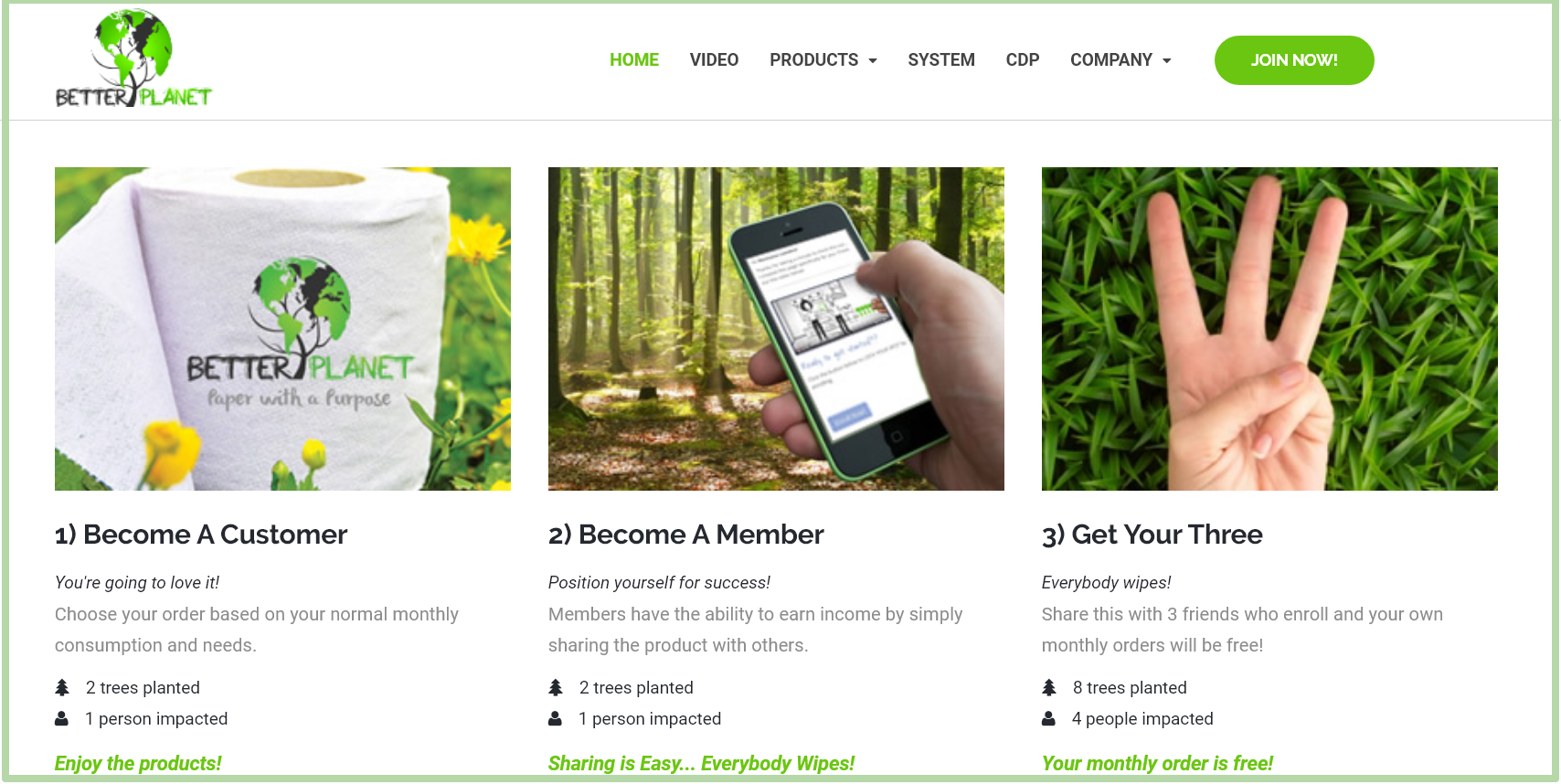 Here is a video overview of the program:
How Can You Earn Money With Better Planet Paper?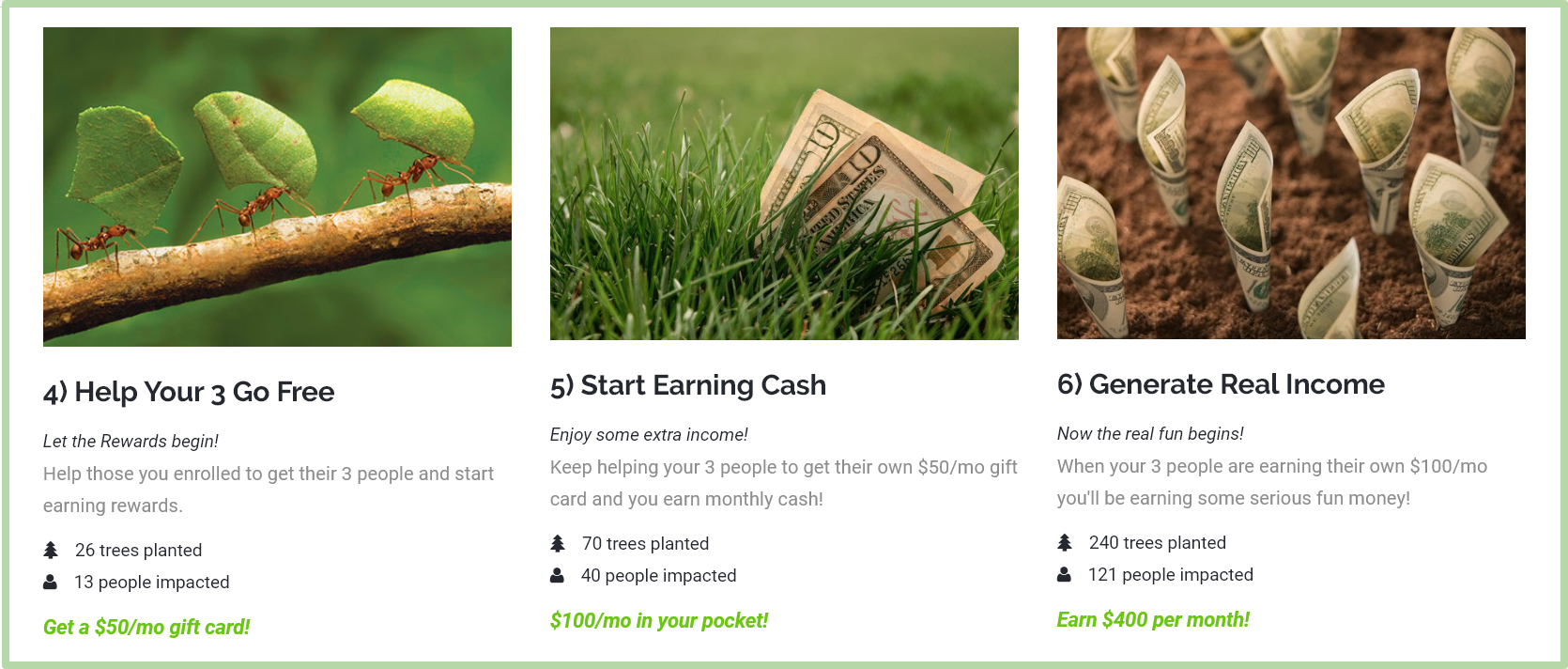 Pros:
Products ship for free
Trees planted as a result of your order is added incentive
It's a product everyone needs, so you will have repeat customers.
Cons:
It's an MLM:
It's an MLM scheme, where you need to join other members under you and then that members recruit other members.  Nothing wrong about it but the amount of time you invest in it, the results you get are minimal.
Expensive Product:
When you compare this product with other products, it's very costly.  For instance, 24 rolls when you buy from Walmart it cost you $20.97, but when you buy from Better Planet it will cost you $36.00.   It may or may not include shipping or taxes.
Why It Is Hard To Make Money With MLMs?
The problem with MLMs is its structure itself.  It is designed so that the minions at the bottom do the most work and get paid the least while people further up the chain get a percentage of the money made by their people below.
In this case, prizes are $50 gift card, $100/mo, $400/mo, and you just need to sign up for three people, it sounds easy, but many people may not be ready to buy this product which is a bit expensive than the products available at the local stores.
Is Better Planet a Scam?
Better Planet Paper is not a scam but I tried to find the place where they actually plant trees, but I couldn't find it.
Better Planet Paper's goal is to plant 100 million trees, but the stats are unavailable on the website as to how many trees are planted to date and how many more trees needed to be planted.
Better Planet Paper is founded in April 2018, so in these two years, how many trees they have planted and how many trees are still alive and in proper condition, no data is provided on the website.
On the website, there have posted many photos, but I could not found a single photo where they are actually planting a tree.
So it's a bit shady to me.
Recommended Read:
Why multilevel marketing won't make you rich
3 Mind-Blowing Statistics About MLMS
Other MLM Reviews:
Conclusion:
Better Planet Paper is an MLM company and it runs like any other MLM module, though the good thing is Oriflame is offering free shipping and free product after you recruit 3 members.
Still, you need to further investigate about MLM module and if you really want to join one.  As I mentioned above, there is no real proof that the trees are planted, there are no statistics available on the website.  It is not clear to date how many trees are planted.
Their goal is to plant 100 million trees, but in which area they are going to plant so many trees and who is going to take of these plants.
If you want to make your own money by selling products, start your own business by checking out my #1 recommendation. You'll get all the tools you need including a website, hosting, training, and 24/7 support.