Welcome to the review of Insta Profit Hack!  So you want to find out if this program is legit and can make the money it promised.
First I want to congratulate you for doing due diligence to find out the legitimacy of the program, let me help you to find out the truth about the Insta Profit Hack Program.
If you are searching online the legit way to earn money, here is my free guide to How to Make Money Online.
Let's start our review of the Insta Profit Hack.

Insta Profit Hack Review
Name: Insta Profit Hack / IG Profit Hack
Website URL: igprofithack.com
Creator: Joseph Paul
Launched in: February 2019
Price: $7 + upsells
Overall Rating: 2/10
Recommended? No
What Is Insta Profit Hack is About?
Insta Profit Hack is a program introduced by Joseph Paul, and by using social media network Instagram, he claims that one can earn huge profits.
Instagram is one of the most popular social networking platforms, and no doubt, one can make money with Instagram in a legit way.
But to make money from any social network platform, you need to have a large following and for that, you need to work months and put hard work and time to earn the following.
How Insta Profit Hack Really Works?
Honestly, the sales page of Insta Proffit Hack does not make it clear, what this program is and how one can earn by following this program.
If you read the sales page of Insta Profit Hack, you will come across many red flags.  The first thing you will notice that the sales page is overhyped and makes false claims.
Hidden Owner of the Insta Profit Hack.
It is supposed that when you are launching a new product, the owner of the product introduces himself and the product.
The Sales page of the program gives no information about who the owner of this program.  It mentions the name of Joseph Paul as the owner of this program, but in the footer, you will notice that it is clearly mentioned that it is a nickname.  So why one wants to use his nickname when introducing such a huge program which can make thousands of dollar within a week or so.
2. No social accounts of the Owner of the Insta Profit Hack
Joseph Paul, who claims to be the owner of this program, which is all about earning money by using social media platforms, in particular, Instagram.
How surprising it is that the owner itself does not have any account on Instagram, or any other social media platforms.
Instagram, particularly a visual platform, the owner of the program which promotes Instagram heavily to earn money, does not post a single picture of himself, how cool is that?
3. Fake Testimonials
At the end of the sales page, you will find David Legg, who promotes this program.  But the image used in this testimonial is used on several other websites and platforms.  So it is not clear who's the image is this and what the real name of the person.

You will find that the same image is used for different accounts across social media platforms with different names.
You will find the account of this person on Quora, Twitter, and Vimeo.
Check out for yourself:
https://vimeo.com/dylanse891
https://www.quora.com/profile/Jon-Terry-24
If a program could not produce an honest testimony and uses fake testimony for the promotion of the program, the legitimacy is questionable of the program.
One hilarious thing you should note while visiting these profiles is the following of this person.  A person who claims to earn thousands of dollar by following this program and Instagram did not have more than 2 followers on each of his profile!!
4. Over Hyped and Unrealistic Claims
The sales page of the Insta Profit Hack is full of red flags, and you should be very cautious with this program.
The program claims a huge profit and earning of $3784 in the first week itself.  He is given some success stories of the program which he first gave to his friends and family members, is really doubtful.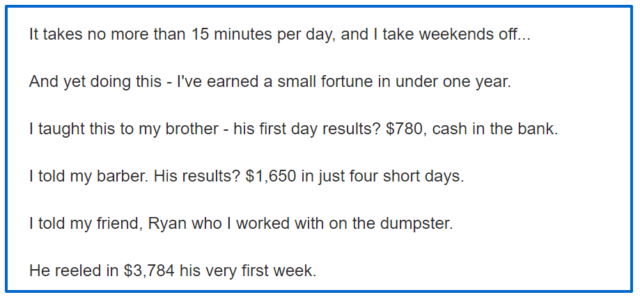 5. No Legal Documents
Insta Profit Hack Program sales page gives no information about the legal documentation like Privacy Policy, contact page
It legally abides by any program to declare the privacy policy, and how are you going to use the personal data collected.

Insta Profit collects the mail addresses of the recipients but does not make it public, how they are using this data.
Don't' be surprised if you receive spam emails in a few days, as selling your personal data for big money, and is a profitable business nowadays.
A contact page is also missing from the sales page, and so there is no one if you come across any problem or need help with the program.
How Much Insta Profit Hack Really Costs?
Insta Profit Hack though giving the impression that the entire program is only for $7, it is not so!  There are many upsells once you enrolled for the program.
Cons of the Insta Profit Hack
Easy to follow, high definition video tutorials.
2, Done for you, just copy and paste system
3. Suitable for everyone, even a child can do it.
4. Nothing to Install, you don't need to install any program all the training is available in the VIP members program.
5. 60 day Money Back Guarantee, since it is a ClickBank product, it also comes along with money back guarantee.
Is Product A Scam?
Insta Project Hack is not a scam, for the above reason.  It provides some training in video format and the program is based on the legit way of earning money from Instagram.
the program also comes with a 60 day Money Back Guarantee, so it is not a scam but definitely, A  I am NOT recommending this program.
A program which hides its owner and its members need to be providing false testimonials are clear red flags.
If you are serious about make money online here is my free Step by Step Guide on How to Make Money Online Without Investment.
Make Money Online is not a get rich scheme and it takes hard work and patience, persistence.  It's no different than offline business, which demands much of time and effort.
If you are ready to have your own online business, start with a free account.

My Bonus
Since you are an Instagram fan, here is a free bonus from my side.  If you want to start your business with Instagram here is training on Instagram, which definitely gives you some tips on Business Instagram.
WAnt to become Instagram Influencer, here is a great training
I hope you will find these bonuses helpful if you have any further question pl let me know in the comment section below, I will answer them ASAP!