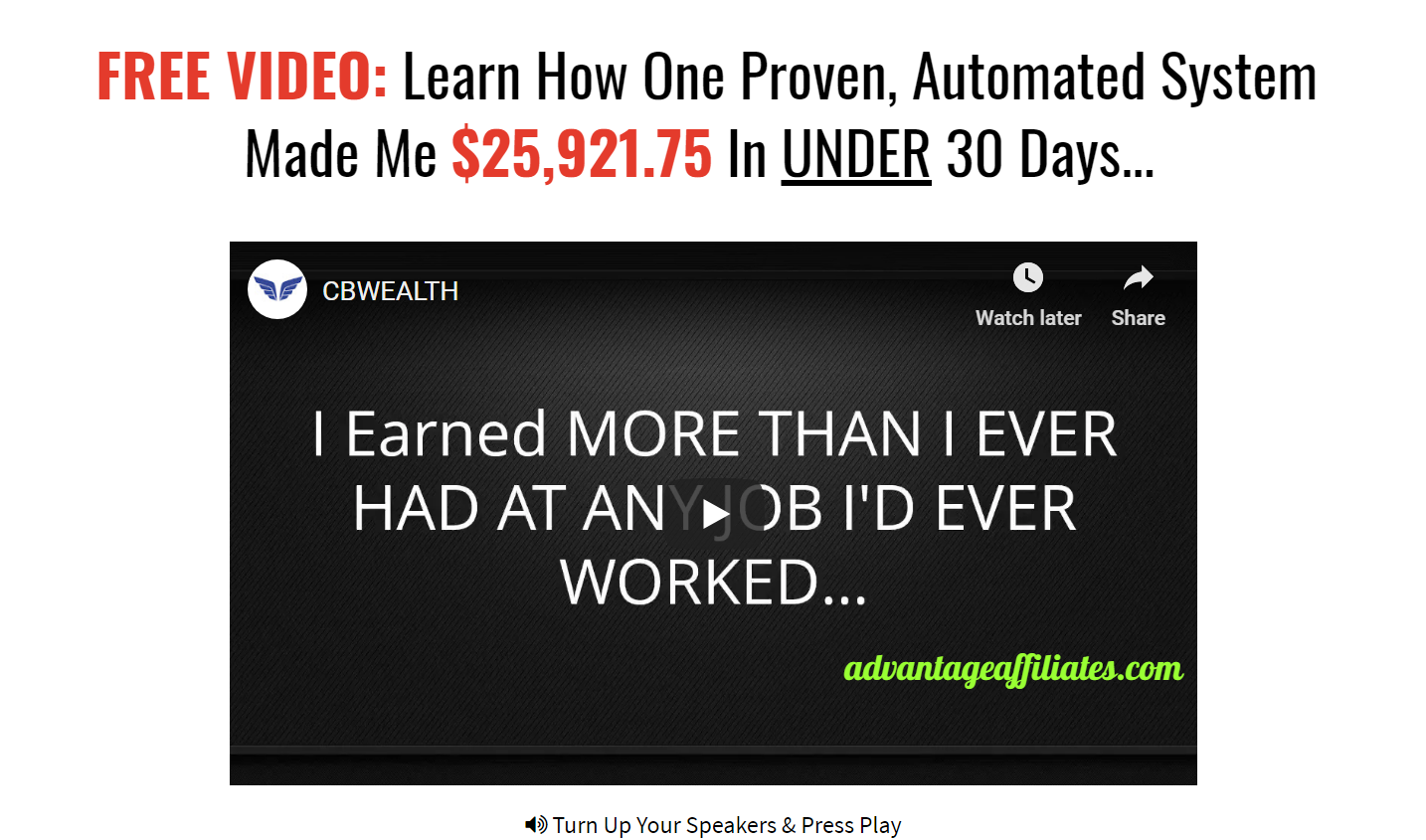 Are you looking for if CB Wealth is Scam and can you really make $25,921 + with this program?
First I want to congratulate you for doing your due diligence and is the best way to stay away from scam and fraudulent programs online and save your hard-earned money.
The Internet is full of LEGIT make money online programs, but due to lack of information and knowledge about how to make money online, most of the people pray to shiny and get rich schemes online.
CB Wealth Review
Name: CB Wealth
Website URL: cbwealth.net
Owner: James Robertson
Created on: February 2019
Price: $37 + up sells
Overall Rating: 1/5
Recommended? NO
What Is CB Wealth is About?
CB Wealth is a program by James Robertson, who claimed to make $25,921.75 in a month, once you enrolled for CB Wealth.
James Robertson introduced himself as a writer and Researcher in the Sells Video on his Website.
James said it is a Done for You Program which can make thousands of dollar for you once set up.
You need not have any previous knowledge, also it is not a Survey, bitcoin or MLM scheme.
You only need to have a laptop/computer and Internet connection to have access to this program and make $17,570 weekly.
How Product Really Works?
James gives all the above information about how much money you can make with CB Wealth but in the 15-minute long video, he does not mention how this program really going to work? What CB Wealth is all about? Surely this is one of the Red Flags, you should beware of before joining CB Wealth. There are some more Warning Signs, that I am going to reveal in this review.
8 Warning Signs of CB Wealth Program
Hidden Identity of the Owner of the Program
In the Sales Video of CB Wealth, James Robertson, Claims that he is the owner of the program. But not once he revealed his identity or never he shows up in the video. The whole of the video is nothing but the blank screen and some text on it. He also says that he is a writer and researcher but does not show any single picture of him. It is sure a warning sign.
2. Fake Testimonials of the success of CB Wealth Program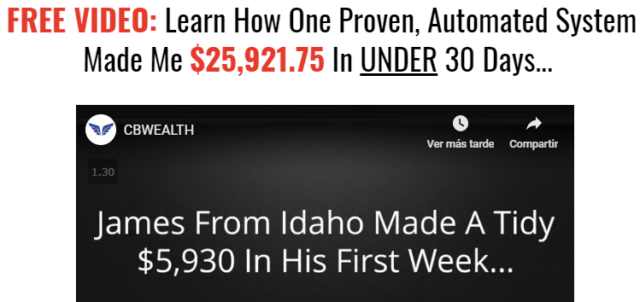 On the name of testimonials, sales video of the program only shows this written text on the blank screen. Even it does not show the image of James who earned $5000+ in the first week itself.
Now this kind of testimonials can be created in thousands, but it holds no value unless you show some concrete proof of the income or the individual who earns this money.
3, False Promises of making you an authority and hyped earning claims
CB Wealth and James make you the false promise of making you an authority. When James himself never shows up once in the video nor does he revealed his identity, how can he make you an authority?
To establish yourself as an authority and create a brand, you need to show the real person behind the program and to establish yourself as a brand in an online platform, you need a strong base i.e your own website, which this program does not provide.
James Roberson, claims that he is an authority but does not have any social profile to show to the audience.
4. No Recurring Payment?
In the sales video, James said that there are no recurring payments and CB Wealth is available for $37 only, also no up sells. But in reality, you end up paying more than $500+, for this program.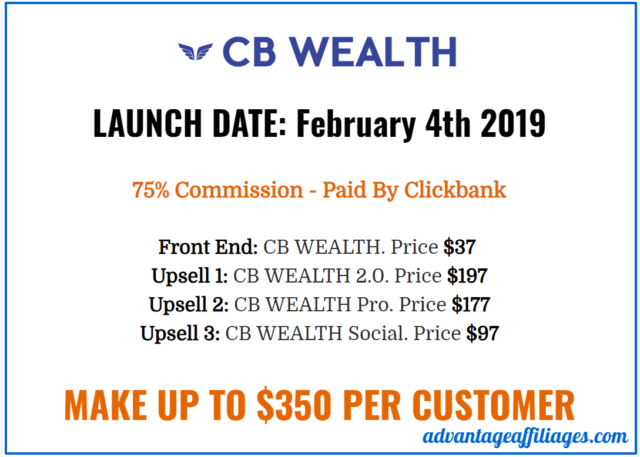 In the screenshot, you can see that the programs have many up sells and not limited to only $37.
This information is available only to affiliates, and though with ever sell I can earn $350, am not promoting this program, because I find no value in this program and it is a total waste of your money and time.
5. Lack of Legal Information
CB Wealth does not provide any legal information like a privacy policy, it does not make clear of how they are going to process the personal information they are collecting from the people.
Don't be surprised if you receive spam emails in your inbox if you have opted for their list. Selling your personal information is another way to earn money online. So it is possible that your personal information may be at risk.
6. Done For You System
CB Wealth is promoted as done for your system to make you money on an autopilot system.
The main drawback of done for your program is you end up learning nothing at the same time done for your programs do not last long, so earning money for the long term is not possible from this system.
7. Outdated Training
CB Wealth provides you some basic training but most of it is generic and dated PDF. Most of the training is available for free online and does not provide the value for money.
Better you invest in some legal and reputed online platform which will impart you the latest and up to date knowledge of the Online Marketing. Check out the place where I first learned about Online marketing and totally free to join
Is Product A Scam?
CB Wealth is not a scam, just because it is giving you some basic training and 60-day money back guarantee.
There are many programs which do not provide any training, CB Wealth does provide some basic training, but it is not worth.
All Clickbank products come with the money back guarantee, so is this program. If you don't like the product, you can always claim your money back guarantee.
CB Wealth is full of red flags and.   warning signs about the programe.  Now it is up to you if you want to join the program  but I highly do NOT recommend this Program.
What is better than CB Wealth Program?
Making Money Online in a legit way is possible and there are many good platforms which can guide you in the right direction. Don't get scammed, here is the platform which can help you to build your online business in a step by step way.
I can not guarantee program like CB Wealth, but this is one program which I can Guarantee that it can help you to build you and your business as a brand and make you an authority in a real sense.
It has great community support, which works on the pay it forward principal and where you get help in real time.
On top of all, it's free to join, so nothing to lose, on the contrary, you will get two websites + hosting free for life.