Welcome to My Review of Affiliate Coach.Co
Do you want One On One Coaching from an Internet Expert having experiece Over 12+ Years ? or do you searching if Affiliate Coach is a legit opportunity to earn money?
First of all, I want to congratulate you for doing your own due diligence and for sure, is the Best Way To Avoid Scams Online and save your hard-earned money.
Let me help you to find out the truth about Affiliate Coach and guide you in the right direction to make money online.
Also, let me be completely transparent with you, Affiliate Coach does not offer Affiliate opportunity yet,    So rest assured I'm not here to pitch or sell anything to you!
Affiliate C oach Review
Company Name: Affiliate Coach
Website URL: affiliatecoach.co
Owner: Jay Neill
Launched in: 2018
Price: $275
Recommended: Yes.
What Is Affiliate Coach All About?
Affiliate Coach is One on One, 28 day private affiliate coaching with Jay Neill.  Jay has a vast experience in internet marketing, affiliate marketing & local SEO.
You can book 4 One on One Session and get all the benefits completely free.  Apart from 4 private 45 minute sessions with Jay, you get full training on how to build a website from scratch.
Also you get access to a private community where you will find many high-level profile affiliates engaging and communicating with other members.
You get a dedicated project management area "Basecamp" where you can ask any queries if you have directly to Jay.
Jay offers a full website audit using the Ahref tool and provides you with all the details about your website.
And you have lifetime access to these tools.
How Affiliate Coach  Really Works?
You can join Affiliate Coach by signing up for the One on One Sessions.  Once you joined in you have full 5 modules of training available to you to go through.  In which Jay teaches you how to build a website from a scratch, discussing all the important topics like how to choose niche, how to make logo for your website and make it brandable.
Jay guide you through all the process of making a successful website.  Jay has a profound experience in making affiliate sites and his own website footballsnackhelmets.com has had great success, breaking all the records of sells.
Jay also has authority in SEO, as he himself is an established himself as a Local SEO Expert and offering his services to the people.
Jay very generously offers a free download of three paid themes of StudioPress.
You can book one on one session with Jay according to your time zone & comfort.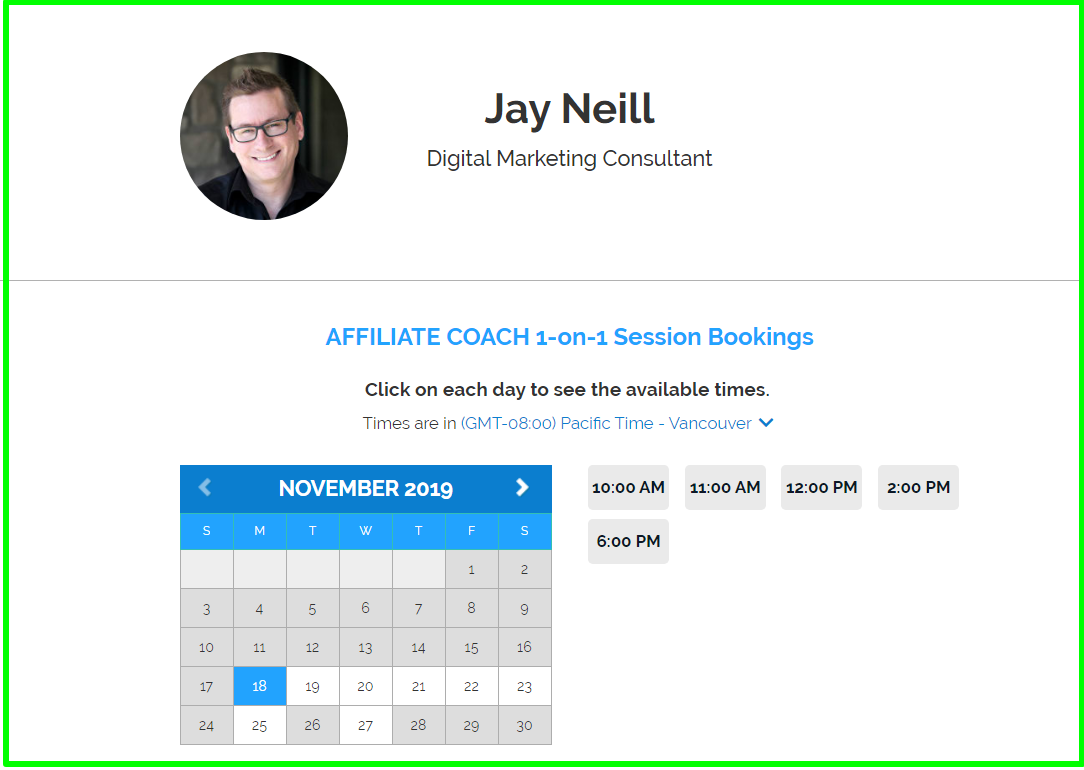 The best part is every session is recorded and you can access it's recording through Basecamp/Campfire area.
The one on one session is through Zoom and lasts for 45 minutes.  You can ask any doubts or questions and consult with Jay and he shares his knowledge and experience.
Let's Discuss Pros & Cons:
Pros:
Personal Guidance by a veteran
As I mentioned above, Jay has a vast experience in digital marketing and can guide you through very well.  His deep insights help anyone seeking guidance.
Jay also held Live WAbinars every weekend exclusively for WA members for the last 12+ years, so one can get the idea of his vast knowledge and experience in this field.
The main characteristic of Jays's teaching is he makes the tough subject as SEO looks like very simple.  You ger personal guidance on your business, website and get right guidance which you can be assured of.
Earnings:
Jay himself guides to develop a profitable website under his guidance.  He guides you through to choose a niche perfectly which is profitable and helps to build a website.
There are thousands of WA members who have successfully build their own website and earning handsomely.  The same way he offers his guidance in Affiliate Coach, but here you get more personalized guidance as Jay can go through each one of website.
Many successful and high-level profile affiliates, earning 6 to 7 figure income still participate in Jays' one on one session to get his guidance.
Training
Jay offers training through short videos that are easy to consume and have five modules.
Welcome to the AFFILIATE COACH
How to Book Your 1-on-1 Coaching Sessions
Your WordPress Theme Download
Discovery Questionnaire Video
Finding Affiliate Programs
Building the Site Part 1: Installing Domain, Hosting & WordPress
Building the Site Part 2: Configuring WordPress
Building Site Part 3: Install WordPress Theme
Building the Site Step 4: Adding the Plugins
Building the Site Step 5: Adding the Menus
Branding: Building a Logo
Branding: Adding the Logo to the Website
The best part is you can schedule your sessions as per your comfort and get the guidance whenever necessary.  You can book all the sessions in a month's time or can spread over the weeks.
How Much Affiliate Coach Really Costs?
The best part about Affiliate Coach is Jay offers you a discount on your next booking if you need so.  Many people re-book his sessions regularly to get benefit from his knowledge and guidance.
Conclusion:
As affiliate marketing is growing, many people are heading towards it, and there are many pieces of training available to get a piece of thorough knowledge.
But if you need more personalized and more focused direction, one on one session with an expert, goes a long way and every penny spend on it, total worth.
Apart from being an expert, Jay goes out of his way to guide you and from my experience, I can say that the session extends more than a mere 45 minutes.
So to give your business a more focus & dedicated direction 1 on 1 Session is a good start.
Jay also shares his knowledge and wisdom every week through live WAbinars extensively for WA members.  So join WA Premium Today to get free Live WAbinars for a lifetime.  Black Friday is the best time to join Wealthy Affiliate, as it offers a huge 49% discount on annual membership, which costs you only 0.82 cents daily..
It is the platform where I am working for the last few years and learned about online marketing.  But if you want to earn legitimate money, you need to commit to this program.
Legitimate Opportunities Requires Legitimate Effort
Making Money Online is much like any other business, which requires hard work, Patience, and Persistence.
The people who fail online is because of their wrong mindset.  People who do not want to work hard, or they want to put in little or no effort to get the results.
The business module which I highly recommend is not a get rich scheme.  You need to work hard and work hard consistently.  This is the method which has succeeded in the past and will be successful in the future years also.  It is a time-proven method.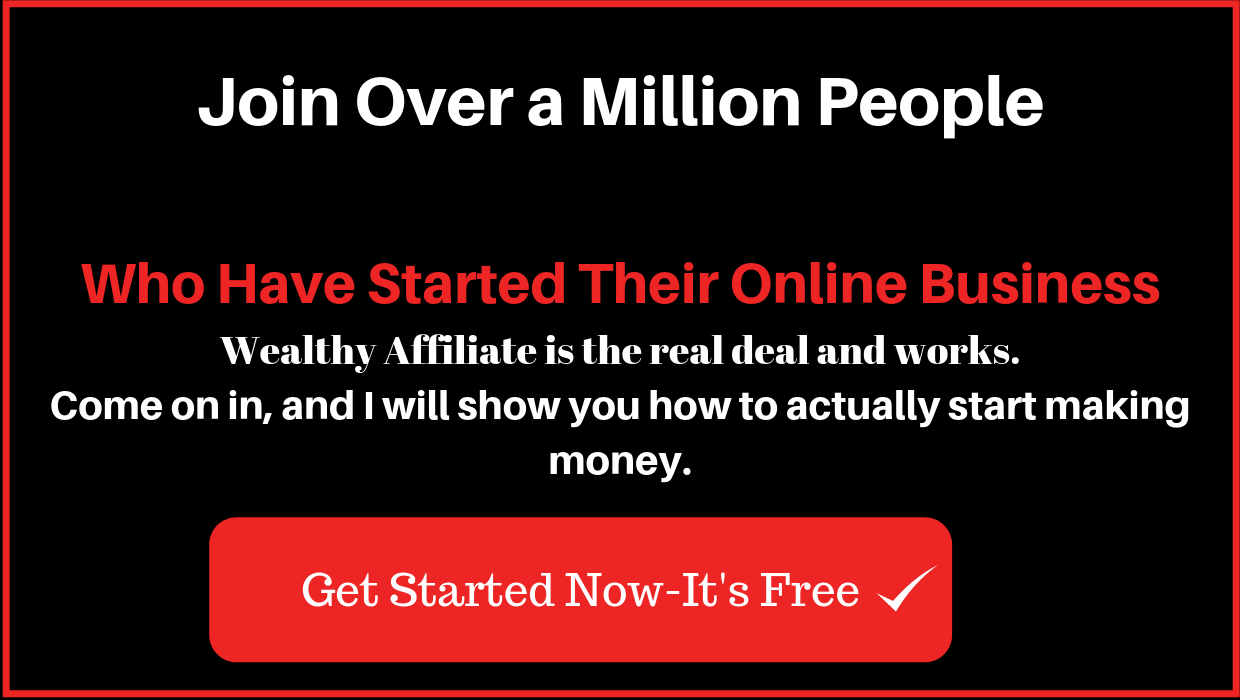 Why I am so sure about this program?
I like to recommend my readers those programs/ products which will add value to their life, and I am sure you will thank me for introducing this program to you!
It is Free to Join
The most important thing that it is free to join, you do not need to pay a single dime while joining.  And I would also like you to go through the Starter Membership, see whether this program is for you.  Take full advantage of Starter Membership and if it suits you, Go Premium!
The Support is amazing
When you are building an online business, sometimes it becomes lonely.  You need encouragement and support from others.  this platform has an inbuilt support system in the form of an amazing community of more than 1.5+ members.  Live chat, PM, Blog are some of the ways to communicate and get support from the community.
Beginner Friendly
When I joined this platform I was totally unaware of the technical stuff and had very little to no experience working online.  But the platform is for anyone who wants to build an online business.
One-Stop Destination for becoming Successful Online
Most of the tools and training which one needs to be successful are available on the platform, so you do not need to go elsewhere for any further additional services.  You can easily Build and prosper your online business Under ONe Roof.
Legitimacy
The platform teaches you the most popular earning method of online marketing i.e. affiliate marketing.
Affiliate Marketing is a very legit and sure way of earning money online, but the success depends on you.  The success is proportionately related to the hard work you put in your work.
Lastly, I have personally been with the platform
I personally working on this platform for the last few years, and I am really lucky to found this platform.  It is one of the most advanced platforms online and most importantly, the environment within the community is very helping, caring, and encouraging!
Since it is free to join, I highly recommend you check out this program.

I hope the Review of Affiliate Coach has helped you to make an informed decision.
Don't hesitate to share it with whoever you believe will benefit from it!
If there's something else you want to know or you have any questions, please feel free to leave a comment below and I'll get back to you ASAP!?
Whatever you do next, I wish you nothing but the best 🙂
Jivita