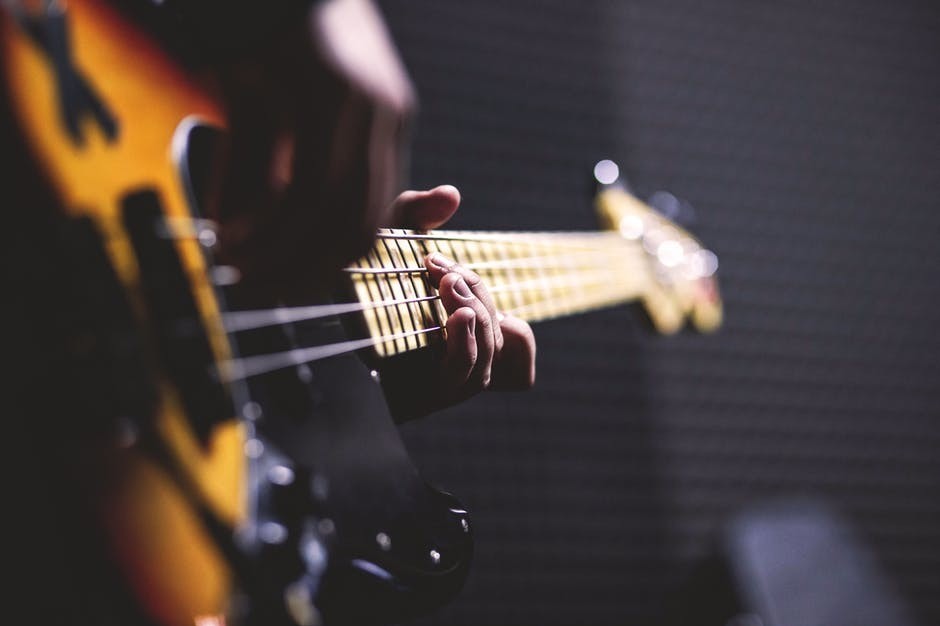 Amazon Prime was launched in India in July 2016, and it continues to grow its members by then. Amazon Prime has provided a great service and great user experience since its launching.
After the successful launch of Amazon Prime in India, Amazon launched Prime Video in December 2016. With Prime Video you have access to the latest and exclusive blockbusters in regional, Bollywood and Hollywood.
You can excess Prime video anywhere and across devices.
Amazon Prime has created the same magic with Prime Music.
Amazon Prime Music launched in India on 28th Feb.2018, which is available to Prime members for free.

Tectonical changes in Indian Music Industry
Report of the 'Digital Media:
A rise of On-demand Content' by consulting firm Deloitte – India's digital music industry is expected to reach Rs 3,100 crore in revenue while the number of online music listeners is expected to reach 273 million by 2020.
Not surprising that Amazon has hugely invested in Prime Music and partnered with top music IP owners and curated content.
"There is a tectonic shift happening in the Indian streaming markets. Data has become affordable and we expect more consumers to consume it. Music, therefore, is an integral part of our expansion," Sahas Malhotra, Director, Amazon Music India told BusinessLine.
In recent times Amazon Prime signed in to partnership with Saregama, to stream its catalog. Alongside it also content deal with Zee music Company, T series, Times Music, Tips Music, and Sony Music.
He said the company's partnership with top music IP owners and curated content is one of its key USPS.
"With ad-free streaming at no additional cost to Prime members, Amazon Prime Music offers a welcome break from text and voice ads that come between you and your favorite music," he said adding the company plans to add regional soundtracks.
Though it's not going to be easy for Amazon Prime Music, as it has tough competition from Gaana, Saavn, Hungama, Reliance's Jio Music, Airtel's Wynk and Google's Play Music.
---
Great Features of Prime Music
Without commercials/ Ad-Free non-stop music streaming
Amazon Prime Music is a welcome break from text and voice ads that come between you and your favorite music. It's very rare nowadays, you can listen or watch any music or show without commercials. So It's a huge benefit of Prime Music that you can non-stop listen to your favorite music without any disturbance.
Unlimited Offline Downloads

Amazon Prime Music offers you an unlimited offline (downloads) across tens of millions of songs in multiple languages – English, Hindi, Tamil, Punjabi, Telugu, Bengali and more.
Another great feature as you can download it on your devices, which saves your data costs and connectivity challenges.
Specially hand-curated playlists and channels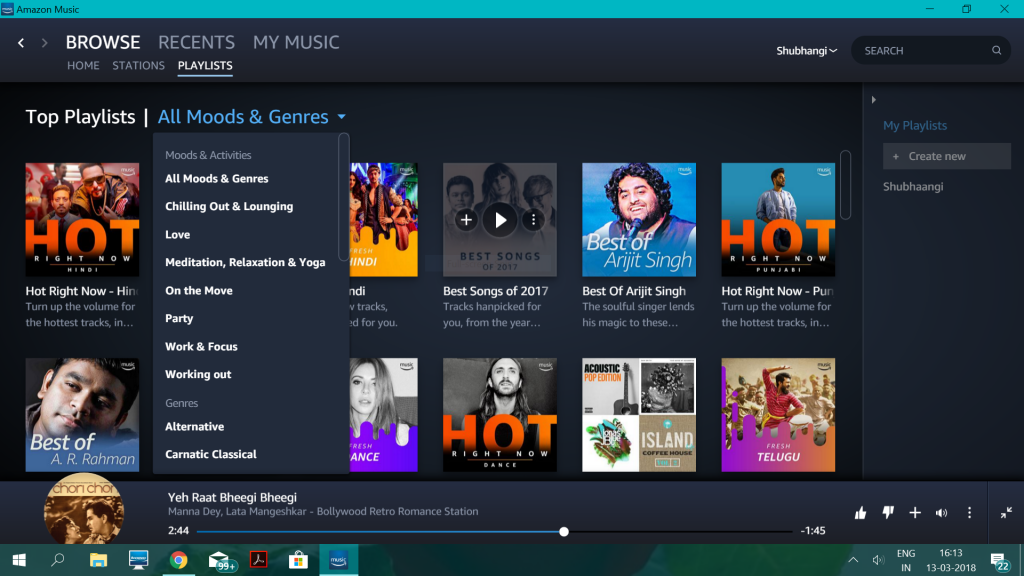 Amazon Prime Music has a vast library and specially curated playlists and channels across moods, activities, genres, artists and decades.
You can create your own playlists and follow the playlists available from the vast collection of Prime Music.
Amazon Prime Music Download
You can enjoy unlimited offline downloads with Amazon Prime Music, and play across devices.

Some supported devices:
Desktop app,
Web Player,
Amazon Fire TV stick
Amazon Echo devices
other Alexa enabled devices.
---
Amazon prime music stations
One of the many Prime Music's features is its hand curated Stations. Prime Music has segmented various trends, genres, and moods. It's so amazing to find all of your favorite collection in one place.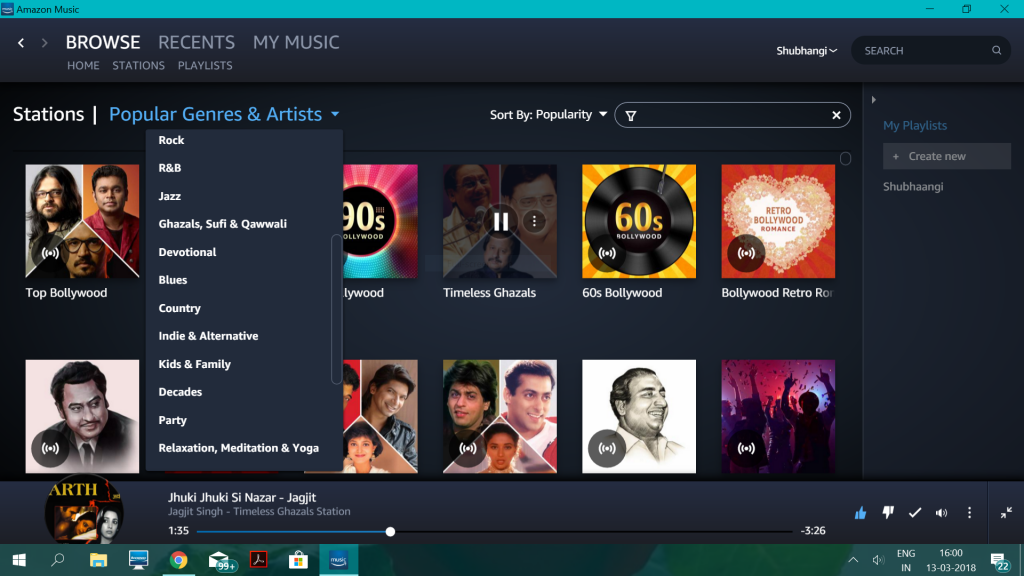 The most amazing feature of the Amazon Prime Music is that you can share your favorite song, list, or station to your friends, FB, and Twitter followers., You can embed a song or list on your website. Sharing one of my favorite Ghazal with all of you.
---
Amazon prime music playlists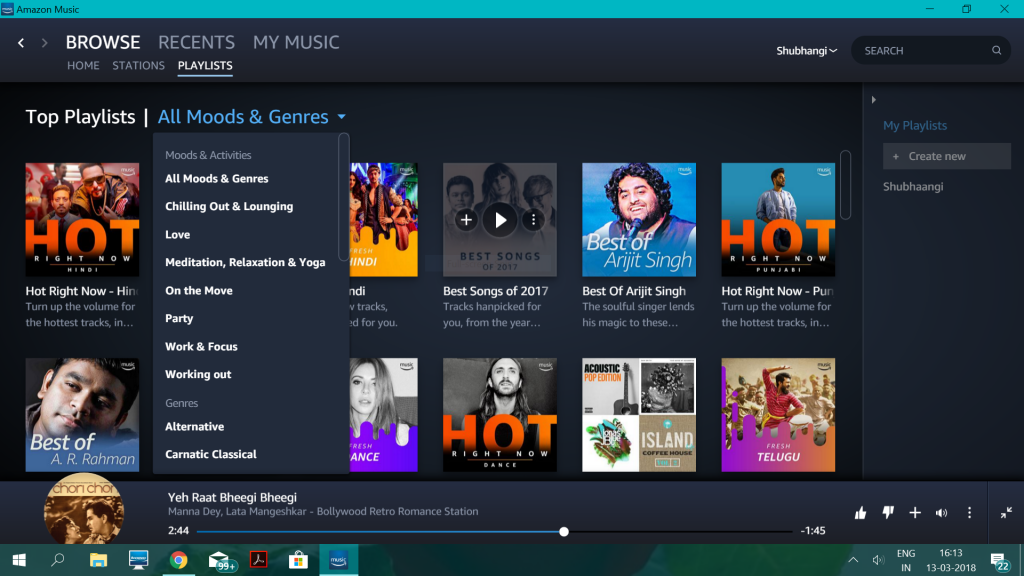 APM has a vast number of playlists created according to era, moods, genres and so on. At the same time, you can create any number of your own playlists, add any song to your own library or to a specific playlist.
You can also share a specific album or playlist with your followers on social media as well as embed on your site.
Amazon Prime Music App
Amazon also launched an app for Prime Music, which is a huge hit with more than 8 lakhs downloads within 15 days of its launch.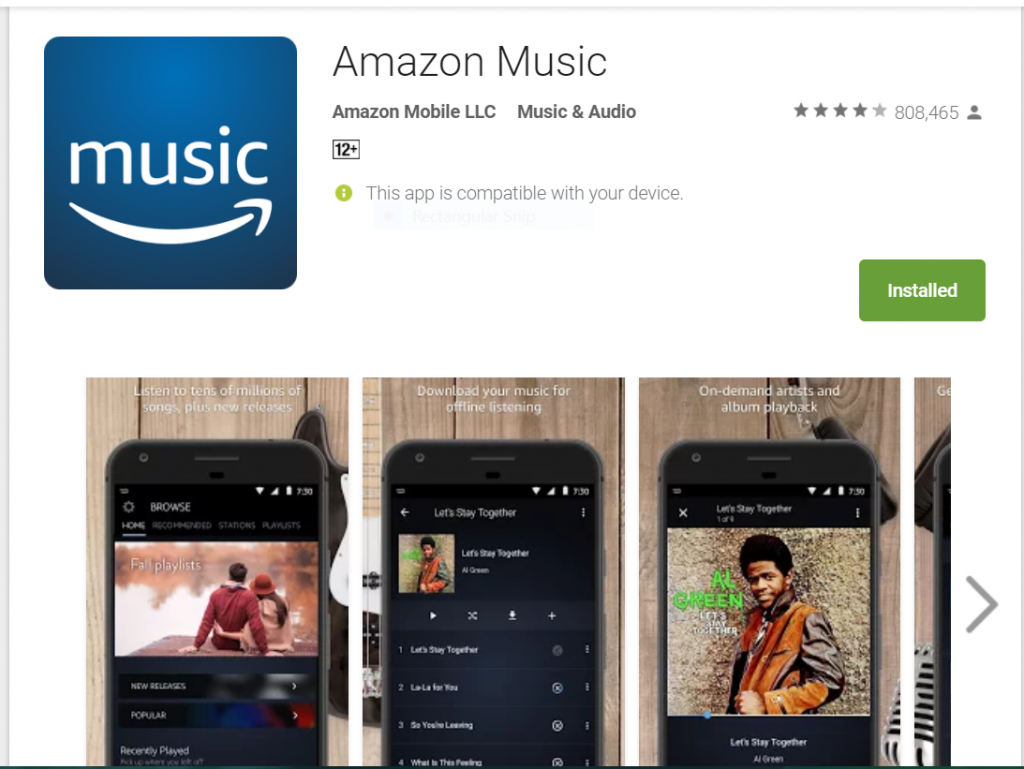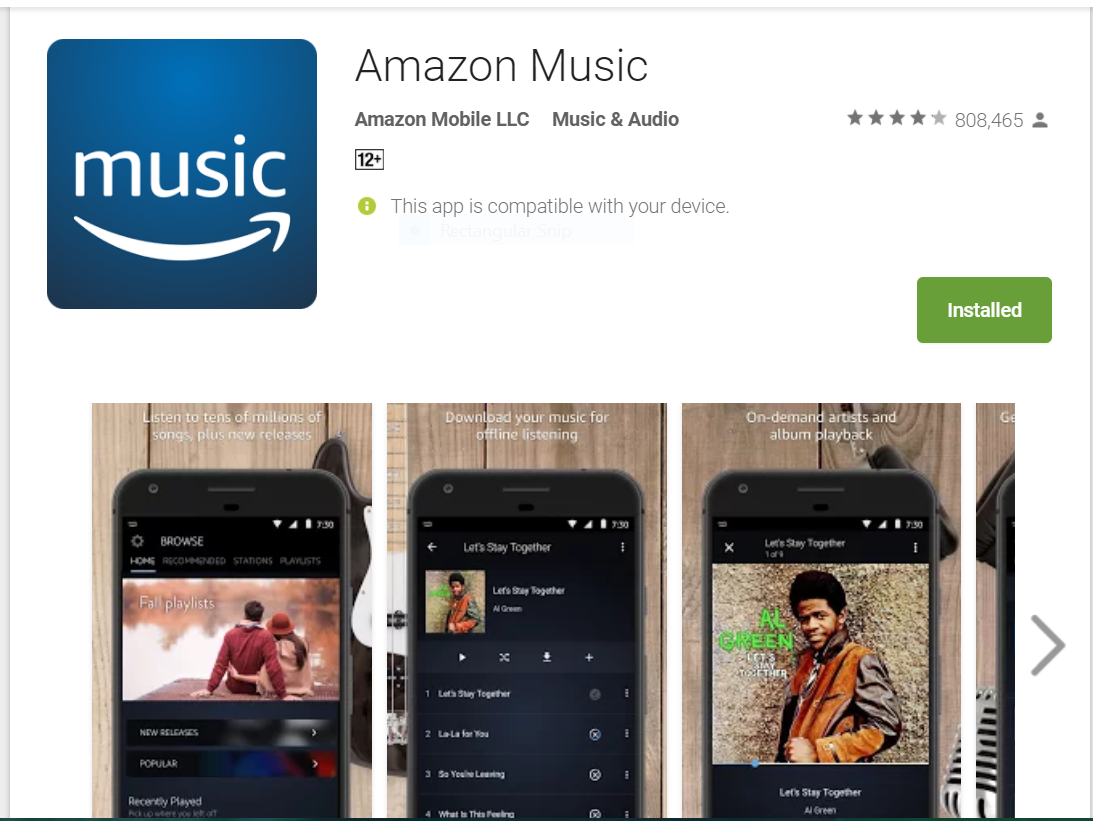 I have launched the Prime Music App, and it works seamlessly. the best part is you can save all of your music in the cloud. It saves your phone memory. Of course, you can download all of your favorite songs to your device.
---
You can now select music on your Android device and have the music play on your Chromecast enabled devices.
The Amazon Music app now features Alexa. Tap the new "Alexa" button and ask Alexa to play new music, play a song by its lyrics, play work-out music, or many other Alexa supported commands or questions, all from within the app. [US, UK and DE only]
Alexa is available for customers on Android Lollipop (5.0) and higher-conclusion.
---
Amazon Prime Music is going to be a super success in India, as it offers great features to music lovers to listen to music without any commercials, unlimited free downloads, music across all devices with some additional features like:
Take Alexa with you wherever you go – simply by using the push-to-talk function within the app to access Alexa's voice controls.
No searching or browsing required – just ask Alexa, wherever you are.
Stream new releases from today's most popular artists
Download your favorite albums, songs, and playlists to your mobile device for offline listening.
Amazon Prime Music is power packed with great features. My most favorite features are, of course, non-stop streaming without any commercials and ability to share my favorite song on social media like Facebook and Twitter.
How to sign up for Amazon Prime Music
Prime Music is free with Amazon Prime. Amazon Prime is a yearly subscription.  Just click the button below to sign up for Amazon Prime account.

Amazon Prime
Amazon prime gives you many benefits on your shopping with Amazon. Amazon Prime makes your shopping totally hassle free and gives better UX with Amazon Shopping.
Unlimited FREE fast delivery
Guaranteed free One-Day, Two-Day and Standard Delivery on eligible items
Why pay Rs.100 for One-Day Delivery every time you need an item quickly?
As a Prime member, get unlimited FREE One-Day and Two-Day Delivery on eligible items from India's largest online store, to over a hundred cities.
Prime items that are not eligible for free One-Day or Two-Day Delivery to your location, will always qualify for free Standard Delivery with no minimum purchase value.
The fastest, free Prime delivery speed available for an item will be shown on the product page.
Prime members also enjoy discounted Same-Day and Morning Delivery to pin-codes in Delhi, Mumbai, Bangalore, Hyderabad and more cities across India.
Exclusive access to top deals & coupons
As a Prime member, you get access to exclusive deals across categories. Be among the first to decide what's hot and what's not, and get 30-minute early access to top Lightning Deals every day.
Choose the Prime Early Access filter when you search, to see the day's selected deals.
With Amazon Family, prime members get exclusive discounts and recommendations, all tailored for their family.
Prime Video
With your Prime membership, you have access to the latest and exclusive Bollywood and regional blockbusters, Hollywood movies, US TV shows and award-winning Amazon Original Series like Transparent.
Access Prime Video anywhere: on the go or in the comfort of your living room. Watch on your Android or iOS phone, tablet, laptop, desktop, or smart TV.
Items eligible for Prime delivery benefits (free One-Day, Two-Day, and Standard Delivery) are clearly marked. Just look for
next to products when you search.
Choose the Prime logo filter to view Prime items only.
As a Prime member, you can update your delivery pin-code on product pages to see the fastest, free delivery option next to the Prime logo. You can see all Prime delivery options available for your order at Checkout.
Prime offers a safe and convenient shopping experience on items
and items fulfilled by qualified sellers who meet high delivery performance standards.
Compare Amazon Prime with Gaana, Saavn!
Amazon prime is available for Rs.999/- only.
If you compare other Music Streaming Players like Gana and Saavn have a membership of Rs 1,050 and Rs 1,020 per year while Google Play Music and Apple music stands Rs 1,200 and Rs 1,440 respectively, and these memberships include only music streaming.
On the contrary, Amazon Prime membership is all in one, includes your shopping, Prime Music and Prime video streaming for free.
So just go Amazon Prime today!

Another Prime Account which can change your life is Wealthy Affiliate Prime.  You can start with Free Account at Wealthy Affiliate.
I assure you will never regret joining WA!
If you have any questions about Wealthy Affiliate or Amazon Prime, pl let me know in the comments section below.
Is this article helpful to you? if yes, share it with your family & friends.