Update: Nov. 2021.
With the increasing popularity of Youtube, Vimeo, and an increasing number of monetization possibilities more and more people turning to create videos.  At the same time with the latest developments in technology, smartphones have become a necessity for everyone.  It has become easier than ever before to shoot and upload a video to different platforms directly from your phone.
And if you have video editing software installed on your device, nothing better than that.  But with the growing number of video editing software, it becomes more difficult to choose the right one for you.  Here we come into the picture, from thousand of video editing software, we have chosen some really good and quality video editing software.
Most of these video editing software come with a Free starter trial, so before buying it's always better to go first with a free version of the software.

Name: ScreenFlow

 Record Screen, Edit Video & Share with the world
Platform: Windows & Mac
Key Features: 
Built-in  stock media library with 500,000 media clips

ios recording 

closed caption support

Directly publish videos to many platforms
Video Tracks: Unlimited 
Free Trial: Yes
Best For Professionals & Enthusiasts
Pricing:
ScreenFlow     :$119.20 
ScreenFlow Super Pak: $179.20
ScreenFlow Super Pak + Premium Support: $209.20 :   Visit Site
ScreenFlow is an award-winning and easy-to-use video editing, screen recording, and sharing tool from Telestream.  Screenflow has a very user-friendly interface. You can create home movies or professional videos with screen flow easily.
One of the main features of Screen flow is its unique media library of 500,000 images, videos that you can use in your recordings.  Screenflow comes with some powerful editing tools like transitions, text animations, video animations, freehand annotations, multi-channel audio and more.
A unique feature of Screenflow is that you can create Animated GIF and Animated PNG from any video clip.  Screen flow has the ability to multi-screen recordings. It has a very powerful tool Pallett in which you find Hand, Zoom, Blade and Track Select are now in ScreenFlow! Use hotkeys to switch your cursor function to make it easier to navigate the timeline, make quick track splits.
Logitech Capture Download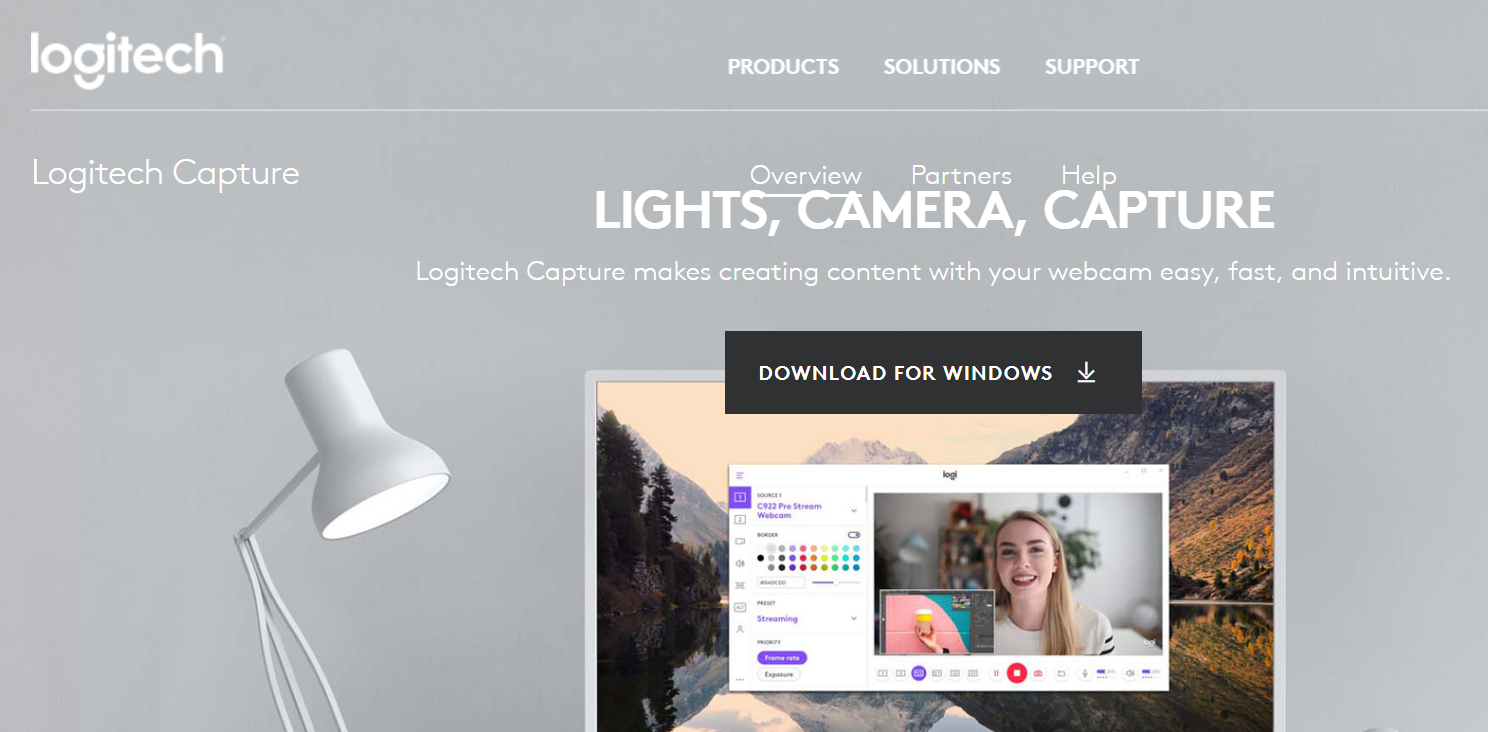 Name: Logitech Capture
Lights, Camera, Capture
Compatible with: Windows7, 8 & Windows 10
Key Features: 
1. Record from multiple sources
2. Record in 9:16 format for mobile viewing
3. Stream directly from the app to Youtube
4. Studio Controls
Video Tracks: Unlimited
Free Trial: Yes
Best For: Both – Professionals & Beginners
Pros:
Capture webcam video and your desktop screen for creating PIP
2. Vertical video for a portrait viewing experience optimized for mobile phones and social media posts.
3. Many studio-style controls like enable ChromaKey recording, apply filters etc.
4. stream directly from the app to YouTube without having to use a complex encoder
Price: Free
Premium Support
System Requirements
SUPPORTED WEBCAMS:
C920 HD PRO
C920s HD PRO
1080P PRO STREAM
C922 PRO STREAM
BRIO 4K PRO
BRIO STREAM
Logitech Capture boasts itself as an all-in-one content creation tool, with its high-quality video content that starts recording the second you plug in your new webcam in the Logitech.  It enables you to customize your recording, adjust your camera settings and create the vertical video.
With its new features, you can stream, record and edit like a power streamer.
Filmora

Name: Filmora
Easy, Trendy & Quality Video
Platform: Windows & Mac
Key Features: 
Preview rendering, auto ripple
2. royalty-free stock images, video effects
3. great tutorials on the subject
4. world-class support
Video Tracks: Unlimited
Free Trial: Yes
Best For: All – Professionals & Beginners
Pros:
Popular software with 50,000,000 users
2. Great Community support
3. userfriendly interface
4. direct upload from the app to YouTube
Price: Free
Premium Support
Download Now ⇒ Filmora 
Filmora is a very popular video editing software, its interface is very easy to use and record videos from any device.
With the latest innovation in Filmora, it has become more attractive and a breeze to use.  Now you can upload your video directly from the app to Youtube Channel.
Filmora has its own community where you can ask any question and if you need any suggestion you can take help from the community.  It also has video Editing Academy, where you will find many tutorials and training on the subject to improve your video editing skills.
Filmora also provides great support to its members.
Screencast O Matic

Name: Screencast O Matic
simple & Intuitive tools to make Videos super easy.
Platform: Windows, Mac & iOS, Android & Chrome book
Key Features: 
Fast, free & easy to use
2. Robust video editor with tools like zoom, add text & Images, automated captioning, and so on.
3. Paid cloud hosting
4. community of 900,000 members worldwide
Video Tracks: Unlimited
Free Trial: Free & Premium 
Best For All, from students to a businessman
Pros:
popular among students
2. very attractive pricing
3. many video tutorials to impart the knowledge
4. Great support to members
Price: Free & Premium
Premium Support
Click the Link To Get 20% Discount ⇒ Screencast O Matic
Screencast O Matic is a very popular video editing software.  It has a very intuitive interface that makes it very easy to make and share videos. It has both free and premium subscriptions.  In a free version, you can make videos up to 15 minutes abut in a premium version, there is no limit on recording time and you can make video without any time limit restriction.
Screencast has a vast library of video tutorials explaining each function very specifically.
Conclusion:
Videos are a  trending subject and YouTube has become a huge platform for anyone who loves video making. There are many video editing programs that are really amazing, some of them are free others are Premium.  But you will notice that companies are trying to make the software easy to work.  Most of the platforms are very easy to use, and you do not need to have any technical knowledge.
With the latest technology now anyone can make and upload videos directly to Youtube Channel.  Video making can be a very lucrative business opportunity also.  There are many YouTubers earning handsome money through their Youtube channel.  So having and acquiring video making knowledge is beneficial.
Though making and uploading videos has become very easy, but you should be very careful while uploading videos on social platforms, as it can make or break your brand and business.