Welcome to My Review of The Freedom Formula!
Do you want to earn money from The Freedom Formula? or are you searching if The Freedom Formula is a scam or a legit opportunity to earn money?
First of all, I want to congratulate you for doing your own due diligence and for sure, is the Best Way To Avoid Scams Online and save your hard-earned money.
Let me help you to find out the truth about The Freedom Formula and guide you in the right direction to make money online.
Also, let me be completely transparent with you, I am not associate with The Freedom Formula in any form.  So rest assured I'm not here to pitch or sell anything to you!
The Freedom Formula Review
Company Name: The Freedom Formula
Website URL: https://completefreedomformula.com
Owner: Misha or Keysha?
Launched in:  relaunched in April, 2019
Price: $1 per day + Upsells
Recommended: NO
What Is The Freedom Formula All About?
The Freedom Formula is nothing but a funnel page to Super Affiliate Network (SAN), which I have reviewed some days before.
Super Affiliate Network is a high ticket program, which costs you $15,000+.
The Freedom Formula is not a product in itself, but a sales page of Super Affiliate Network, under a different domain name.
I highly doubt, that Keysha, who is the member of Super Affiliate Network and has earned thousands of dollars, promoting SAN, through a different name.
I highly doubt this because whenever you try to leave the sales page of The Freedom Formula a popup appears.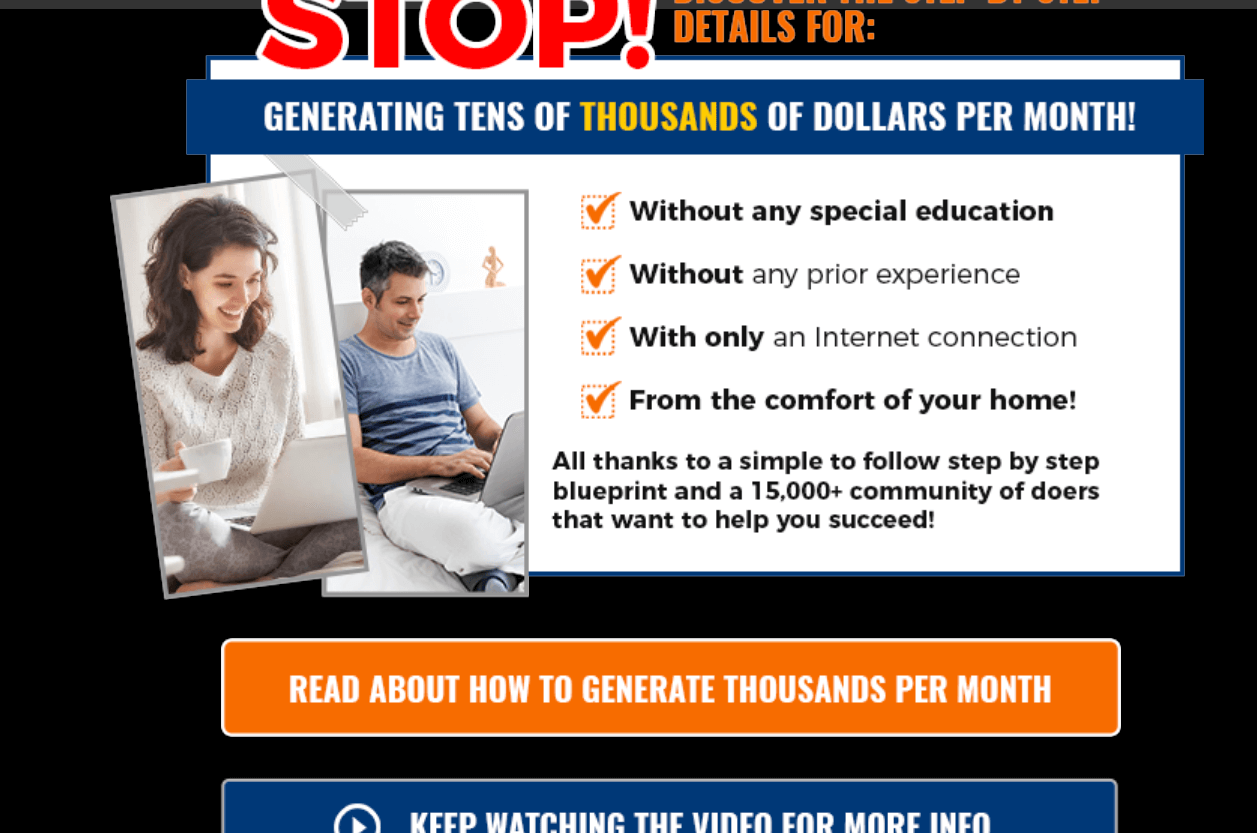 he The popu[ gives you two option, to continue watching the video or Read Abou, if you click the Read About, it will land you to Keysha's sales page of SAN. You will find Keisha is revealing her life story on the sales page.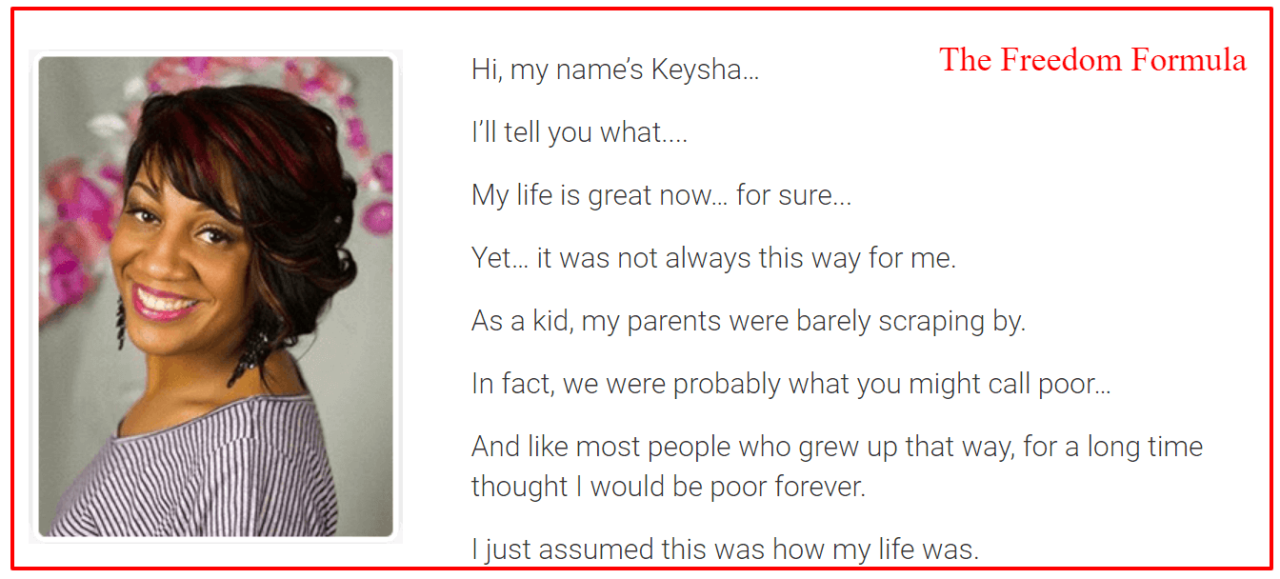 You will also find that she is promoting SAN through her website and YouTube Channel.  In the sales video, the spokesperson is not Keisha and not once it is mentioned that The Freedom Formula, is related with Super Affiliate Network.
It is misleading since it gives the impression, that you are buying a new product.
How The Freedom Formula Really Works?
As said earlier, The Freedom Formula is a funnel to Super Affiliate Network.  SAN teaches you about affiliate marketing.
On the sales page of The Freedom Formula, you will find what the product offers: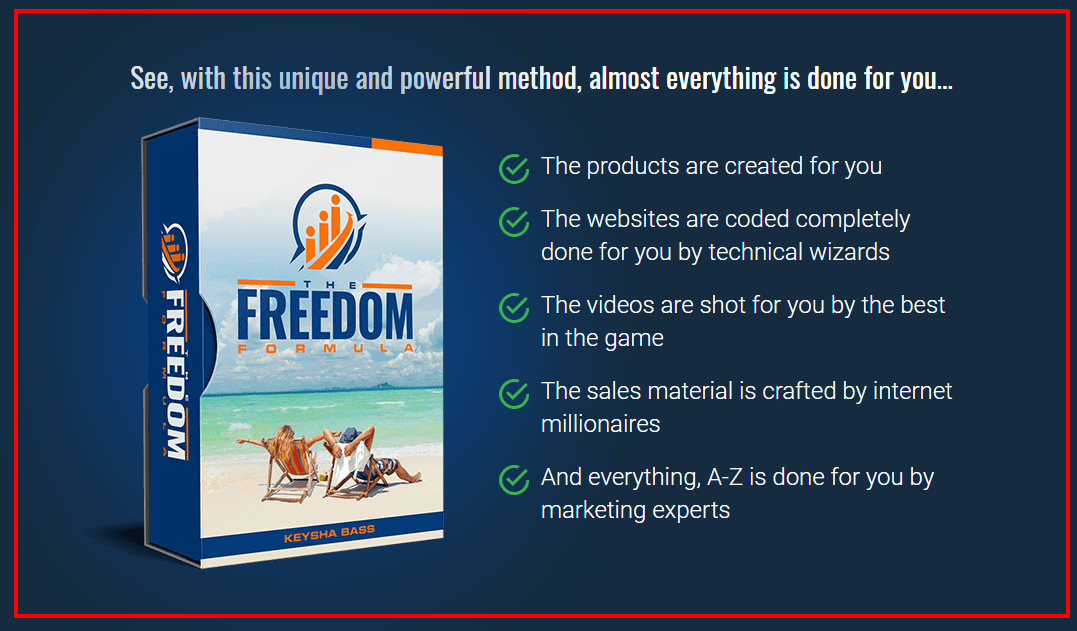 You will see in the above screenshot, that it is a done for you product, and everything is readily available to you according to The Freedom Formula.
It is said that you do not need to create your own product, because the product is already created for you, and that nothing but the Super Affiliate Network.
After reviewing the product thoroughly, I found many RED FLAGS of the program, which you should be aware of.
RED FLAGS of the Freedom Formula
Misleads  people

The Freedom Formula is misleading people by offering them just a funnel, instead of a full product.  People who want to buy a complete product, to earn money get nothing but the sales page of Keysha,

Hyped and Unrealistic Claims
The entire sales page of The Freedom Formula goes on claiming that many of have achieved thousands of dollars, within a short period of two months.  These are hyped and unrealistic claims. it also says that one will be earning $1,000 per day and $30,000 in a month.

Affiliate marketing is not a get rich quick scheme, and it is not possible that after joining this program, you will earn thousands of dollars in a month.  Though the product claims that it is providing a website,  done for you, it is not possible to earn money in a few months. As Google takes almost 3 months to rank on Google.
3. No skill, prior education is needed
It is another claim by The Freedom Formula, that you don't need any special skill or any education is necessary.
But creating websites and maintaining it, takes much time and really hard work is necessary.  learning different skills is not a 10-minute job, who will earn thousands of dollars.
4. The Owner?
In the sales video, it is not clear who is the creator of this program, is it Keysha or Misha?  The Sales page of the Freedom Formula is all about Keysha and promotion of Misha and his product.  so it is not clear whether Misha, promoting SAN, though a different name or is it Misha, who bought a new domain and promoting SAN.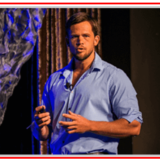 It is very clear that she is promoting SAN because she mentions Misha and how SAN changed her life, but she never mentions that she is promoting SAN.
5.  Beware of Success Advisors
According to the sales page, the program offers you a personal  Success Advisor, so that if you are facing any problem or need encouragement to continue with your company.
But in reality, these success advisors force you to buy upsells, because they will get a commission, only when you upgrade.
Also, you need to have these expensive upsells, to qualify for receiving the payment or your commission.  There are a few complaints, where these success advisors advice you to buy a loan, if you are not able to buy these upsells.
Now, what kind of adviser is this, who advises you to take a loan, to upgrade?  They convince you that you need to upgrade if you want to earn more.
6. Dubious Privacy Policy will sell your personal information
If you read the privacy policy of The Freedom Formula, it is clear that that they will sell your personal information like name, email address, phone number etc.
It is another way to earn money, by selling a person's personal information, and you will be bombarded with spam emails.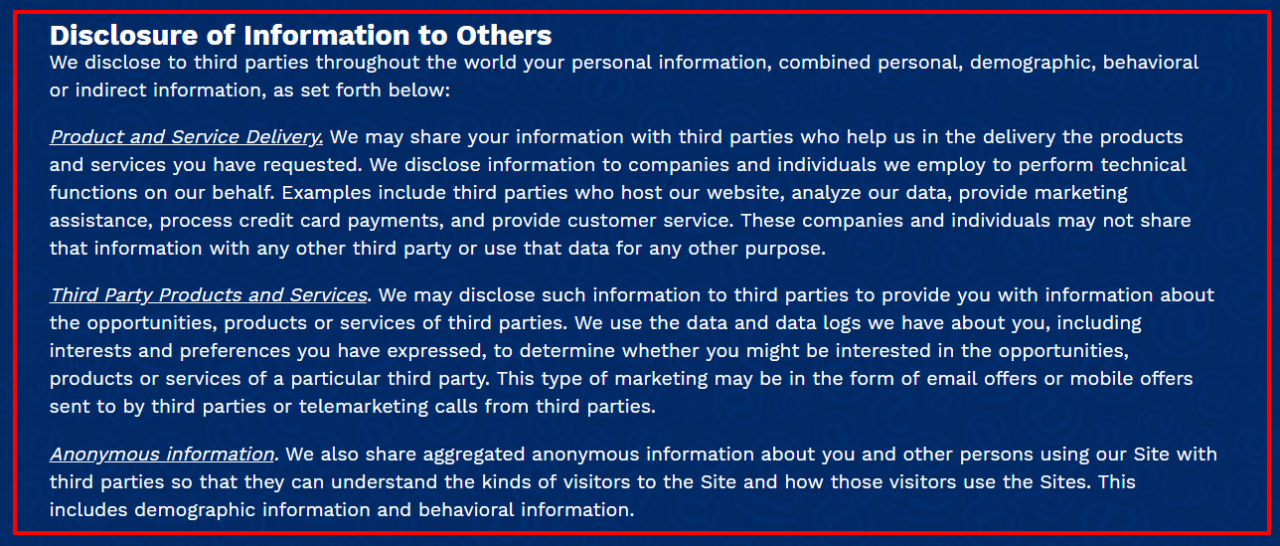 I have reviewed some similar products before, like:
Is Secret Online Goldmine A Scam?
Kids earn cash A Scam?
What is Traffic Extractor Ultimate
How Much The Freedom Formula Really Costs?
You can join The Freedom Formula for a  dollar a day, but has many high ticket upsells which totals to $15,000.
So it is a high ticket program, which costs you thousands of dollar
Is The Freedom Formula A Scam?
The freedom Formula offers you a 60-day money back guarantee, but apart from that, it has many drawbacks which I have discussed thoroughly. Especially, selling the same product, from a totally different domain and the name is nothing but a fraud itself.
The Freedom Formula never mentions that it is promoting and selling the same Super Affiliate Network program.
Apart from high priced upsells, the role of success advisors is highly unacceptable.  You can not force another person to buy the upsells, for the benefit of you!
Apart from the top level tier, no one has achieved success through SAN.
So I do not recommend The Freedom Formula program to anyone.
Rather than wasting your time on another system that does not deliver, why not take a look at My # 1 Recommendation below.

It is the platform where I am working for the last few years and learned about online marketing.  But if you want to earn legitimate money, you need to commit to this program.
Legitimate Opportunities Requires Legitimate Effort
Making Money Online is much like any other business, which requires hard work, Patience, and Persistence.
The people who fail online is because of their wrong mindset.  People who do not want to work hard, or they want to put in little or no effort to get the results.
The business module which I highly recommend is not a get rich scheme.  You need to work hard and work hard consistently.  This is the method which has succeeded in the past and will be successful in the future years also.  It is a time proven method.

Why I am so sure about this program?
I like to recommend my readers those programs/ products which will add value to their life, and I am sure You will thank me for introducing this program to you!
It is Free to Join
The most important thing that it is free to join, you do not need to pay a single dime while joining.  And I would also like you to go through the Starter Membership, see whether this program is for you.  Take full advantage of Starter Membership and if it suits you, Go Premium!
The Support is amazing
When you are building an online business, sometimes it becomes lonely.  You need encouragement and support from others.  this platform has an inbuilt support system in the form of an amazing community of more than 1.5+ members.  Live chat, PM, Blog are some of the ways to communicate and get support from the community.
Beginner Friendly
When I joined this platform I was totally unaware of the technical stuff and had very little to no experience working online.  But the platform is for anyone who wants to build an online business.
One Stop Destination for becoming Successful Online
Most of the tools and training which one need to be successful is available on the platform, so you do not need to go elsewhere for any further additional services.  You can easily Build and prosper your online business Under ONe Roof.
Legitimacy
The platform teaches you the most popular earning method of online marketing i.e. affiliate marketing.
Affiliate Marketing is a very legit and sure way of earning money online, but the success depends on you.  The success is proportionately related to the hard work you put in your work.
Lastly, I have personally been with the platform
I personally working on this platform for the last few years, and am really lucky to find this platform.  It is one of the most advanced platforms online and most importantly, the environment within the community is very helping, caring and encouraging!
Since it is free to join, I highly recommend you to check out this program.

I hope the Review of The Freedom Formula has helped you to make an informed decision.
Don't hesitate to share it with whoever you believe that will benefit from it!
If there's something else you want to know or you have any questions, please feel free to leave a comment below and I'll get back to you ASAP! ?
Whatever you do next, I wish you nothing but the best 🙂
Shubhaangi