In the series of local marketing, last time I discussed the Importance of Reviews for Local Businesstoday we will discuss Understanding Local Citations from a new perspective.  Local citations not only limited to a traditional way of listings in Google, Yelp, and Four Square, but today social media platforms also can help you to get ranked in local listings and they can be included in local citations.  I will discuss it in a moment, but here are the few topics that we will be covering in this article.
An Intro to Local Citations
Which local citations are most important?
How to find Where your local business is listed?
How to Organize Your Local Citation Submission Schedule
An Intro to Local Citations
Beyond having your own website for your local business, having links and profiles in local directories is important. These are called Local Citations and having citations is a massive ranking metric.
The more citations you have, the more links you have directing to your website, creating some nice backlinks to your site.  Besides having SEO benefits, it also creates good citations for your business.
In simple words, any online mention of the name, address, phone number for a local business can be a citation.  Citations are web directories like Google, Bing, Yahoo, at the same time social profiles of your business like a Facebook page, Youtube, Pinterest, or any other social media platform that allows you to create a business page can work as a citation for your local business.
Which Local Citations Are Most Important?
As I mentioned above, local citations are important for any local business and a business can have citations in different ways.  Like you should have NAP on your website, at the same time it's also important to have a GMB listing, Facebook page, Youtube video, and so on.  All these are different kinds of citations available, and you should list your business in all the above ways.
Every country has different citation directories and some are more popular in that particular country.  For example, Local Yahoo is more popular in the US but Yelp is commonly used in Canada.  so which local citations are important is entirely depends on your location.  But the most popular ones are Google, GMB, Bing because once you list your business in GB, all the other sources pull the data from it and create their own citations. So it's possible that you have a listing in local directories, even if you have not created it.
Few of the famous citations are:
Google
Bing
Facebook
BBB
Yelp
Apple Maps
Four Square
Linkedin
Local Yahoo
MapQuest
Biz Journal
Pinterest and so on.
How to Find Where Your Local Business is Listed?
So how would you find where your local business is listed on the Internet.  It's easier than you think.  If you want to find out where your local business is listed search your or your client's phone number in quotes.  For example if I search for a phone number in quotes on Google, it will give me all the micro citations on the Internet.
I searched "250-590-7828", on google and it gave me the results of all the possible citations of Status Barber Shop.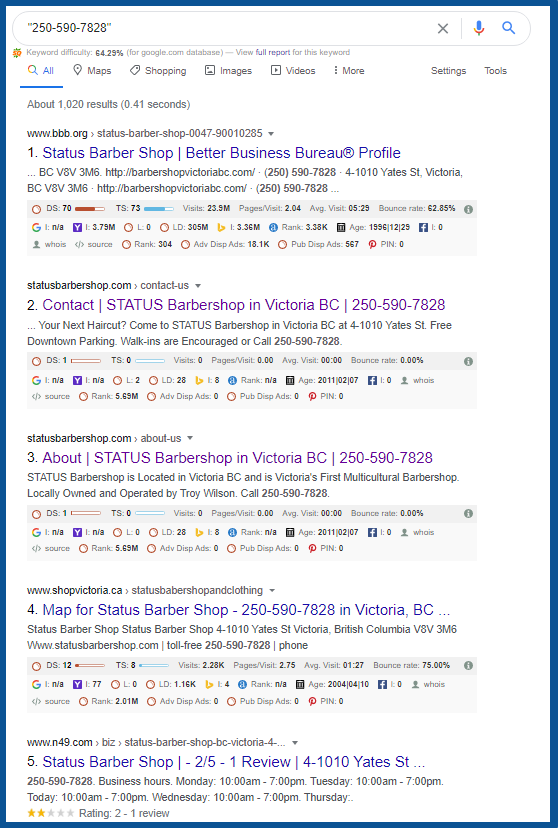 So you see, it pulls all the data from Google, and gives other listings like BBB, and other citations where Status Barber Shop is listed.
The other way to find all the citations is to search the business name in quotes.  For example, "status barber shop".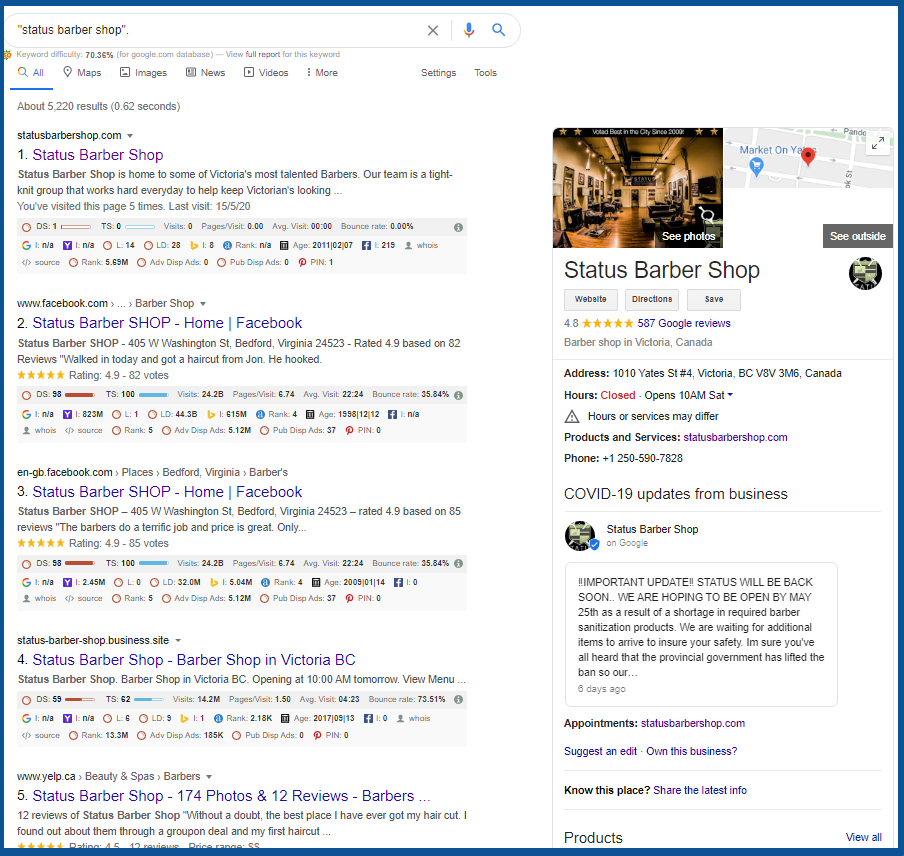 Now it's giving even the Facebook and Yelp listings on the Internet.  so it's the easiest way to find all the citations for your or your clients' businesses.
How to Organize Your Local Citation Submission Schedule?
Now you have all the possible citations, maybe you need to update some listings that are not accurate.  It is important to keep the citations up to date as much as possible as it immensely helps massive rankings.
If you want to rank your or your client's business, it is important to make all the citations as accurate as possible.
So when you have all these data available, you should save all these listings information in a spreadsheet. The major changes or corrections you should do in these listings are in fields like:
Name
Address
Phone number
Website
Description(Short & Long)
Business Category
Map Pin
Any other relevant information
Images-Logo preferably square
Latitude & Longitude
All of the above are self-explanatory, but in the description, you need to have a long and short description ready as different platforms have different specifications like some allow only specific characters in the description.
Latitude & Longitude is easy to find.  If your business is listed in GMB, then if you search for your business name it will provide Latitude & Longitude in the results.
You can do all these corrections manually or you can always take the help of software like BrightLocal and so on.  It will automate things easily.
You can also create a page on your website listing all these citations, so it will help you rank better by getting these backlinks.
Recommended Read: Core Metrics of Ranking A Local Business
Conclusion:
Local citations are easy to create but it helps to rank you and your business immensely.  If you have some old citations on the Internet, it is also important to update it as much as possible.  If you changed your address or phone number, it is a must to change all these in citations.
Now there are many new ways to create citations for your business.  Social media profiles are a great way to create more citations.  Any social media platform that allows you to create a business page can be a great source for a new citation.  Social media platforms like Facebook, Linkedin, Pinterest, Twitter help you to get new citations.  It is not important to be active on all social media profiles at the same time, but it creates nice listings for your business.
Google My Business is no doubt one of the most important of all.  Once you list your business in GMB, it automatically disperses your business information in other citations.  Because all the other citation companies pull the data from GMB.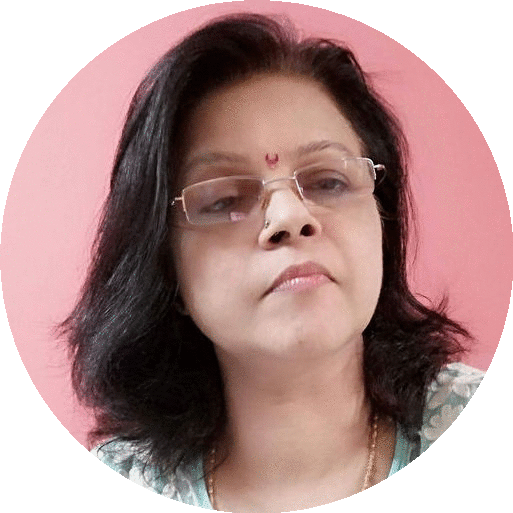 Hey, I am Jivita Jay, founder of Advantage Affiliates. Affiliate Marketing is now a booming industry and everyone can promote thousands of products from the comfort of their home. Here I am sharing some tips on how to start your own blog and choose products to promote.