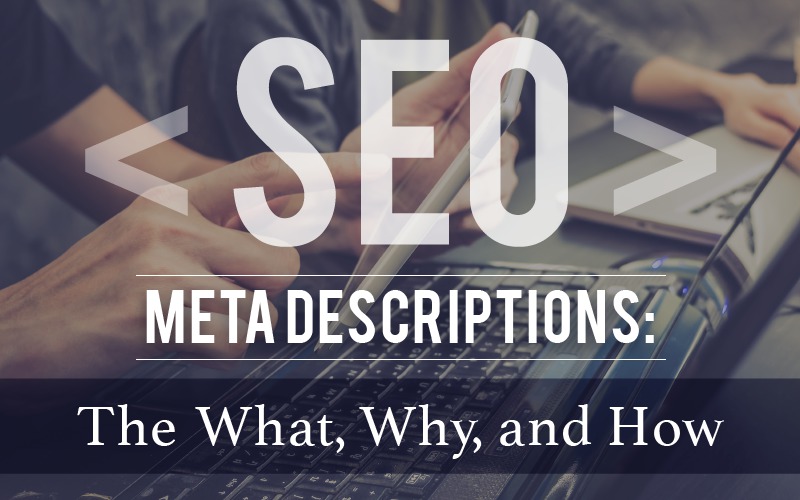 When tons of article get published on daily basis, it's really difficult to get ranked higher your articles in Search Engines like Google, Yahoo and Bing!
Good Search Engine Optimization is a must for any content wishes to get ranked in Search Engines.  Without proper SEO of your content, it's not possible to get your content before your audience that too very targeted.
The targeted audience is essential to get traffic to your site and convert them to in a lead.  With proper Keyword research and SEO techniques, you target for the relevant audience.
SEO can be divided into On Page and Off Page SEO.  Writing Meta-Description for your webpage is one of the important elements of On Page SEO.
What is Meta-Description?

In the above Screenshot, the short snippet in the yellow box is meta description.
Meta Description is the short snippets, which describes the summary of a web-page.  The character limit for a meta description is now extended up to 300, but it's always on a safer side, to write meta-description for about 150 characters.  When one searches for a particular keyword or query, Google shows off the most relevant results across the web, most suitable to the keyword.
Where to add Meta-Description?
You can add meta description to your post, below the editor area of your blog.  If you have installed AIO or Yoast Plugin, you will see a dedicated area below the editor, for the SEO of your webpage.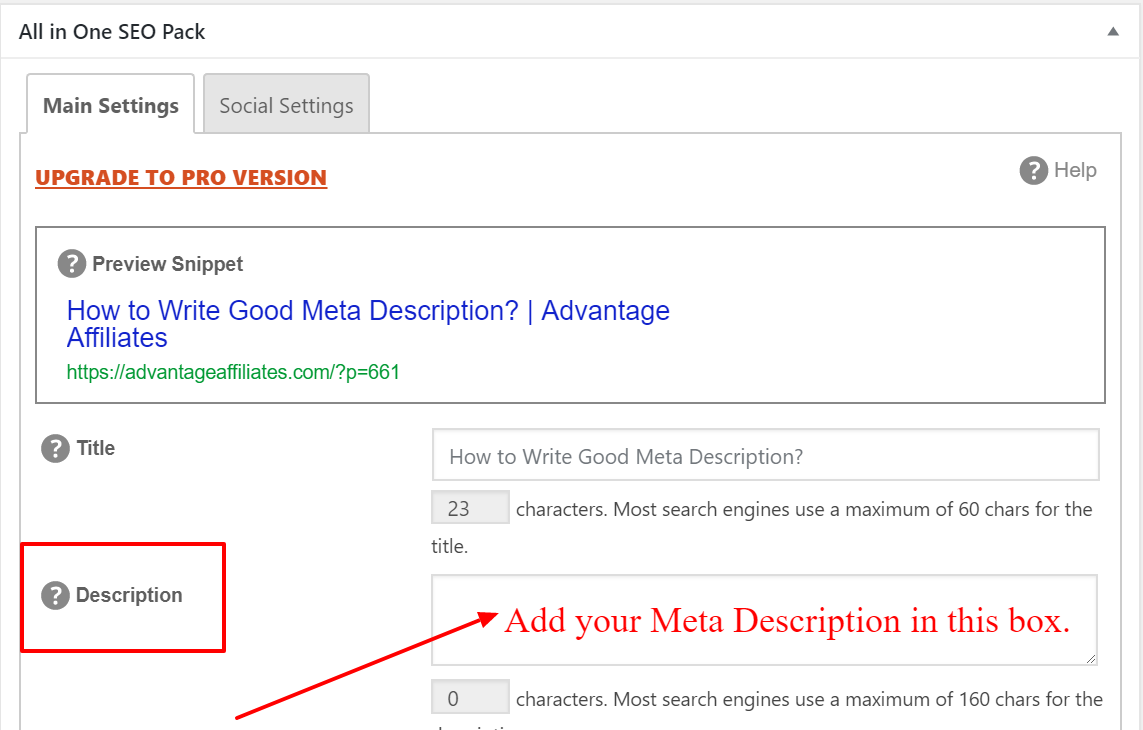 I have AIO plugin installed, Yoast settings are almost the same.
Why you must write Meta-Description?
Many argue that there is no need to add meta description manually, as Google tends to show the SERP result as per the query.
But writing meta description manually, for your webpage is beneficial as you can add your own meta description, including keywords, and making it enticing to your readers to click.  This is the best place to grab the reader's attention to your content.
By writing your own meta description, you offer the best possible relevant content to your reader as you targeted the proper keyword.  When one Google that specific keyword, chances are that because of your relevant meta description your content get higher ranked in SERP.
What happened when you don't write a meta description?
If you don't write your own meta description, Google fetches the first sentence that is relevant keywords which might not be what your reader is searching.

Here is the example of when you don't write your meta description.  In above screenshot, you can clearly see that the post is about the gifts for people who love to travel, but if you read the meta description, it's no way related to the heading of the title.
Tips on How to Write Good Meta Description
Writing Good Meta Description is not a rocket science, you just need to remember some important tips while writing it.
1. Be specific of what you are offering:
While writing meta description, be specific about the content of your blog post.  Be to the point what your blog post is all about and what they can expect by clicking through the link.  Relevancy is the most important factor while writing your meta description.  Write the most relevant description of your blog.
2. Keywords in the meta description:
Add the keywords to your meta description. The readers are searching through the keywords, so adding keywords to the description, also helps Google to find out your content and ranked higher on search engines.
3.Answer their questions:
Most of the time, people searching Google for a specific solution to their problems, they are researching for their needed information.  So always mention what your content can help them with.
4. remember the meta description character:
Google has extended the description character, but try to limit your meta description maximum up to 160 characters.
5. Make them Curious
By keeping your description short, make them curious about what you have to offer them, entice them to click on your website.
6. Emotions:
Readers are searching for their specific queries, and you need to identify the emotional benefits a customer will attain.  Provide a solution which can help them.
7. Avoid duplication of descriptions:
You may have related posts to a specific subject, but never duplicate the meta descriptions for the two posts.  That way you are competing with your own posts on SERP.  It also sends Google wrong signals of spammy content or repeated content.
8. Proper use of CTA
CTA – Call to Action should be added if possible to your meta description.  But it should not be "Read More", or "Shop Now" type CTA, but instead which entice them to click to your website like "Free 30 Day Trial" or "Free Delivery".
9. Talk about them:
Talk about how your content can help them or can solve their problem, how your content can be of great use to their need, mention it in the meta description and surely will it help to increase your click-through rates.
10. Use Rich Snippet
Rich snippets make your site's search listing stand out among the ten other listings on the SERP which automatically draws the reader's attention. As an added benefit, this increases your page's click-through rate (CTR).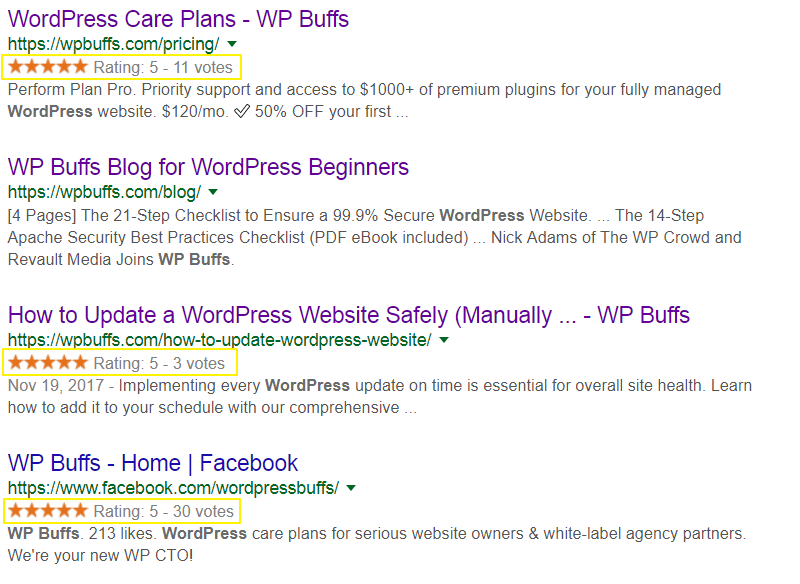 Read More on Rich Snippet Plugins
If you follow these simple tips, writing meta-description for your blog post will be an easy task.  Though Google announced that Meta keywords and meta descriptions are not the factors for Google algorithm while ranking a page, but a good meta description can surely increase your click-through rates.
Meta Description is the visible part on SERP, and a very good written, structured meta description can help a reader to reach the most relevant site for his query.
As we discussed above whether to write the meta description for your blog or not or should it left with Google to fetch the data relevant to query,  Google itself suggests writing your own meta description
At the same time, Google allows you to prevent snippets from being created.  Here what Google says
Preventing snippet creation
You can, alternatively, prevent snippets from being created and shown for your site in Search results. Use the <meta name="nosnippet"> tag to prevent Google from displaying a snippet for your page in Search results.
Google encourages you to write your own meta description
Here is the link
Also Read: What Common Mistakes to Avoid in 2019?
Hey Friends, let me know your thoughts on writing a meta description for your content and do you have some additional tips for making it more catchy, let me know in the comment below.