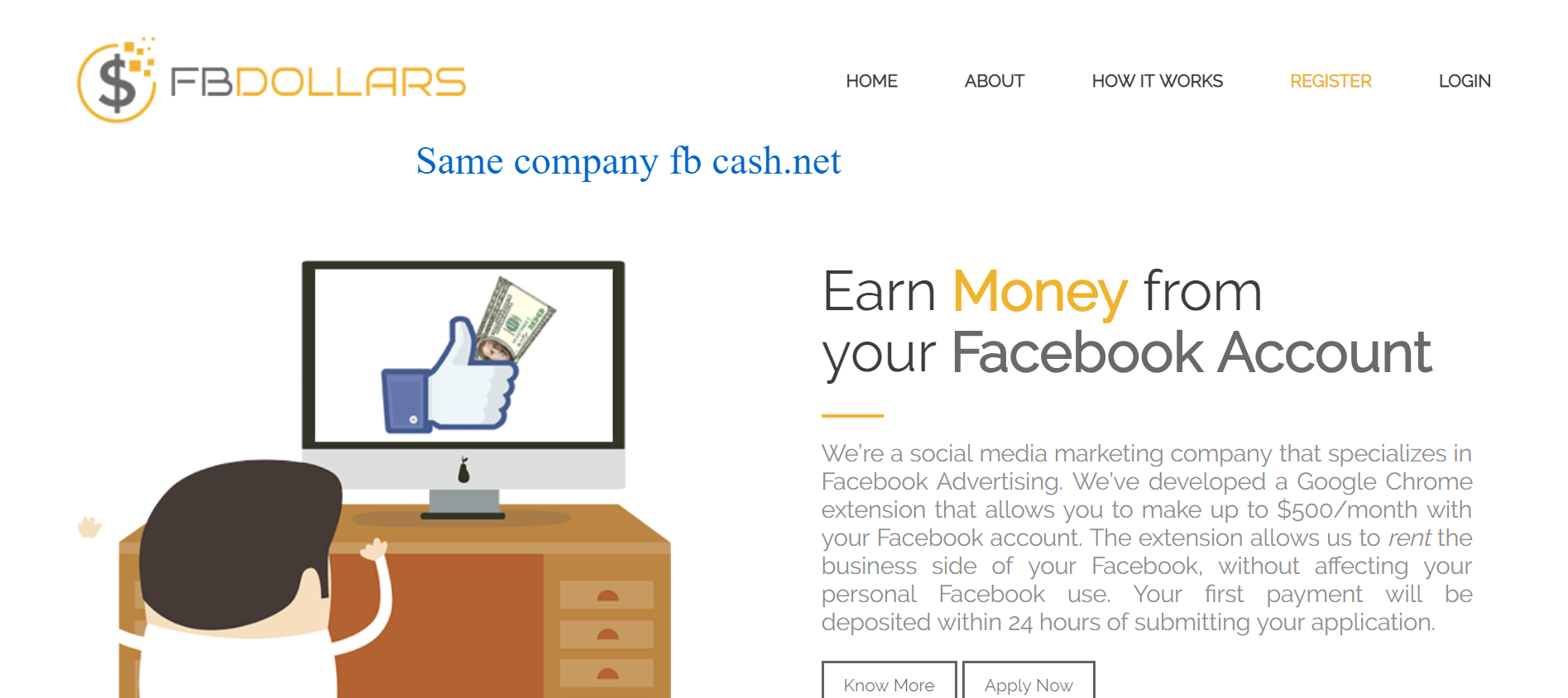 Welcome to my review of FB Dollars!
Are you want to earn money by renting your FB account? or are you searching if FB Dollars is a scam or a legit opportunity to earn money?
First of all, I want to congratulate you for doing your own due diligence and for sure, is the Best Way To Avoid Scams Online and save your hard-earned money.
Let me help you to find out the truth about FB Dollars and guide you in the right direction to make money online.
Product Review
Name: FB Dollars
Website URL: fbdollars.com
Owner: Hidden
Price: Free
Overall Rating: 1/5
Recommended? No
What Is FB Dollars About?
FB Dollars is a social media marketing company that specializes in Facebook Advertising, offers you an opportunity to earn money by renting your business FaceBook account.
FB Dollars has also developed a Chrome extension, that allows you to make up to $500/month with your Facebook account. The extension allows renting the business side of your Facebook, without affecting your personal Facebook use.
FB Dollars also claim that your first payment will be deposited within 24 hours of submitting your application.
What is your first impression, after reading this?  A good opportunity to earn some extra bucks, right?  But you should be very cautious about this opportunity, as not only it is illegal but can be dangerous too!
How FB Dollars Really Works?
FB Dollars gives you $500 for renting your business FB account to them by filling the following form.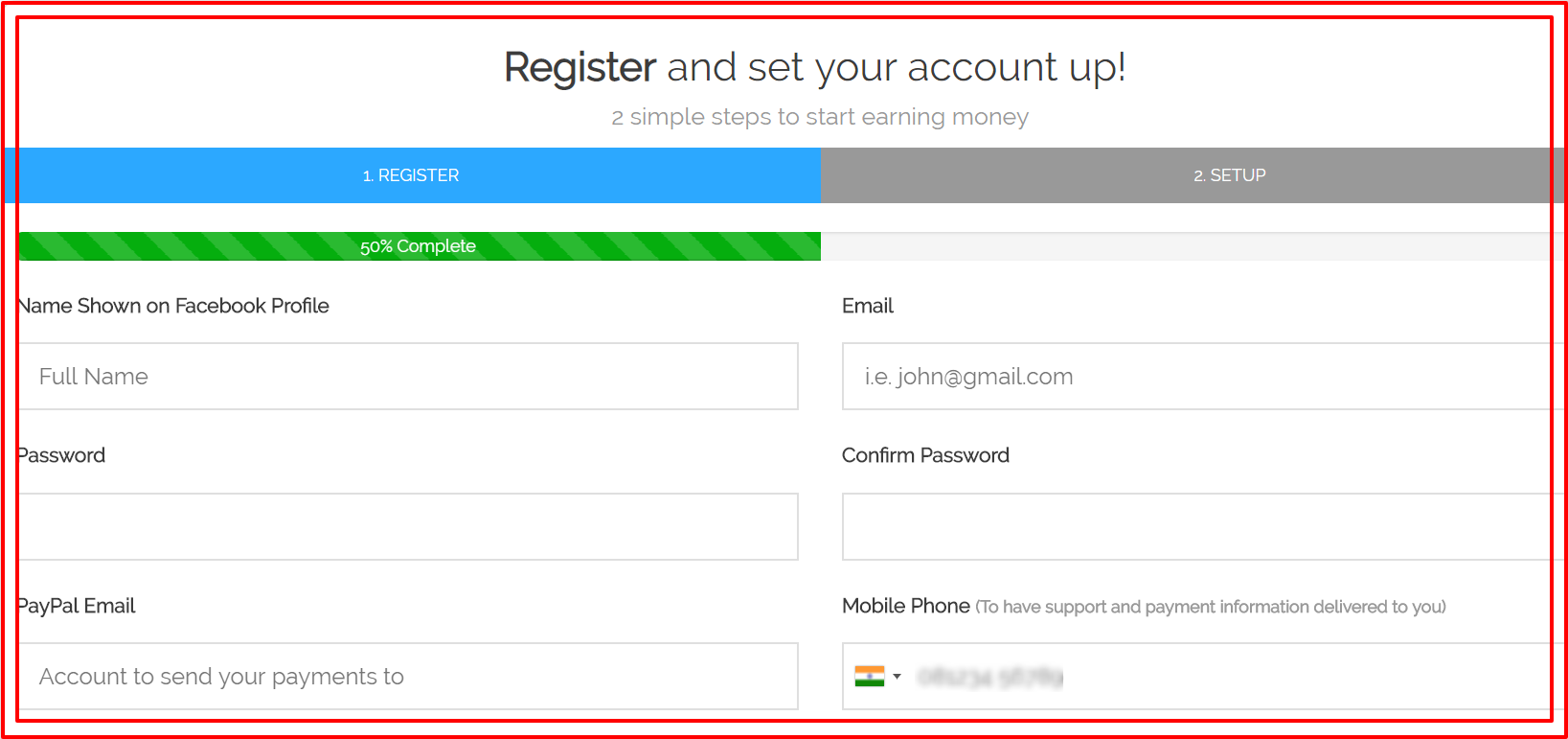 Then you need to install the chrome extension for CB Dollars, send a confirmation email to FB Dollars and have verified your account, will receive the first payment immediately.
Some prerequisites that your FB account should fulfill:
100 Friends on Facebook
1 Year Old Account
Genuine Facebook Account
Untouched Ad Account
Age Restriction- 21 complete.
PayPal Account
After reviewing the above description, it is clear that FB Dollars is a SCAM! You should stay away from this program at any cost.
There are many Red Flags in the project, some of them are as follows:
FB Dollar and FB Net
FB Dollar, and FB Net are similar companies, which are active on the Internet and all of them work on the same module of buying FB account and promises people to pay $500 per account and extra commission for referrals.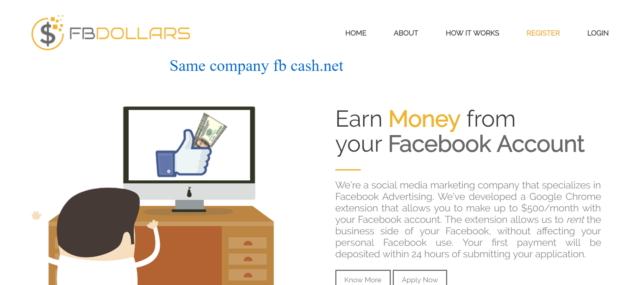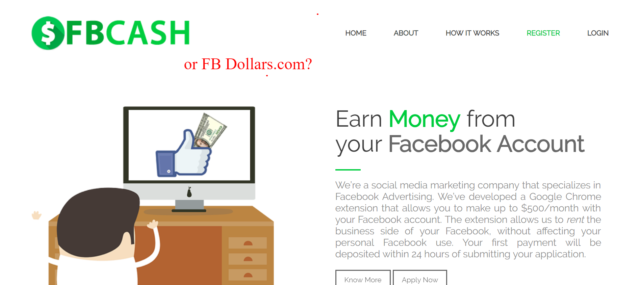 2. It is illegal and unethical to rent your FB account
Renting your Facebook account is against Facebook's policy. Therefore, never rent your account to anyone.
There are scammers using Craigslist, and classified websites to lure potentials victims into their traps, by posting advertisements on them asking potential victims for access to their Facebook accounts for a fee.
3. Why they are paying you when anyone can open an advertising account on Facebook?
You will be in serious trouble if you rent your FB account because
They are promoting crap and sometimes illegal against FaceBook's rule.
as soon as Facebook detect their ads they'll immediately suspend the advertising account and they need to move to another one.
Don't expect to earn more than $200, they'll have your advertising account banned way before the first month ends.
Complaint on  forums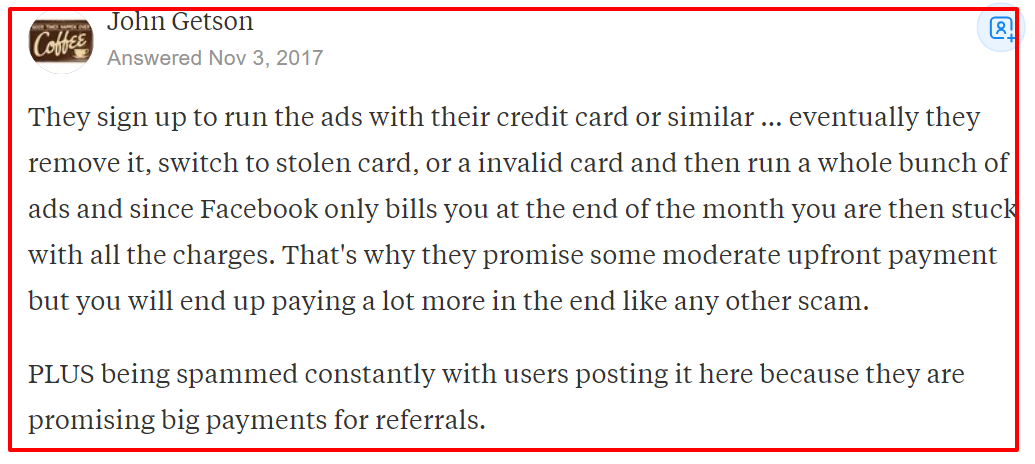 4. Your Account can Get Banned
basically, you could be sharing ads from your account that are totally inappropriate or even paid for with a stolen credit card. Even if the ads are legitimate you are STILL breaking Facebooks TOS
The very fact that they need established FB account, that has been online over a year, it's worth not losing one.
5. Absolutely No Information of Company
It's very strange that the FB Dollars have provided not a single information about how to contact them, no email, no contact number, no physical address, no information about the owner??
It is a sure sign of a SCAM program, that they never provide you with any information about themselves.  Now in case of any mishap, where will you contact?
They just provided a simple form for contact, on the basis of this, how can they expect that people will allow them to use their Facebook account.
How Much FB Dollars Really Costs?
FB Dollars is free to join, besides they are offering you$500 as rent for your Facebook account.  Bue beware FB Dollars can cost you a bad reputation!
Is FB Dollar A Scam?
FB Dollar provides no value to its members, on the contrary, the program is full of risk of getting banned and having to pay thousands of dollars in legal fees.  There is no information about the owner, or contact/ support details.
The personal information that the company collects most probably will be misused.  FB Dollars, involved in an unethical business, so you cannot expect that they will use or keep your personal information safe or use in an ethical way.
Selling personal information of the people is another way of earning money online but in an unethical way.  Chances are you will get spam calls or spammy products offer.
Asking for your PayPal email id can be very serious, one can easily hack your PayPal account and create many other problems for you.
There is no doubt that FB Dollars is a SCAM and therefore I do NOT recommend FB Dollars to anyone!


If you want to earn money online in an ethical way, here's my step by step Guide to Earn Money Online Without Investment!
It is the platform where I am working for the last few years and learned about online marketing.  If you want to earn legitimate money, you need to commit to this program.
Legitimate Opportunities Requires Legitimate Effort
Making Money Online is much like any other business, which requires hard work, Patience, and Persistence.
The people who fail online is because of their wrong mindset.  People who do not want to work hard, or they want to put in little or no effort to get the results.
The business module which I highly recommend is not a get rich scheme.  You need to work hard and work hard consistently.  This is the method which has succeeded in the past and will be successful in the future also.  It is a time proven method.


Why I am so sure about this program?
I like to recommend my readers those programs/ products which will add value to their life, and I am sure you will thank me for introducing this program to you.
It is Free to Join
The most important thing that it is free to join, you do not need to pay a single dime while joining.  I  also recommend you to go through the Starter Membership, see whether this program is for you.  Take full advantage of building an online business for free with Starter Membership.
The Support is amazing
When you are building an online business, sometimes it becomes lonely.  You need encouragement and support from others.  This platform has an inbuilt support system in the form of an amazing community of more than 1.5+ members.  Live chat, PM, Blog is some of the other ways to communicate and get support from the community.
Beginner Friendly
When I joined this platform I was totally unaware of the technical stuff and had very little to no experience working online.  But the platform is for anyone who wants to build an online business.
One Stop Destination for becoming Successful Online
Most of the tools and training which needed to be successful is available on the platform, so you do not need to go elsewhere for any further additional services.  You can easily Build and prosper your online business Under One Roof.
Legitimacy
The platform teaches you the most popular earning method of online marketing i.e. affiliate marketing.
Affiliate Marketing is a very legit and sure way of earning money online, but the success depends on you.  The success is proportionately related to the hard work you put in your business.
Lastly, I have personally been with the platform
I personally working on this platform for the last few years, and am really lucky to find this platform.  It is one of the most advanced platforms online and most important the atmosphere is very helping, caring and encouraging.
What's more, I will personally guide you through the program and start Your Own Online Business.
Since it is free to join, I highly recommend you to check out this program.

I hope the review of FB Dollars has helped you to make an informed decision.
Don't hesitate to share it with whoever you believe that will benefit from it!
If there's something else you want to know or you have any questions, please feel free to leave a comment below and I'll get back to you ASAP! ?
Whatever you do next, I wish you nothing but the best =)
Shubhaangi