Welcome to My Review of My Home Cash Club!
My Home Cash Club is a website through which you can learn E-commerce as per their landing page and earn $500 per day and $15000-$30,000.  Quite enticing right?
Do you want to earn money from My Home Cash Club? or do you searching if My Home Cash Club is a scam or a legit opportunity to earn money?
First of all, I want to congratulate you for doing your own due diligence and for sure, is the Best Way To Avoid Scams Online and save your hard-earned money.
Let me help you to find out the truth about My Home Cash Club and guide you in the right direction to make money online.
Also, let me be completely transparent with you, I am not associate with My Home Cash Club in any form.  So rest assured I'm not here to pitch or sell anything to you!
My Home Cash Club Review
Company Name: My Home Cash Club
Website URL: myhomecashclub.com
Owner: Unknown
Launched in: July 2019
Price: $47
Recommended: NO
What Is My Home Cash Club All About?
My Home Cash Club is an e-book + training on dropshipping as per the landing page of My Home Cash Club.
According to Wikipedia, "Dropshipping is a supply chain management method in which the retailer does not keep goods in stock but instead transfers the customer orders and shipment details to either the manufacturer, another retailer, or a wholesaler, who then ships the goods directly to the customer. As in retail business, the majority of retailers make their profit on the difference between the wholesale and retail price, but some retailers earn an agreed percentage of the sales in commission, paid by the wholesaler to the retailer"
My Home Cash Club says that it will teach you how to create a hands-free online business with popular shopping cart platforms like Shopify.
My Home Cash Club provides basic training on dropshipping in which it teaches you how to select a profitable niche to start your own e-commerce shop, where you can integrate products directly from manufacturers.
My Home Cash Club claims that you can earn $500 per day and end up earning $10,000-$30,000 per month.
How My Home Cash Club Really Works?
My Home Cash Club provides you an opportunity to start your own online e-commerce shop with the help of Shopify.
Dropshipping is a legit way to earn money online, where you need not store products and place order directly to manufacturers.
The manufacturer directly ships the product to the buyer and thus you keep the difference between retail and wholesale price difference.
Though it seems lucrative, the module is not for beginners, as it involves a certain type of risk.  As the wholesalers itself ship the product, you have no control over the product quality and on-time delivery.  For some reason, if the product is returned, you are responsible for return and shipping.
Also, you need to invest an amount to start your online e-commerce shop, particularly with Shopify, which My Home Cash Club recommends.
Shopify is one of the best places to start your e-commerce stores, but it needs you to invest a certain amount of money to start with.
My Home Cash Club is available at the front price of $47, but it does not mention any expenses which you might want to invest.
Shopify has different plans, which charges $29, $79 and $299 per month, which My Home Cash Club never discloses.  So even if you opt-in for the $29, you end up paying $348 per year.
You also need to promote your e-commerce store through paid advertisement, which requires a thorough knowledge of it.  If you do not know what you are doing you end up spending way more.
So if you are just starting with internet marketing, and looking for a way to earn money, e-commerce can be a difficult option for you.  As a starter, we do not have much to invest in our business.
So paying for Shopify store, in the beginning, may not be possible for everyone.  Even if you take starter plan you need to pay $350 per year + paid advertising charges.

Interestingly, My Home Cash Club promoting e-commerce but offering affiliate marketing training instead.
Now it's quite misleading to the buyers, as they may buy My Home Cash Club as an e-commerce shop, but end up buying affiliate marketing training.
Affiliate marketing is a great way to earn money through affiliate commission, it's risk-free as most of the times affiliate networks are free to join and when someone buys through your affiliate link, you get a commission.
So it's not clear why My Home Cash Club, promoting its product as e-commerce rather than affiliate marketing product?
I've spent some time digging through all the layers to get into the heart of the system and discover if it's just another scam or there is a possibility that this system works, but I found many Red Flags of My Home Cash Club
Let's Discuss Red Flags of My Home Cash Club
Unknown Owner
My Home Cash Club.com is nothing but a landing page and does not provide any additional information about the owner or the product.
It also has a payment form, to buy this product, but since it is not encrypted and not having an SSL certificate, it is not advisable to buy from this page.
It is quite risky, as it does not provide any information about owns this product and who are the people behind this product.
Over-Hyped Earnings
My Home Cash Club is a digital product which is available at $47 front price and when you try to leave the page, you will get a pop up like this one.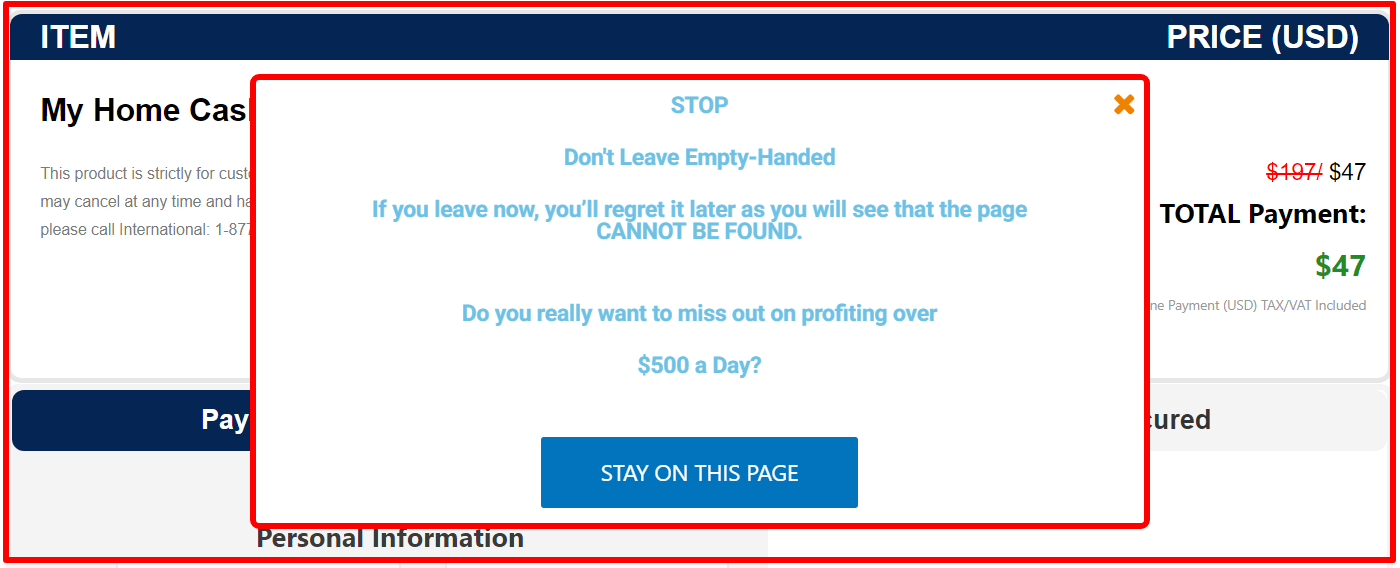 This pop up says that you will be able to earn $500 a day with this product means monthly almost $15,000.  but it is nothing but a get rich scheme which gives no result.
In the above screenshot, it says that this discount will not be available later, but if you visit the webpage after some days you will see the same offer still live.  Because it is creating a fake urgency in its visitor so that you buy this product without any further thinking.
Testimonials
My Home Cash Club provides no testimonials on its page, also it is a new brand website(?) itself if we see the whois fo the My Home Cash Club, you will find that it is just 2 months old.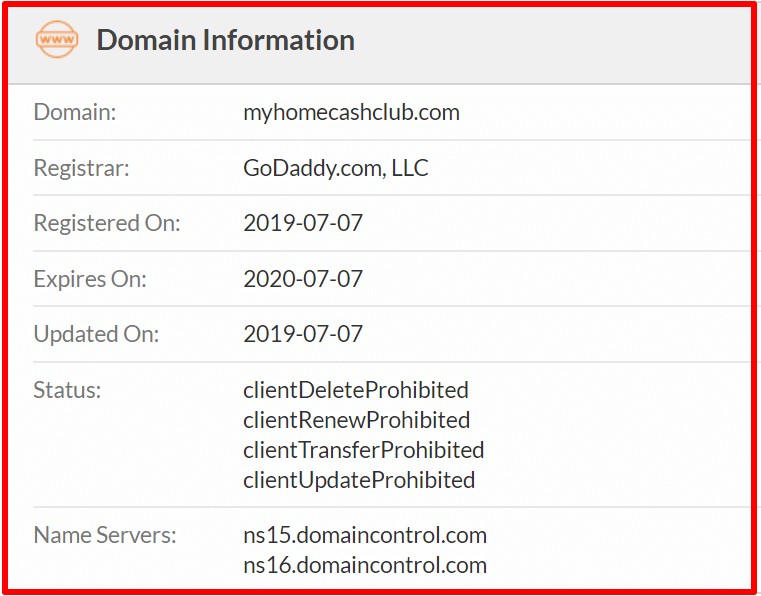 So claiming that one can earn $500 per day or $15,000 is exaggeration.
Training
As I earlier said My Home Cash Club, is promoted as a dropshipping training program, but in reality, it teaches about affiliate marketing.
Affiliate marketing and drop shipping are two totally different modules and for $47 you are only getting an E-book on affiliate marketing.  By just reading an e-book, it's really difficult to build an online business.
You need to have tools and training which supports you 24×7, My Home Cash Club do not provide you any support.
You will only find an email address when I verified the email address, it turns out to be false address.

Privacy Policy
If you carefully read the privacy policy of My Home Cash Club, it clearly states that it will sell your personal information to the third party.
My Home Cash Club will sell your personal data to the third party for big amount, it is very common nowadays, so you should read the privacy policy and terms and conditions on any website.
I have reviewed some similar products before:
How Much My Home Cash Club Really Costs?
My Home Cash Club costs $47 upfront but once you sign in it will bombard you with many upsells.
As I said before if you are getting just an e-book for $47, one can expect the other upsells will also of no value.
Basically, My Home Cash Club itself is not providing any valuable information or knowledge to build an online business.
Also as My Home Cash Club's privacy policy is defective and can sell your personal information to the third party which will again sell your information to another scammer, so you can expect to get another such spammy product.  So it will cost you more than you think.h
Is My Home Cash Club A Scam?
My Home Cash Club, is a Scam or not it depends on your perspective.  Some will say that since they are offering an e-book for $47, at least you are getting something.
But if you think that My Home Cash Club has not fulfilled their claims of earning $500 per day and around $15,000 per month, then it should be called a scam.
I personally think that if My Home Cash Club offering just an e-book for $47, and has nothing valuable to offer, you should stay away from this product.  I personally would not recommend My Home Cash Club, to anyone.
first of all,My Home Cash Club does not provide any information about the product or the owner.  so you do not have any idea who is behind all this product.
My Home Cash Club does not have an SSL certificate, which is must nowadays to take any financial data from the visitors.  To provide your credit card info could be very risky.
My Home Cash Club does not provide any money-back guarantee, so in case if you don't like the training, and want your money back, you will not get it back.  So do proper research before investing your money in this product.
My Home Cash Club has not provided any testimonial or any support if you want to get into touch with them.  The email address which is provided is a fake one and a major red signal, you must not neglect.
If you are really interested in building your E-commerce Shop, here is the Free Training: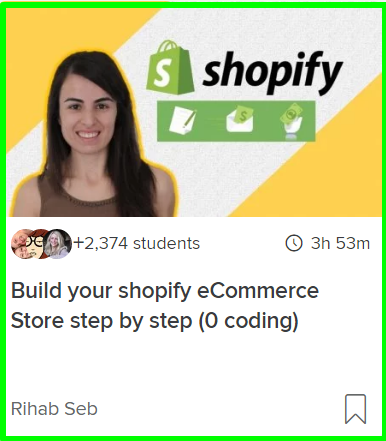 It's a popular course on Skillshare, as you see it offers almost 4 hours of training on Shopify.  I have gone through this video training, and I liked it.
Not only this, but you will also get 2 Months of Premium Membership Free, so you can check out other courses also.
It requires you to fill your credit card info, but the best part of Skillshare is that you can cancel your membership anytime.
They do not charge your card without letting you know:)


And If you are interested in affiliate marketing then check out the link below, where I started to learn how to build my websites and promote products through affiliate marketing.
Rather than wasting your time on another system that does not deliver, why not take a look at My # 1 Recommendation below.

.
It is the platform where I am working for the last few years and learned about online marketing.  But if you want to earn legitimate money, you need to commit to this program.
Legitimate Opportunities Requires Legitimate Effort
Making Money Online is much like any other business, which requires hard work, Patience, and Persistence.
The people who fail online is because of their wrong mindset.  People who do not want to work hard, or they want to put in little or no effort to get the results.
The business module which I highly recommend is not a get rich scheme.  You need to work hard and work hard consistently.  This is the method which has succeeded in the past and will be successful in the future years also.  It is a time-proven method.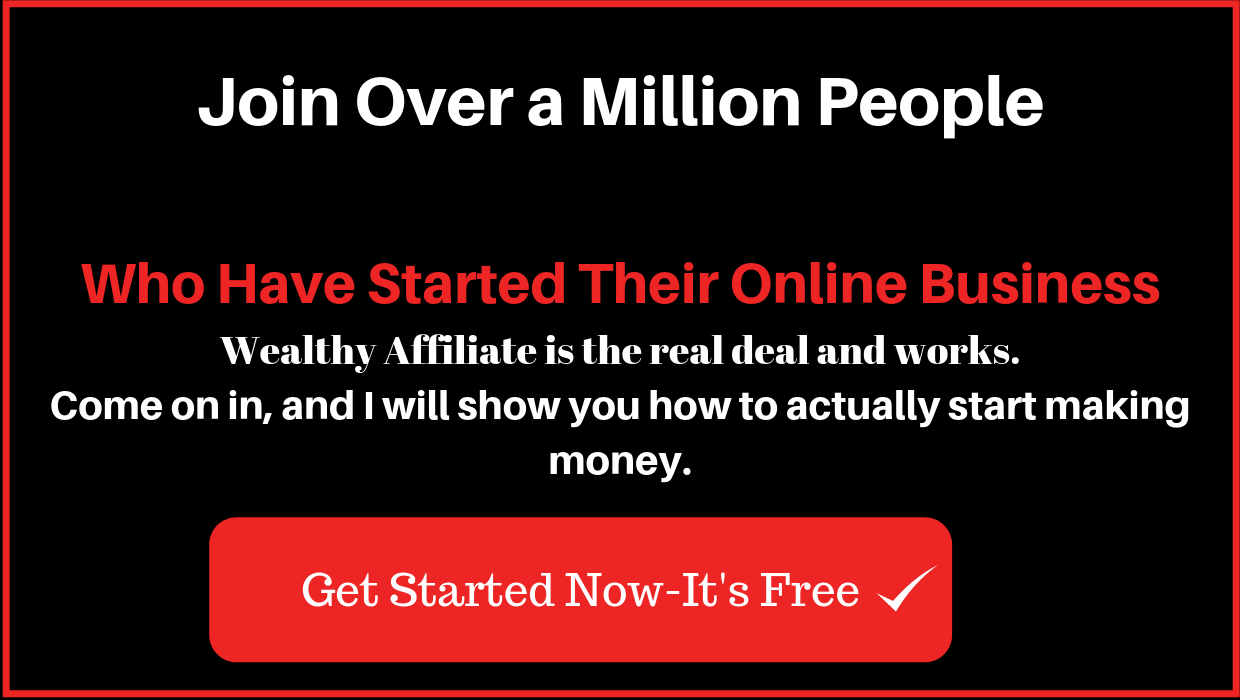 Why I am so sure about this program?
I like to recommend my readers those programs/ products which will add value to their life, and I am sure you will thank me for introducing this program to you!
It is Free to Join
The most important thing that it is free to join, you do not need to pay a single dime while joining.  And I would also like you to go through the Starter Membership, see whether this program is for you.  Take full advantage of Starter Membership and if it suits you, Go Premium!
The Support is amazing
When you are building an online business, sometimes it becomes lonely.  You need encouragement and support from others.  this platform has an inbuilt support system in the form of an amazing community of more than 1.5+ members.  Live chat, PM, Blog are some of the ways to communicate and get support from the community.
Beginner Friendly
When I joined this platform I was totally unaware of the technical stuff and had very little to no experience working online.  But the platform is for anyone who wants to build an online business.
One-Stop Destination for becoming Successful Online
Most of the tools and training which one need to be successful is available on the platform, so you do not need to go elsewhere for any further additional services.  You can easily Build and prosper your online business Under ONe Roof.
Legitimacy
The platform teaches you the most popular earning method of online marketing i.e. affiliate marketing.
Affiliate Marketing is a very legit and sure way of earning money online, but the success depends on you.  The success is proportionately related to the hard work you put in your work.
Lastly, I have personally been with the platform
I personally working on this platform for the last few years, and am really lucky to find this platform.  It is one of the most advanced platforms online and most importantly, the environment within the community is very helping, caring and encouraging!
Since it is free to join, I highly recommend you to check out this program.

I hope the Review of  My Home Cash Cllub has helped you to make an informed decision.
Don't hesitate to share it with whoever you believe that will benefit from it!
If there's something else you want to know or you have any questions, please feel free to leave a comment below and I'll get back to you ASAP! ?
Whatever you do next, I wish you nothing but the best 🙂
Jivita