The fashion industry never out of fashion, some or the other trend always catches the fashion lovers attention.  The fashion industry is huge and you will find all kinds of materials, and designs to attract the customers.  LuLaRoe is one of the companies which started with the sole aim of providing better business opportunities to stay at home moms.  But can you make money selling women's clothing products, let's find out in this LuLaRoe MLM Review.
What is LuLaRoe MLM?
LuLaRoe is a MLM company, famous for women's clothing.  It was founded by DeAnne & Mark Stidham in 2013.LuLaRoe is a combination of the names of her 3 granddaughters.  The flagship products of LuLaRoe were maxi skirt but in 2014, LuLaRoe focus more on producing leggings and it became its main product onwards.
LuLaRoe has many other products like tops, kid's clothes, dresses, menswear, and more.  It was started in the US but it has grown its network in a number of countries.  In 2016, LuLaRoe had more than 80,000 distributors aka Fashion Consultants.
Are LuLaRoe Products Worth Their Price?
LuLaRoe has a wide variety of women as well as men's and kid's clothing.  But their main product is leggings.  It comes in many designs, patterns, and textures.  It had become quite popular.
LuLaRoe products are available only through their fashion consultants or distributors.  You cannot buy their products through their website, which is quite unusual.
You can also buy these products through Facebook, many consultants have their own FB page. But these products are also available, on e-commerce stores like  Amazon, e-bay and so on.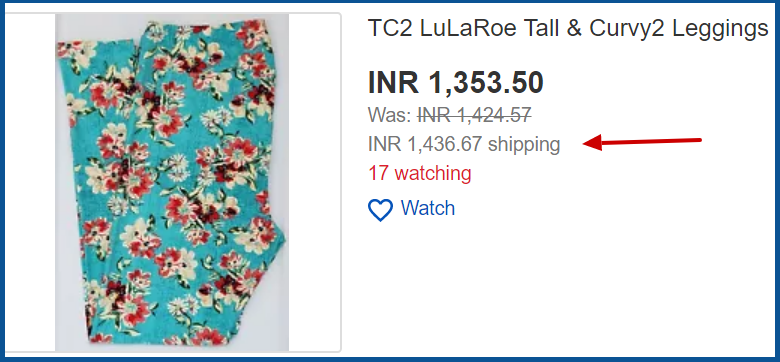 LuLaRoe distributors list these products on different e-commerce sites, and the above one is listed on e-bay.  Interestingly, if you notice the shipping charge is more than the actual price.
But you will find LuLaRoe products on Amazon at much cheaper rates, and as we all know Amazon ship products without any shipping charges, if you are a premium member.  Even if you are not a premium member, sure it will not charge shipping more than its price.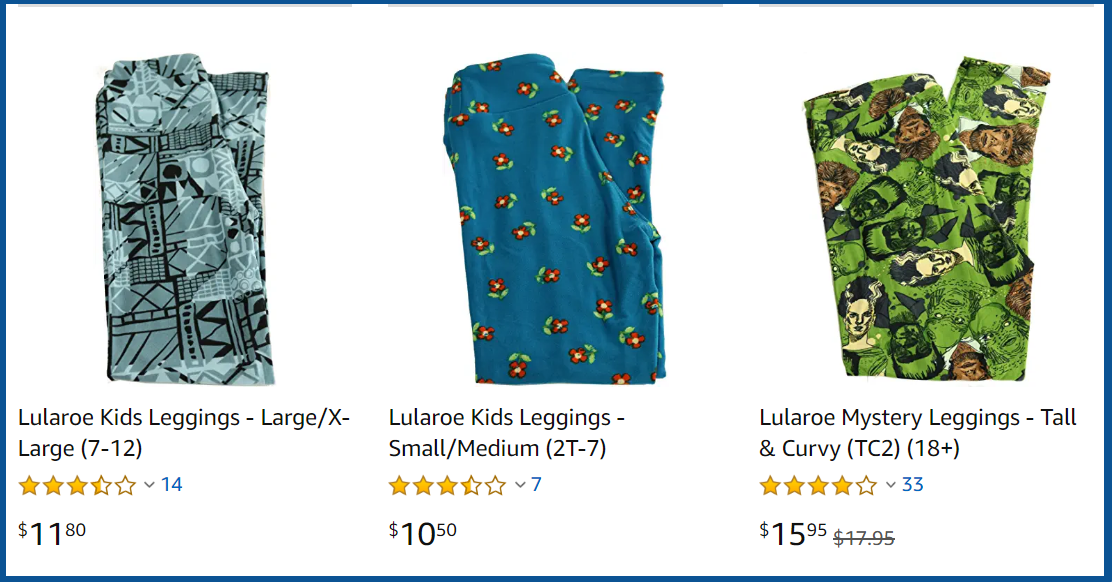 LuLaRoe leggings come in colorful prints and are quite attractive, but there are many complaints regarding its poor quality.
The LuLaRoe MLM Opportunity
LuLaRoe also claims that you can make a full-time income by promoting its products.  Now, let's find out can you really make money by promoting LuLaRoe products.
First of all, if you want to sell LuLaRoe products you need to join through a fashion consultant.  You also need to invest hundreds of dollars to buy a kit upfront.
You may choose to sell a particular product line like kids' clothes, leggings, and so on.  You can sell these products in many ways like promoting on social media, different e-commerce sites, holding parties and inviting friends, social gatherings, and so on.  You earn a 35-50% commission when you sell these products.  This sounds the very lucrative business, but in reality the picture may be totally different.  You will find many stories floating on the Internet of how little LuLaRoe distributors are earning.
In the following story, it is mentioned that LuLaRoe distributors only earn $85 per year.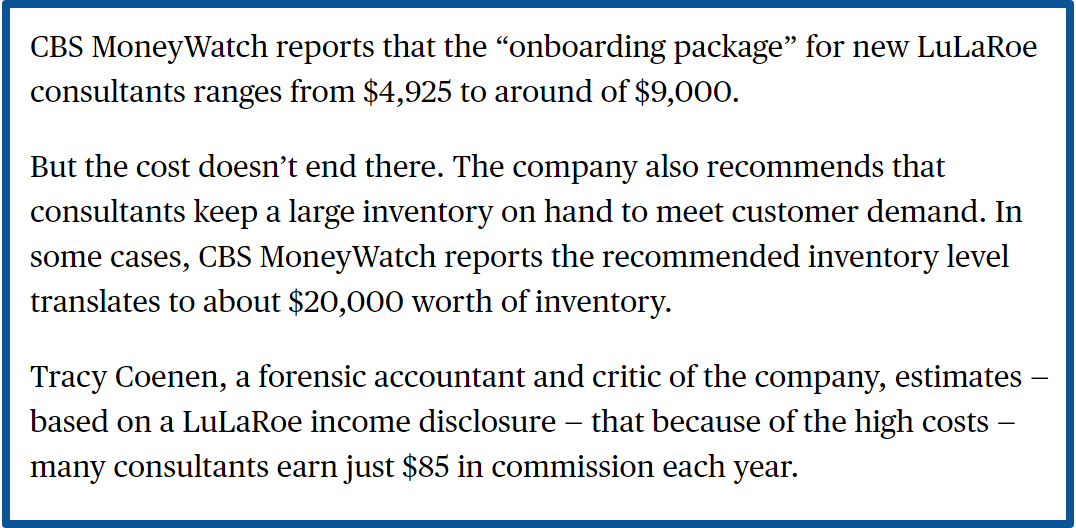 You should read this article on LuLaRoe, to know the inside story of LuLaRoe MLM.
How Much Does It Cost to Join LuLoRoe?
To join LuLoRoe as a fashion consultant is quite expensive.  Not only you have to buy its kit for $499 which includes 65 pieces of different clothing styles, but you also need to buy a fixed amount of products every month.
Irrespective of if you have sold the clothes already purchased, every month you have to buy clothes from LuLoroe, to keep your membership active.
Can You Make Money with LuLoRoe?
As a consultant, you can make 35-50% on the clothes you buy or sell, apart from it you can also earn a 5% commission on the sales made by the referral in your network.
If you have a good network and have many people in your group, whom you can sell beauty products, you can earn a good income. But the tough part is to maintain a steady income with this business model.
There are so many negative reviews from its own distributors, that it's hard to believe that you can make money with it.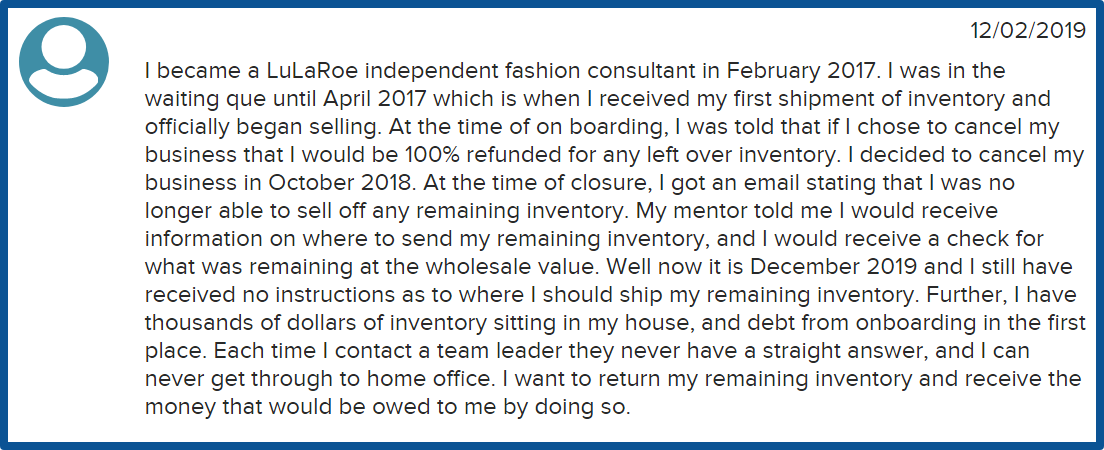 Secondly, since it's an MLM opportunity, most of your success depends upon your marketing skills.  If your team members are active, you can earn a good amount of money, but if they are not active your earning potential is limited.
LuLoRoe products are easily available on e-commerce sites and you will get products at much cheaper rates than its official fashion consultants or distributors that make the condition worse.
Pros:
Free Shipping:
Unlike many MLM, LuLaRoe does not charge shipping for the products you order. Orders will be shipped within the 3 days of receiving the payment.
Interestingly, you may have noticed that on e-bay, exorbitant shipping charges are levied by fashion consultants, while listing the products.
No Sign-Up Fee:
There is no signup fee for Oriflame and the starter kit is available for very reasonable rates.
Plenty of Resources:
Many resources are available on the LuLaRoe website including education, business support, training, marketing, and analytics.
Cons:
Many Complaints including BBB:
One of the major red flags of LuLaRoe products is that there are a ton of complaints on every platform, may it be consumer forum, Facebook, YouTube, or BBB.
You will find 400+ complaints, only on BBB.  You will also find a FB Page dedicated to LuLaRoe Consultant Complaints.
Misleading Returns:
One thing that really turned off a lot of Consultants was that the Return Policy changed. Previously, if a Consultant wanted to cancel their agreement, they could get a full refund for all returned inventory. Instead, LuLaRoe only gave a partial refund or charged fees for returns.
Is LuLaRoe a Scam?
LuLaRoe is an MLM company and established itself as a legit and quality brand over the years.  It is definitely not a Scam.  But the MLM module is such that, unless you make a sale you are not going to earn a dime.
Most of your success is dependent on your team members, who joined under you.  Unless they are active and making sales, your earning potential is limited.
It is a proven fact that it's very hard to earn with MLM, only a few at the top strata earns a substantial income.
Recommended Read:
Why multilevel marketing won't make you rich
3 Mind-Blowing Statistics About MLMS
Other MLM Reviews:
Conclusion:
LuLaRoe is an MLM company and it runs like any other MLM module, though the good thing is it is offering a good 30-50% commission.  Still, you need to further investigate about MLM module, if you really want to join one.
It has many hidden costs like shipping charges.  You need to pay all the shipping charges for yourself, that may eat up any commission that you make.
If you want to make your own money by selling products, start your own business by checking out my #1 recommendation. You'll get all the tools you need including a website, hosting, training, and 24/7 support.