Skincare products, beauty products, and supplements are always in high demand as a result you will find a ton of companies promoting these products.  You may have come across Amway, Oriflame, Youngevity, Luminesce, Forever Living, and many more brands promoting skincare and supplements.  Nu Skin is another company which is fairly popular and listed in the Top 100 in 2010 as the most trustworthy companies according to Forbes.  But can you really trust Nu Skin and can you make money selling their product?  In this Nu Skin MLM Review, I will discuss all these topics, so let's get started.
What is Nu Skin MLM?
Nu Skin is an MLM company that sells varied products ranging from skincare, haircare, and body care.  It was established by Nedra & Blake Roney in 1984. Ritch N. Wood is the CEO of the Nu Skin.   It is headquartered in Provo, Utah.
Nu Skin has a wide variety of products ranging from cosmetics, oral health care, Sun protection lotions, makeup, body lotions and lipsticks.  Nu Skin also has a supplement line in which you will find anti ageing, energy, cell protection, mood, immune system, heart health, men's health, bone & joint health and women's health products.  So there are many products which you can promote and earn.  Not to forget Nu Skin is a Multi-Level Marketing company.
Are Nu Skin Products Worth Their Price?
Nu Skin products are available on different e-commerce sites including Amazon.  It's getting good reviews on Amazon, but not compared to other products.
You will find many similar products at much affordable prices available on Amazon.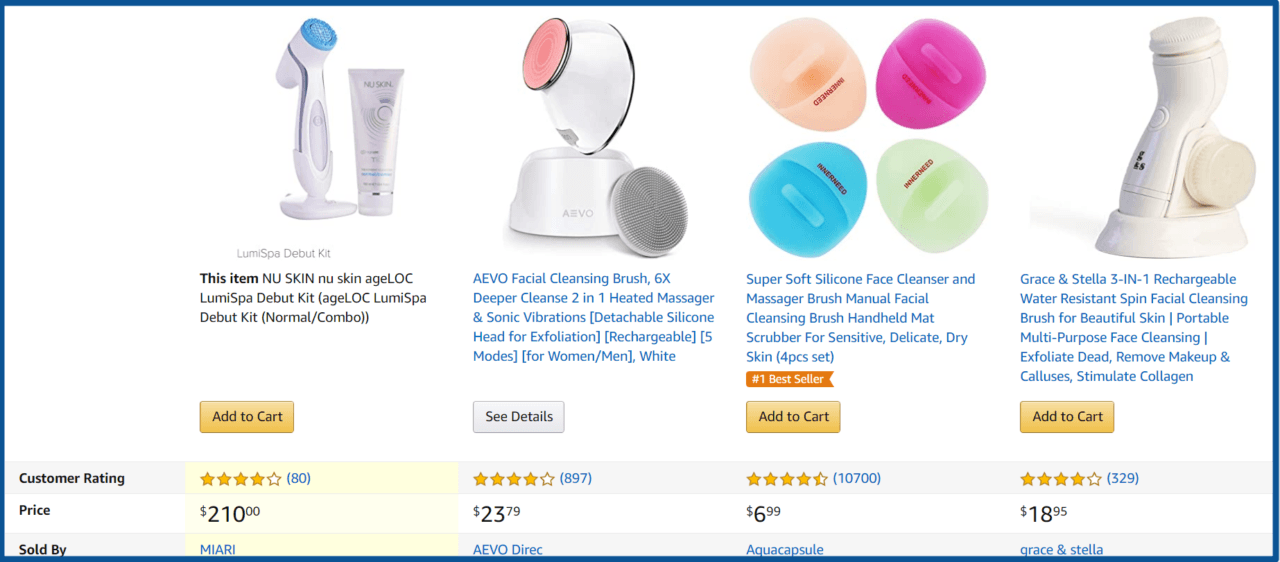 As you can see in the above screenshot, Nu Skin Products has the lowest reviews-only 80 compared to other similar products but it's charging the highest among all products.
It does not make any sense to buy a product if it's not welcomed by most users.
The Nu Skin MLM Opportunity
Nu Skin offers an opportunity to make money by selling their products as well as by building a network of people who joined under you.
Nu Skin has products for every age and group, and by selling these products you can earn money but at the same time, it's important to have a close look at its earning potential.
The good thing is you don't need to buy a starter kit but you need to ask the question to yourself, how you will promote the Nu Skin products without having a starter kit.  So if you are seriously thinking about promoting Nu Skin, you need to have a starter kit, which will cost you $500.  That's right, you need to invest $500 upfront.  It's going to be very tough to make that money back, as these products are available.
How Much Does It Cost to Join Nu Skin?
As I mentioned above, you don't need to buy any strater kit and ther is no joining fee as well.  But you have to buy a starter kit to promote and make money with the products.
Nu Skin has two starter kits and both are very expensive, $500+.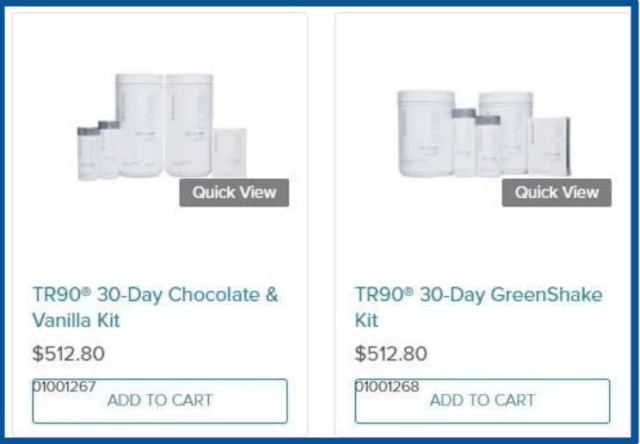 I would recommend you to read the fine print before you join the Nu Skin MLM Program.  It is clearly mentioned that you will be responsible for paying your own license fees, insurance, travel expenses, office expenses, accounting, and equipment expenses. These expenses are not reimbursable.
Can You Make Money With Nu Skin?
As with any other MLM company, you have different ways to make money with Nu Skin. You can make money in the following 3 ways:
As a distributor, you buy products at wholesale rates and sell at retail price, and thus keep the difference in price.
As a Nu Skin distributor, you recruit others but you will not get any bonus for joining others but Nu Skin allows you to share the profit, earned by your downline.
Building and sharing blocks: you receive a bonus for building blocks.
But there are many hidden costs which tend to eat up all your commissions like you have to pay for all the shipping cost and the sales tax.  So I don't think it's profitable to join Nu Skin MLM.
Pros:
No Inventory:
Unlike many MLM, you do not have any minimum on purchasing or inventory.  Many MLM has minimum purchasing limit, which you need to buy every month.
No Sign-Up Fee:
There is no signup fee for Nu Skin or a must-buy starter kit policy.  Almost all MLMs make it compulsory to buy a starter kit to join their program.
Terminate Anytime:
You are not contracted for a period of time with Nu Life.  As long as you provide a written notice, you can terminate your account anytime.
Cons:
Must Sold the products:
It's compulsory that you must sell or consume 80% of the products you have previously ordered, and you have to prove that.
Only 90% refund:
If you return any Nu Skin product for whatever reason, you will be refunded only 90% of the total price, excluding the shipping charges.  It means you also have to pay shipping charges for your returns.
No Profit:
If you consider all the terms and conditions and the shipping charges, sales taxes etc. you end up earning nothing with Nu Skin.
Is Nu Skin a Scam?
Oriflame is an MLM company and established itself as a legit and quality brand over the years.  It is definitely not a Scam.  But the MLM module is such that, unless you make a sale you are not going to earn a dime.  Apart from all these facts, shipping charges, sales taxes eat up all your commissions.
Most of your success is dependent on your team members, who joined under you.  Unless they are active and making sales, your earning potential is limited.
It is a proven fact that it's very hard to earn with MLM, only a few at the top strata earns a substantial income.
Recommended Read:
Why multilevel marketing won't make you rich
3 Mind-Blowing Statistics About MLMS
Other MLM Reviews:
Conclusion:
Nu Skin is an MLM company and it runs like any other MLM module, though the good thing is Nu Skin is offering no joining fee.  Still, you need to further investigate about MLM module and if you really want to join one.
It has many hidden costs like shipping charges.  You need to pay all the shipping charges nd sales taxes for yourself, that may eat up any commission that you make.
If you want to make your own money by selling products, start your own business by checking out my #1 recommendation. You'll get all the tools you need including a website, hosting, training, and 24/7 support.