Welcome to My Review of Paint By Number App!
In my last review of Happy Color App, we discussed how coluring can help you with destress and keeping focus.  If you have not read the post, I want to summarise the importance of colouring. But before that want to share a new colouring app, and here is my Review of Paint By Number App.
In recent times, due to worldwide lockdown, the popularity of colouring apps started soaring.  Many find coloring not only time bursting but also relaxing. Science and studies have many proofs showing its usefulness.
Some findings show that Coloring has the ability to relax the fear center of your brain, the amygdala. It gives the same state as meditating by reducing the thoughts of a restless mind. This generates mindfulness and quietness. While coloring we use both of our brain hemispheres. While logic helps us stay inside the lines, choosing colors generates a creative thought process.
You will find many colouring apps, free and paid, on Google Play.  One app that I really like is Paint By Number App, Let's have a quick look at it:
Paint By Number App Review
App Name: Paint By Number
Available on: Android
Updated: 19 Aug, 2020
Size: 48M
Requires Android: 4.4 & Up
Current Version: 2.25.3
Installs : 50,000,000
Star Rating: 4.5 of 952,616 users
Price: Free
Recommended: Yes
What Is Paint By Number App All About?

Paint By Number is an app, which is available on Google Playstore.  It is available only for Android users.  If you want a single app for colouring, then go for Paint By Number App by Better Life.  It has so many features and paintings that it offers a very satisfying experience to its users and that's why you will find that it has downloaded by more than 50M people.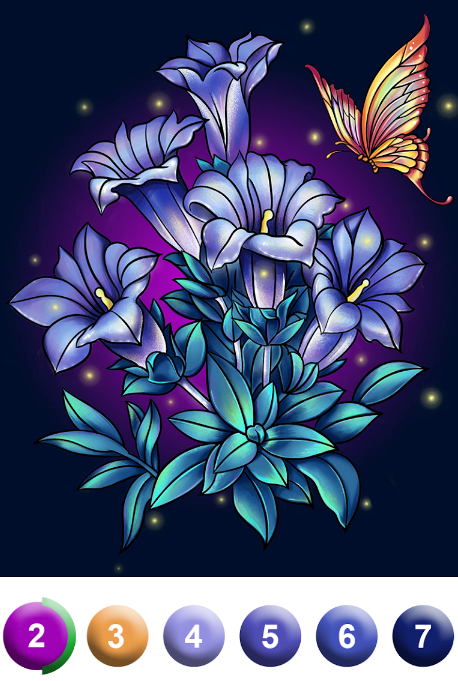 Paint By Number offers a wide variety of categories from fantasy, mandala, cartoon, food, nature, art, places, quotes and so on. Jigsaw is a fantastic category that you should try.  Under each category, you will find a good number of pictures to draw.
If you really want to gauge the usefulness of this app, click on "Explore" tab, and you will find all the available pictures and different modes, in which you can start colouring.  It has a Daily feature, under which you will find all the pictures month-wise also.
Challenge mode, Recently update, Top 100, Famous paintings, Amazing animations, Artist collection, Exclusive collections, Activity, Top images of 2019, New Trending, Angel, Fantasy Land are some of the modes that you can find under the Explore tab.
It has a very active FB page and you will get extra 390 free images only in the FB page.  It keeps you very active by posting daily quizzes and puzzles on their FB page.  So a really nice effort from Paint By Number to keep their users very active.
How to Join Paint By Number App?
To download Paint By Numbervisit Playstore and search and download it to your device or click the link below.
Pros & Cons of Paint By Number App
Pros:
Paint By Number is 100% free to download
Thousands of pictures
Different categories
Active FB group
Puzzle & quizzes
Cons:
You require a good internet connection.
Ads can be annoying
Conclusion:
Paint By Number has huge 50,000,000 downloads to date and has a good 4.5-star rating of about 9,52,616 users.  I must say it's a fantastic colouring app any you get almost every possible category and pictures in this one app.  Another thing that I like is auto choose the next colour once you finish colouring with one number.  So continuity enhances the UX of the app.  Ads can be annoying but since it's a free version, you really can't complain.  It also has a premium version with no ads and added features like free gems and so on but I find it a bit costly paying nearly $5 per month subscription.
Its free version is good enough to keep you active and engaged with its huge number of picture collections.
I have reviewed some similar products before:
Mandala Coloring Book App Review
Happy Color App (by Number) Review
5 Best Educational Toys for 2-3 Yr Old
Google Opinion Rewards: Easy Ways To Earn Credits
Don't hesitate to share it with whoever you believe will benefit from it!
If there's something else you want to know or you have any questions, please feel free to leave a comment below and I'll get back to you ASAP!
Whatever you do next, I wish you nothing but the best 🙂
Jivita