Welcome to My Review of The 12 Minute Affiliate!
Do you want to earn money from 12 Minute Affiliate? or do you searching if 12 Minute Affiliate is a scam or a legit opportunity to earn money?
First of all, I want to congratulate you for doing your own due diligence and for sure, is the Best Way To Avoid Scams Online and save your hard-earned money.
Let me help you to find out the truth about 12 Minute Affiliate and guide you in the right direction to make money online.
Also, let me be completely transparent with you, I am not associate with 12 Minute Affiliate in any form.  So rest assured I'm not here to pitch or sell anything to you!
12 Minute Affiliate Review
Company Name: 12 Minute Affiliate
Website URL: 12 Minute Affiliate.com
Owner: Devon Brown
Launched in: Oct 2018
Price: $9.95+ Upsells
Recommended: NO
What Is 12 Minute Affiliate All About?
12 Minute Affiliate is a product by Devon Brown, who claims that this program will automate your affiliate business.
Basically, 12 Minute Affiliate is a done for you system, where landing pages to email content is already done for you.
Devon Brown is a seasoned affiliate marketer, so he knows all the intricacies of the affiliate marketing and to overcome these problems, he introduces 12 Minute Affiliate.
On the flip side, though he has done a great job by providing some nice looking landing pages, emails, he fails to provide thorough training on affiliate marketing.
Affiliate marketing is a very legit and lucrative business, where you promote products through your affiliate links on the website, or social media.  When someone clicks on your link, and buy something, you get a certain percentage as an affiliate commission.
Affiliate Marketing is the best option for newbies, as it does not require much investment and a low barrier entry into internet marketing, but you need to have proper training because affiliate marketing is not a short term business.  The more seasoned and experienced the more money you can make.
How 12 Minute Affiliate Really Works?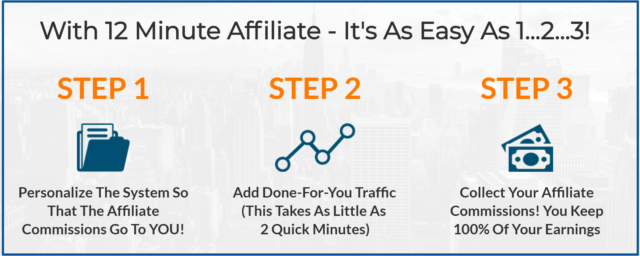 As it is said, yes it is really easy to set up the 12 Minute Affiliate System, you just need to personalize the system.
Done for you Traffic is mainly through solo ads for which you need to pay extra dollars, which Devon never mentions in his video or on the sales page.
It is possible to make few sales through 12 Minute Affiliate System, but for a long term business, this is not an appropriate program.
12 Minute Affiliate System has some great features like done for you landing pages, 80 follow up messages per niche, traffic.

At the same  time, it's very easy to set up 12 Minute Affiliate,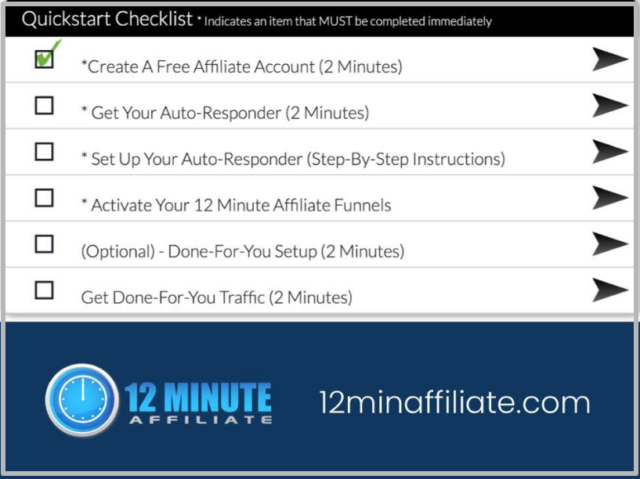 But I honestly feel that the 12 Minute Affiliate is not made up with a long-lasting business mindset, because if you see the whois, it is clear that the 12 Minute Affiliate domain is registered on 12/10/2018, but Facebook Group for it created just before 3 months 14 May 2019, which serves as a 24×7 support to 12 Minute Affiliate Members.  But what about before FB group crated, till all months the members of 12 Minute Affiliate were without any support.
They have a contact page on their website, which again directs you to easiestsupportever.com.  As of the domain of 12 Minute Affiliate is expiring by October 2019, and I hope they would renew their domain, and do not leave their members in middle.
If you watch the FB page of 12 Minute Affiliate, only 185 people are following it, and not necessarily all have bought this program.   So one should think twice before buying this product.  If the product was so great and really earn an instant commission, as it's home page claimed,  don't you think there would be way more sells of this product?
I've spent some time digging through all the layers to get into the heart of the system and discover if it's just another scam or there is a possibility that this system works, but I found many Red Flags of 12 Minute Affiliate.
Let's Discuss Red Flags of  12 Minute Affiliate
Owner Devon Brown
Devon Brown is a successful Internet Marketer, so he knows all about affiliate marketing and still he has not provided detailed training on affiliate marketing.
Devon must have been aware of the fact that it's quite costly to remain dependent on solo ads, unless and until you know how to drive the traffic naturally, you must know how SEO works.  But you will not find any training on SEO.  Devon just added an e-book about how to drive the traffic naturally.
Over-Hyped Claims
12 Minutes Affiliates is making some bold claims like an affiliate sale in 12 minutes.  Even though you set up the system perfectly with done for you system, one can not guarantee that it will make a sale in just 12 minutes.  It is nothing but a marketing gimmick to get the masses in the door.
Training
12 Minute Affiliate System has provided some generic training, but affiliate marketing is not done for you system.  You need to have a strong foundation in the form of thorough training and a nice website.  It is very surprising that a seasoned affiliate marketer like Devon, says that one need not have a website to promote products.  May that's why he is provided more than 10 funnels for each of the niches you choose.
But if that was so effective strategy, then why is Devon promoting his product 12 Minute Affiliate through a website?
Upsells
12 Minute Affiliate is a high ticket product, which costs $900+, including all its upsells, and that's really a bummer for a newbie.
If you are promoting a product as a newbie-friendly and puts the price label above $900,  can a newbie really be able to buy this product?
Though you can have a 14-day trial of 12 Minute Affiliate for $9.95, and if you want to continue, you need to pay $47 monthly.
But in spite of it, you don't get proper training on affiliate marketing.  Done for you system may be useful for a short term but if you are serious about building your online business, Wealthy Affiliate is the best option.
I have reviewed some similar products before:
Wix – 8 Warnings Before Creating Wix Website.
Wealthy Affiliate Reviews Are All of Them Honest?
Pros:
Low Initial Cost, you can start with $9.95
It might get the first sale in a few days
60 Day money-back guarantee as it is a Clickbank Product.
Cons:
A lot of hype in Sales pitch
Upsells – may cost you $900+
No Training on Free Training
Not a Long Term Product
I seriously doubt if one can make that sort of money.
Is 12 Minute Affiliate A Scam?
12 Minute Affiliate is not a Scam, as it has a money-back guarantee and a proper method of affiliate marketing and funnel system which may actually lead to a sale in a few days.
But as I mentioned above, it is not a long term product, which can help you to build your sustainable business online.
12 Minute Affiliate System has some great features like 10 done for you landing pages for each niche, you can choose any pre-determined niches from Home business, Weight Loss or Personal Development.  If you upgrade to the Gold membership, you can choose from the unlimited niches.
It also provides 80 follow up messages per niche.  12 Minute Affiliate prominently promotes solo ads, but it may cost you more money than you think.
12 Minute Affiliate promotes its product which costs $9.95, but it avails you 14-day trial only.  Once you sign in for the program by paying $9.95, you will be bombarded with the upsells which may cost you around $900+.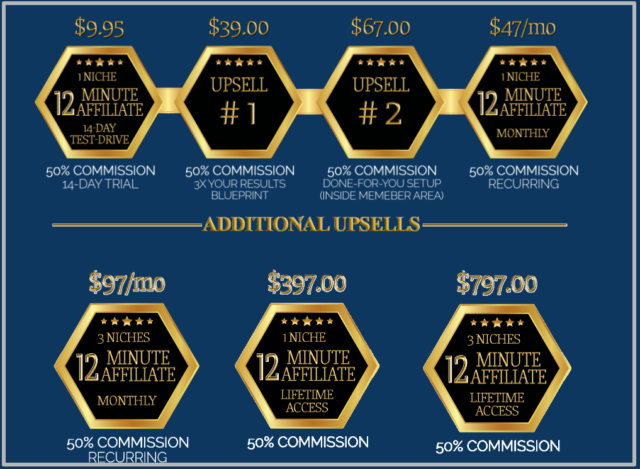 This information is available on the Affiliate page of 12 Minute Affiliate, which is meant for the affiliates of the product, but you get an idea of the sales funnel of the program.  But Devon hides this information from the people.
Lastly, 12 Minute Affiliate Program is not led down for long term business but it is clearly a short term product, which aims just to create few sales in a short time.  If it was not so, Devon would have created thorough training for its members.
Surprisingly, Devon states that it is not important to have a website for affiliate marketing, but the website is the base of an online business.  These things may create a wrong picture of affiliate marketing, one may think that it is easy to make sales, and with all done for you system like emails and landing pages, one will miss many important features of affiliate marketing, if he does not know how to write an email himself.
Rather than wasting your time on another system that does not deliver, why not take a look at My # 1 Recommendation below.

.

It is the platform where I am working for the last few years and learned about online marketing.  But if you want to earn legitimate money, you need to commit to this program.
Legitimate Opportunities Requires Legitimate Effort
Making Money Online is much like any other business, which requires hard work, Patience, and Persistence.
The people who fail online is because of their wrong mindset.  People who do not want to work hard, or they want to put in little or no effort to get the results.
The business module which I highly recommend is not a get rich scheme.  You need to work hard and work hard consistently.  This is the method which has succeeded in the past and will be successful in the future years also.  It is a time-proven method.

Why I am so sure about this program?
I like to recommend my readers those programs/ products which will add value to their life, and I am sure you will thank me for introducing this program to you!
It is Free to Join
The most important thing that it is free to join, you do not need to pay a single dime while joining.  And I would also like you to go through the Starter Membership, see whether this program is for you.  Take full advantage of Starter Membership and if it suits you, Go Premium!
The Support is amazing
When you are building an online business, sometimes it becomes lonely.  You need encouragement and support from others.  this platform has an inbuilt support system in the form of an amazing community of more than 1.5+ members.  Live chat, PM, Blog are some of the ways to communicate and get support from the community.
Beginner Friendly
When I joined this platform I was totally unaware of the technical stuff and had very little to no experience working online.  But the platform is for anyone who wants to build an online business.
One Stop Destination for becoming Successful Online
Most of the tools and training which one need to be successful is available on the platform, so you do not need to go elsewhere for any further additional services.  You can easily Build and prosper your online business Under ONe Roof.
Legitimacy
The platform teaches you the most popular earning method of online marketing i.e. affiliate marketing.
Affiliate Marketing is a very legit and sure way of earning money online, but the success depends on you.  The success is proportionately related to the hard work you put in your work.
Lastly, I have personally been with the platform
I personally working on this platform for the last few years, and am really lucky to find this platform.  It is one of the most advanced platforms online and most importantly, the environment within the community is very helping, caring and encouraging!
Since it is free to join, I highly recommend you to check out this program.

I hope the Review of 12 Minute Affiliate has helped you to make an informed decision.
Don't hesitate to share it with whoever you believe that will benefit from it!
If there's something else you want to know or you have any questions, please feel free to leave a comment below and I'll get back to you ASAP! ?
Whatever you do next, I wish you nothing but the best 🙂
jivita