While writing Squarespace Reviews and Complaints, I remembered the days when I started blogging and never had any clue, that one day I will be reviewing Website Builders.  WordPress is my personal favorite, as I learned to blog with the help of this website builder.
With the popularity of content creation and content marketing, the website builder platforms also grow in the number. Website builders provide a platform to create a website by providing them tools and their interface.  There are many popular website builders like Wix, Weebly, Squarespace and so on.
Most of the times, when one chooses a website builder, he may not be aware of the intricacies of the platform and maybe trying out the website builder for the first time, without any prior knowledge of the platform.
Let's review Squarespace today and why you should be careful before creating a website with it?
What is Squarespace?
Squarespace is a private American company, based in New York City, that provides software as a service for website building and hosting. Its customers use pre-built website templates and drag and drop elements to create web pages.
Anthony Casalena is the founder of Squarespace and was launched in 2003.  Squarespace has 1+ million websites and has different pricing plans for personal and Business online stores.
Squarespace Review:  Complaints you should be careful About
Squarespace is a leading website builder in the market which uses drag and drop feature to build beautiful sites for the customers.
Squarespace is using Social media exclusively to promote its brand and some great Youtube videos on website building.
Squarespace also provides you with the great looking website examples created by people like you and me, gives the expression that anyone can make stunning websites with Squarespace.
Squarespace does offer a 14-day free trial.  Squarespace websites are stunningly beautiful and professional.
But there are some drawbacks of the Squarespace, which you must be aware before creating a website with it.
Pros of Squarespace
1.Superspace SEO
Superspace has its own Analytics, which is only visible to the user and you can track the daily, weekly, monthly traffic reports.  You can also add Google Analytics to Superspace sites.
Superspace sites have all the SEO techniques within it like meta title, meta description, SEO friendly URLs, automatic submission of sitemap to Google and so on.
It's really a welcome feature of Squarespace, compare to Weebly which offers SEO only to its paid members and all the free sites at Weebly are non-indexing.
2.Export your site to WordPress
Unlike Wix, Squarespace lets you export your website data to WordPress.  In other words, you can download the code of your whole site – pages, blog and all – then import it for editing in the more advanced WordPress CMS.
3. Unlimited Templates
Squarespace let you use unlimited templates for your website, which means you can change the template of your site if you need to.
As we all know Squarespace has stunning and beautiful templates to choose from, but it lets its users change it frequently compare to Wix, where you can not change a template once you choose one.
Things You should be careful about Squarespace
1. Learning Curve – Not the Easiest Website Builder
 Squarespace templates are not intuitive and it takes much time to figure out how to customize the templates. First, you need to find out the Style Editor, and next, you have to work out how to upload the images.
You need to really really patient while building websites with Squarespace.
2. Comparatively Expensive
Squarespace pricing is comparatively expensive than its counterparts like Wix and Weebly.  Squarespace offers a personal plan for $12, Business Plan $18, and building online stores offer plans with a Basic plan for $26/m to $40/m.
3. Limited Digital Downloads
If you want to build a website which offers digital products and service, then you should be aware of the fact that Squarespace only allows you to download up to 300MB only.
4. Supports Safari on Mac only
Squarespace does not support safari other than Mac, so better if you change your browser, then later to face issues with your site.  Also, it is important to note that Safari holds up to a 3.8% share in the most popular browser list. So that can be an issue, as your website will not be visible to many Safari users.
5. Customer Support is lousy
It's very unfortunate that Squarespace Support is not up to the mark and many face problems with Squarespace on different issues  You will also notice that there are many complaints against Squarespace in Better Business Bureau.
Pl check with your Squarespace head branch about the Tax related issues.

6.Not recommended for Photography sites
Squarespace websites are fine if you are using it for personal photography blogs but  Squarespace can be a little sluggish sometimes if you are uploading lots of large, hi-resolution photos, which might prove to be a real time-drain if you intend on uploading large albums for clients.
7.  Apps and Extensions
Squarespace does not support third-party extensions and one needs to rely on Squarespace.  Any features that can be rolled out have to be rolled out by Squarespace, which is a big disadvantage if you want seamless integration of specific functionality.
Is there a better alternative to Squarespace?
Squarespace though creates a beautiful website with drag and drop features, for a newbie, who never build a website, is a great learning curve.
Wealthy Affiliate is definitely a better option to create your own website with ease and easy to follow training which guides you step by step.
1.Easiest Platform to Build Websites
WA uses WordPress as a CSS and is one of the simplest CSS to build your website.  Even a newbie can build a website within 30 seconds.
Wealthy Affiliate provides training on two basic levels.  Training is divided into small lessons that include simple tasks to perform.  By lesson 4, you have learned how to build your own website.
WordPress + WA Training is a great combination, which allows anyone to create a site within minutes
2. Most Cost-Effective
WA offers you everything from A to Z to build your online business, which costs you less than $1per day, which includes tools, training, hosting, SSL Certificates to all of your 50 sites.
3. Most powerful Hosting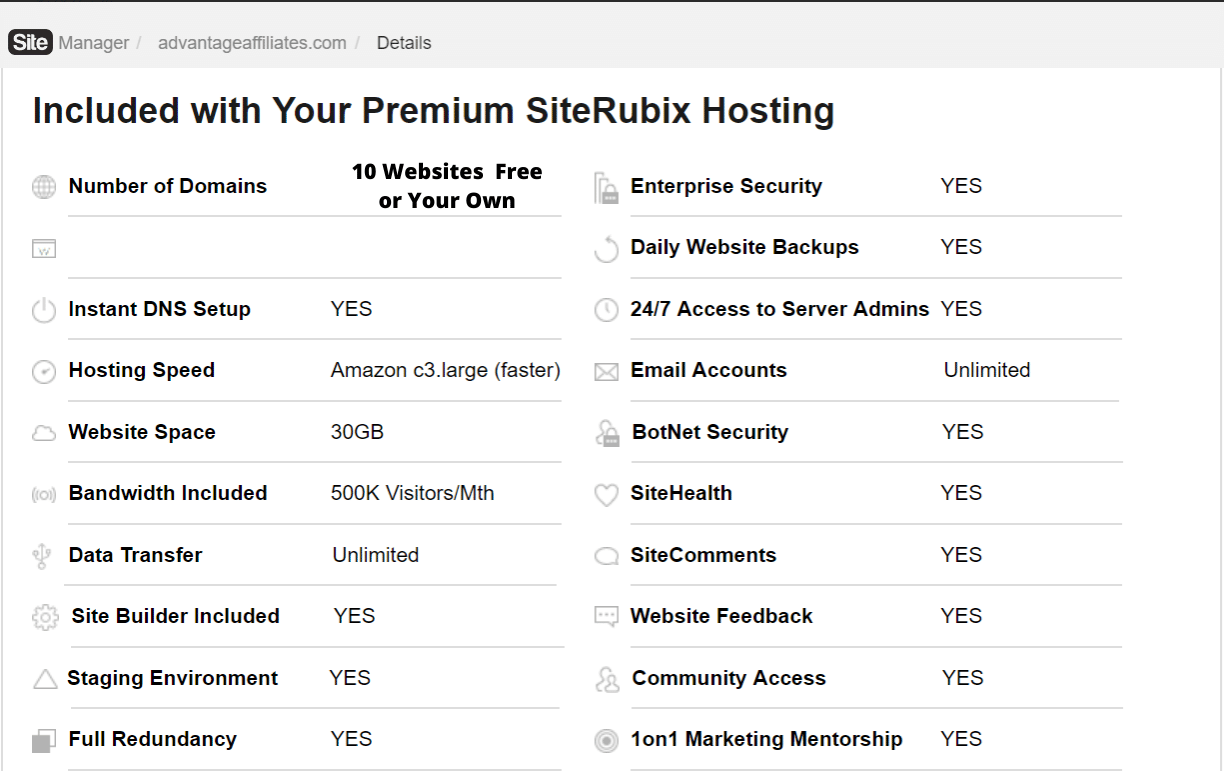 4. Sites are mobile responsive across all the browsers
Sites created at WA are mobile responsive and irrespective of the browsers.  As we all know mobile responsive sites are highly ranked by Google in SERP.  It is one of the matrices that Google ranks the websites highly.
5. Site Support, Comunity Support is awesome at WA
Site Support at WA is awesome, and the average response time for all requests is less than 5 minutes, 24x7x365.  Not only this, but WA Community is also one of the USP of this platform.  The encouraging and healthy atmosphere within the platform makes it more worthy.
6. No Complaints at Business Bureau in the last 5 years
It's very rare to find that there is no single complaint against WA in the last 5 years.  If you search online, you will find hardly any complaint against WA.
The one CON that I read about WA is that it does not teaches black hat SEO, and I really don't understand it is a good or bad thing, that WA teaches you how to ethically rank on Search Engines.
7. Only Platform that You will Need for Your Online Business
WA offers you all the tools that one needs to establish a successful business online, from websites, hosting, domains and site security everything is included in your one membership.  No upsells is another feature of WA.

Recommended Read:
Conclusion
Squarespace is a leading website building platform but it offers much less than what it charges for. Squarespace is too limited for building a thriving online business.
With technical limitations and average site support, and with a learning curve it's really difficult for a non-techie person to build a good site with Squarespace.
The most critical thing having complaints of billing and collection against Squarespace.  These are some major concerns you need to be careful about before making a website with Squarespace.