USANA is one of the popular brands in the health supplement and vitamin providers.  Not only these but they also many products for a healthy lifestyle.  USANA is developed by a scientist and backed by many research.  But can you make money selling   USANA products, let's find out in this   USANA MLM Review.
What is USANA MLM?
Before we discuss the USANA supplements, let's see what's their promotional video is all about.
USANA Health Services was founded in 1992, by Dr.Myron Wentz, Ph.D.  He founded   USANA when he discovers the value of anti-oxidants and their effects on free radicals in the body.
USANA sold in the United States as well as 25 other countries, but   USANA products can only be purchased through its associates.    USANA includes many products like nutritional supplements like vitamins & weight management products.
USANA products developed & tested in their Salt Lake City headquarters.
Are USANA Products Worth Their Price?
As I mentioned above   USANA has a range of products and Cellsentials is their most popular product.  It will cost you $59.35, but as a preferred customer, you can get it at $53.55.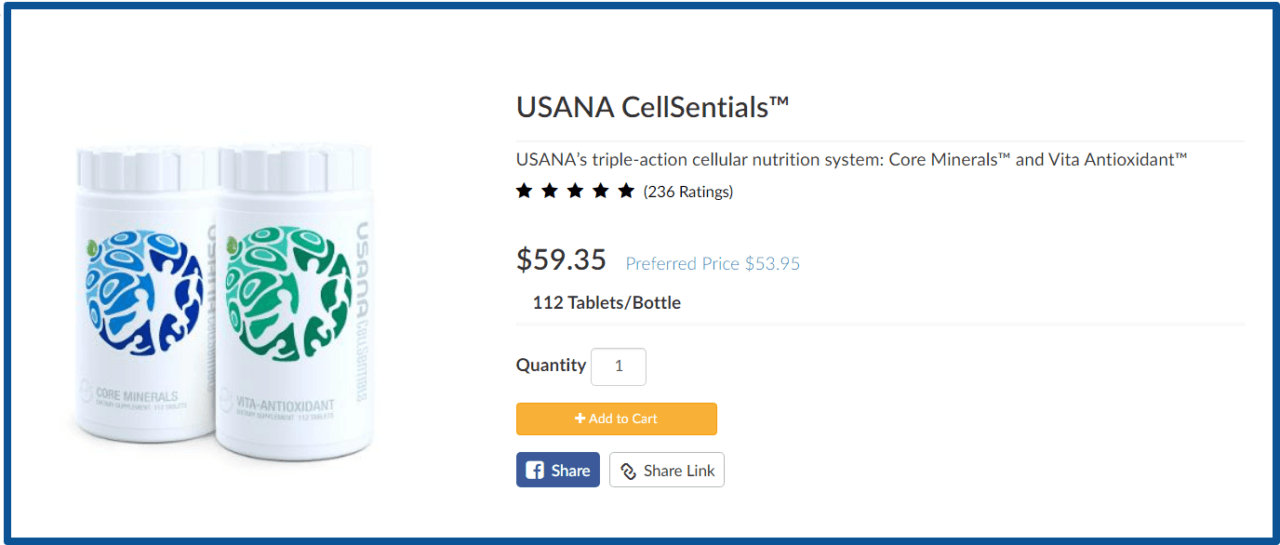 According to the information on the bottle,  there are a number of vitamins that exceed the RDA (recommended daily allowance).
It's a 28 day supply, you need to take 4 tabs each day, twice a daily.
These vitamins include Vitamin C (330%), Vitamin D3 (250%), Vitamin A (120%), Vitamin K (340%) and Vitamin B1 (1,000%). This is by no means the full list.
This could be very beneficial if you are lacking important vitamins in your diet for any reason.  No doubt, USANA products are expensive than their counterparts but it's hard to find RDA in any other supplement brand.
The USANA MLM Opportunity
Like any other MLM, USANA offers you to sell its products in your spare time or you can opt-in for a full-fledged career with them.  One of the best things is it offers a flexible schedule that you can adjust according to your needs.
Another thing that separates USANA from other MLMs is USANA allows you to set your own prices for products, although they do make recommendations on pricing.
USANA products are available on major e-commerce sites like Amazon, but USANA claims that they are duplicate products and they sell products only through their associates.
One thing is very clear that customers seem to like USANA products as it is clear from its reviews on different forums and on the internet.  Overall, USANA has generated a good name for itself.  So this can be a great selling point if you want to make money with USANA.
How Much Does It Cost to Join USANA?
To start with, you need to buy a starter kit which will cost you $29.95.  It does not contain any product but it contains documents that will clear your role as an associate.  Some other documents include Get Started Checklist, Online Resource Guide, Usanaa Policies and Procedures, Compensation information, and guidelines on how to build your network.
Can You Make Money with USANA?
USANA is unique in a way that allows its associates to set your own prices for the products you sell.  But they suggest a 10% mark-up over the preferred price.
Preferred customers are those who opted for monthly subscriptions that give them 10% off on all products.  At the same time,  all these products come with free shipping.
So if you have these preferred customers in your network, you can earn a decent commission every month.
Another great way to earn through USANA is to recruit other people under you.  Since the USANA  is quite a brand and famous for its quality products, many people may prefer to sell these products and earn a commission.  You can earn profits from their sales.
Pros:
FDA Approved?:
USANA products are not FDA approved but But, in this case, Usana was granted FDA drug-establishment registration in 2011. This does not mean that the products are FDA approved. It means that Usana is an FDA-approved facility. Usana holds themselves to a very high standard when it comes to production. The fact that it's been recognized by the FDA says something
No BBB Complaints:
USANA is accredited by BBB and it has an A+ rating.  It is also noteworthy that it does not have a single complaint against Usana. Check here.
Cons:
Low Success Rate:
In the 2017 USANA report, it is noted that more than 50% of its associates have not earned anything from selling its products i.e., Associates didn't earn any compensation from Usana.
Many complaints against USANA :
BBB has not a single complaint against USANA, but if you search the internet you will find many complaints against USANA & its associates.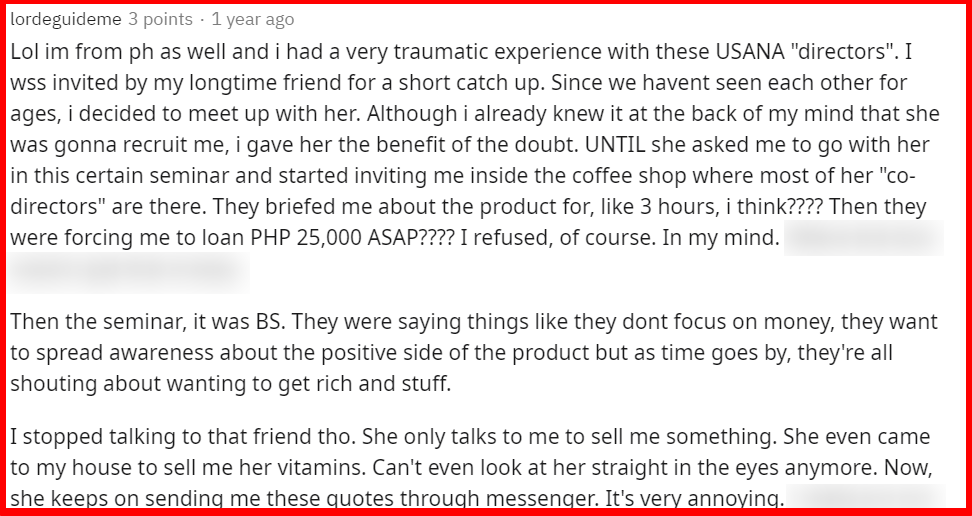 Lawsuit:
Usana has been accused of operating a pyramid scheme. An expert witness even testified in 2008 that "you can make a very strong argument that this could be a pyramid scheme."
Is USANA a Scam?
USANA products are more credible than other MLM, as it is created by a scientist.  Also not to forget that it has an FDA approved facility. On the downside, USANA products are expensive compared to their counterparts.  So as a money-making opportunity, you may find it difficult to sell these products & earn a decent earning from it.
Recommended Read:
Why multilevel marketing won't make you rich
3 Mind-Blowing Statistics About MLMS
Other MLM Reviews:
Conclusion:
USANA is better than other MLMs, but it is important to remember that it functions on MLM structure and you need to buy a starter kit that will cost you around $30 before you earn a dime from USANA.
USANA products are expensive, so you might find it difficult to sell and earn a  commission.  Unless you sell products, you will not earn anything.
If you are interested in selling why not take affiliate marketing as a money-making opportunity.  You want to invest $0 to start with & start your own business by checking out my #1 recommendation. You'll get all the tools you need including a website, hosting, training, and 24/7 support.