Black Friday and Cyber Monday are the best days to buy the best online offers, falling on 29 Nov.2019 and 2 Dec.2019.  Usually, Black Friday is a day after Thanksgiving and a great day to get some amazing deals and to get your hands on some good discounts. Cyber Monday is a Monday after Black Friday.
And here is your great opportunity to build your own online business as a blogger, YouTuber, Vlogger, or to join a booming industry of affiliate marketing. Blogging, Video Marketing, and Affiliate Marketing are evergreen niches and pay high returns if you work persistently and with proper guidance.
3 Niches That Are Highly Profitable & Evergreen
There are many niches that are evergreen and highly profitable but you may choose any niche these 3 skills – Blogging, Video Marketing, and Affiliate Marketing – will add many benefits to your efforts.
For Example, if you choose one of the top trending niches "CBD Products for Pets" or "Healthy foods and Drinks on the go", the best way to promote is through your own blog.  When you have your own website set, you can promote the product more authoritatively.
Here blogging about different pain points of your readers and providing them with the best solution can help you establish yourself as an authority and can convert easily.
You will be surprised to know that 87% of buying decisions begin with online research, people like to research before buying anything.  They prefer to read different reviews on Google &Amazon.
So it is imperative for any product to have good reviews on the Internet if you provide a detailed and informative honest opinion about any product, readers are going to love it.  For your website, more visitors means more traffic.
Blogging can be very beneficial to establish yourself as an expert.  Through blogging and your website, you get in touch with your audience regularly.  You share and discuss an opinion on different topics.  You solve their problems and guide them in the right direction or help them to make a conscious decision.  All these lead to establishing yourself as a brand.
Apart from this, blogging is a great way to earn good money.  Especially lady bloggers and stay at home moms are doing great blogging.
Michelle, owner of Making Sense of Cents had earned 1,500,000 in 2018 just by blogging. You will find numerous examples where bloggers are making a good amount of money through their website.
 Youtube or Video Marketing
YouTube is the most popular search engine after Google.  Youtube or Video Marketing has an added benefit of a visual medium.  All of us like to Watch instead to Read.  videos connect us instantly and directly to our readers or viewers.  It creates a bond and increases the trust when you really see a person, instead of a computer screen and that's why it's more popular than any other medium.
Making videos and sharing your knowledge with people is quite easy nowadays.  Each smartphone and laptop has an inbuilt camera and microphone, which makes it easy to share the videos on different social media platforms and reach to maximum people.
Regular posting on Youtube can immensely grow your audience and help you to create your own brand,  Once you are established as an authority or expert, there are many ways you can earn money from your Youtube channel.  Adsense is the easiest way to monetize your Youtube Channel.
Affiliate Marketing
Affiliate marketing is one of the legit ways to earn money online.  Anyone can become an affiliate and earn a good income.  As an affiliate, you need to spread the word about the product through different social media platforms, your blog and if you like making videos, make videos about it.
You share your unique affiliate link, and if someone clicks on the link and make a sale, you get an affiliate commission ranging from 6% to 75%.
The best part of affiliate marketing is you can start with very little or no investment at all as a beginner.  As you scale your business, you can invest in it to further expand your success.
There are billions of products in the market and you are not restricted to promote any one product.  Also, it is not mandatory like in MLM or Pyramid schemes to buy every product to promote it.
Blogging and Affiliate marketing go hand in hand and complement each other.  If you are a blogger, you can become an affiliate and promote hundreds of products through your blog and earn a handsome commission.
Additionally, if you add a video and publish it on YouTube, you will get additional traffic from YouTube, as well as gives you an added SEO benefit, which will help you to rank better in search engines.
First page rankings on search engines like Google, Bing, and Yahoo, give you more visibility and also a good way to get conversions like call, click or a sale.
Though it is important to note that none of the above mentioned are getting rich schemes and it may take time to establish yourself in that field.
Blogging + YouTube Video + Affiliate Marketing = Success
I hope you see the vast scope of making money online with this formula.  If you are a blogger, promoting products through affiliate marketing and making YouTube videos that will help you to better rank in search engines is a sure way to success.
It is important to have a basic understanding of how these different yet complementary niches work.   It is always better to go through training which mitigates any chances of disappointment and confusion.
The Best Platform
I would highly recommend Wealthy Affiliate, which gives training in all these evergreen niches.  Wealthy Affiliate is basically an Online Platform that offers tools and training in affiliate marketing. So it offers all the tools, training and resources which will help an individual to tap the best opportunities of affiliate marketing.
You can take advantage of this platform as it offers many tools and resources totally free to its Premium members.
As I mentioned above, blogging and affiliate marketing go hand in hand, so WA offers the best of tools and opportunities to tap blogging as a career.
Blogging
To blog successfully, you need a website, hosting, keyword research tool, SEO training, Social Media Management, Email Marketing, Knowledge of how to create beautiful images for your blogs.  All these pieces of training are provided within the WA platform to its Premium Members.
You get:
25 websites (excluding 25 sub-domains) + hosting for all the websites free.
Free SSL certificates for all your websites.
Free Unlimited Keyword Research Tool – Jaaxy
Free Live WAbinars Every Friday on different aspects of the Internet Marketing
Content Creation
Social Media Management – Training on all major Social Media Platforms like Facebook, Instagram, Pinterest.
Email Marketing – In-depth live training on how to create autoresponders and be successful in email marketing.
Unlimited Training on all the above topics.
Affiliate Marketing
As I mentioned above WA is basically an affiliate marketing platform, to teach you everything about affiliate marketing.
Besides all of the above pieces of training and tools, it has specific features that are devoted to affiliate marketing.
Thousands of training modules by Super Affiliates himself like Kyle, Carson and Jay and many others, who are working online for 12+ years.
Direct Access to thousands of affiliates through PM, if you stuck somewhere.
Dedicated platform within WA – Affiliate Programs
Affiliate Programs is a dedicated platform within WA, which offers you an opportunity to find thousands of products, join and promote it.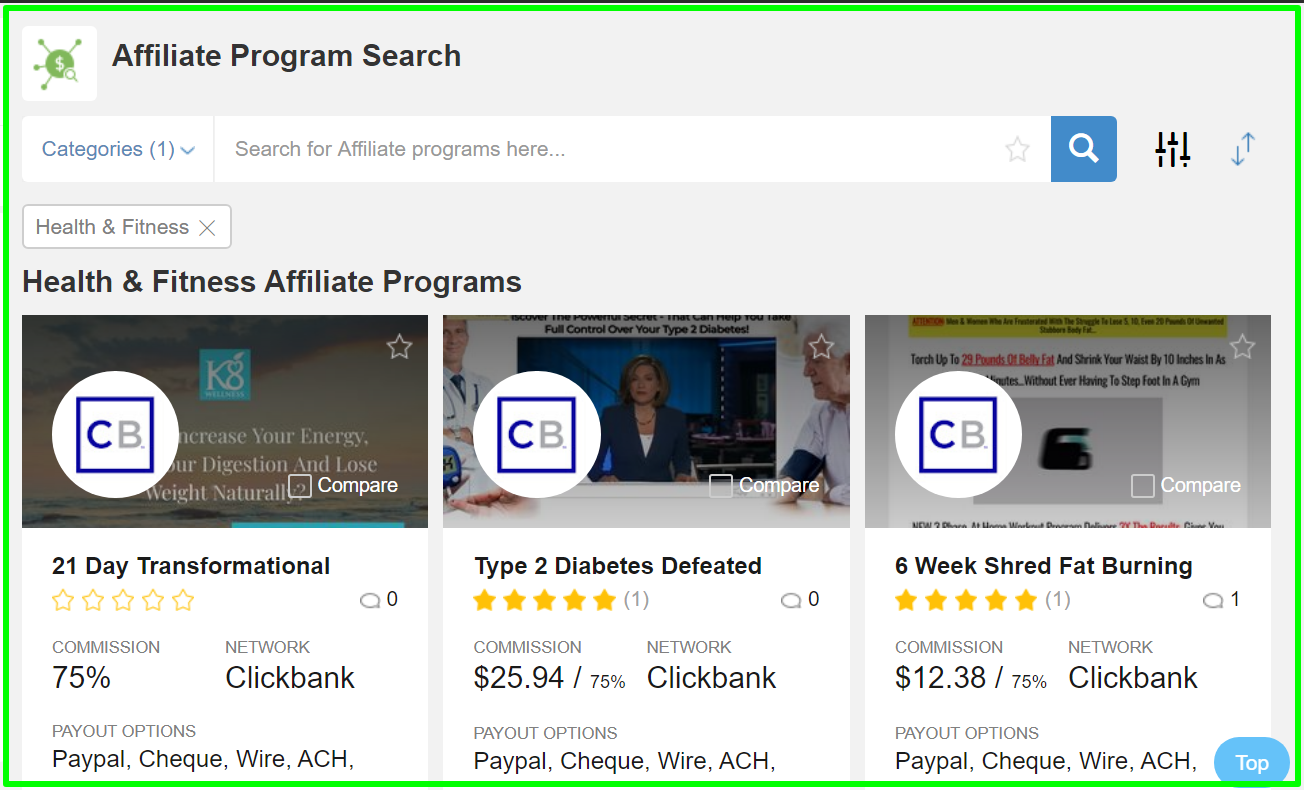 You can search for any category from thousands of available categories and choose a vast number of affiliate products directly within WA.
In the above screenshot, you can see that it shows all the information needed to choose if you really want to promote a product.
It shows the percentage of commission, network through which the affiliate product is available and payout options.  It has an added advantage to directly contact and give your feedback to the owner of the product.
As an affiliate, it saves a ton of time to search for related products and individually logging in every platform and sign in for the offer.
WA made it so easy for any individual to become an affiliate marketer.  You just need to sign in to any of the above products of your preference and promote it through your website.
As I mentioned above, websites, hosting, SSL certificates are free to every member of WA – Starter or Premium!
YouTuber
WA offers varied pieces of training on how to become a successful Youtuber. From how to open a YouTube account to how to create your own Youtube Channel, all the trainings are included.
WA has a plethora of training on each of the subject relating to Internet Marketing, I just searched "Youtube" in the WA search bar, and you can see all the available training on YouTube.
WA is the only platform that offers all the tools and training needed to be successful in all of the above niches.
Why WA Black Friday Offer You Must Not Miss
With all these tools, training and an awesome community of 1.7 million successful affiliates, WA worth every penny.  But what if you get all these for almost 50% discount, which will cost you less than $1 per day.
WA is free to join and for six months, you can try the system with two free websites + free hosting + free SSL certificates for your sites.
But if you are serious about building your online business, I would recommend you to go Premium as it saves you a ton of money.
Especially Black Friday is the best opportunity to join Wealthy Affiliate, as it offers almost 50% discount on its yearly membership.
Different Payment Options, which Suits Your Needs
$0 as a Starter Member free to join
$19 for the first month (59% discount if you join premium within 7 days)
$49 per month /as a premium member
$39 for Six Month Premium Membership, 20% off,  saves $60!
$359 yearly membership ( most convenient and economical, as you save $229) as against monthly membership $49 x 12 = $588
$299 Black Friday Offer (no brainer !! as you save whopping $289) as against monthly payment, which cost you $588
Which means you pay even less than $1 per day to have your own online business.
In less than $1 you will have:
25 websites (excluding 25 sub-domains)
Free world-class hosting
Free SSL Certificates for all your 50 websites
Free Keyword Research Tool – Jaaxy
Unlimited training on every aspect of Internet Marketing
Read the Full Review of Wealthy Affiliate – What You Will Get In Less Than A $1
It's a One Time Opportunity this year, to build your own successful Online Business,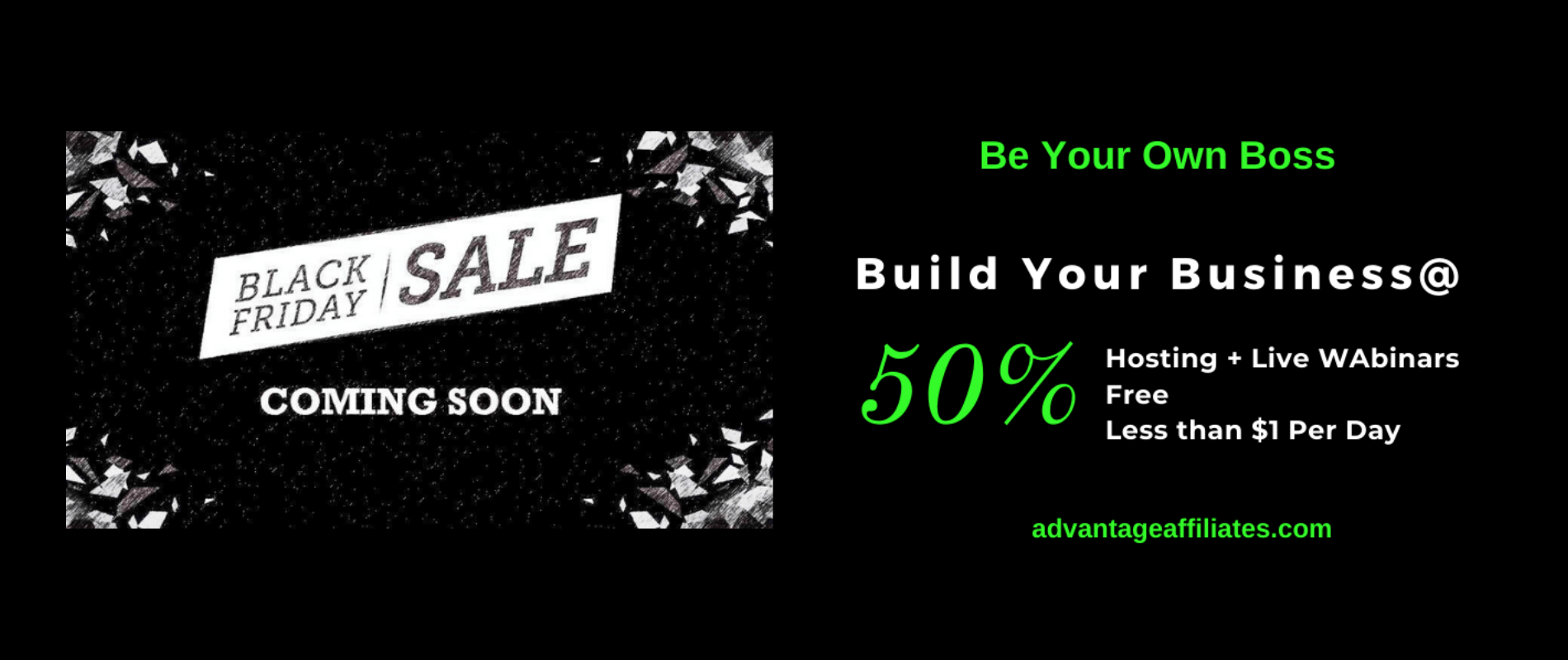 This Black Friday Offer Soon will go live, Subscribe now to get all the latest details.