RegenaLife is one of the trusted brands in health and wellness products and was established in 2008.   It was known as Regeneration USA when it was founded but later it was changed to RegnaLife.
Mr.Ernie Cadiz is the CEO and also involved in different sectors in energy, telecom, and real estate.
RegenaLife has more than 100 products and a network in various countries. RegenaLife products are of good quality and have various categories you can shop for including Cardiovascular, CBD Products, Cleanse/Detox, Energy/Focus, Immunity/Minerals, Joint Support, Pets, Skin/Hair, Snacks, and weight/Fitness.
RegenaLife offers a 10% commission on the orders.  But can you make money selling health and wellness products, let's find out in this RegenaLife MLM Review.
What is RegenaLife MLM?
RegenaLife is an MLM company that sells varied products related to health and wellness.  It claims that it sells the best and cleanest products with quality as its top priority.
RegenaLife products are marketed through direct marketing and one of the USP of their products is its usage of only natural ingredients.  It does not have any endangered sources.  RegenaLife claims that its products are organic, gluten-free, non-GMO, and made with plant-based minerals.
Are RegenaLife Products Worth Their Price?
As I mentioned above  RegenaLifeproducts are good quality products and over the years, they never have compromised on the quality front.
But still, you will find that their prices are higher than others.  In some cases, you will find that they are selling the same product at a much higher rate than the original product manufacturer.
For Example, Clean Green Protein with Lentein (795 grams) is a product by Clean Machine.  RegenaLife is selling it on its website for $54.99.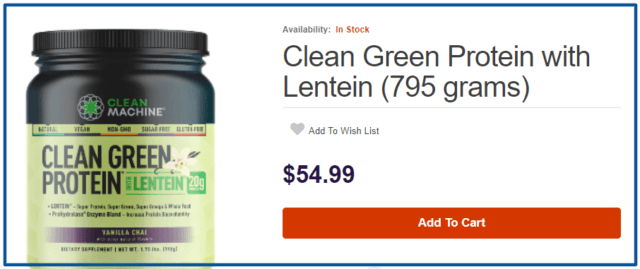 Even if we apply a 10% discount it will cost you $49.50, which is way more than the price on the Clean Machine website.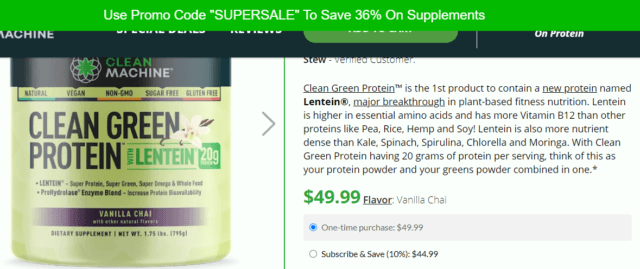 On their own website, Clean Machine is selling the same product offering different options. Even if you choose a one-time purchase it will cost you just $49.99, which saves you $5.  But if you choose to subscribe you save 10% more and not to forget that they are offering a 36% discount on supplements.
So it's beyond understanding why the heck they are selling these products at so high rates?
The RegenaLife MLM Opportunity
RegenaLife offers an opportunity to make money by selling their products as well as by building a network of people who joined under you.
RegenaLife has products for every age and group, and by selling these products you can earn a commission.  You can also earn on the sales made by your referrals or the people in your network so it can be a good business opportunity for you.
How Much Does It Cost to Join RegenaLife?
Joining RegenaLife is completely free, but it is recommended to buy Fast starter Pacakaage that will cost you around $99-$549, to qualify in their compensation plan.
It is very unusual for any MLM to offer their membership for free with no enrollment or recurring fee but as I mentioned above after a certain level you need to invest in different products to earn a commission.  If you don't buy the product, you don't earn a commission.
There is a total of 12 rank advancements in RegenaLife and you only require 50PV per month.
Active
Builder
Manager
Bronze
Silver
Gold
Platinum
Emerald
Diamond
Double Diamond
Triple Diamond
Black Diamond.
All the above ranks have specific active qualifications, requirements, team, and advancement bonuses which you can download from their website.
Can You Make Money with RegenaLife?
As an affiliate(they call it affiliate), you can make commissions on the products you buy or sell, apart from it you can also earn commission on the sales made by the referral in your network.
As you recruit more people and sell more products, you and your team earn gifts from RegenaLife.
RegenaLife also offers Enrollment Gift Cards when you buy their highest package of $549.  It includes 60 Enrollment Gift Cards, which offers a 10% discount and also a surprise gift.
RegenaLife made the maths for you on their website.  But this EGC are available only if you spend $549 on their package.

RegenaLife though calls their representatives affiliates, it's not how affiliate marketing works.  It's clear that it's a network marketing system and you need to recruit as many people as possible to earn your commission.
If you have a good network and have many people in your group, whom you can sell these products, you can earn a good income.
But the tough part is to maintain a steady income with this business model.
Secondly, since it's an MLM opportunity, most of your success depends upon your marketing skills.  If your team members are active, you can earn a good amount of money, but if they are not active your earning potential is limited.
Since it is very easy and cost-effective to join RegenaLife, there is n number of representatives and you may find it really difficult to sell products.  Many new members may drop out of the network if they do not make consistent sales.
These products are easily available on other sites and you will get RegenaLife products at much cheaper rates than its official website.  That makes the condition worse. So why one will buy from a RegenaLife consultant?
Pros:
No Sign-Up Fee:
There is no signup fee for RegenaLife or no enrollment or recurring fee.  It's very rare in the MLM sector that you do not need to buy a starter kit to start with their program.
Good Product Discounts:
RegenaLife offers a direct 10% discount once you become the consultant, so huge savings here.  You and your team also get monthly gifts, according to your sales percentage.
Offers a website:
RegenaLife offers many incentives to its members, including having your online space for example a website or e-commerce store to promote and sell the products directly from your website.  So you get an additional benefit here.
Cons:
Violation of FDA Guidelines :
Some products like Maitake are promoted as beta-glucan, which may enhance immune activity against Infections, Viruses, Fevers, Colds, the FLU, and Cancer, as well as reduce allergies (where there is inappropriate immune system activity).
It may give the impression as Mailtake prevents cancer, which is far from reality.
Expensive Products:
RegenaLife products are comparatively expensive than their counterparts.  These products are easily available on e-commerce sites like Amazon, Walmart for a much lower cost.
No Income Disclosure:
Most of the MLM sites publish their income disclosure statement to tell how much their members are earning on a monthly or yearly basis.
But we do not find any Income Disclosure statement on their site, does it mean their members are not earning enough from RegenaLife?
Is RegenaLife a Scam?
RegenaLife is an MLM company and established itself as a legit and quality brand over the years.  It is definitely not a Scam.  But the MLM module is such that, unless you make a sale you are not going to earn a dime.
Most of your success is dependent on your team members, who joined under you.  Unless they are active and making sales, your earning potential is limited.
It is a proven fact that it's very hard to earn with MLM, only a few at the top strata earn a substantial income.
Recommended Read: Why multilevel marketing won't make you rich
3 Mind-Blowing Statistics About MLMS
Other MLM Reviews: Tupperware MLM Review
Conclusion:
RegenaLife is an MLM company and it runs like any other MLM module, though the good thing is RegenaLifeis offering a good commission.  Still, you need to further investigate about MLM module and if you really want to join one.
It has many hidden costs like shipping charges.  You need to pay all the shipping charges for yourself, which may eat up any commission that you make.
If you want to make your own money by selling products, start your own business by checking out my #1 recommendation. You'll get all the tools you need including a website, hosting, training, and 24/7 support.