Owner : Redbrick Technologies
Website : www.tryshift.com
Pricing : Basic : Free
Pro : 29.99
Advanced : $ 99.99
Deployment : Cloud, SaaS, Web
Installed : Mac, Windows
Founded in : 2016
Canada
What is a Shift App?
Shift is an email client that makes it easy to switch between multiple Mail, Calendar, and Drive accounts, with one click. It also offers support for popular web applications, extensions, and other Google services, right inside Shift.
Shift was designed for anyone who manages multiple email accounts including startups, client teams, designers, freelancers and those who perform the majority of their work online.
Many of us having more than email accounts and checking everytime, you have to open it seperately in a different browser windows,  It clutter your desktop but with the shift now you can have a clutter free destop.
Shift Features:
Email Archiving
Email Monitoring
Response Management
Signature Management
Installation
the installation of shift is easy, you need to download it .  the Shift has 3 versions:
1. The Basic Version which is free
2. the Pro Version – $29.99
3.Advanced – $99.99
To get the Basic Version of Shift go to the Pricing Tab,
Click on the GET STARTED
Click the Privacy Policy Checkbox
Click Get Shift now.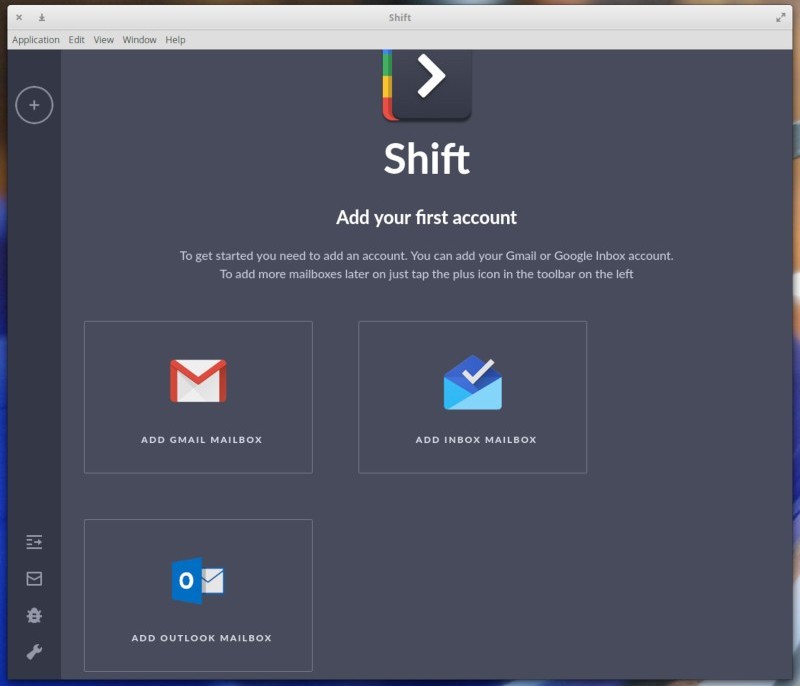 The best part of the Shift app is you can add all your favourite apps like Facebook, Whatsapp, Evernote and many other apps.  You can access all google Apps also in a Shift dashboard.
In short, you don't have to toggle between different browsers to check all the mails and apps.  Shift allows you to view all your apps and mails in a single dashboard of Shift.
Pros and Cons of Shift
Pros
A single mail clinet which brings all accounts together.
As I mentioned above, shift provide a single dashboard where you can check all your emails from different mail account in a one place.  you don't have to toggle between different browsers, open two or more browsers and go back and forthe to check your emails.
Shift not only provides a single dashboard for your eamials, but also allows you to all your social media platforms, like facebook, twitter and so on.  So you can connect with social from one dashboard of Shift.
Many other apps which you use on daily basis like Evernote, can be accessible from one dashboard.
So it's a huge time saver and helps you to organise your things in a better way.
Ease of use, Convenient and Familiar Interface
Shift is very easy to use as it has the similar interface like  the gmail, you feel comfortable and its really convenient to use.
Quickly fetched mails
All the mails from all different email accounts get easily and quickly fetched in the mail box and you can access them from sidebar.
The ability to access several web apps in one portal is very efficient and makes it easy to add multiple accounts.
Easily toggle between multiple email identities as well as messaging apps.
this is one of the highlight of Shift app, that it easily toggle between multiple eamil addresses as well as different messaging apps.
You never once have to leace the dashboard to check the things.
Great Customer Service
easy to install
the app is very easy to install without any fuss, within a few clicks, it is downloaded to your computer and you are ready to use Shift and manage your activities in a better way/
uses very little resources
attractive Pricing
Shift is avaible in three price ranges, so you can upgrade the plan according to your needs.  the basic plan is free and more than enough for a regular user.
Cons:
Lack of Admin portal to manage  llicensing.
Require to upgrade to the most expensive tier of the software.
Final thoughts:
Shift app is a very useful app, which is a must to manage all your emails and apps.  All your apps aare availble under one dashboard which makes your dashboard more cleaner.
Shift is useful as many of us are having more than one eamail accounts, and in a day many of us have the habbit of checking the emails multiple times,  it consumes lot of time and energy, but with Shift all of your email are managable in a single dashboard.
Pricing is also good, as it also offers a basicc version which is freee.  So you can use and see if it suits your need and if you find it useful you can upgrade.
Most of the reviews are very encourgaing and positive.  Most of the people not only uses multiple mail accounts but also uses different social apps.
So it is always convennient and time saving to have Shift  in your computer.
Hey Friends,
Have you used Shift app, how is your experience or pl let me know if you are using an other app which helps you in manaaging your mails and other apps.
If you have any suggestions, questions or querries, pl let me know in the comment section below, I will be more than happy to anser your queiries.