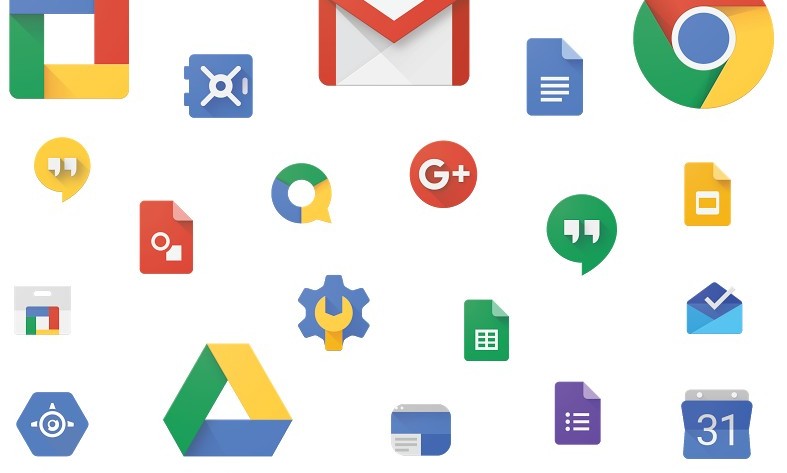 G suit formarly known as Google app is collection of applications of apps most commonly from emails.  G suit is the sevice provided by Google which also include shared calenders, Hangout, Drives, Docs and many other.
It was first launched in August 28,2006, as Google Apps for your domains.  While G mail service is free G suit adds enterprise feature which adds custom email address @ domain, option for unlimited cloud storages.
In simple terms, you can say G suite is the business version of G-mail.
Gmail accojnt also includes : google Calender, Google Drive, Google docs, Google Sheets, Google slides, Google forms Google drawings, Google my maps  and Google sites.
G suit includes business version of all these and more.  There main important feature of G suit is that it provides security to all of your documents and transaction.
When you signed up of for G mail, you agree to follow the Google's Term and Condition, which includes google right to scan all of your emails and other documents.
But with G suit, your entire data is protected and Google does not interfear with its privacy.
some other benerifit of Gsuit
Your company owns all of its employers gmail and not the employee.  In a situation where an employee levae a job, and joined another company, you have the right and power to its gmail account, you an instantly change the password and protect all the senisitive data that you may have.
File ownership
Not only with the emails but the company has full control over the Gogle sheets and Google docs and Google slides created by the company employees.
Document Sharing
With this feature it is super easy to share any document with your team of employees, you can share a document with all othr team members, with only giving the permission to /view the doumen, within a few clicks.
More File Storage
The default storage limit for a free  gamil account is 15 Gb, but for G suite it is  30 gb.  Drive storage is shared between Google Drive, Gmail, and Google Photos. The amount of free storage for each user depends on the type of your account:
Also different free coupons can be applied to get more file Storage.
2 step Verification
G suite provides this important feature of 2 step verification which can be applied to every employees, if chosen to be.
You never know what sensitive information of ompany might be getting synchronized.  2 step verification can be made optional or be applied to all the employees.
Single sign-on to other Business Application
With a single sign on employees can sign in to tother business application like Marketo, Slack and so on.  No need to enter name and username every time.
Privacy
Privacy and Branding are the two main important features of Gsuit.  G suit provides an extra layer of security so that your connection is always secured.  Even if you are using a free wifi spot like cafe, railway station, starbucks and so on, your data is encrypted, so that no hacker can steal your data.
Branding
Branding is the most important feature of G suite.  Instead of Google's branding you can have your own brand's name on all of the sheets, documents created within.
Support
For free gmail account ther is no support availbale but G suit has 24×7 email, chat and phone call support.  If you want to forward your free account to business, you can.
No Ads
In a free gamail version, you will come across many text ads, tarteted to your keywords in the emails.  though this is a automated process, the sensible data is accessible to third party.
In G suit is free from ads, and to most of us less distracting form the productivity perspective.
Easy synchronisation with Microsoft Outlook
Microsoft Outlook is one of the most popular Email clients in the world.  But if you are using a free gmail acoount, you will not that it is not easy to synchronise your emails, contacts and calenders.
Google Apps Sync for Microsoft Outlook is a tool is a tool that comes with the paid version of Gmail that lets you use Microsoft Outlook  effectively with Google Apps.
== > Here is a G Suite vs Gmail Comparison Chart <==
Final thoughts
We all use free gmail version, and its other products on a daily bais.  All other products like Google docs, Google shees, Google slides are very useful no doubt.  But when it comes to a business, you need to have a more secured interface llike Gsuit.  It provides the email security as well as all other documents are secured.
You have the control over your data which is about to be synchornized with your employees.  So with G suit you have total control of data.
From the business point of View, Gsuit is quite important as it gives you safety, security for your business. Some features like document sharing and one time sign in is really helpful to increase the productivity of the staff.
Branding is another most important feature provided by Gsuit.  In today's social media age, it is important to create your own brand.  G suit gives you the facility to create your own brand by labeling all of your documents adding your logo.  For e.g. Google Calender will have your personalized logo and branding instead of Google's.
So G suit is giving many alternatives to the user, to make it suitable and adaptable to its company's needs.
Hey frieds,
We all use g mail everyday, and all the other products like Google Sheets, Google Docs, Google slides etc. but have you know the benefits of using G suit other than mentioned above.  Pl let me know your experiences and any other tips of G suit which can be helpful to our readers.
If you have any questions, suggestions or queries, pl let me know in the comment section below I will be more than happy to answer all your queries and questions