WebTalk claims itself to be the next Facebook.  No doubt, the web talk is catching up and gaining good popularity with people.  Today, Webtalk hit 1,300,000 Users & Now Ranked in the top 30,000 Websites In The World according to Amazon Alexa.
Now if you don't know what is WebTalk, Webtalk is a brand new social media platform still in beta mode.  It's free to join, social and business networks like Facebook and Linkedin as well as business and shopping communities like Amazon and Shopify.
Who is the founder of Web talk?
Robert Garbowicz is the founder/CEO/CPO at Webtalk.  He first launched an MLM company, Your night in 2010,  did not do well and went under after 12 months.
Watch Video of Robert introducing Webtalk
How Webtalk works?
Webtalk is free to join and basically operates on an MLM structure.  Webtalk is still in beta mode and can be joined by invites only.
Once you become a Webtalk member, you get your own link to promote to your friends, family, and in social media.  But you can expand your network by only up to 50 members.  If you want to expand your network, you have to choose a premium subscription.
The retail side of the business is advertising on the social network, through "EngineCPX".
Advertising offered is both traditional and via in-house search results when WebTalk users make search queries.
3 subscription plans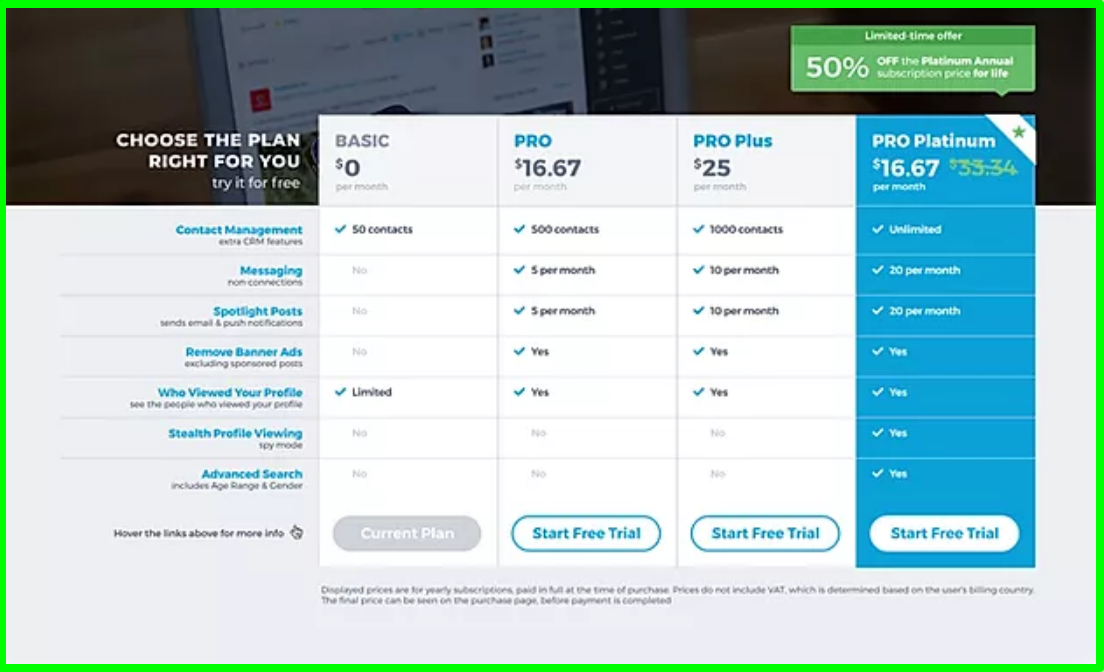 Webtalk offers 3 kinds of subscription plans – Pro, Pro Plus, and Pro Platinum, each having different modules.
Pro ($16.67 a month) – 500 contacts, 5 messages a month to non-connected WebTalk members, 5 email messages, no banner ads, and see who viewed your profile
Pro Plus ($25 a month) – increases of 1000 contacts, 10 messages a month to non-connected WebTalk members, and 10 email messages
Pro Platinum ($16.67 a month) – able to view profiles without member knowing, able to search members based on age and gender, increases of unlimited contacts, 20 messages a month to non-connected WebTalk members, and 20 email messages.
Well, I do not understand why Webtalk has the same price tag for Pro and Pro Platinum membership?
How You Profit from Webtalk?
According to Webtalk, it is going to share 50% of its profit with all its members, generated by the company by ads, subscriptions, the marketplace, and more.
Known commission rates on WebTalk subscriptions and services are as follows:
10% of premium subscription fees paid by personally referred WebTalk members
10% of ad budget spent by personally referred advertisers
10% of advertised local services purchased through WebTalk
2% to 9% of the commission generated if a product is purchased through the WebTalk news feed
5% of app subscriptions sold via an in-house app store.
Criteria for Getting Residual Income
Residual Income is offered to the first million members only,  to be eligible for getting the residual income you must sponsor at least one paid member.
Your Own subscription does not
count for Residual Income.
The unilevel compensation plan is capped at 5 levels, you can earn 10% up to 5 levels.
iOS & Android App
Webtalk's mobile web app is about to get an upgrade as it becomes a native iOS iPhone and Android app. You'll be able to upload, sync, and invite your phone contacts, check-in at locations, find friends and get a real-time push notification with all of your network's activity.
Webtalk's Own Currency
Webtalk has its own currency that can be used to purchase anything within the Webtalk. It's built on highly powerful and secure blockchain technology using Webtalk's own proprietary cryptocurrency to conduct transactions called Webtalk Coin.
pros and cons
Pros :
Webtalk sounds a great opportunity, to earn by just active on the Webtalk platform.
It claims to be distributing 50% of its revenue to its members.
The most appealing fact of Webtalk is that you can separate all of your contacts into professional and personal, that way you have full control of what you are shared what with whom.
Webtalk is great with sharing the private/confidential message to a particular group, for personal, professional or to all of your contacts.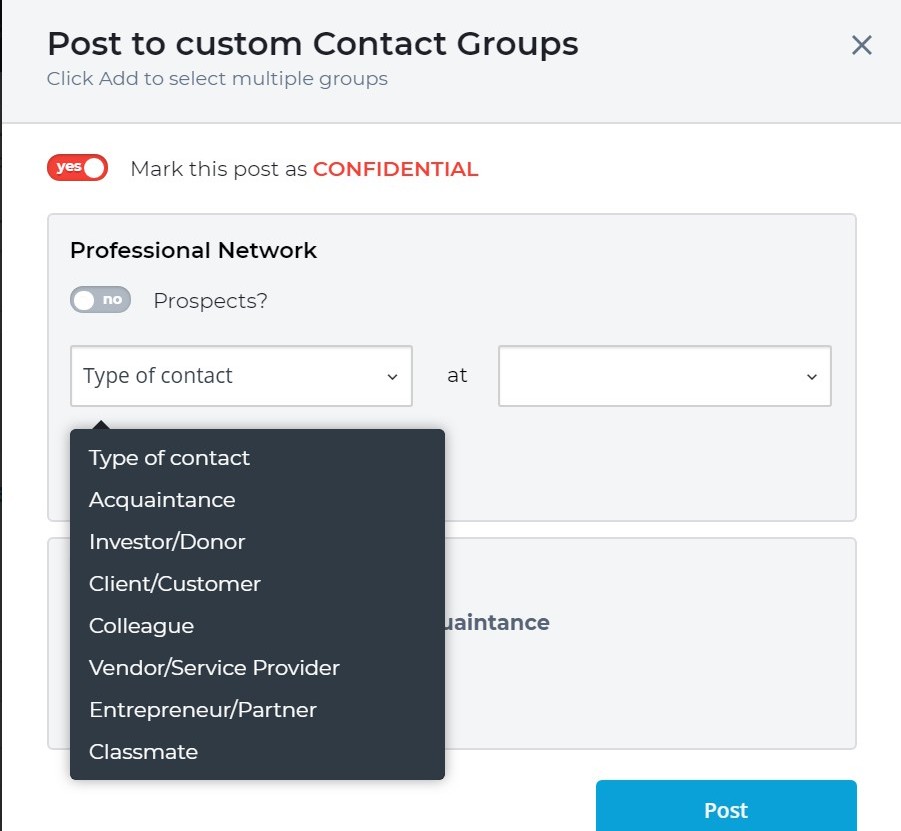 Webtalk offers a feature of very cheap ads compare to Facebook and surely benefits the business owners.

Cons of Webtalk
As I mentioned earlier, Webtalk first introduced in 2010, (domain webtalk.co registered way back in 2010), If it was hard to crack the social network back in 2010, it's certainly not any easier eight years later.

2. Unless you sponsor one paid member, you are not eligible for residual income.  So even if you share your link with your friends on social media, if you don't have one paid member, you will not receive any residual income.
3. No benefits to non-affiliates, so I fear, they'll receive unsolicited emails and messages through WebTalk, be limited to 50 contacts and be targeted based on their supplied age and gender by marketers.
Webtalk has nothing new to offer, basically, it's a Facebook clone, with aspects of Linkedin baked in.  All social media platforms established themselves with a dedicated brand for themselves.  Like Facebook is seen more as a social platform, Twitter for short and SMS type short messages, Instagram for images and photos.  But Webtalk has to work hard to establish itself as a brand.
Verdict on Webtalk
Webtalk has a great project of sharing revenue with all of its members, though it sounds great, has to be watched out for.  Webtalk no doubt seems to be a great social media platform with some really great features, allows only 50 free invites.  So it's going to be a very limiting feature.
When other social media like Facebook, Twitter, and others, offer any number of free invites, Webtalk seems very limiting.
Though it sounds good, offers no value.  Webtalk claims itself as the next Facebook, but seriously I don't see it as the next Facebook.  I would not rate Webtalk as a scam but must be very cautious.
Wealthy Affiliate, one of the most reputed and established Online platforms for blogging and affiliate marketing cautioned its members about not propagating Webtalk within WA Platform.
Kyle, the co-founder of WA, red-flagged it as Webtalk offers compensation for social activity.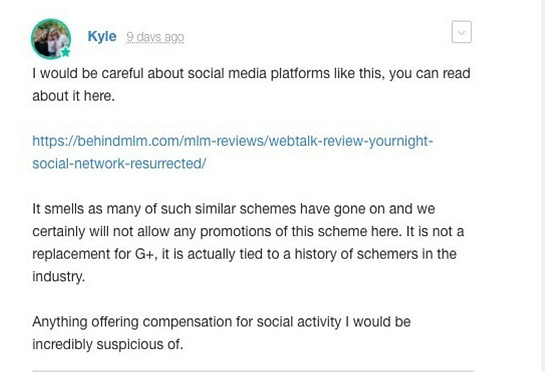 Wealthy Affiliate is the most trusted online platform which is operating for the last 15 years, and established itself as an All in One platform, to build an online business.
Tell me the biggest takeaway from the article or a question about Webtalk or Wealthy Affiliate, I will be glad to guide you in the right direction.