Welcome to My Review of The Super Affiliate Handbook!
The Super Affiliate Handbook is a must-have for every affiliate, especially the entire handbook is super targeted to the newbies of Affiliate Marketing.
If you are new to affiliate marketing, or you want to learn everything about affiliate marketing, and don't know which resource will be useful to start your affiliate marketing career, I would like to guide you to two most useful resources!  One would be for theoretical part and second for practical work!
1.The Super Affiliate Handbook by Rosalind Gardner (Theoretical Part)
2. The Online Platform which Produces Super Affiliates! (Practical Part)
The Super Affiliate Handbook by Rosalind Gardner is a step by step guide to affiliate marketing and it literally covers each and every aspect of affiliate marketing.  Honestly, I was not expected such a detailed and honest guide for affiliate marketing.
It is possible that in some chapters you will not agree with Rosaline, but she is 100% given guidance and tips keeping the best interest of the readers at heart!
The Super Affiliate Handbook Review
Product Name: The Super Affiliate Handbook
Website URL: rosalindgardner.com
Author: Rosalind Gardner
Published in: 2003
Price: Check the Latest Price on Amazon!
Recommended: YES, I highly recommend this book.
What Is The Super Affiliate Handbook is All About?
The Super Affiliate Handbook is a step by step guide on affiliate marketing by Rosalind Gardner.  Affiliate marketing is one of the legit ways to earn money online, but most of the times newbies or prospect affiliates do not have proper guidance and training to start their affiliate business.  Affiliate Marketing though one of the easiest business to start online, definitely not the simplest!  It requires proper training and guidance without which it will be the most difficult to survive in this business.
How The Super Affiliate Handbook Really Works?
The Super Affiliate Handbook was first published in 2003 and its a digital book around 200+ pages.  It is a very thorough and step by step guide on how to start your business as an Affiliate Marketer.
Rosalind Gardner is the author of the handbook and she is well known in the affiliate marketing and also known as Queen of the Affiliate Marketing!
As she herself claims she has earned $436797 in one year through affiliate marketing.  Rosalind is working online since 1997 and you will be surprised to see her still active on her website rosalindgardner.com
In this detailed handbook, the author has discussed every minute detail of affiliate marketing and how to set up your website and drive traffic to the website.
As I said beforehand, this handbook is super targeted toward new affiliates, so no surprise it starts with the introduction to affiliate marketing.  I think it's really important to give your audience a real picture of what you are talking about.  Many of us may have heard about affiliate marketing, but may not know the intricacies and need a detailed explanation of the module.
Rosalind has done a great job with which details she has written the handbook.  The book covers topics such as:
Introduction to Affiliate Marketing
17 reasons we love affiliate marketing
ways affiliates earn
How to find a profitable niche
Chase the money or follow your passion
Build your site
How to find perfect domain names
reasons to avoid free hosting
How to convert visitors to customers
keywords, how to post, adding images
How to monetize your site
how to find products to promote on CJ
How to manage, evaluate and grow your business
How to become a super affiliate
These and many more golden nuggets discussed by Rosalind in this handbook.  Few of which I like is
17 Reasons To Love Affiliate Marketing
In this, Rosalind exactly describes what Affiliate Marketing is and why Affiliate Marketing is the best option to choose as a Business.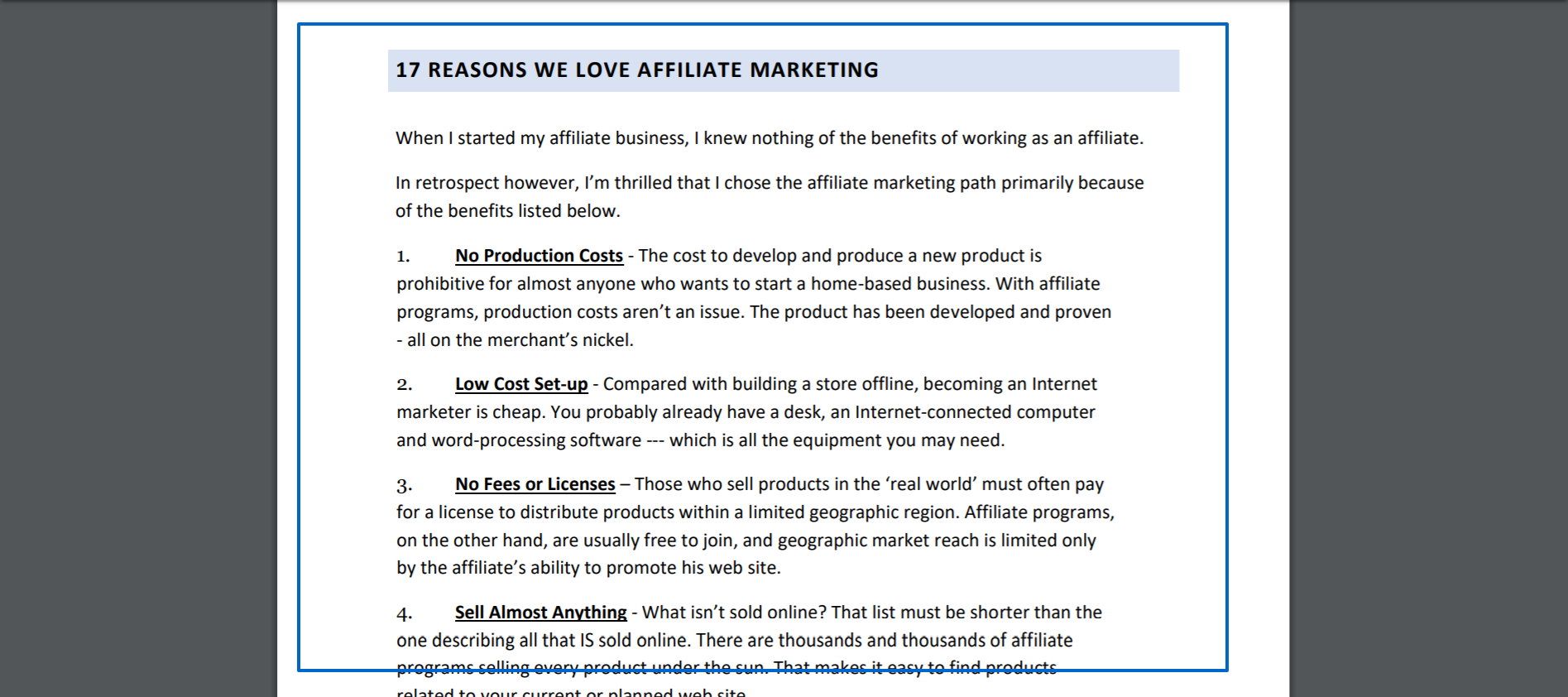 The author also gives data regarding affiliate marketing and proves how is it going to be the most sought after business in the coming years also.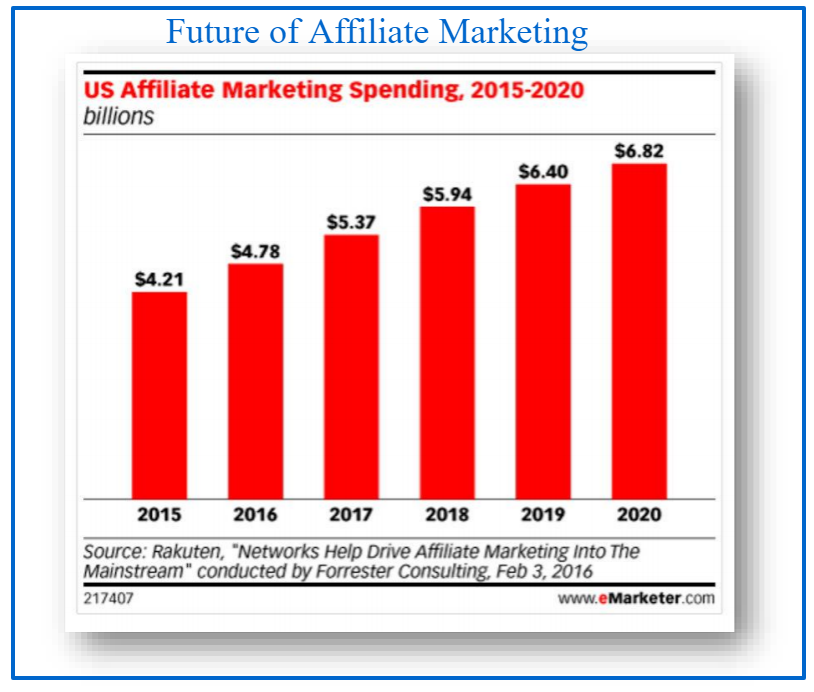 But Rosalind also provides a word of caution, before joining as an affiliate!
Is Affiliate Marketing is For You?
If you give honest answers to 20 Questions to Ask Before, you will easily come to know if this business module is suitable for you or not!

Rosalind also gives you an overview of how to set up an affiliate marketing business.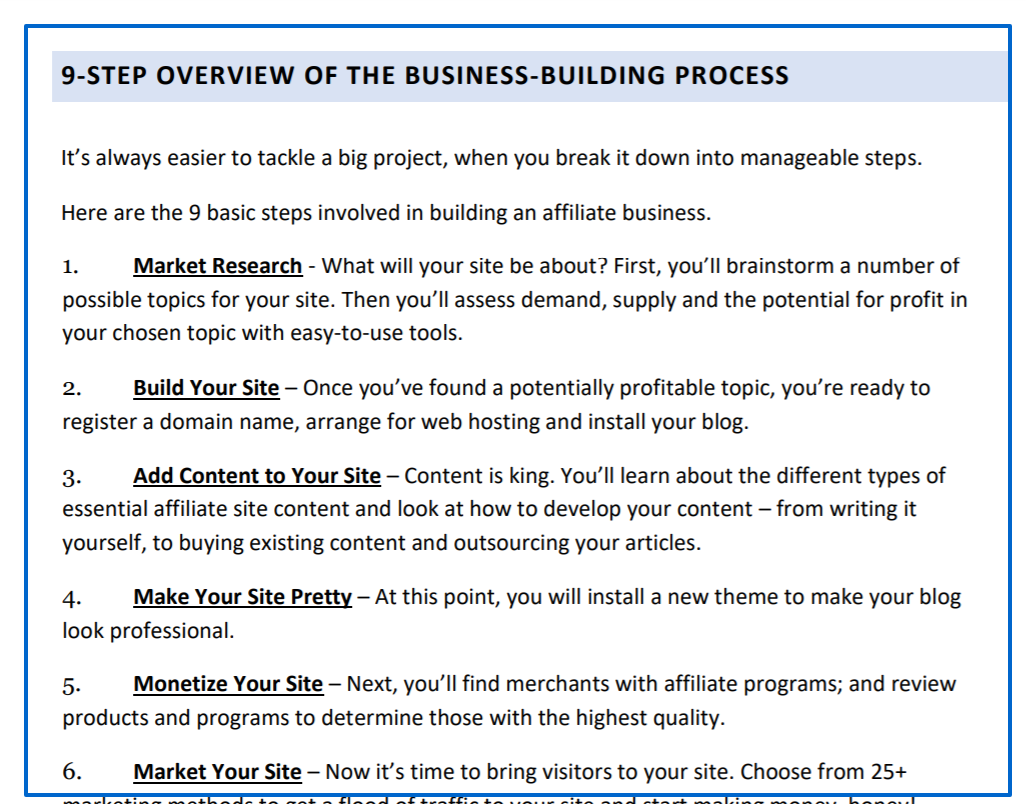 Rosalind had done a great job while walking you through every single step of Affiliate Marketing.  You need to read this book to know how easily she gets to every detail.
But I sold for her when she discussed Should we promote the highest commissioned products or quality products?
Recently I reviewed a program, Quit 9 to 5 Academy, where they taught to promote the products on the basis of commission you receive overlooking the fact, whether the product will be useful to your audience or not, whether is a quality product or a scammed product.
I respect Rosalind for the matter she always advised to do ethical business and not to choose the commission over the quality and the well being of your audience.
How Much The Super Affiliate Handbook Really Costs?
The Kindle edition of The Super Affiliate Handbook costs Rs.1,496.24, but you can also check the latest price on Amazon.

An Online Platform which Makes Super Affiliate Every Year! (Practical Part)
After reviewing The Super Affiliate Handbook, I want to offer you a Practical Way to learn about Affiliate Marketing.
I highly recommend you to check out this Online Platform, which teaches A to Z of affiliate marketing, which is working since 2002, has produced hundreds of Super Affiliates, and the most importantly an honest and ethical platform, where you can build your online business without having any technical Knowledge.
If you want to earn money online in an ethical way, here's my step by step Guide to Earn Money Online Without Investment!

It is the platform where I am working for the last few years and learned about online marketing.  But if you want to earn legitimate money, you need to commit to this program.
Legitimate Opportunities Requires Legitimate Effort
Making Money Online is much like any other business, which requires hard work, Patience, and Persistence.
The people who fail online is because of their wrong mindset.  People who do not want to work hard, or they want to put in little or no effort to get the results.
The business module which I highly recommend is not a get rich scheme.  You need to work hard and work hard consistently.  This is the method which has succeeded in the past and will be successful in the future years also.  It is a time proven method.
Why I am so sure about this program?
I like to recommend my readers those programs/ products which will add value to their life, and I am sure You will thank me for introducing this program to you!
It is Free to Join
The most important thing that it is free to join, you do not need to pay a single dime while joining.  And I would also like you to go through the Starter Membership, see whether this program is for you.  Take full advantage of Starter Membership and if it suits you, Go Premium!
The Support is amazing
When you are building an online business, sometimes it becomes lonely.  You need encouragement and support from others.  this platform has an inbuilt support system in the form of an amazing community of more than 1.5+ members.  Live chat, PM, Blog are some of the ways to communicate and get support from the community.
Beginner Friendly
When I joined this platform I was totally unaware of the technical stuff and had very little to no experience working online.  But the platform is for anyone who wants to build an online business.
One Stop Destination for becoming Successful Online
Most of the tools and training which one need to be successful is available on the platform, so you do not need to go elsewhere for any further additional services.  You can easily Build and prosper your online business Under ONe Roof.
Legitimacy
The platform teaches you the most popular earning method of online marketing i.e. affiliate marketing.
Affiliate Marketing is a very legit and sure way of earning money online, but the success depends on you.  The success is proportionately related to the hard work you put in your work.
Lastly, I have personally been with the platform
I personally working on this platform for the last few years, and am really lucky to find this platform.  It is one of the most advanced platforms online and most importantly, the environment within the community is very helping, caring and encouraging!
Since it is free to join, I highly recommend you to check out this program.

I hope the review has helped you to make an informed decision.
Don't hesitate to share it with whoever you believe that will benefit from it!
If there's something else you want to know or you have any questions, please feel free to leave a comment below and I'll get back to you ASAP! ?
Whatever you do next, I wish you nothing but the best 🙂
Shubhaangi