Hey,
Have you heard about Zurvita, it's ok if you have not since it is available only in 7 countries.  Zurvita is a popular health & wellness MLM company.  It has products for nutritional supplements like protein shakes and energy drinks.  In this Zurvina MLM Review, let's find out how real are their claims and should you join this opportunity.
What Is Zurvita MLM?
Zurvita is an MLM Company, founded by Jay Shafer, Mark Jarvis & Tracy Jarvis in January 2008.  It is based out of Houston and Texas.  The Company's mission is to provide a healthy lifestyle through its different products ranging from nutrition products to performance products.  These products are sold throughout the US, Canada & Mexico.
Are Zurvita's Product Worth Their Price?
Zurvita has a pretty impressive product line.  Zeal is one of their most popular product that comes into 7 flavors, Wildberry, Bold Grape, Bold Grape- Guarana free, kiwi watermelon, Lemon Lime, Mango, Tropic Dream.  It is available in single-serving as well as in a bundle of 30 servings.  It costs $54.95.
Zurvita claims that it consists only of natural ingredients but the reality is far from the truth.

Some products are fortified with vitamins that are not naturally contained in the ingredients.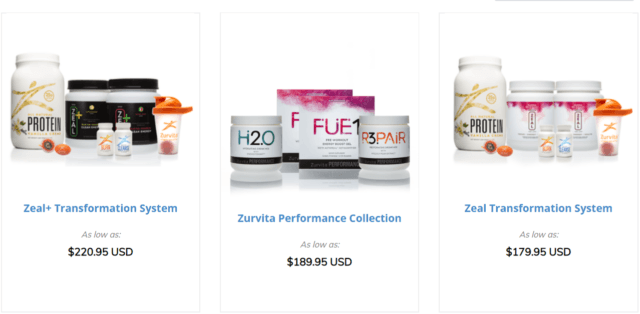 Zurvita has other products as well, underperformance kit and Transformation kit.  All products claimed to be highly effective and made of natural ingredients.  You will also find Zurvita's claims of healing many diseases on its website.
But if you search the internet, you will find a lawsuit against it in 2017 for false health claims as well as false income claims.
The Zurvita MLM Opportunity
Zurvita products can be bought only from their authorized consultant.  You will find their products on eBay and Amazon but Zurvita has warned against the products on these sites for "not genuine" and "tampered".

Also if you want to join Zurvita, you can join only through their consultant.  You need to sign under one of their consultants.
If you have a good network of friends and want to promote Zurvia, then this opportunity may be of interest to you.
How Much Does It Cost to Join Zurvita
To get started with Zurvita, you need to buy one of their Starter Kit ranging from $139.55 up to $549.95.  The minimum starter pack -Express Pak contains 2 Zeal Canisters includes 24 Zeal Single-serving bottles and one shaker cup.
To make your money back you need to sell at least 3 zeal Canisters at $54.95.  It also means you need to buy another Express Pak, as every Express Pak contains only 2 Zeal Canisters.
Can You Make Money With Zurvita?
Zurvita offers you 3 ways to make money, it has 30 days program, All-Star Program, and Team Bonuses Program.
30 Days Program: this program has you start off by finding three customers. If you can get three customers, your Zeal product for the following month is free. You'll also get a free website, your back office, mobile app, and success on demand. recruit 2 recruits and then duplicate that. If you can get three customers, your products are free. So this is to help you get started by providing all the tools you need for free if you can find three customers.
All-Star Program: If your first three customers sign up and buy a loyalty pack, you'll earn $30 for each loyalty pack. If they renew the following month, you'll earn an additional $50 Customer Loyalty Renewal Bonus. So if you signed up 10 new customers who also buy a loyalty pack, you'll earn $300. If they renew the following month you can earn $500.
Team Bonuses Program: this is where you start recruiting consultants to build your business with a downline. This is usually difficult so they only ask that you start by recruiting two. The more people you can recruit, the more money you can make.
I find it weird, that though Zurvita has its own product line, all they want to recruit members and not focused on promoting products.  The whole business model of Zurvita is to recruit other members because that's the way Zurvita is making money.  But will you make money by joining Zurvita?
Let's have a look at Zurvita's own published compensation plan.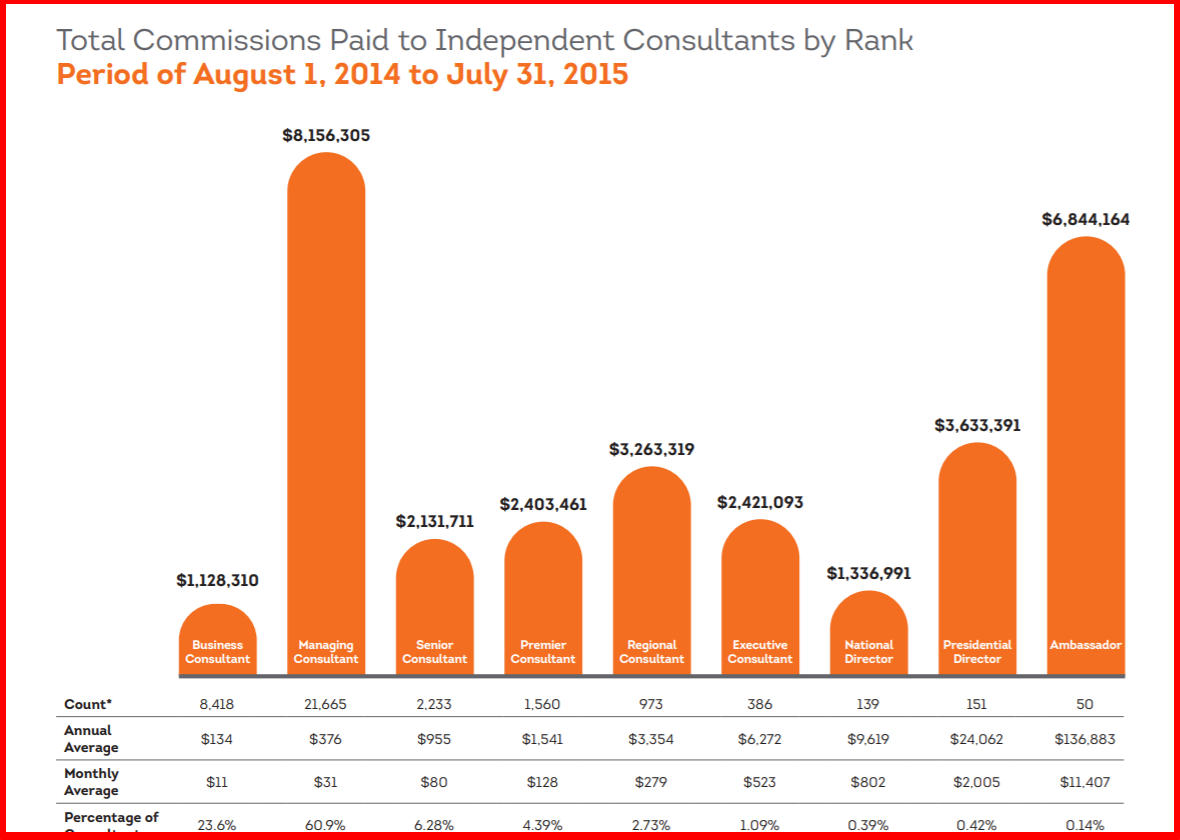 You can clearly see that it's only Managing Consultant and Ambassador of Zurvita is making money and if you see the average, they are making $376 and $ 137 annually, that's really not too much.  Further, if you look at their monthly average, it comes down to $31 and $11.407.  So if their top earner's monthly average is less than even $50, how much do you expect to earn from Zurvita?
11.6% of all consultants are making an average of $136 per year and 78.1% of all consultants are making an average of $618 per year.
If you add those two categories together, you'll get that around 90% of all Independent Consultants of Zurvita earn less than an average of $700 per year.
Honestly, $700 per year is not too much.
Pros:
Exclusivity:
Service products are available exclusively through their Independent consultant only.  If you want to join Zurvita, you need to contact one of their consultants.
Money-Back Guarantee:
Zurvita products come with a 30-day money-back guarantee.  For their returned products you need to pay the shipping charges.  It is better to send products through FedEx or UPS, that can track your product.  Zurvita takes no responsibility for returned products.
Buy Back Program:
If you for any reason do not want to continue as an Independent Consultant of Zurvita, it buys back unused products, provided they are not expired and are in a resalable condition.
Also, you have to bear any shipping cost to return the products.
Cons:
Products Not Approved By FDA:
Zurvita products are not approved by the Federal Drug Administration.
Products Not Organic:
Zurvita claims and promotes its products to be organic, but its products are not organic.
Misleading Clinical Trial Information:
Zurita claims that it's products particularly Zeal has clinically proven and found great results.  But when you say it is "clinically Tested", it should be unbiased.  But the test is done by Zurita itself, so I doubt its biased results.
Zurvita has no proof behind the weight-loss claims.  And their weight loss program is the one product that doesn't offer a money-back guarantee.
False Income Claims:
Zurita is making false income claims and that is proven by its own published compensation plan.
Is Zurvita Worth Joining?
Zurvita has a great product line, and you can make money selling these products, but will your profit from, is the real question.
Their false income claims and faulty clinical research does not seem to be a  good idea to promote Zurvita.  As their main focus is on recruiting people than promoting products.
Recommended Read:
Tupperware MLM Review: Yahoo Warns Against MLM
The Best Whey Protein Powder for Women – OZiva Protein & Herbs!
 Conclusion:
Whenever you want to join a business module, first check if it is legitimate or not and how it works.  Zurvita is an MLM Company, and it's legitimate, unlike other MLM companies.  But the module of MLM business is such that only a few people can make money from it.
It's false income claims is a big red flag for me, the products are not FDA approved and Zurvita is making false claims when it comes to its organic base.
There are many health & wellness products available in the market like Oziva, that I highly recommend anyone, who really want organic and real nutritional supplements.
And if you want to join Zurvita for a more flexible lifestyle, check out my #1 recommendation, which gives you 2 websites, training, hosting all for free – no credit card required.
It is the platform where I am working for the last few years and learned about online marketing.  But if you want to earn legitimate money, you need to commit to this program.
Legitimate Opportunities Requires Legitimate Effort
Making Money Online is much like any other business, which requires hard work, Patience, and Persistence.
The people who fail online is because of their wrong mindset.  People who do not want to work hard, or they want to put in little or no effort to get the results.
The business module which I highly recommend is not a get rich scheme.  You need to work hard and work hard consistently.  This is the method which has succeeded in the past and will be successful in the future years also.  It is a time-proven method.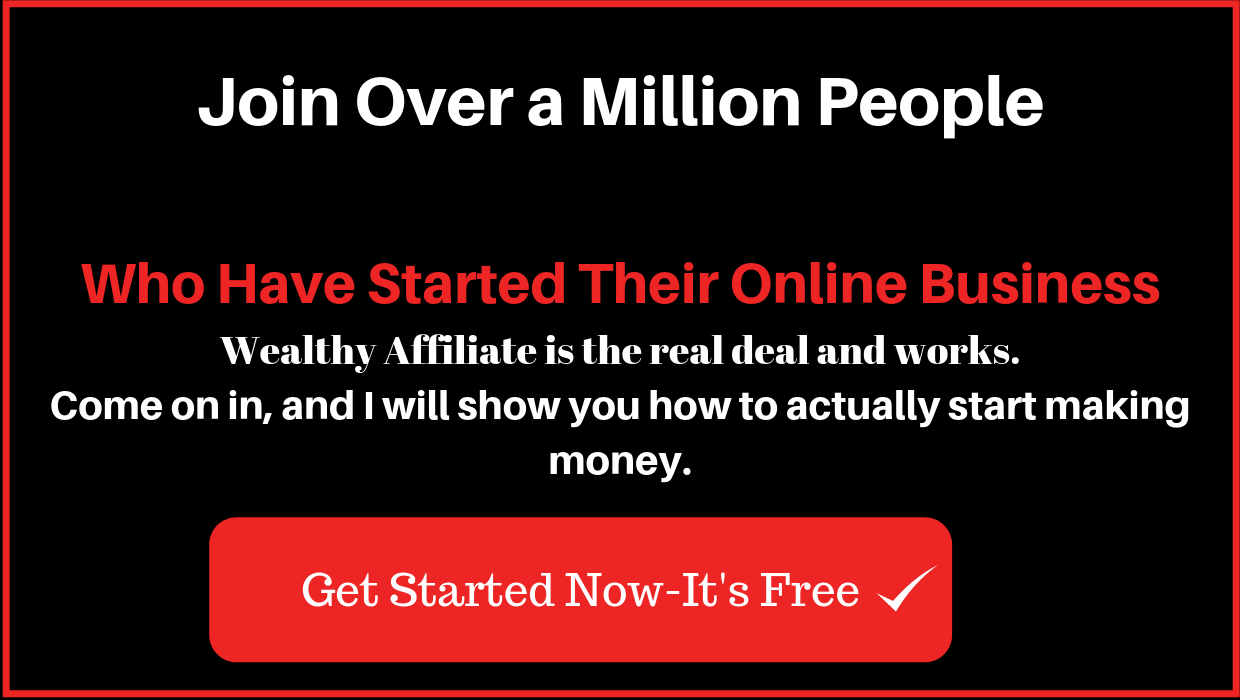 Why I am so sure about this program?
I like to recommend my readers those programs/ products which will add value to their life, and I am sure you will thank me for introducing this program to you!
It is Free to Join
The most important thing that it is free to join, you do not need to pay a single dime while joining.  And I would also like you to go through the Starter Membership, see whether this program is for you.  Take full advantage of Starter Membership and if it suits you, Go Premium!
The Support is amazing
When you are building an online business, sometimes it becomes lonely.  You need encouragement and support from others.  this platform has an inbuilt support system in the form of an amazing community of more than 1.5+ members.  Live chat, PM, Blog is some of the ways to communicate and get support from the community.
Beginner Friendly
When I joined this platform I was totally unaware of the technical stuff and had very little to no experience working online.  But the platform is for anyone who wants to build an online business.
One-Stop Destination for becoming Successful Online
Most of the tools and training which one needs to be successful are available on the platform, so you do not need to go elsewhere for any further additional services.  You can easily Build and prosper your online business Under One Roof.
Legitimacy
The platform teaches you the most popular earning method of online marketing i.e. affiliate marketing.
Affiliate Marketing is a very legit and sure way of earning money online, but the success depends on you.  The success is proportionately related to the hard work you put in your work.
Lastly, I have personally been with the platform
I personally working on this platform for the last few years, and I am really lucky to find this platform.  It is one of the most advanced platforms online and most importantly, the environment within the community is very helping, caring and encouraging!
Since it is free to join, I highly recommend you check out this program.

I hope the Review of Zurvita has helped you to make an informed decision.
Don't hesitate to share it with whoever you believe will benefit from it!
If there's something else you want to know or you have any questions, please feel free to leave a comment below and I'll get back to you ASAP!
Whatever you do next, I wish you nothing but the best 🙂
Jivita