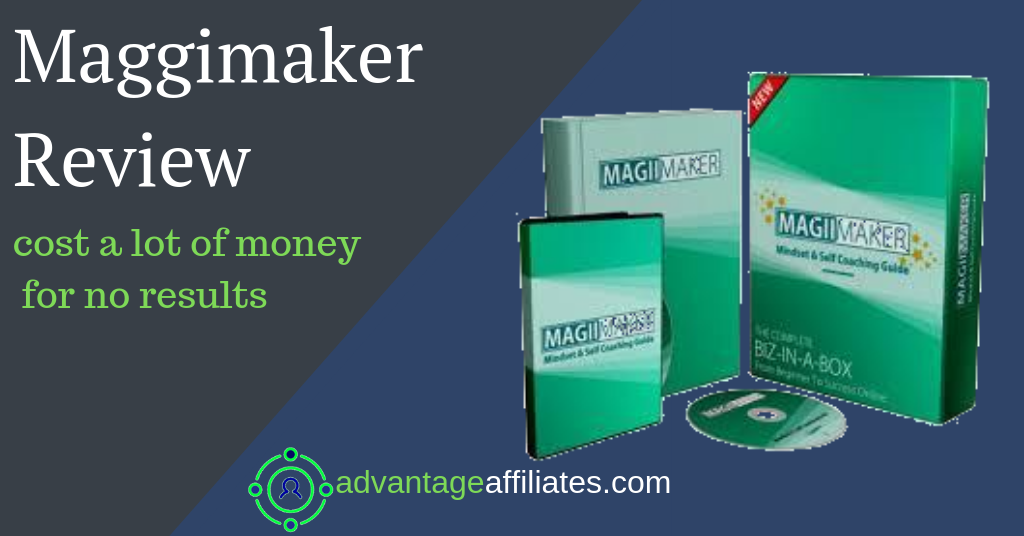 Introduction
Maggimaker Mindset and Self Coaching guide makes high claims of making $100 per day, just by doing 45 minutes of work.  Whenever I see such claims, I really doubt the program and especially when it is meant for newbies.
Let's review Maggimaker and try to find out if it delivers the results, it claims.
Product Review
Company Name: Maggimaker Mindset and Self Coaching Guide
Owner: Kevin Fahey & MIck Mckay
Launched in: January 2019.
Price: $13.44 + Upsells
Recommended: NO
What Is MaggiMaker About?
MaggiMaker is an Online Marketing Corse which is available through Warrior Plus but is hosted on its own website.  Kevin Fahey and Mick Mckay are the owners of this program, which claims to teach you to daily earn $100, by putting just 45 minutes per day.  The program also claims that it can be started by anyone and will be able to produce the same result.
How MaggiMaker Really Works?
The Primary Focus of MaggiMaker's training is on traffic generation techniques.
The Internet is full of legit make money online Opportunities.  One of a legit way is affiliate marketing.  Affiliate Marketing is not a get rich quick money and needs hard work and patience in earning money online.
No doubt MaggiMaker's teaching you the right way to earn money online, but it claims to earn $100 per day especially to newbies is dubious.
How Much Product Really Costs?
Maggimaker Training Course costs $ 12.95, but it comes with three more upsells.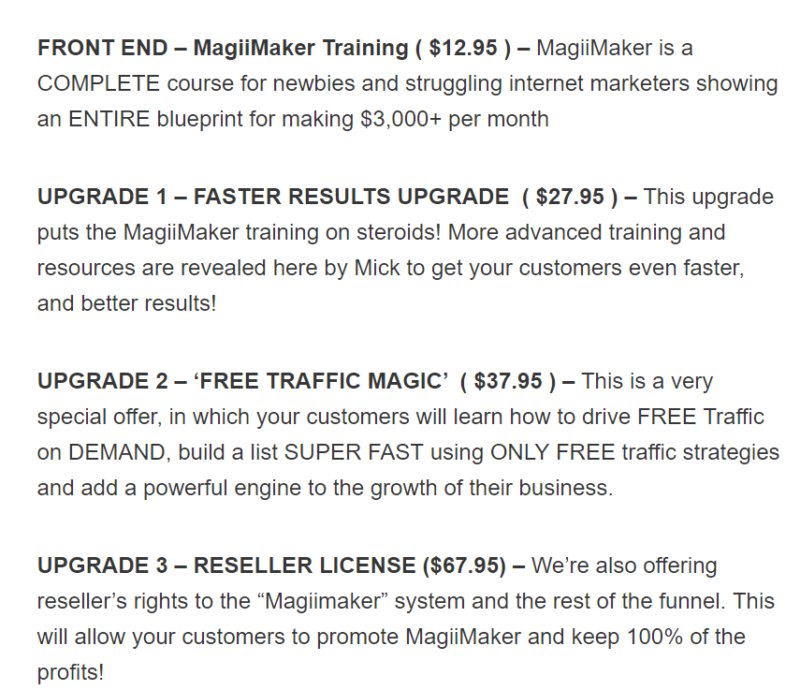 So in total, it costs you $146 for this entire course.
Is MaggiMaker A Scam?
I would not call it a scam, as it provides the basic training for generating money by using a valid way of traffic generation.
Some of the tools in Maggimaker suggest recommends using website builders, instead of teaching how to build a website yourself.
If you want to build your online business on a strong foundation, you need to know the basics of internet marketing and how to build a website.  You have no control over your website and suppose the company behind this website builder decide to go out of business, all your hard work will be futile and you lose your business and website overnight.
You can generate traffic in many ways, but the best way is SEO optimization.  Through SEO, not only you can generate free traffic but most importantly it is more targeted and relevant.
In Free Traffic Magic, the program teaches you how to build a list super fast, but as a newbie, it will be really difficult to understand the importance of having a mailing list, how to properly leverage that list and generate sells from it.
If you see the third upsell, is nothing but the Resell Rights, which costs you $67.95, which means you will promote the entire Maggimaker and its funnel to others, and keep the 100% profit to yourself.
MaggiMaker itself has not given any solid and reliable proof that the program works and generate a consistent income for anyone.  So it is not worth to buy this product.
Pros and Cons of MagiiMaker
Pros:
Training
The Training provide by MagiiMaker is a valid training and one can generate income by following this training.  But it needs hard work and patience.
2. Money Back Guarantee
MagiiMaker program comes with initial 14 days money back guarantee, so if you are not satisfied with the program, you can get your money back.
Cons:
Upsells
MagiiMaker though has an initial $12.95 sells price, it is instantly uploaded with many upsells which costs you around $146.  Personally, I don't like programs with upsells, but nowadays it's an online trend that each product comes with upsells, under the name of the marketing strategy.
One does not mind having upsells, with a quality product which really gives some value to its buyers.  The program promotes the principle of giving value to the audience, but the programme itself does not provide any value to its buyers.
After going through all the training provided, earning $1000 per month, for a newbie seems to be impossible.
2. Vague Sales Page
The sales page of MagiiMaker is so ambiguous, that you will not understand till the end, what you are going to gain if you buy this product.
It's really not clear exactly what you get for your money.  Throughout the Salespage, it claims high earnings, but it can't be authenticated that the income is from MaggiMaker Program.
3.  Hidden Fees
The MagiiMaker program promises the" tools and Resources that will SAVE you 1000s of dollars and get you started FAST! "
But in reality, you must pay for some of them and they can cost around $50 per month.
Conclusion
I honestly feel MagiiMaker Program, is no good to you if you want to build a sustainable source to earn money online.  Some tips though useful and can earn some money, but in the long run, following this program cannot build you trust and authority for yourself.
If you are really interested in building your online business and earn a consistent income, you need proper guidance, training, and community to support you at each step.  Working Online can be very frustrating if there is not strong community support.
Check out The Platform Where I learn Affiliate Marketing, which teaches you everything from A to Z of affiliate marketing.  Best even if you are a newbie to Affiliate Marketing, I know because I started with zero knowledge of computers and online marketing.
If you need more personal guidance to have a profitable Affiliate Marketing Business, check this out.
So Friends, here I provided you with two best online sources where you can learn everything about affiliate marketing in a legit way.  So stop wasting money on programs like MagiiMaker, and invest in your future business.
If you have any questions, queries, and suggestions, pl let me know in the comments below, and I will be more than happy to answer ASAP.
You are more than welcome to suggest any good online programs, will be glad to publish on my site.