Health supplements and health-related products are in constant demand and it has become a huge market of about USD 123.28 billion now.  Rising health concerns and changing the lifestyles and dietary habits driving the high product demand. Herbalife is one of the popular brands when it comes to supplementary products.  It has a vast product range and it also claims that you can make money by selling its products, but can you really make money selling health supplement products, let's find out in this Herbalife MLM Review.
What is Herbalife MLM?
Herbalife was founded in 1980 by Mark Hughes and it is headquartered in Los Angels CA.  Approximately 9000 people are working with Herbalife and its products are available in more than 94 countries.  It has 4.5 million+ members and distributors.
Originally,  Herbalife started by selling weight loss product and its first product was a protein shake.  Now Herbalife has branched out in many different categories and products like women's health, aging, digestive health, fitness, and more.
Are Herbalife Products Worth Their Price?
Herbalife has a wide range of products from shakes, supplements, teas, weight management products, protein powders, personal care products, protein bars, and more.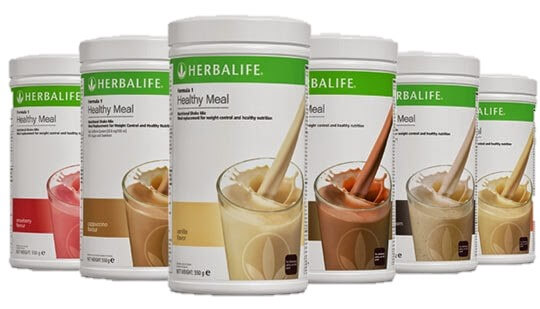 The core product is Herbalife Formula 1 Healthy Meal Powder.   Herbalife promotes it as a meal replacement and helpful in weight management.  It is a shake, made with two scoops of powder.  It is priced around $40, depends upon where you buy.
Are they worth their price? I don't think so if it doesn't serve the purpose.  On the worse side, you will find many complaints regarding this product.

The Herbalife MLM Opportunity
Herbalife offers an opportunity to make money by selling their products as well as by building a network of people who joined under you.
Herbalife has products for every age and group, and by selling these products you can earn a commission.  You can also earn on the sales made by your referrals or the people in your network.
You just need to pass the catalog in your group, family, and friends and wait for orders. So it can be a good business opportunity for you.
Just remember, it operates on an MLM structure, and you need to do a lot of work and persuasion to make people join under you.
How Much Does It Cost to Join Herbalife?
To start with Herbalife you need to buy a distributor kit.  There are two different types of kits:
International Business Pack that will cost you $94.10
International Business Pack- Super Starter which costs $124.10
Other than this starter kits there are many hidden costs like shipping charges, your time, traveling, phone calls, and so on.
Can You Make Money with Herbalife?
You can make money with Herbalife by selling its products and recruiting new distributors under you.  You can earn 25% commission by buying products at a 25% discounted price and sell these products at retail price.  Thus, you make a 25% profit on the products you sell.
One incentive you can give prospective customers is the offer of a 25% discount if they sign up as an Herbalife member. This will cost a customer a one-time initial payment of $34.99 which covers the cost of the Preferred member pack. The membership will renew for your customers each year for $15.
Pros:
No Minimum Monthly Purchase:
You do not need to buy monthly products from Herbalife, but still, you need to buy the products to keep your distributor status.
Fully Refundable:
All products are refundable if you choose to cancel your membership, as long as the products have not been opened.
No Sales Tools:
There is no such obligation to buy sales tools or business tools when you sign up.
Cons:
No FDA Approval:
Herbalife products are not FDA Approved. However, the FDA had inspected their products, when Herbalife started making false propaganda, FDA warns Herbalife against it.
Complaints on Many platforms:
Herbalife has many complaints against it on many forums including BBB.  If you search, you will find many complaints and negative reviews about Herbalife.

Lawsuits:
One of the major lawsuits is a class action lawsuit against Herbalife from distributors who have filed complaints that the company misrepresented the amount of money they can make. Distributors were also told that anyone who attends the "Circle of Success" events will get rich. Many distributors in the suit not only didn't get rich, but they also lost a lot of their own money.
Is Herbalife a Scam?
Herbalife definitely has many major red flags, that one cannot overlook.  Why one should involved in a business module that has no profit rate.
Herbalife is an MLM company and established itself as a legit and quality brand over the years.  It is definitely not a Scam.  But the MLM module is such that, unless you make a sale you are not going to earn a dime.
Most of your success is dependent on your team members, who joined under you.  Unless they are active and making sales, your earning potential is limited.
It is a proven fact that it's very hard to earn with MLM, only a few at the top strata earns a substantial income.
If you are looking for good food supplements, I would definitely recommend you to check out Oziva- a healthy meal replacement
Other MLM Reviews:
Recommended Read:
Why multilevel marketing won't make you rich
3 Mind-Blowing Statistics About MLMS
Conclusion:
Herbalife though claim that its products are best, you will find many other quality products that are much better than Herbalife.  If we consider Herbalife, as a business opportunity, it's not good at all.
Herbalife is an MLM company and it runs like any other MLM module, though the good thing is Oriflame is offering a good 20% commission.  Still, you need to further investigate about MLM module and if you really want to join one.
It has many hidden costs like shipping charges.  You need to pay all the shipping charges for yourself, that may eat up any commission that you make.
If you want to make your own money by selling products, start your own business by checking out my #1 recommendation. You'll get all the tools you need including a website, hosting, training, and 24/7 support.