Video communication has become today's much-preferred way of communication, as it provides live communications with people in most of the time.
Many popular apps like what's app, Facebook Messenger has an inbuilt camera with which you connect with anyone anywhere in the world.
There are many popular apps and services which provide video conferencing as an inbuilt facility like Skype, Google Hangouts and so on.
What is Zoom?
Zoom is the leader in modern enterprise video communication.  Zoom is a cloud-based platform for video and audio conferencing, collaboration, chat & webinars, across mobile devices desktops ee& room systems.
Zoom allows a group of people to interact live with audio, videos, and text messages.  One of the major characteristics of Zoom is you do not need to share contact information with each other or create an account.  If you have a Zoom app on mobile or any other device, you can participate through it directly.
With Zoom, you can be held and participate in meetings, webinars, conference rooms, cross-platform messaging, and file sharing.
With Zoom, 1000 video participants can participate in video conferencing and have 10000 viewers at a time.  Zoom is very easy to use and it helps you connect with people across the world in a very easy and simple way.
Most importantly, Zoom is available at very affordable prices, but for the most solopreneurs  the free version is good enough to get started with.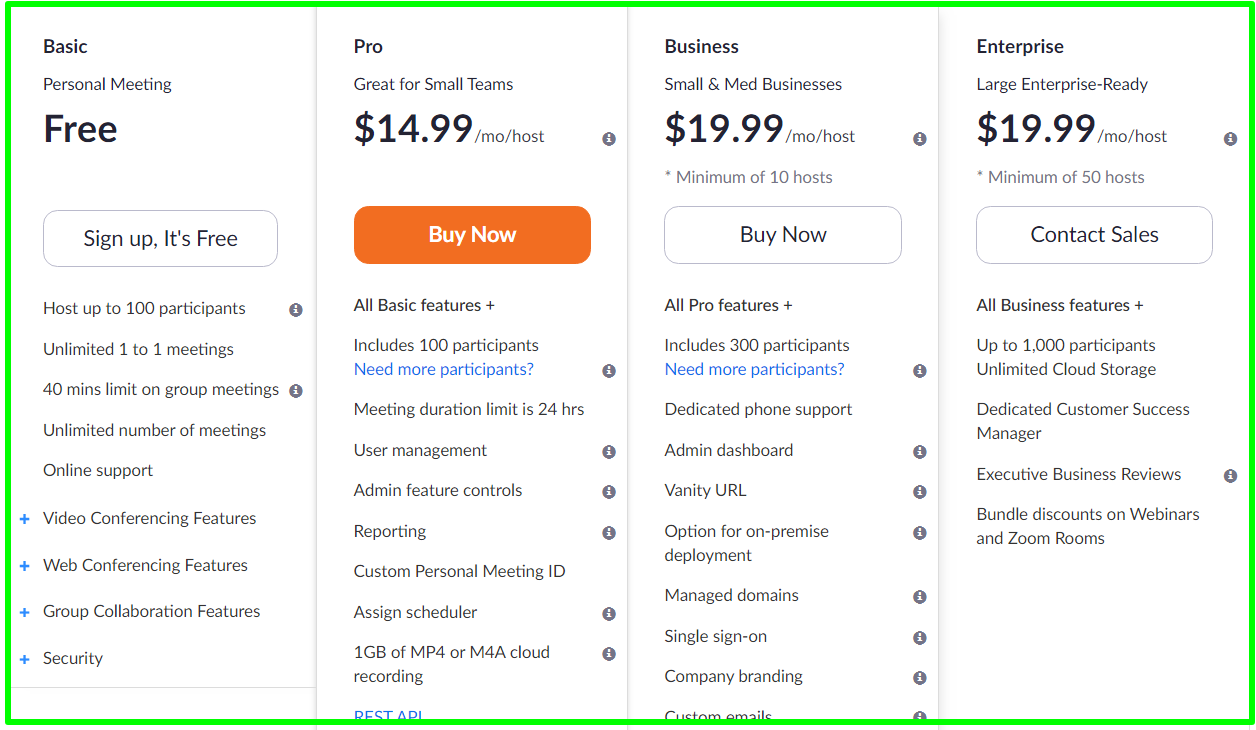 It's better than its counterparts because many other platforms such as YouTube live no more allow to have multiple video participants.
Recommended Read: Live Streaming on YouTube!
It's very easy to register with Zoom and start a video conference.
How to Use Zoom for Video Conferencing?
Go to Zoom.us, an official website of Zoom.  Sign up for a free account to get started with.
To schedule a Zoom meeting you need to log in with any of your Google accounts.  In the dashboard, you will see different options.
Click on "schedule a meeting" you will see a page like this: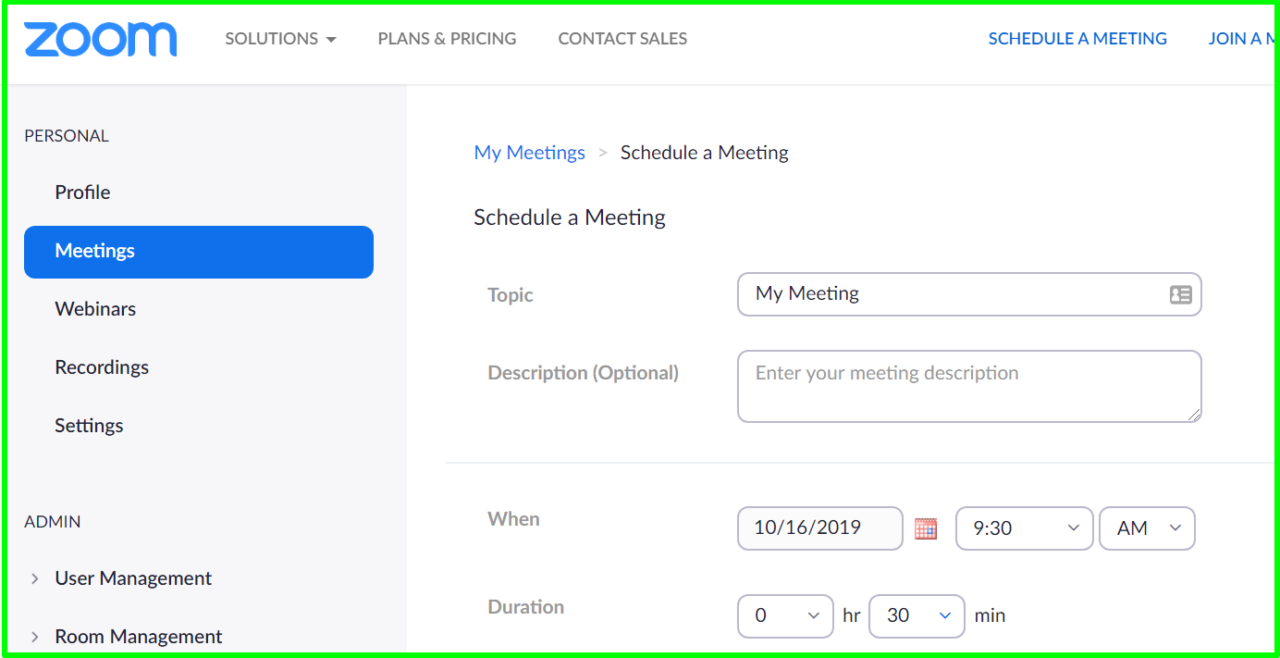 You need to feel all this information, but it is important to change the timezone according to your timezone so that you will get all notifications in your inbox easily.
Same way, it is better to change your preferred wat of timeout.
What are the main features of Zoom?
Zoom is popular as it offers many options that can help you to communicate with anyone across the country.  So you can use Zoom for many different purposes like a business meeting, one on one sessions, taking online classes and so one.
Here are some of the main features of Zoom:
Meetings: Meeting is a great option for collaboration, training, and technical support.  It features whiteboarding, screen sharing, HD audio & video, and remote screen control feature.
Video Webinar:  It's a great option who wants to host a video webinar, it offers 100 active participants with 100,000 view-only attendees.  It offers a great opportunity to reach thousands of people with a single click.
Zoom Rooms:
Zoom Rooms is a software-based room system that runs on a Mac or Windows computer and uses an iPad, Android or Windows tablet as the room controller.
You can start an instant or scheduled meeting with a single tap, screen share via wired HDMI or wirelessly on WiFi, and connect with attendees on H.323/SIP endpoints, telephone, desktop or mobile devices.
Business IM:  companies can stay connected with messages with text, image, and audio file delivery with instant messaging communication.
You can build groups, set presence status and search through the content for the files you need.
323 Sip Connector:
Bring your standards-based systems into the cloud with the Zoom connector features. This allows you to enable room systems from a range of vendors to communicate with your mobile, tablet, and desktop devices with a single touch.
Developer Platform:
Zoom allows the developer to create their own stack with video, audio, and screen sharing APIs.  Simply browse through the resources and join the community to submit the request for API.
Conclusion:
video conferencing is becoming more and more popular for many reasons, reduce the travel cost and increase productivity, better client interaction and so on.
Zoom is popular because it offers varied options catering to different requirements by different businesses at a very affordable cost.
For most solopreneurs, the free version of Zoom is a great option to start with.  You will get more familiar with video technology and how it works.
Zoom is the best option for one and one sessions too, as it has the function of recording videos, so you can save and forward the audio or video to other people.
Zoom has included many latest techniques in it, so it is quite popular among the people.  At the same time, you do not need to open an account with Zoom to participate in it.
A great feature where you do not need to download the Zoom.  One Person can download the Zoom software and send an invite to other people who can join the meeting just by clicking the link.
Zoom encourages more engagement, instead of just PowerPoint slides but with the zoom you can SEE and Feel in real-time what's happening.  Today's consumer prefers video content than just written content, and Zoom offers a great way to cater to this consumer.
One of the features of Zoom is that it records all the events including chat and comments by the attendee.  All the events are recorded and can be shared with Youtube life or as a replay.
Zoom rooms are wireless so becomes more popular, with one touch you can start the meeting.  With Zoom, you save a great amount of time and money.  No one needs to travel and thus saves money and time.  You can attend conferences remotely.  there is no upfront cost for Zoom, and you can talk to anyone from any device in the world.
Unlimited one on one sessions, even in the free version is a great opportunity for business owners to communicate effectively with your audience, though it has a cap of 40 minutes.  But it offers unlimited sessions, so you can continue with the next session or end the one session and start the next immediately.
I have a great experience while working with Zoom and how seamlessly it works.  It requires minimal tools and a great ability to connect with anyone across the world.
Hey friends, would like to know your experience with Zoom, I personally do not find any disadvantages of using Zoom.  But if you have any questions or comments, drop them below in the comments section and I will be more than happy to guide you in the right direction.