In the last article 'Core Metrics of Ranking A Local Business," we discussed the local business and why it is important to get listed in Google My Business. Today, I am going to discuss it in detail and I will also share a unique code, that will help to rank local businesses in the search engines.  Let's get started with the introduction to On-page local SEO.  Does it differ from website SEO and will it be difficult than Google ranking?  I will explain all these in a step by step.
Introduction to On-Page Local SEO
When we talk about local SEO, it includes many factors like local directories or citations, GMB(Google My Business)listing, Website optimization for local SEO & so on.
Let's find out how your website can be optimized to rank in local searches.  On-page local SEO can be described as "the optimization actions done on the website"-Jay.
The end result that we will be targeting is call, click, or combine, in short, we want our reader to take a specific action like call us, click a certain CTA, or take a combined action.
so to rank your website in local searches, you should have the following information on your website.  It is the same information that we need to provide in GMB. But when you need to have the exact information on your website also, to get maximum chances to rank in local searches.
NAP i.e. Name, Address & Phone number of your business, the category for which you want to rank your sites like plumber, doctor, or any other categories that are listed in the GMB, location or area and services that you provide must be mentioned on a page of your site.  You can also put this information on different pages if you want.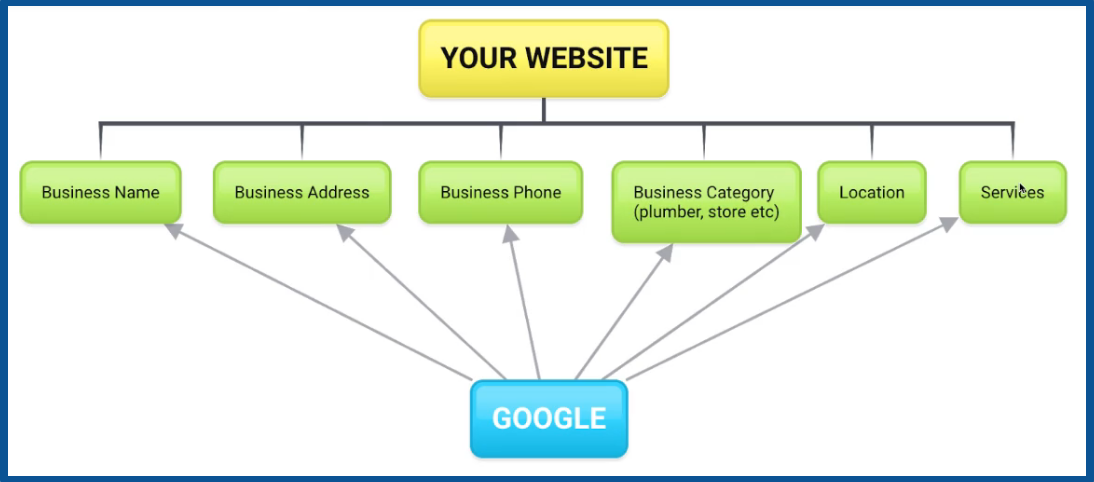 It is also important to have the perfect NAP listed in GMB because all other directories like Yelp, collect data from GMB.  So once you list your business in GMB, mostly all other directories list your business in their data feed.
List of On-Page Local SEO
Name
Address
 Phone Number
 Location
Category
Business Hours
Directions
Map
As I mentioned above, all this information should have on your site also to get better rankings in local searches.  Most of the terms are self-explanatory.  Let's find out how to add Directions and Map on the website.
If you have already listed your business in GMB, it's quite easy to get this information on your site.  You need to search the business location of your listing in Google Maps.  It will show your GMB listing.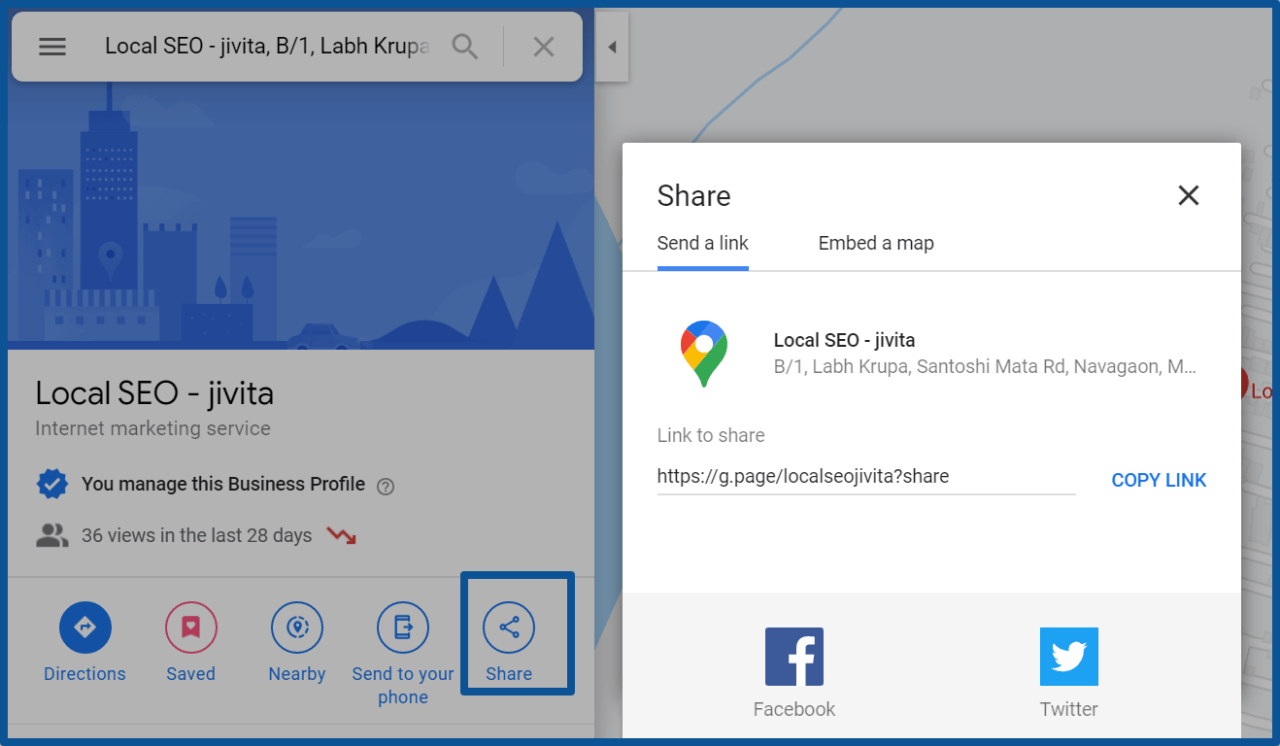 On the right-hand side, you will see the Share icon, if you click on it, you will get both- link and code to embed the map on your site.  Once you copy the embed code on your site, the map will be visible on the page.
The important point you should remember is to copy the information from your GMB listing like Name, Address, and so on so that it will be exactly like the GMB and get you rank better.  if there is a difference in the address or even if you miss the comma, it may conflict with the data.
Add Reviews on Your Website
Any business needs positive reviews, and if you have some good reviews on GMB or Facebook, you can embed them on your website.
There are plugins that will help you to do it effortlessly.  I am using Google Reviews Widget you need to set up an API key, but there is a video explaining all the steps.

You can also ask your website visitors, to leave feedback directly on GMB.  I have created a simple anchor text, on the website, so that when someone clicks the link, it directly takes them to GMB review page.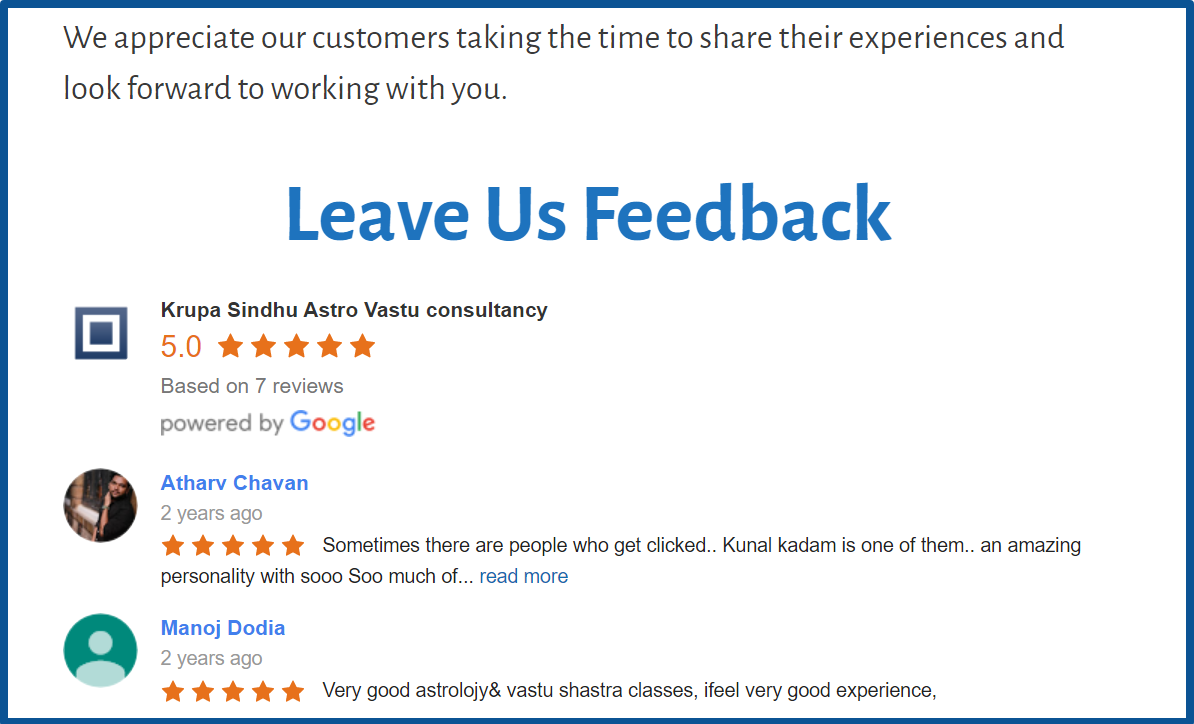 Search your business name in Google, it will show your listing in the Google. In that, you will see, Get More Reviews tab, click on it, and it will provide you with share the link.  Copy that link and embed it as an anchor text or CTA.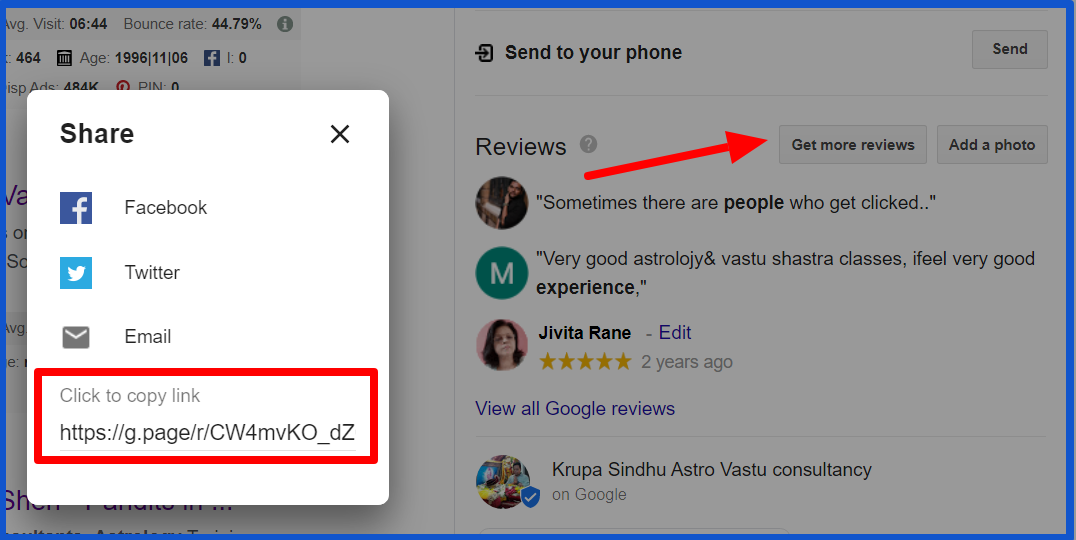 Last but not least, JSON-LD schema mark up will greatly boost your ranking in the local search engines.
According to Moz, "It is an implementation format for structuring data analogous to Microdata and RDFa. Typically, in terms of SEO, JSON-LD is implemented leveraging the Schema.org vocabulary, a joint effort by Google, Bing, Yahoo!"
If you are not familiar with JSON-LD, take the help of SEO expert, and it will greatly improve your local ratings.
Conclusion:
SEO and Local SEO, are in a way similar but quite different in their methods of application.  SEO is for overall search engine optimization, and we target the entire online searchers, nearly 4 million people daily.  While Local SEO is for the audience who is searching for local stuff.
Around 80% of people search the Internet for their daily needs.  GMB can help your business immensely by giving visibility to these people.  If you have a brick and mortar business, you must list your business in GNB.  Other than that, you should have a website optimized for Local SEO.
Most of the factors like NAP, location, Category, Business hours, Directions, and Map should be listed on your website also.  When Google cross-checks the data on your site and on GMB and finds it relevant it boosts your ratings.
GMB posts are a very helpful tool, through which you can advertise or provide information to your customers about your business.  It can be very helpful, to share any updates relating to your business from the comfort of your home.  You do not need to waste any money on advertising when you have just started your business.  At this stage, it is more important to reach out to most people and GMB and your website can be a very helpful tool.
Today it is of utmost importance for any business to have a website.  Do not worry if you do not have a website.
You have a full six months to taste the water before you go premium.  But I assure you that you will not the deal anywhere.
I hope to see you inside WA:)