Updated: Feb,2020.
Stay at home moms are earning thousands of dollars through blogging and affiliate marketing, no doubt about that.  There is an increasing rate of moms turning bloggers and affiliate marketers, which is a welcome trend.
Michelle Schroeder-Gardner, the founder of Making Sense of Cents, earned $50,000 pm only from affiliate marketing per her income disclosure, and I think its incredible achievement.
Affiliate marketing is one of the best options for stay at home moms to earn money online.  I know you all know what Affiliate marketing is, and I have explained it thoroughly in my blog post 4 Step Guide to Affiliate Marketing For Stay At Home Moms.
In nutshell, affiliate marketing can be summed up in 4 steps:
Choose an interest
Build a website
Attract visitors
Earn revenue
Each of us has some of the other interests, hobby or passions, it can be anything but you can create a successful business out of it.
Create a website around your hobby, create great content, provide value to the people, help them with your insight, address their pain point and you will soon start attracting visitors to your blog.  Once you start getting traffic, sales & revenue will start following.
Do you think making a website is difficult?  Not at all, today's technology is so advanced that you do not need to learn to code or waste a ton of hours to make a professional website.
You can make a fully working live website with a few clicks.  If I ask you on which subject or niche would you like to make a website? First, list all the hobbies or passions, choose one subject you are interested and want to help people with it.  Type it in the following box and you will have a beautiful website, it's totally free, play around it and I am sure you are going to ❤ it.
Affiliate marketing is nothing but helping people with the right products and services. Today the market is exploding with new products every day and people need proper guidance while choosing a product or service.  You will be surprised to know that more than 80% of people search the Internet or read reviews before buying a product.
That's the job of an affiliate, you need to guide people which product is suitable for their requirements and what is the best service available which will cater to their needs.
Also as an affiliate, you also need to inform your readers about any poor quality products, scam programs that may harm them.
When you become an affiliate to Amazon, eBay, or any other platforms like ShareASale, Awin you get your unique affiliate link through which you can spread a word about a particular product.  When people click on the link and buy a product, you make a sale and earn commission anything from 6% to 75%, depending on the product.
As a stay at home mom, this is the best opportunity to earn money online, you can easily create a beautiful income source for you and your family in your leisure time.  In this way, you can take care of your family and create a fulfilling business also.
How to Choose A Product to Promote?
Once you made a website, now you need to create content consistently which is useful and provides value to your readers.
Let's suppose you chose "Baby & Toddler" as a subject or niche for your website.  Now go to Google and type an exact keyword in the search bar.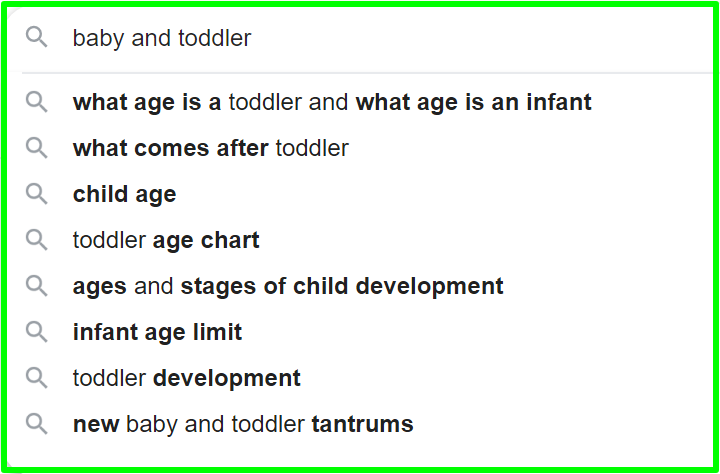 In the same manner, you can add alphabet "b" in the search bar, and you will find many more categories related to that keyword, you can try each alphabet up to "Z" and you will find hundreds of keywords on which you can write a blog post and provide useful information to your readers.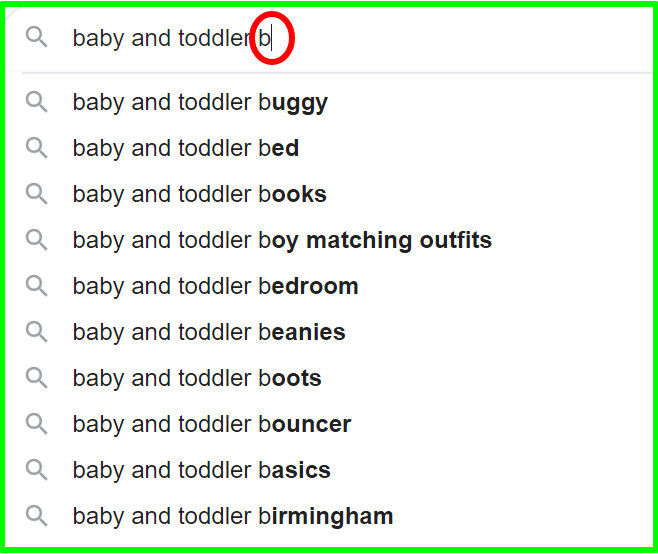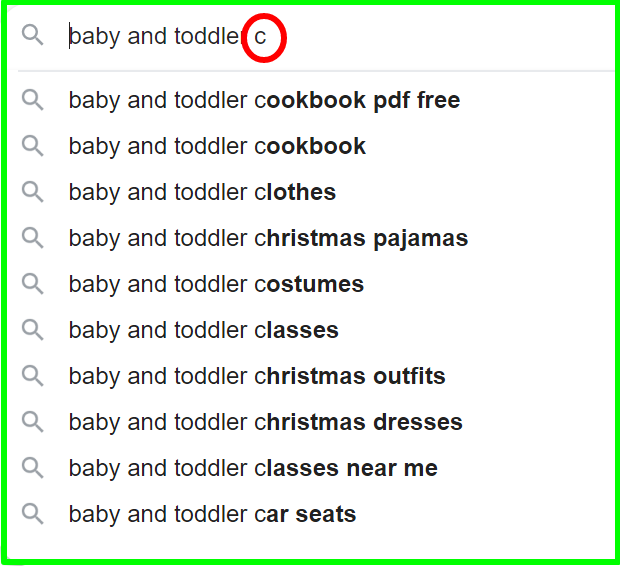 The same way you can type "baby and toddler + affiliate", and you will find a ton of affiliate programs available, which you can apply for.

So you see, you can promote any amount of products through your website, and earn a  commission.
 Best Affiliate Programs for Mom Bloggers
Apart from the above-mentioned tip, you can also join for
Awin and many other popular storefronts.  There is no limit on how many products you want to promote through your website.
The one point you must remember is to promote the products which resonate with your audience.  Try to avoid promoting products just because it has a greater commission rate.  If you provide value to your readers, they will definitely buy from you. If you want your readers to trust you, never compromise with quality.
It is also important to have a basic understanding of how affiliate marketing works, so take a course on affiliate marketing if possible.  There are many courses available on the Internet.  I would highly recommend Wealthy Affiliate.  It provides basic affiliate marketing training for free, that way you will know if affiliate marketing is what you want to do.  But I am sure you are going to love this.
Online Enterpreneur Certification, consists of  5 classes & 50 lessons, first 10 lessons are free to join.
But if you are serious about building your own online business and start a blog, Black Friday is the best opportunity to join WA.
WA Premium membership is the most sought after deal in Black Friday as it offers a huge 49% discount on its annual membership which costs you a mere 0.82 per day.
Once you become premium, you need nothing to pay extra but your domain price $13 onwards, but the best part of WA is you lock the price for which you buy any service.  For example, if you buy a domain through WA, you renew it every time for the same price.  WA never hikes its price.
If you take the Black Friday Deal, you will be grandfathered every year, without taking the tension of price fluctuation.
Read More: Best Black Friday Deal: You Must Not Miss
But before you go Premium and invest in this program, here are two free websites, with free hosting. Why not try it yourself? Just type in your niche and hit the "Build it now" button and your website will be online in a few minutes.
Conclusion:
Affiliate Marketing is the best way to earn money online for stay at home moms.  The best part of affiliate marketing is that you can promote n number of products, from any online store from the comfort of your home.
Every day thousands of new products are introduced in the market, and people are buying more and more online.  This trend is going to be up in the future, so why not take this opportunity and build an online business for you and your family?
You can take care of your family at the same time you are building an online business that will only flourish if you nourish it with persistence and consistency.
I hope you will take this golden opportunity of affiliate marketing and turn yourself into a solopreneur, like me. I was a mere housewife before joining WA, but today I am a mom, a solopreneur who loves to help people and guiding them in the right direction?
If you have any questions about affiliate marketing or Wealthy Affiliate, pl let me know in the comments below.  I will be more than happy to answer them.
Also if you have any suggestions, pl drop them in the comments section.
See You Then…