Every business needs promotion and marketing, without promotion and marketing, it's really difficult to catch the eyes of the consumers.
Even if you are new at blogging, you need to plan how to promote your business.  Your website is your business and you should promote it through different platforms.
Here are a few simple tips that you should follow for your Business Promotion
Create and Publish a Great Content
Google and other search engines need great content and if you create nice, helpful, informative content, sure you will get good ranking in the search engines.
The most important thing is your content if you have good content, people will automatically share your content, which will again help you to get better ranks in the SERP.
Creating consistent good quality content help you to build your authority and brand.  So great content is the foundation of your business.  So create consistently good content.
Now you have great content, you need to promote it through different platforms.
Following are the main platforms which you should leverage to market your business.
SEO
Video Marketing
Social Media
Email Marketing
Offline promotion.
1.Search Engine Optimization
SEO is one of the crucial factors which will help your content to get noticed, and also give good rankings in the search engines.
SEO can be done online as well as offline.  Here is a Live WAbinar by Jay on how to rank your content in 21 minutes, where you will learn about online and offline SEO techniques.
After watching this training, you will get a good hand on doing online & offline Seo.  Apart from it, once you published your post, submit it to Google Search Console, under URL Inspection.  Also, submit it to Bing Webmaster under Submit URLs.
This way, you will directly inform the search engines about your newly created content, it surely helps to rank you quickly.
2. Video Marketing
Video is the next big thing, we all know that and the popularity of Youtube, as the second largest search engine, prove the fact.
Create your own videos and publish on Youtube and other relevant platforms like Facebook, Pinterest, and Instagram. Pinterest can drive a good amount of traffic to your website.
3. Social Media
It is important to share your blog post on major social platforms like Facebook, Pinterest, Twitter and any other social platform where you want to post your content.
It is also important to publish on different platforms so as to receive traffic from different sources and not totally depend on Google.
4. Email Marketing
Email Marketing can be a huge factor to drive traffic as well as conversions.  Even if you are new at email marketing, you should start building your list and after decent traffic, you should start email marketing.
Read Here: 10 Reasons Why You Should Start Email Marketing Immediately
5. Give new life to old content
This helps a lot to get good rankings in the SERP.  Google always likes when you modify your old content add some new information to it, and republish it.
Read Here:  7 step Checklist for Old Content Optimization Strategies
So if you follow these simple tips, you will be able to get your content before your audience.
If you want to be more organized, you can use the mindmap tool to get your ideas organized an in a more clear form.
It is a powerful graphic technique you can use to translate what's in your mind into a visual picture. Since mind mapping works like the brain does it allows you to organize and understand information faster and better?  It is an expression of radiant thinking thus it helps unlock the potential of the brain.
Bubble.us is a very good tool to mindmap your ideas.  You can also create these simple mindmaps to sort out your ideas.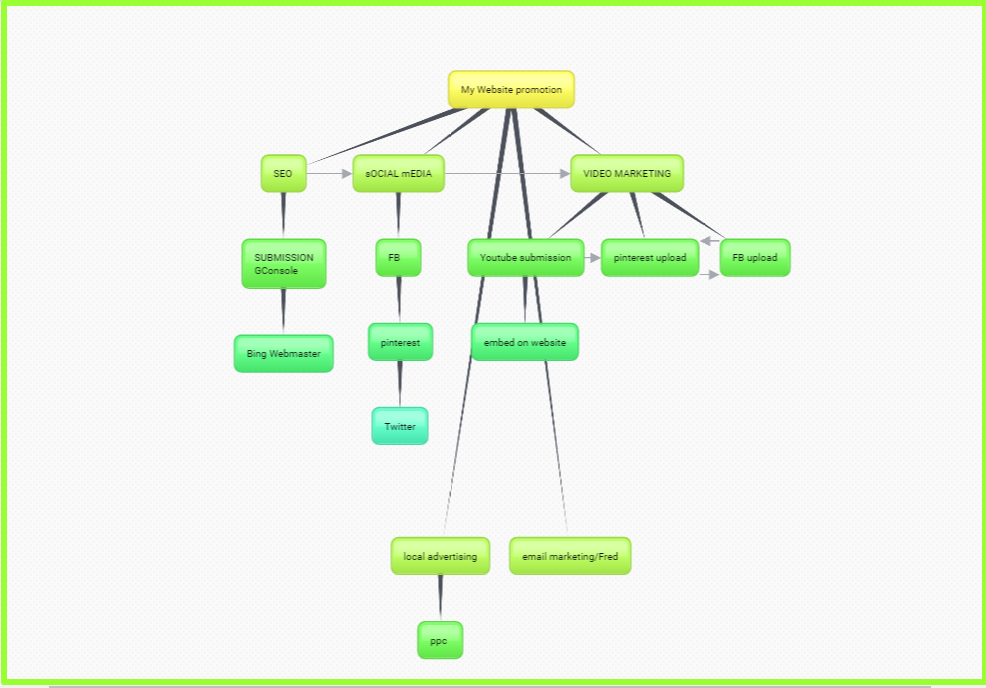 6.  Offline Promotion
With all these techniques, it is also important to promote your business by giving out business cards, publishing flyers, and so on.  These will definitely help to spread a word about your business.
Conclusion:
Today, business promotion is an integral and inevitable part and you should not lag behind while promoting your content.
It is impossible to reach your audience if you do not promote your content through social media and all the above-mentioned methods.
You can also promote your content through other platforms which might be suitable for you, first of all, it is important to find out where your audience is, and where they hang out.
Once you find out where your audience hangs out, it is much easier to target them through different paid ad platforms like FB has very targeted campaigns.
The most important thing is to solve people's problems through your content, it is important to create useful content, then surely you will have a greater following.
Different Niches have different followings on various platforms, so it is important to find out which social media platform is suitable for your niche and where your audience is.
Though surprisingly, Linkedin can help you to get local contacts, you can use your Linkedin profile to connect with local entrepreneurs.
Lastly, I would emphasize the fact that video marketing is the best option today, to promote your business.
People are inherently visual by nature, so most of the people like to watch than reading content, so the combination of both- blog and video, will be the best form of content.
In my personal opinion, I do not think that only video content will gain much popularity after some time, though we prefer to watch videos for its instant nature, whenever we want to study in detail, we turn to books or blogs on the internet.
So even though video content is becoming popular, it's not that blogging will not exist, so a combination of a blog post and video will be the best method in my opinion.
I hope these simple tips will be helpful to you, into your marketing techniques.  Pl, let me know in the comments below if you have any questions or suggestions, regarding this.
I would also like to hear from you if you have any other methods for promoting your business, and pl share my post with your friends and family if you think it is useful to them.
Follow my FB page Advantage Affiliate Here.