Marketing funnels are the most important for converting your traffic into leads and leads can be of many types :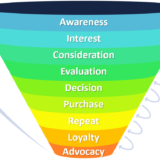 Sale
Opt in
Phone Call
Sign Up
Walk-in
All these are leads, and through different funnels, we try to convert traffic.
What is Marketing Funnels?
According to Wikipedia, "a consumer-focused marketing model which illustrates the theoretical customer-journey towards the purchase of a product or service."
So it is very clear, that a funnel is a step by step journey of a purchaser to buy a product or a service.  In fact, every website is a funnel, where we navigate our readers to a useful product or service, step by step by holding his hand.
In simple words," Get Visitors to fall in love with your brand."  Your brand can be you or your own product.  When people trust you, they will love you and then they convert into a sale.
Four Phases of a Marketing Funnel
Awareness
Awareness about your brand or product can be happened via different sources, like through a blog post, people may have read your blog post and came into contact with your brand.
Through Youtube videos, people may come to know about your brand or product, or someone may have to share your youtube video, and you get introduced to a new audience.
Social media is huge nowadays, and you may get noticed through different social media platforms like Twitter, Facebook or Pinterest.  People reshare posts and hashtag, so you get automatic social publicity for your brands.
Awareness source can be a blog post, which may be informative and solution to their problem, like a log post with Migraine problem.  You write an article giving solutions to the migraine problem which will be helpful to your readers.  So naturally, people relate to you and share your content through social media platforms.
2. Interest
Your readers have read your content and want to find out more about your product. So now get them into next state by showing how you can solve their problem by writing a product review, Opt-in for a course, your proposed product and services, by further research.
3. Consideration
Testimonials and comparisons for your product or services, make them consider a purchase.  Prove that you're the right choice, try to rank for best niche/keyword 2019.
4. Conversion
A free offer, bonus with purchase, discount, tend to convert better.  Utilize urgency, limited time offer and end minute purchasing convert like anything.  so utilize these tactics, to improve your conversions.
Now all these can be applied to your blog post and blogging.
You can leverage Youtube, Guest Blogging, Social Media and Paid traffic to drive traffic to your blog post.
You can create informative content through your blog post and that way you can funnel traffic to a sale.
Youtube videos are great to funnel people by creating Youtube videos, you can share your knowledge and information with people.
Social media platforms like Facebook, Twitter, Pinterest, Instagram are great ways to drive traffic to your website and funnel them.
It is also good to share your blog posts on social media platforms as you also drive traffic apart from Google and not only depend on Google for traffic.
Are there funnels for blog posts?
Awareness :
Google How to Naturally stop a Migraine?
3 ways to naturally stop the migraine.
Interests:
CTA : Read my Insiders guide on migration mitigation
Email Opt in
Consideration:
People read the email which discusses an affiliate product
Leads them to a review of the affiliate product
Conversion:
next email is a link to a video
showing how it works
The benefits of having funnel on your website are many.  One of the main benefits will be your reader go through a proper path and will make an informed decision, and trust you more down the line.
The conversion rate will increase.
There will be very few people while funneling down, but that person will surely be going to convert and so the conversion rate will increase.
You can predict sales volume
When there is a funnel, you can track every viewer on your website so it will be easier to predict the sales volume.
Identify the problem areas
With a proper funnel in place, you can find out where the potential customer left out, you can find out the problem areas and can make your funnel stronger.
Typically a customer wants some space before making any decision, so by offering them good navigation through your website and funnel, you make them confident about their decision.
You can give them the means to engage with the business, but cannot make the decision on their behalf.
The potential customer needs to move from one step of the sales funnel to the next on their own.
Using multiple marketing channels including PPC advertising, off-site SEO, direct mail campaigns.  Your specific channel may differ according to your niche, but it is always better not to put all your eggs in one basket.
If your clients and prospects asking you questions about your products, try to answer them in your blog posts.  Chances are others may also having the same questions.
A customer can be at a different purchasing cycle, and one might not ready to buy, so using a different call to Action, may give you good results.
Providing good value to your customers, and giving them good service will definitely turn them into a return customer.
Conclusion
Having a good funnel on your site can help your audience tremendously as well as you for better conversion.
Different kinds of funnels can exist and you should take advantage of all the social media platforms which can drive good traffic to your site.
Retargeting your prospects which does not convert is also important, this is another chance to draw them to your website.
Hey there,
do you have marketing funnel on your site? and what are the popular methods through which you drive traffic to your site and would you like to share some strategies to funnel people?
If you have any question regarding marketing funnel pl let me know in the comments below, and I will be more than happy to answer them.