Writing is a great way to express your creativity and yourself. Through writing, you express ideas and notions to your readers. If you are a blogger, you can help your readers in many ways, you suggest them a great product and make their life much easier. You review different products and make your readers aware of any possible dangers and scams.
You're writing style and your blog can become a part of reader's life if the content is effective and helpful. At the same time content need to be grammatically correct, otherwise, it may turn off your readers.
When you are new to writing and blogging or content creation, it is obvious that you make a numerous mistake, spelling mistake, grammatical mistake, and so on, and above all, if you are a non-native English speaker like me, you get extra cautious about your writing.
Personally, it was never been an issue for me of my language skills, my focus was to connect with my audience, in whatever little knowledge I had. But not to forget, that you need to improve your writing skills over the time,
Luckily, I got enrolled in an Online University, where we are taught how to create Quality Content.
For me, when I write, I make a ton of spelling mistake and just want to jot down whatever comes to my mind. After finishing the article, I again check it for spelling and other mistakes. No doubt it's a time-consuming process and at the beginning, I need some tool to show me my writing mistakes.
I came across a free handy tool for grammatical mistakes, which still helps me while writing my blogs. And I highly recommend Grammarly to anyone who wants to proofread his content.
What is Grammarly?
Grammarly is an online platform for checking grammar and spelling mistakes as well as a plagiarism detection tool. It is first released in late 2009 and Grammarly's resources for proofreading and plagiarism checks more than 250 grammar rules.
It was developed in 2009 by Alex Shevchenko and Max Lytvyn, in Kiev. The back end grammar engine is written in Common Lisp. The app is owned by Grammarly Inc.
Grammarly helps in checking potential grammar, spelling, punctuation, word choice and style mistakes in writing. , suggest context specific corrections.
Grammarly Review – Good Free Writing Assistant
Company Name: Grammarly
Website URL: https://app.grammarly.com/
Years in Business: 10+ Years
Owner: Alex Shevchenko and Max Lytyyn
Price : Free and Premium
Premium $ 29.95 per month.
My Overall Rankings : 8.8/10
How Grammarly works?
Grammarly is an online tool which will help enhance written communication where ever you type. Grammarly helps you to make your social posts, messages and documents are clear, mistake-free and impactful.
Grammarly checks your grammatical mistakes where ever you write on the web, Facebook, Twitter, Linked, Tumbler, G mail and nearly everywhere else you write.
3 Ways to add Grammarly
Free Chrome Browser Version
You Can add Grammarly through Chrome browser, it's free and can easily be added if you are using Chrome Browser. Once you added it to your browser, wherever you write on web, Facebook, Linked, Tumbler, G mail, your writing get corrected by Grammarly and your writing is clearer and any grammatical mistake.
While writing if a grammatical or spelling mistake occurs, Grammarly instantly shows a red underline word which needs correction. It also shows suggested correction and its unto you to accept that suggestion.
Grammarly for Windows
You can download Grammarly for windows, and you just need to drag a file to proofread it and it will auto suggest all your grammatical mistakes. It will save a lot of time to manually check every content you write.
Grammarly for Microsoft Office
If you prefer to work in Word, Grammarly has an app for Microsoft Office and Outlook. It creates an extra tab in Word, and you just need to click the tab to check your entire document. Grammarly boasts of checking more than 250+ grammatical mistakes and better than Word at correcting the document.
Grammarly shows every grammatical mistake by highlighting it and you can expand the highlighted text to to get more details about how to enhance what you wrote.
Once you joined Grammarly, it checks your grammatical mistakes on the go, but you can also upload your document to Grammarly dashboard. It proofread your document, save it or you can download it.
Grammarly Dashboard where you can upload your content for the grammatical check.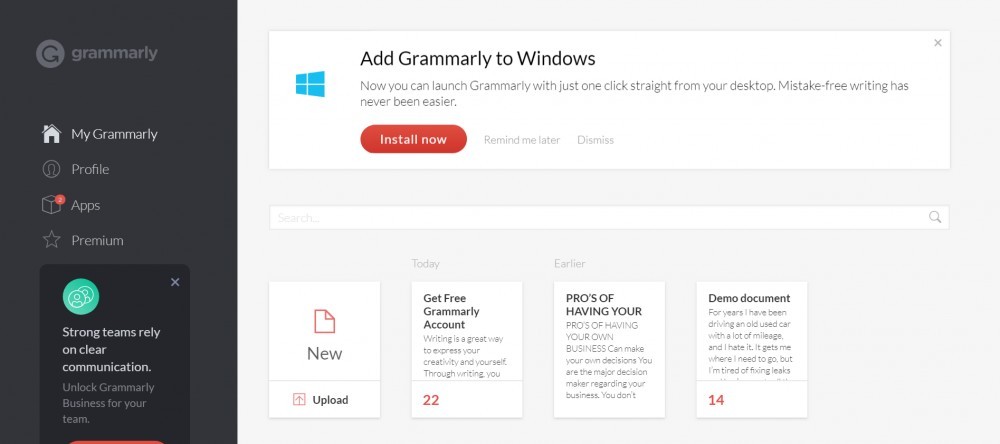 Set Your Language Preferences at your Profile Setting:
You can set your language preference to either British English, American English, Canadian English or Australian English.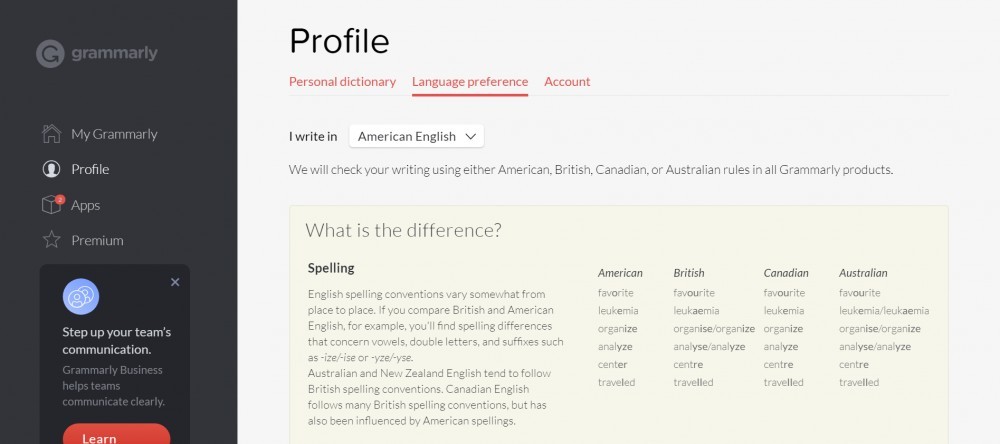 You can also add your own specific words to Grammarly Library by adding words to your personal dictionary. These words will no longer be flagged as misspellings.
for e.g. when I write for my reiki site, I often used words like Chakra, Manipur chakra, Agnya Chakra etc. which are not English words but important for my niche site. Every subject has its own terminology, some words might not be from English, so better to add these words to Grammarly Library, to avoid it flagged as a misspelling.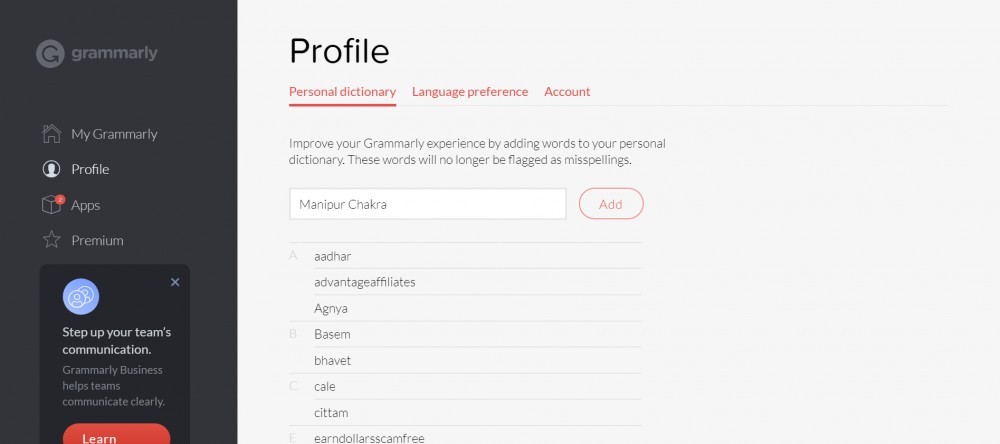 With these important features set, you are ready to go!
Pros and Cons
Let's see some pros and cons of Grammarly.
Pros
A very handy tool to check your grammatical and spelling mistakes.
Once Grammarly is installed, it works across all the platforms, no need for different installations.
Cons
Grammarly can be very disturbing, as it instantly flagged any mistake with a red mark, it somewhat hinders your writing flow.
Sometimes Grammarly installation slows down the system.
Use Grammarly basically as a proofreader, it might take away your own writing style, as it checks every department of your content from heading, sentence structure to writing style.
Conclusion
Grammarly is a great tool for correcting your content across all platforms. Even its basic free version is good enough to proofread your content, and if you are not sure of your English grammar like me, Grammarly can be of great help. I cannot recommend enough if you are just starting out content writing.
As I mentioned above, be sure to use Grammarly as a tool for recommending suggestions for grammatical mistakes. With its heavy feature which checks every part of your content, if you change all your writing accordingly, you might lose your own writing style.
What is your experience with Grammarly, has it been useful to you? Pl, share your views, opinions, and suggestions about Grammarly in the comments below.
If you have any questions, regarding Grammarly, also let me know and I will be happy to answer. If you think this article may be helpful to any of your friends and family members, pl share it.