Have you heard about Melaleuca? Or you are joining this MLM company to make money?  Think twice before joining any MLM company.  It has many drawbacks and very few people can make money from MLM.  Melaleuca claims that it is not an MLM but describes itself as a "largest online wellness shopping club".  Their products supposed to be safer and more cost-effective than grocery store brands.  Let's find out if their claims are true, in this Melaleuca MLM Review.
What is Melaleuca MLM?
Melaleuca is an MLM company that sells varied products ranging from skincare, haircare, and body care.  It was founded by Frank Vandersloot in 1985.  Melaleuca has more than 500 products and headquarters in Idaho.
Melaleuca has different categories under which you find a number of products to sell, namely Nutrition, Medicine, Household, Extra Savings, Medicine, Bath & Body, Logo gear, Beauty, Essential oils.
Melaleuca claims that its products need to buy directly from the company and no one can resell their products.  Their products are widely available throughout different countries like Canada, Mexico, Australia, Across Asia and the European Union.
The name Melaleuca comes from a native Australian plant called Melaleuca alternifolia.
Are Melaleuca Products Worth Their Price?
It is very difficult to tell if the Melaleuca products worth their price because prices are cloaked in secrecy, no product price mentioned on the website.
You need to be a member of Melaleuca, then only you come to know the price range of different products of Melaleuca.
You need to sign in for monthly membership which is $19.  Also, you need to buy product words 35 points every month, approximately $300 – $500.
Though Melaleuca claims that their products can be bought only on their website, you will find a ton of their products sold on Amazon.  At least 261 products are listed on Amazon, at the time of writing this review.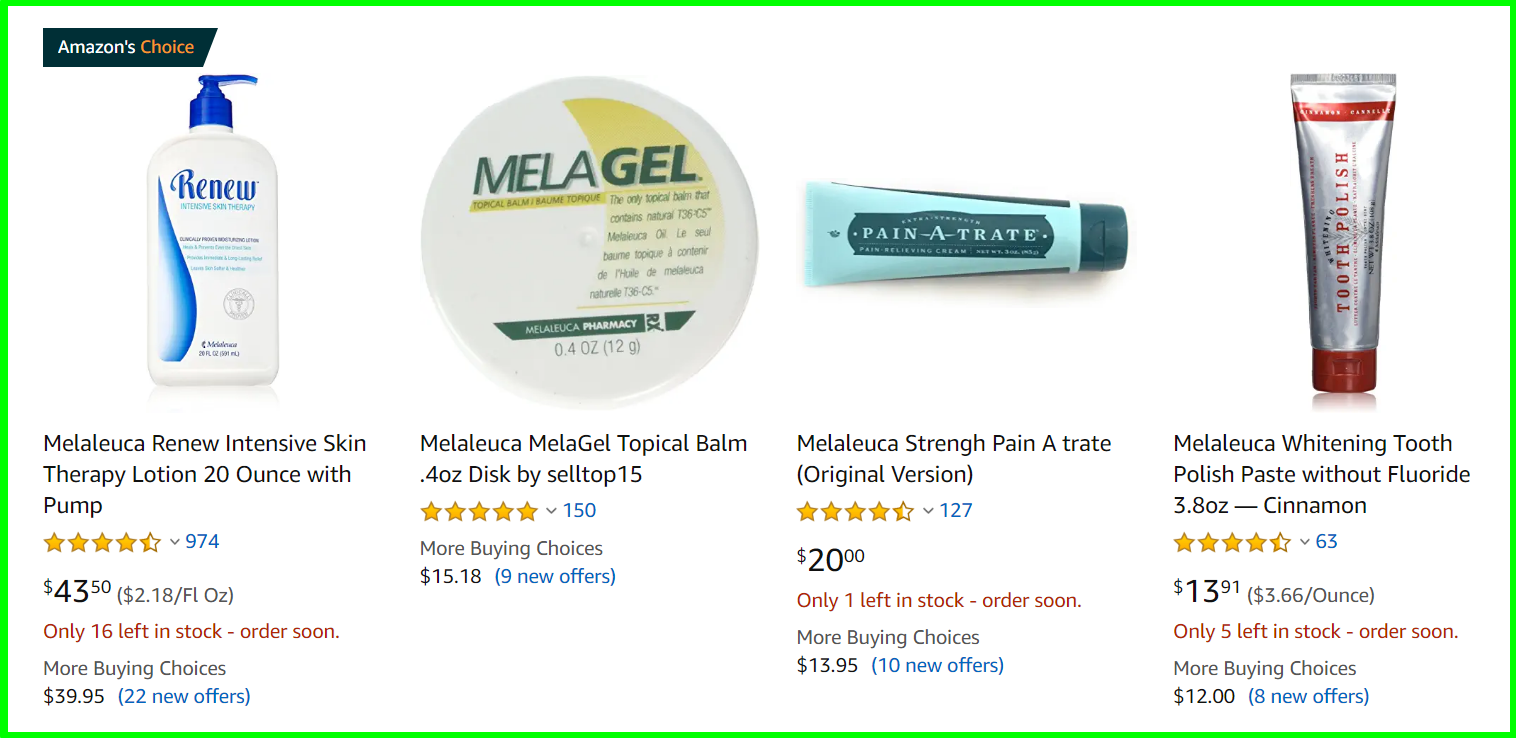 But you will find that most of their products are getting good reviews and ratings on the Amazon.
It is important to have good ratings on the Internet to become successful nowadays.  Not to forget that around 80% of people read internet reviews before buying any product. So it is easier to sell these products to your friends and make money.
The Melaleuca MLM Opportunity
Before discussing Melaleuca MLM opportunity, let's dig dipper of its denial of being an MLM company.  According to FTC – Federal Trade Commission – an establishment is MLM if
Multi-level marketing is one form of direct selling. Generally, a multi-level marketer (MLM) distributes products or services through a network of salespeople who are not employees of the company and do not receive a salary or wage. Instead, members of the company's salesforce usually are treated as independent contractors, who may earn income depending on their own revenues and expenses.
Now it's clear that even if Melaleuca denies being an MLM, according to FTC regulations it falls under the MLM category.
In fact, if you check the FAQ page of Melaleuca, you will find the following explanation on the benefits of enrolling new members and commission structure.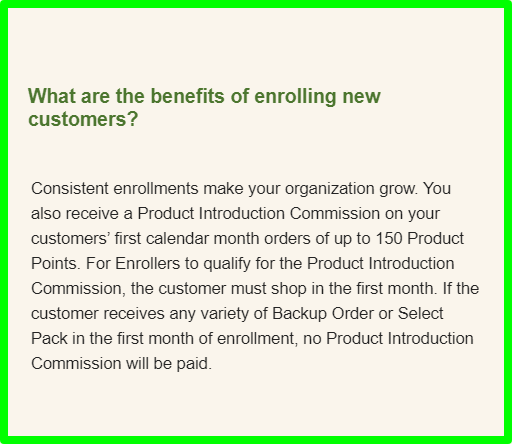 Once you start enrolling the members, you can climb the ladder of "Director" if you recruit enough members under you.  There are 9 levels of directors, so more commissions and more chances to make money.  But here also Melaleuca is not clear about the percentage of commissions you received.  So pretty ambiguous, isn't it?
How Much Does It Cost to Join Melaleuca?
There are two options to join Melaleuca:
Regular Member:
No investment, no monthly commitment but have to pay the regular price of the products and limited access to the marketplace.
Preferred Member:
Customers pay $19 per month and must purchase 35 points worth of products each month plus pay any shipping and handling. Preferred Members are eligible to earn Loyalty Shopping Dollars and have access to other membership perks.
So basically, you don't pay anything to start with Melaleuca, but if you want to start a business then you have to invest $19 to start with.
Can You Make Money with Oriflame?
As you recruit more people and sell more products, you have also the possibility to move up the ladder of Director, which further has 9 levels.
To become a director, you need to invest at least 50 hours developing a minimum of 8 customers and maintain them.
Loyalty Shopping Dollars:
Learn to Earn is another way to make money with Melaleuca.  Once you enroll as a preferred member, you can earn by educating yourself about Melaleuca and its products.
For the first five months, Melaleuca gives you an opportunity to earn up to $100 in these five months. Just watch videos related to Melaleuca products, some videos are worth $5, some $10.  You can earn a maximum of $100, but you need to spend it on the products you purchased.  You can not cash out these $100.
If you have a good network and have many people in your group, whom you can sell products, you can earn a good income.
But the tough part is to maintain a steady income with this business model.
Secondly, since it's an MLM opportunity, most of your success depends upon your marketing skills.  If your team members are active, you can earn a good amount of money, but if they are not active your earning potential is limited.
Pros:
Regular Membership:
Regular membership is a good option for those who don't want to buy the membership but instead just products.  You can sell their products and earn a commission.
You don't have any obligation to buy a monthly package of products and maintain a score of 35 points each month.
Quality Products:
Melaleuca products are quality products and people seem to enjoy these products.  You can find many good reviews and ratings on Amazon.
Customer Satisfaction Guarantee:
Melaleuca do not offer a money-back guarantee but if you are not satisfied with the product, you can exchange it within 90 days or get credit points for this purchase.
Cons:
Multiple BBB complaints:
There are many complaints against Melaleuca for the compulsory monthly subscription.  You will find as much as 120 complaints against it, check out Complaints against Melaleuca.
No Clear Mention of Prices:
It's very strange that you will not find any clear mention of product prices on the website.  Unless you register with Melaleuca, you will not be able to find prices.
Crappy Product Introduction Commission:
When you get a new sign up for Melaleuca, you get 150 points, if the customer buys the products in the first month.  But these 150 points can be used only to buy new products from Melaleuca, so no cash gain.
Is Melaleuca a Scam?
Melaleuca is an MLM company and established itself as a legit and quality brand over the years.  It is definitely not a Scam.  But the MLM module is such that, unless you make a sale you are not going to earn a dime.
Again there is lot of secrecy around the product price, so this should be a warning sign if you want to join Melaleuca.  Why Melaleuca can't be transparent about its product price to the world?
Most of your success is dependent on your team members, who joined under you.  Unless they are active and making sales, your earning potential is limited.
It is a proven fact that it's very hard to earn with MLM, only a few at the top strata earns a substantial income.
Other MLM Reviews:
Recommended Read:
Why multilevel marketing won't make you rich
3 Mind-Blowing Statistics About MLMS
Conclusion:
Melaleuca is an established MLM company and has created a name for itself over the years.  It has a ton of products to promote and earn a commission.
It has many categories including for pet care products.
But before joining you must thoroughly investigate things like if it has any hidden costs.  Yes, it has many hidden costs like shipping charges.  You need to pay all the shipping charges for yourself, that may eat up any commission that you make.
If you want to make your own money by selling products, start your own business by checking out my #1 recommendation. You'll get all the tools you need including a website, hosting, training, and 24/7 support.