Starting your own successful small business is not difficult today, and that we have discussed in my last article.  Having your own website is a must for any business, not only does it create a brand for you and your business but also looks very professional.  Many people think that creating a website is difficult and it needs a lot of technical know-how.  But that's not really true, today technology has developed so much that you can create a website just in a few minutes and that's what all about today's Live Wabinar, The 60 Second Site Installation.  That's absolutely true, within 60 seconds you can launch your website in Wealthy Affiliate.
In Today's Wabinar Jay discussed all these steps in detail.  As you know, Wealthy Affiliate is having a 14 Day Back to Back Live Case Study.  Research to Profits in which you will learn all about how to start your own successful small business step by step starting from researching a niche.
Read all the details of these live case studies here.
So here is the summary.
Overview of Building the Website
In this series of back-to-back 14-day case studies, so far we have researched all the major components for building a successful website like choosing a niche, searching affiliate programs and ways to monetize your blog, and most importantly keywords for writing great content.
Now is the time to actually build your own website.  Many people think that you need to have the technical knowledge to build a website but today you can build a website within minutes without having any tech know-how.
In Wealthy Affiliate you can build a website within 60 seconds, and I know you might not believe it but everything is done for you on the platform and you just need to click a few times and your website is ready. WA has a one-stop destination for building your business online, so you can buy a domain within WA just for $14, that too with Price locked guarantee.  It simply means there will be no price hike every year when you renew your domain, it will be only $14, as long as you remain a WA member.
Steps involved in building a website.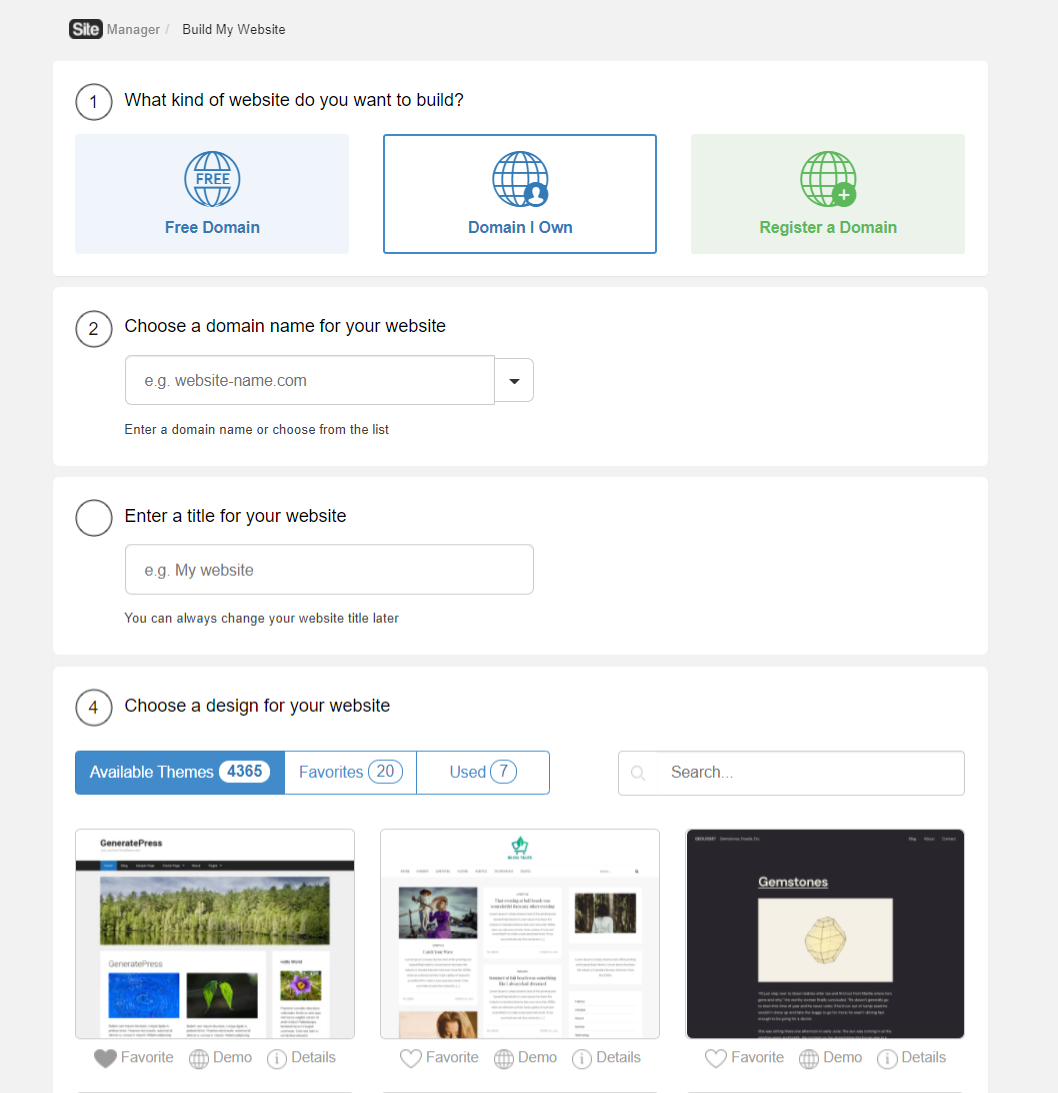 As you can see in the above screenshot, first you need to select the domain, free or paid to build your website.
Even if you join WA as a Starter member, you have access to this "Site Manager" area and can build a free website.
Even if you choose a Free Domain, the steps will be the same but instead of .com, you will have a .siterubix.com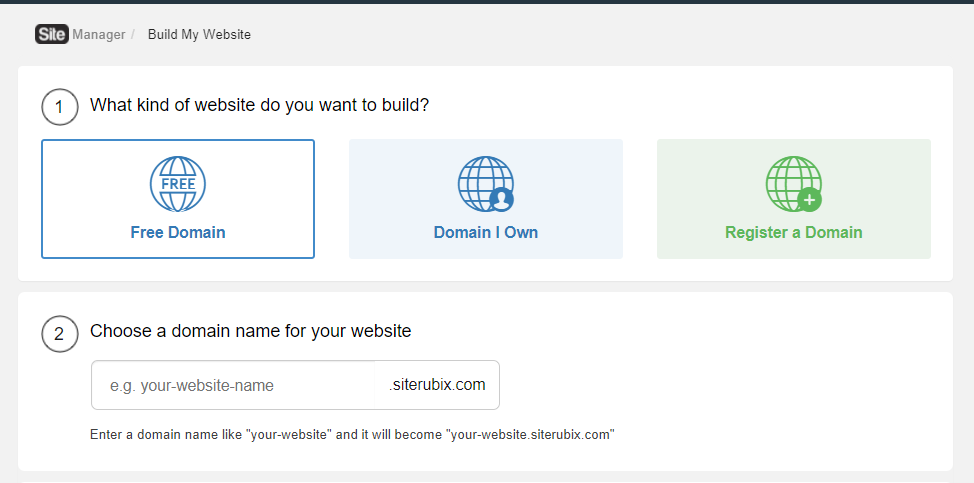 The second step is to choose a domain name for your website, once you enter your domain name the next step is to Enter a title for your website.  You can change your website name if you want to but you can't change your domain name once you selected it.  So choose the domain name carefully.
The fourth step is to choose a theme for your website.  As a premium number, you have access to 4000+ themes. Choose any one of them.
The fifth and last step is to click the green "Build my website" button and your site will be ready within 60 seconds.

Adding The Plugins
WordPress Plugins are the best tools for adding and extending the functionality of a website.  Though it is your niche that determines what plugins are needed, there are some universal concerns of every website owner, that one must not ignore.
Security, Speed, SEO, Analytics, and Backup are some of the crucial factors for any website irrespective of niche.  WordPress has more than 55,000 official plugins in its repository.  So you have a wide variety of plugins, that can be used on the website to enhance its functionality.
The Best 5 WordPress Plugins For 2022
Configuring the Settings
Every them has different settings so you need to configure your theme accordingly.  Also, there are some basic plugins for every website that we have discussed above.  So you also need to activate stand configure those plugins, which are very easy and many free trainings are available.
Conclusion:
Having a great-looking website is not only important from a visitor's point of view but also for SEO.  It's a ranking factor for Google.  But if you think building a website is difficult and you need to have great tech knowledge, then you are wrong.  Even if you have no tech knowledge, you can build a website in just 60 seconds.
At WA it just takes 5 clicks and your website is live.
Watch Live Wabinar:
As I mentioned above, in Wealthy Affiliate you can learn how to start your own successful small business in a very cost-effective way. This article is a summary of the Day 1 Live WAbinar.
These Wabinars will definitely help all of us to understand the intricacies of starting and running a full-fledged our Own Successful Small Business.
Pricing: Get Premium @$19 Instead Of $49
To get access to these WAbinars you need to sign up for Premium membership & costs $49/mo.
You will get many benefits with this membership like free 10 websites + bandwidth of 500,000 visits, daily website backups, and so on.  If you want to know in detail, click here.
But the best part is if you join WA within 7 days of joining, you will get Premium membership at just $19!
No brainer right, for $19- not only you will watch all these 14 Live Wabinars but have access to all the 500+ recorded WAbinars also and I know you would not like to miss it.
Best Strategy To Save Your Money
So the best strategy that I would recommend to save money is to join WA as a starter member now, see whether the platform suits you, and then join within 7 days to get a huge discount of $32.  Basically, you will get the first month just for $19!
The cherry on the top, Black Friday is around the corner and you can save almost 50% on your yearly membership. So not worry to pay monthly and run your business for just Under $2/day!
I am sure you see the great value WA provides to Start Your Own Successful Small Business.  If you have any questions or suggestions pl let me know in the comments below and if you think this article is helpful,  pl share it with your friends and family.