Content Creation, conten marketing has a huge industry and growing by every passing day.  Every business understand the value of a good content.  A good piece of content also very easy to rank on search engines and therby promoting the business and its products.
So there is a huge market for good content creators, and if you are interested in content creation or if you want to become a blogger here are few free resources to help you become a blogger.
But blogging needs a lot of hardwork, patience and persistence.  The first Free Tool is Two Free websites + Free Hosting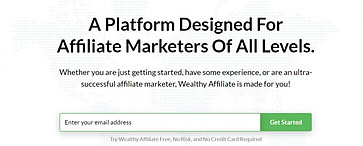 Click Here  and you will see a form just like this, just fill in your email address and you are good to go!  I will personally greet you in the Wealthy Affiliate.
---
Keyword Ressearch  is another important skill which you will learn here at WA.  It is a free tool for WA premium members, and as a starter member you can have 30 searches free on Starter Membership.
Jaaxy is really an amazing keyword Research Tool , which will help you to find out the best keywords and domains for you.
---
Eamail Marketing Free Tool – Mailerlite
I am using Mailerlite from last year and I have no problem at all.  You can join Mailerlite for free and you can have free account upto1000 susbscribers.
Mailerlite uses easy drag & drop interface to create mails and other campaigns.
---
Blogging and Images are two sides of the same coin.  It is alwayss better to create your own images as it creates your own brand.  Secondly, images are visual so people more likely to click and get you free traffic and high CTR.
canva is the best online  design maker.
Another Free Tool which I use the most is Lunapic,  I think Lunapic is a great tool for any kind of Image modification, so have a look at Lunapic,
I have shared some Free Browser Extensions which will be useful for Bloggers, I think  it will be useful to you.
Surely I will add some more free resources, so often visit this page