On the sperge of social media platforms, it's really difficult to decide which platform will bring you the most targeted traffic. But Quora is a platform where most of the time, you get your targeted audience, as there are more than 400,000 topics and 4.6 Million monthly users. Leveraging Quora for Traffic gives a boost to your social media campaigns and becomes much easier to get connected with your audience.
What is Quora?
According to Wikipedia, " Quora s a question-and-answer website where questions are asked, answered, and edited by Internet users in the form of opinions.
On Quora you can ask questions, answer questions and thereby build your own authority and brand.  Quora has introduced many new features since its inception.
A very interesting definition of Quora, Over time, Quora evolved into what Theodore Schleier, writing for Vox, called, "a more organized Yahoo Answers, a classier Reddit, an opinionated Wikipedia."
Quora Vs Others,
There are many other questions and answer sites like Yahoo Answer s, Ask.FM, Reddit, Answers.com, experts exchange etc. but Quora is the most popular among all.
It will be very interesting to see the growth of different sites over the past five years.

It is very clear from Google Trends, that quora are much ahead of all the sites.  Now you can leverage the audience of Quora, to establish yourself as a brand in your niche.
Setting Up Your Quora Account
Most Probably, you might have Quora Account, otherwise, you can go to https://quora.com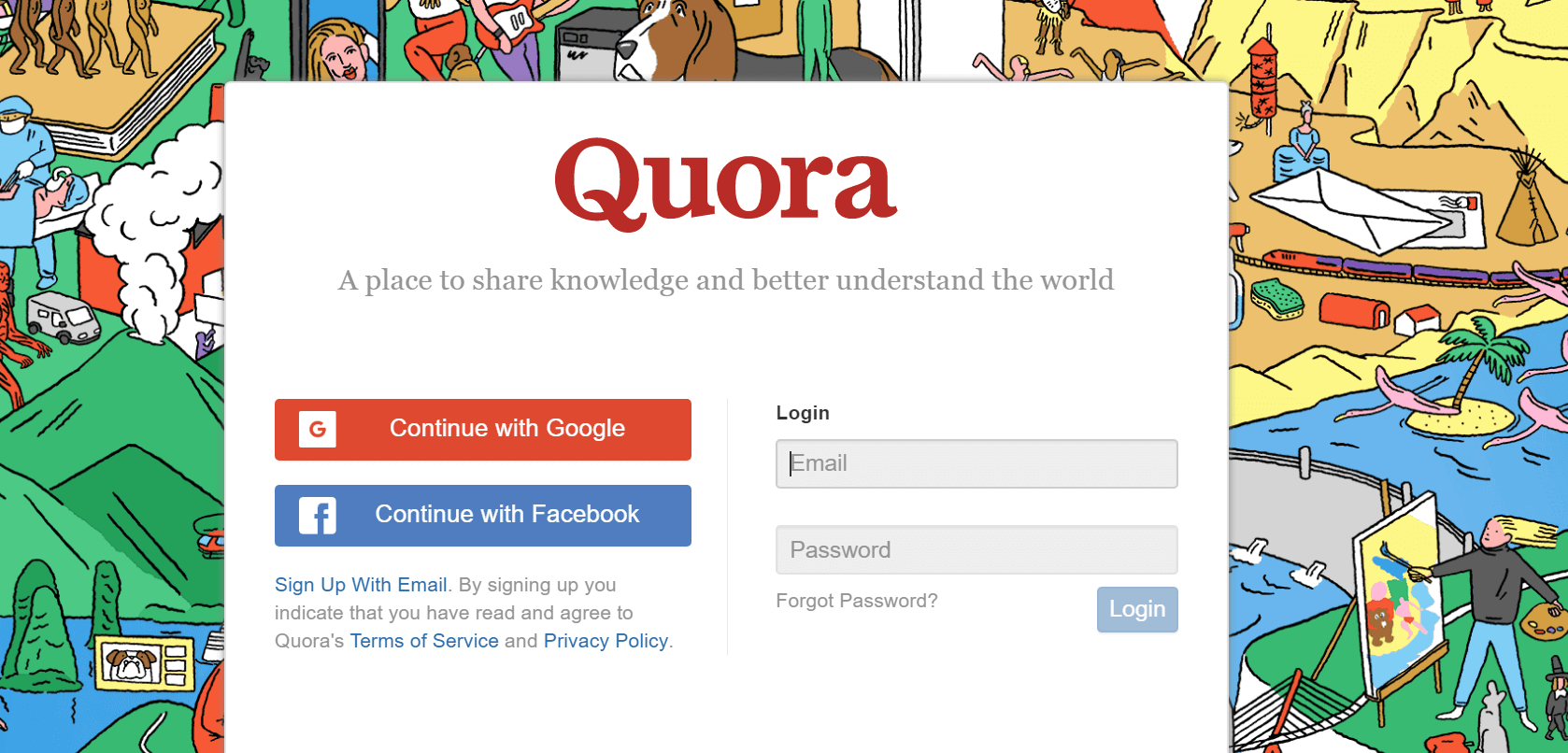 You can either sign up with your email address or using any social profile like Google or Facebook.  There is no risk even if you sign up with a social profile.
Set up your profile by introducing yourself, adding your interests and credentials.  Once you set up your profile, you can take part in the discussions on any topic.
As you engage with the audience, setting aside some time for Quora it will boost the traffic to your site.
Read More: How to Get Free Traffic to the Website With Quora
How to Gather ideas from Quora to write a blog?
Quora is a great source to gather information on your niche which you can leverage to create content for your website.  You can create any kind of content like a blog post, video, podcast, vlog, audio content and so on.
Suppose you want to create a blog on a particular topic, you can ask this question in Quora and you will notice that many established personalities are responding to your questions.  Now you have a very authentic source of information from these people, which you can use to create content on your site.
You can read a vast material available on Quora to collect information regarding your niche and increase your database.
While writing content it is important to write for your audience, solving their questions and problems.  If you create your content around your audience, definitely you get noticed.
It is important to create valuable content, for which you can take the help of keyword research, to know exactly what your audience searching for.  Create content that most of your readers would love to read., would want to know about it.
The same strategy you can use for Quora, search for the questions which will be beneficial for most of your readers.
How it is beneficial to engage in Quora?
1. Quora will bring you long term traffic.
Quora is famous for its quality and serious readers.  When you write an insightful, quality answer to the readers, your answer will bring you traffic for many coming months.
Quora has a system where people can upvote your answer, it is a way to "Like" your answer. Once a reader upvotes your answer, it will show up in all his follower's feed.  So you can imagine how your post can get traffic by just giving valuable answers.
And these quality answers continue to bring traffic to your site.
2. Quora helps you to establish as an authority.
Quora encourages you to write quality content for your readers and reward you by listing you in most viewed Writers, and you know, that means an authority status for you and your website.   You need to engage with your audience regularly on Quora, but it is not tough to rank on Quora.
Quora also gives "Topic Badges" to top writers, these appear next to your name for everyone to see.  A great way to brand yourself.
Ask 2 Anser, A2A is the ultimate sign of becoming your authority, when people invite you to answer their questions.
There are many examples of Quora, who become popular just in a six months time, so a great opportunity to brand yourself and drive traffic to your site.
3. Quora can help you build your blog posts
As every social platform requires, quora too need consistency.  Most of the popular writers on Quora also admits that writing consistently on Quora gives a huge boost to their website traffic.
Once you consistently try to build your followers in Quora, they will follow on your website for further information and lead to traffic to your site.
Target posts that are already very popular, they tend to have a lot of followers, and when you post an answer, many of them get notified and you will receive many views for your answers.
So it is important to plan a strategy for Quora, work on it consistently for around six months and surely you will get much-targeted traffic in an organic way!
Conclusion:
Quora no doubt, has become a source of the traffic to many websites.  You can easily find the most targeted audience in Quora.  Be helpful to them by providing useful content and you will definitely get many followers on it.
Though it is a much-targeted platform, be careful while writing your answers.  If your answer is not up to the mark, be prepared to get a delete.
In my opinion, Quora can be a great source of the traffic to your website, if you provide great insightful answers to the questions.  After all, it is a purely Q & A platform, so give thorough answers, which will stand out in the crowd.
Have you tried out Quora as an alternative to drive traffic to your website?  Or which another platform will you suggest as a great source to drive traffic?
Let me know in the comments below if you have any suggestions or questions,  put them into comments below.  I will be glad to answer them.