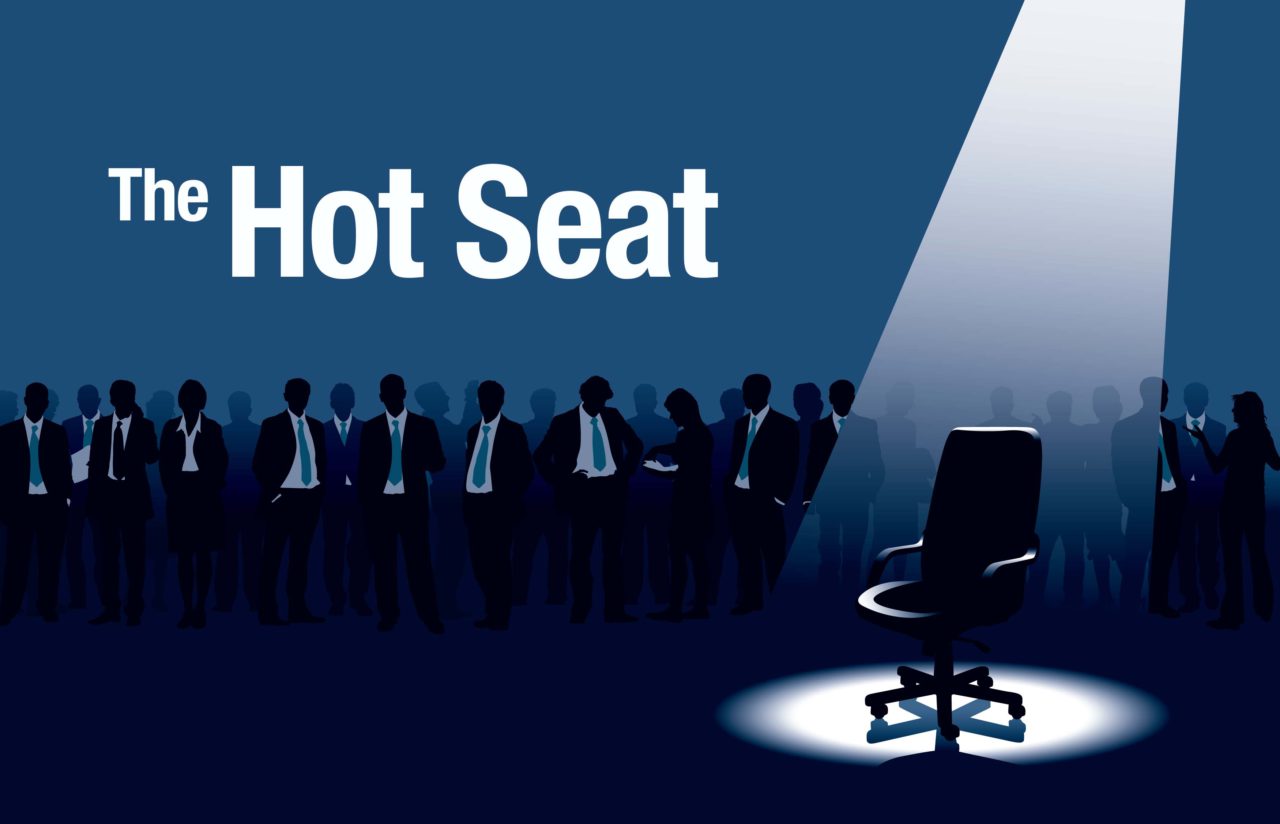 Wealthy Affiliate Online University established itself as one of the Prime Training Online Platforms on Affiliate Marketing, Blogging, Digital Marketing, and Content Marketing.
One of the USP of WA is no upsells once you sign in for Premium membership and all the resources of the WA is freely available to you.
One of the major events in WA is its Live WAbinars every weekend by Jay, an expert marketing consultant, who guide you through all the major trends in Online World. These live WAbinars are free to premium members of WA, and exclusively only for WA members.
Hot Seat in Wealthy Affiliate
Hot Seat in Wealthy Affiliate is a huge opportunity to premium members of WA, to showcase its work, Website to reviewed by an expert marketing consultant Jay.
Jay offers his expertise not only on the website but also on niche research, content structure, keyword research and traffic generating methods.
Hot Seats are held every season, and members get benefitted being on Hot Seat.  Every Premium member can apply for the hot seat by filling the required data in a form.
Generally, Jay himself chooses the sites to review but due to the huge response to the hot seats, sometimes he also chooses to select randomly through random.org.
Why Hot Seats are important?
A Site Review by an experienced marketing consultant can vastly improve your rankings by educating you on various rank elements that you may be missing.
Past Hot Seat recipients have said this has helped them immensely!
So Hot Seat webinars are helpful to newbies so to the advanced members, as you get tips, suggestions on different aspects of website building, content creation, search engine ranking, and SEO.
Wealthy Affiliate is the only platform online which offers this opportunity to its premium members without any extra cost.
Hot Seat! Winter 2018
For this Hot Seat-Winter 2018, Overall: 117 applications were received for review. Jay used a process of elimination where 75 were left with completed domain names.
More than 245 participants were on-line simultaneously from around the world logged in to see this Live training.  Every member can take part in the live chat and ask questions, which will eventually be answered by other senior members of WA and by Jay himself.
Among all the 75 websites 7 were chosen and each website was personally live reviewed by Jay.  The main sites which were reviewed were
1.Habitat-Fitness.com
2.theunexpectedhomeschooler.com
3.johnkalin.com
4.simplearchery.com
5.mycheaphealthcareproducts.com
Main suggestions by Jay on this Hot Seat-Winter 2018!
1.Proper Keyword Research
Do proper keyword research, before writing content and see what are the phrases that are getting high search volumes.  Without proper keyword research, it will be very difficult to get your content higher rankings in search engines, especially if your site is new.
With keyword research and consistent content writing, slowly your content will get ranked in search engines.  WA offers many tools free to its members.  Jaaxy is a Keyword Research Tool, which is available to all WA members, starter and Premium.
2.Meta Title & Meta Description
Meta title and meta description are important to get ranked in search engines.  Meta title can be different from your blog post title and these are the information we are providing for the search engines.  You can add meta title and meta description to your post if any of the SEO plugins like AIO or Yoast is installed.  At the end of your blog post, you will see a dedicated area by these plugins where you can put your meta title and meta description for the blog post.
3.Internal links and External Links
Internal links are important as it shows Google that you are an authority in your niche and have a good amount of content within your website.  Also, internal linking provides a good user experience to your audience by guiding them to relevant and useful content through internal links.
External links are important from Google and your audience's perspective, as you are guiding them to other relevant and important source of information other than your site.
4.Subheadings H2 and H3
Content needs to be created in a way that should be easy on your eyes and to your audience also.  No one like to read a sea of words.  Even if you write a great blog post, but without proper headings and subheadings, readers will not like it.
It is always better to distinguish your headings and subheading by using H2 for your main headings and H3 for subheadings within the main headings.  that way it will be it will look much nicer and compact, also easy to read.
5.Video Embed
Video embedding helps your reader to stay more on your website, and when readers stay more on your page, it is a positive sign for Google that audience likes your content and you will be rewarded with better rankings.
Whenever possible embed a relevant and useful video in your blog post.  You can use any of the YouTube videos or can create your own videos and embed it on your site.
6. One Keyword per Post
Use only One Keyword per post instead of doing keyword stuffing for your blog post.  By doing proper keyword research, you will be able to find out which is the best keyword to use for your next content creation.  Target one keyword and you will be ranked better in search engines.
7.Schedule your posting
It is always helpful to schedule your posting beforehand, as regular posting will definitely help your ranking in search engines.  Instead of posting once in a while, it is better to make a schedule of posting at least thrice in a week.  In this way, Google and your audience will be expecting your new content every week.
8.Link new post to old
It's the best policy to create new content and link it to your older blog posts, as it will lead your audience to older posts and also helped to rank your older posts also.
9.Above the Scroll Content
Your blog post should have a captivating content above the scroll, what it means before your audience needs to scroll down.  Whenever your reader lands on your page, engage them with captivating content and useful suggestions.  It will definitely help your ranking as they stay more on your website.
10.Author Image on Right Side
Always put your Image on the Right side of your blog by using the widget area.  You can add author image widget on the right sidebar.  When a reader lands on your website, he always wanted to know about the author, and when he sees your image, instantly it builds a sense of trust within the reader.
Hey Friens, here are the top 10 tips shared by Jay in this Hot Seat, and this webinar help many of us to improve our website rankings. Here are some of the testimonies of the participant :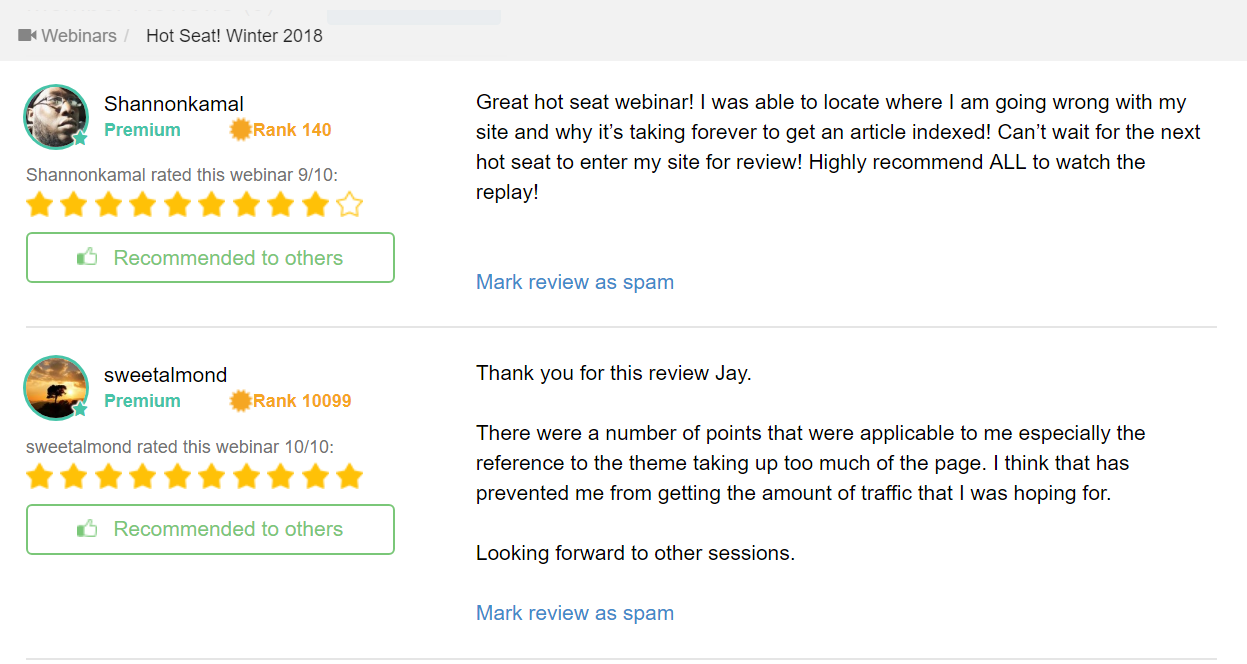 I know you must be interested in knowing some more tips and watching this webinar.  Though this is exclusively for WA members, and you will not find any of WA tutorials on YouTube, I am going to share this WAbinar with all of you.

Hey Friends, let me know how do you like this Hot Seat and do you find some important tips for your website, leave your comments below and will be glad to answer any of your queries.