As content creators, we create content regularly, and to support our views or findings, we need to provide some or the other kinds of proof to our readers.  Since we work on the Internet, it is essential to validate what we say to our readers.  We just cannot justify enough of our findings without providing proper backing to it.  One of the important tools is a Screenshot.  Many of us use a screenshot to provide essential data to our readers. A screenshot is a must-have tool if you are creating content, so let's find out what is a Screenshot and how to implement it for your content.
What Is A Screenshot?
According to Wikipedia, "A screenshot, also known as ss, sc, screen capture, or screengrab, is a digital image that shows the contents of a computer display.[1] A simple screenshot is created by the operating system or software running on the device. A screenshot or screen capture may also be created by taking a photo of the screen."
As Jay mention in his latest WAbinar, a screenshot is a picture of a website or your desktop and use it in your content.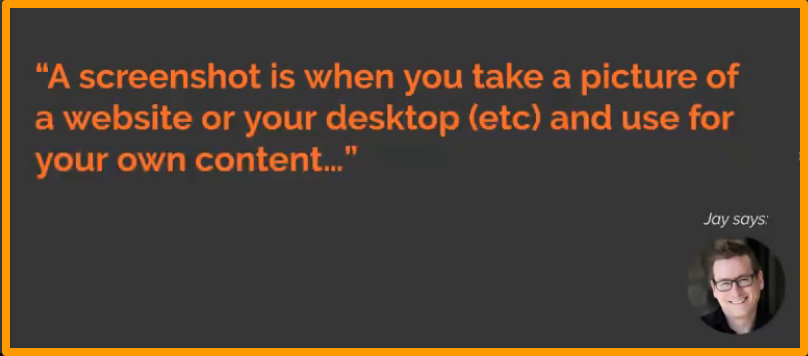 To make it clear, the above image is a screenshot from the WA webinar on how to use Screenshot in our content.
You can use any image or content on the Internet in your blog, by taking a screenshot of it. You can use Screenshot in different ways:
Social proof
can share testimonials on sites like Amazon
Great for step by step Tutorials
Another source of Visual stimulation
Popular Tools To Capture Screenshot
There are many tools you can use to Capture Screenshot. Most of the time, the device you use, be it PC, laptop, or Mac, has an inbuilt system for taking Screenshot.  Nowadays, even mobile phones are equipped to take screenshots.
In window use command Alt+Printscreen(prtSc) to take Screenshot or in Mac Shift+command+4 can be used.
Awesome Screenshot:
Awesome Screenshot is popular software that you can download on your device.  It is not a plugin, so you have to download it from Google play.
Awesome Screenshot App is an annotation tool for your Screenshot and picture. The app works for Chrome 36 and later versions.
Once you download it, a little icon appears on your browser, and you can efficiently work directly within the Chrome browser.
Awesome Screenshot is loaded with many features like:
Capture Visible part of the page, or after the countdown.  It gives you the option to capture a selected area or the entire page.  It even has the opportunity to capture your desktop and share it.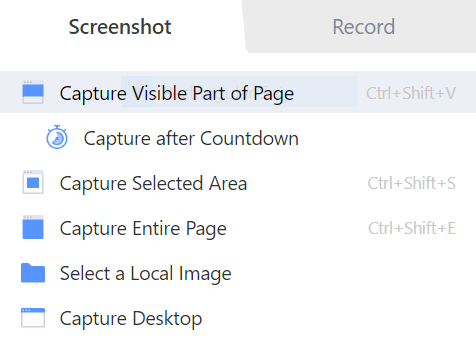 As you can see above screenshot, taken from my laptop, but if I want to add some features like an outline or add some extra text, I have to edit in another software like Paint.  But with Awesome Screenshot, you can do all these things very easily.
You can boarder your Screenshot to make it stand out in your content or add text, arrows, or even blur some sensitive information if you want.  It helps a lot to make your screenshots more informative and valuable.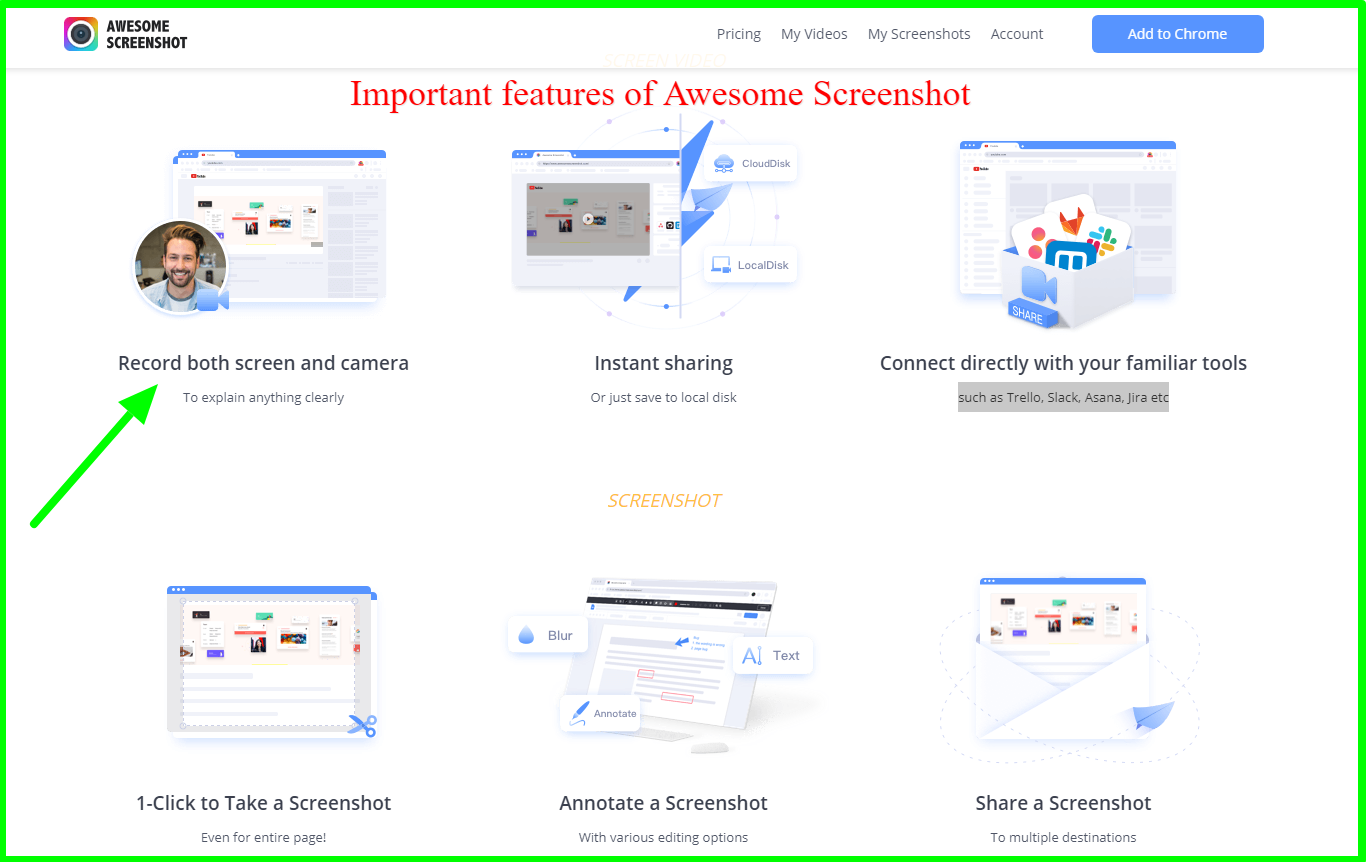 You can also download Awesome Screenshot from its website Here.
As you see in the above screenshot, I have added a border to stand out on the white background, arrow, and text to provide additional information to all my readers.
The best part is you can choose the color, font size, and different fonts to your Screenshot.  The free version is more than enough, but if you go premium, the paid version you can add emojis, and other cool stuff to your Screenshot.
You can also share your screen with Awesome Screenshot, and it has other features like: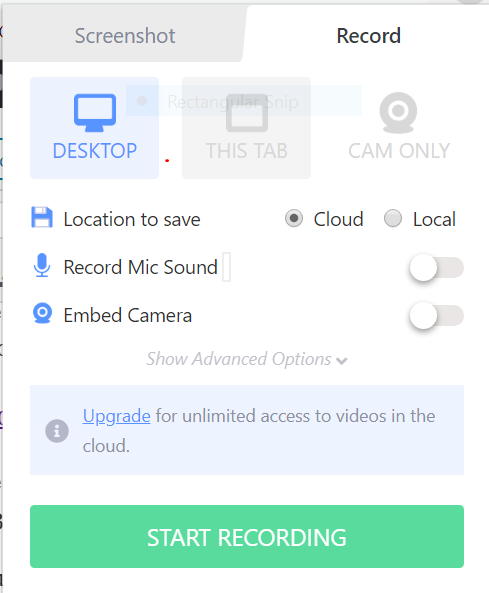 so its a very hand feature to either take screenshots or share your desktop or videos.
Monosnap:
Monosnap is another free tool for taking screenshots from Google Play.  It can capture desktop screenshots, fullscreen, and window.
It can screenshot a page as a whole or a particular area or visible content on your screen.  It can also take timed screenshots that means you can delay a screenshot for a few seconds.  You can also customize hotkeys according to your preference.
You can edit your screenshots like highlighting important details with arrows, pen, shapes, and text.  You can hide personal and sensitive information with the blur tool.  You can also resize and crop screenshots in Monosnap.
You can also video record with Monosnap.  You can record desktop, window, or browser with it.  You can also add audio to your videos and customize FPS.
You can log in to Monosanp to get 2 GB Cloud storage and AmazonS3 storage(Non-commercial and Commercial Plans)
Camtasia, Snag it, One-Click Full Page are some of the other tools available for Screenshots.  Snag it and Camtasia are paid version, offering seven days free trial.
Conclusion:
Screenshots are one of the important tools to add your content to give it authenticity.  By providing a Screenshot, you can get social proof of your content, and it helps to build trust with your audience.
Today it is not only important to tell but to show, with proof to your audience.  Screenshot can help you immensely by sharing testimonials if you are writing reviews.
You can make your tutorials more helpful by providing step by step screenshots.  Adding screenshots also help to break the long wordy article.  People like to see images, visuals, and it makes it more readable by cutting the lengthy article in small chunks.
A screenshot is a valuable tool available almost on all the latest devices, and that's why you will find that it is also available on all mobile devices too.  It not only helps in writing content but in our daily life even by taking Screenshot of any critical document, receipts, chat, and so on.
There are many tools available- Free & Paid, but most of the time, free versions are enough for most occasions, but some great tools like Snag it and Camtasia also comes with a paid version.
I prefer Awesome Screenshot because you can edit your Screenshot in many options like you can move around your text, can take many screenshots at a time, and each one opens in a new tab. So that it becomes easier to manage your screenshots.  You have different options for fonts and font sizes.
Screenshots are a must for every content creator as it makes life so much easier, providing me ample opportunities, especially when writing product reviews.
I would like to know your experience with Screenshots and any other free and paid tools that you wish to share with my readers.
If you have any suggestions & questions regarding screenshots or the mentioned tools,  pl let me know in the comments below, I will be glad to guide you in the right direction.
As always, if you find this article useful, do share it with your friends or Pin it for later read.