Today Social Media is huge, and without social media, it is next to impossible to survive in the online industry.
Social media platforms have not only grown in numbers but also in the importance, in perspective of creating a brand.
Social media helps immensely to create and establish a brand.  But where should we find our audience or how to target the audience for social media?
It is crucial to know where your potential audience is, without knowing where your audience is, all your marketing plans will not achieve success.
Will it help you or your brand if you come to know where your audience stays?  Definitely, it will help you immensely.
How to Target Audience for Social Media?
There are many tools which will help you to find out where your target audience is? Here we are using BuzzSumo.  You can also use ahrefs, bright local or any other tool.
 The first and most important step is to take a very broad term, which you want to research for the social medium platform.
I am a Reiki Practitioner, and I want to know where my target Audience is.  So I type the term in the search bar.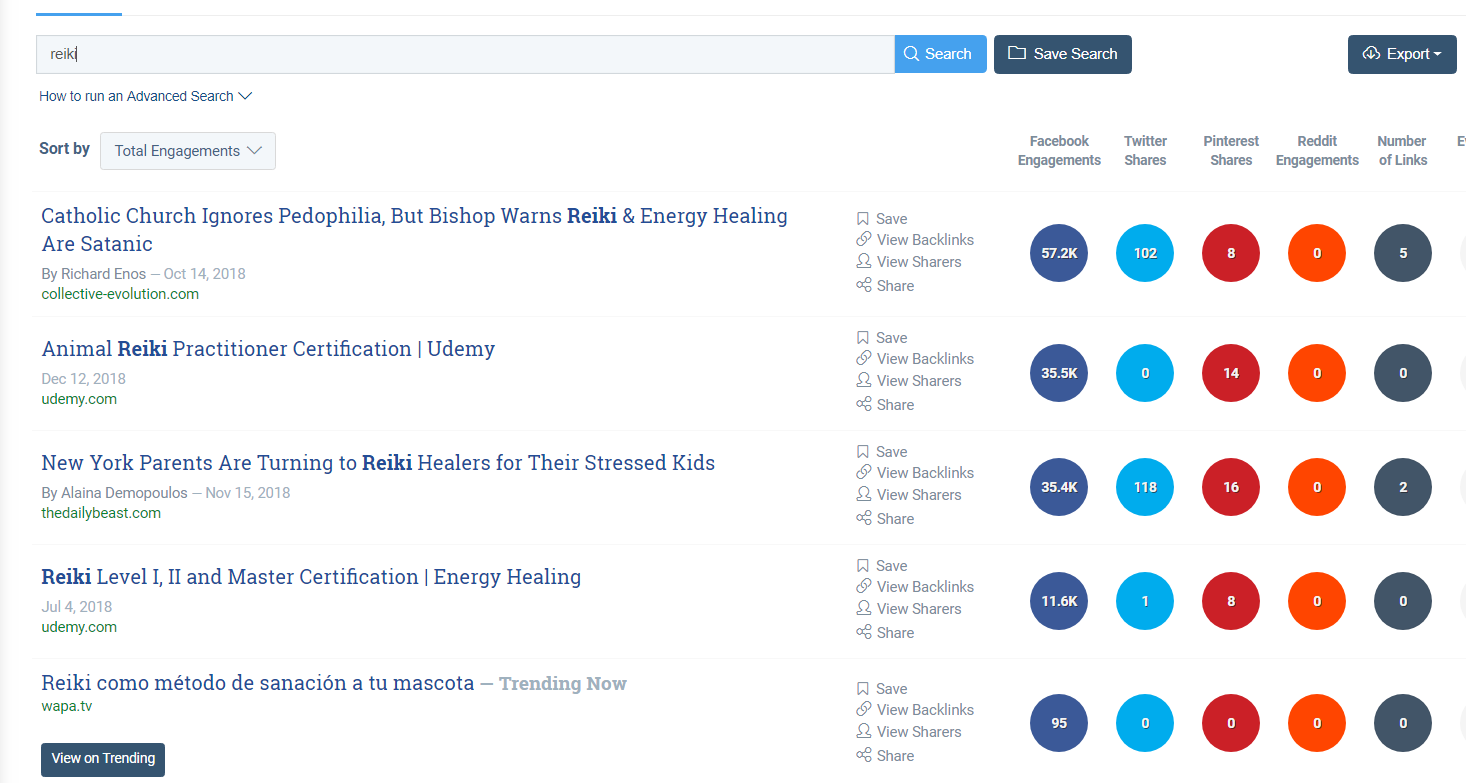 Here we have taken into consideration of Facebook, Twitter Pinterest, and Reddit.  So this result clearly shows that Facebook is undoubtedly the platform which I should focus on!  AS it shows the most shared content is on FB.
So my prime focus should be on Facebook, and the majority of audience for Reiki is on FB than any other platform.
Of course, you can even fine search by taking other matrices.
Let's see another example of affiliate marketing and affiliate Marketing for begginers.
Now bothe the terms are same, just I added Beginners, to see if it gives me any different result.
First search fo Affiliate Marketing for Beginners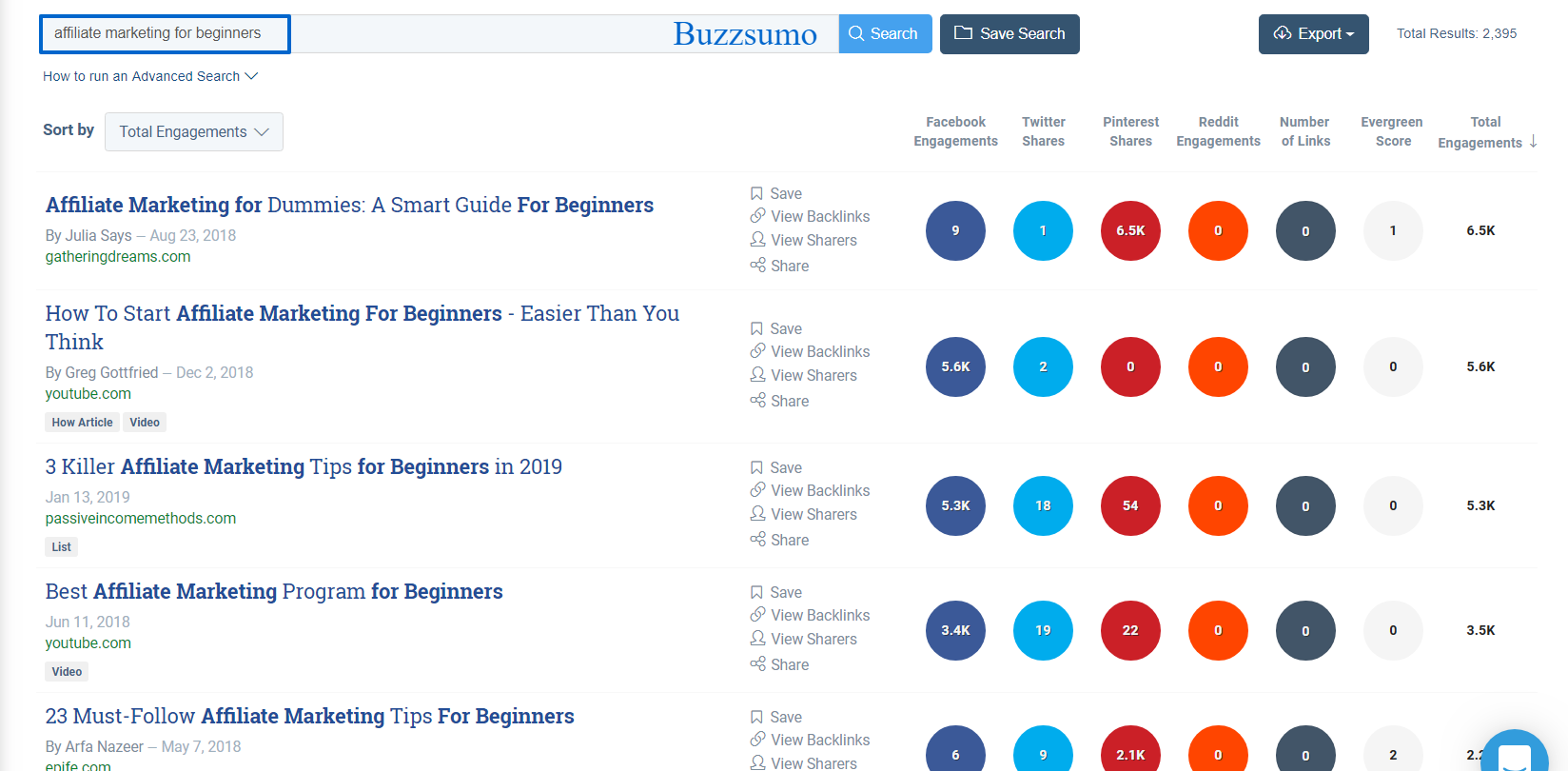 Surprisingly, Twitter has very few shares and most of the shares are on Facebook and Pinterest.  So you get to know that most of the content is shared on Facebook, you should leverage that platform for that particular niche.
Let's search for Affiliate Marketing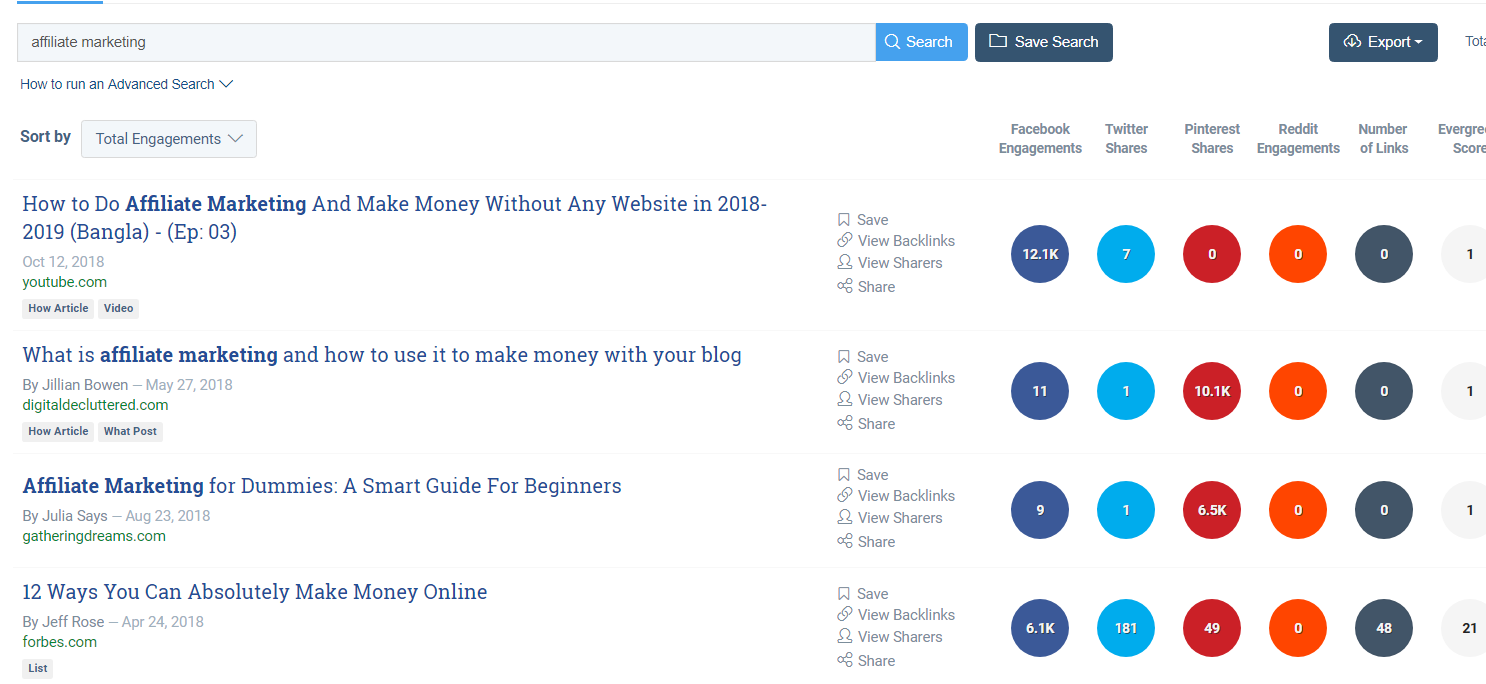 In this search, you will find that FB and Pinterest are popular platforms and Twitter is not that favorable platform for sharing the content on Affiliate Marketing
So this is one way to find out where your targeted audience on Social Platform.
2. Google Trends
Google trends is also a very useful tool to find out where the targeted audience is!
You can also find out the related keywords and related post for that particular keyword in Google Trends.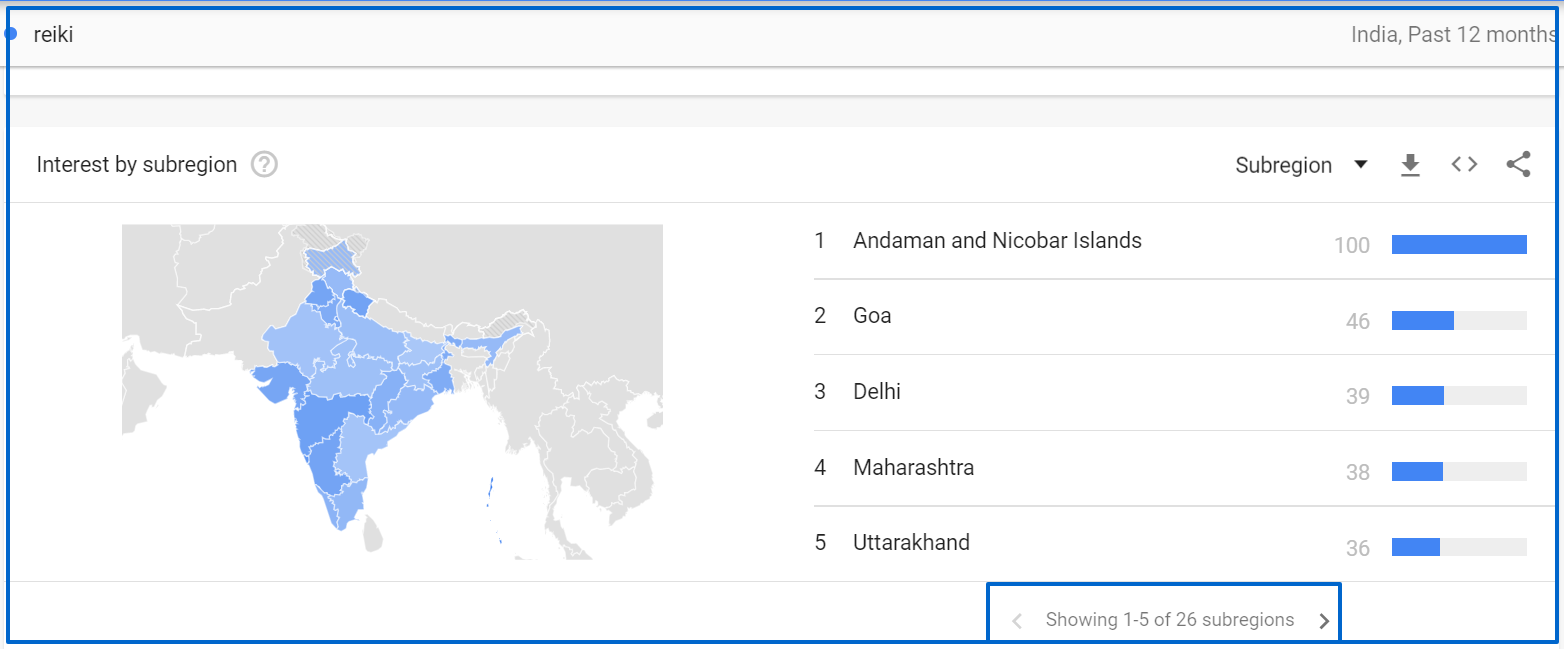 I have taken the same keyword Reiki, for India, now it is showing me all the states of India, and in which part the term Reiki is most searched.
So here you see Andaman and Nicobar Island on the first page, and now this result is quite surprising for me, Now this is totally new information for me and you can use this information in many ways1

Now Google Trends also shows me the Related topics and Related Queries, so you can leverage these topics for your next blog post.

Interest over time – In this segment google shows how is the people's interest in the topic over the years, this information is also useful, to decide whether you will continue with this keyword or not.
Now in this graph, you will see that Reiki keyword is pretty consistent from the last 12 months.
Google Trends and Comparison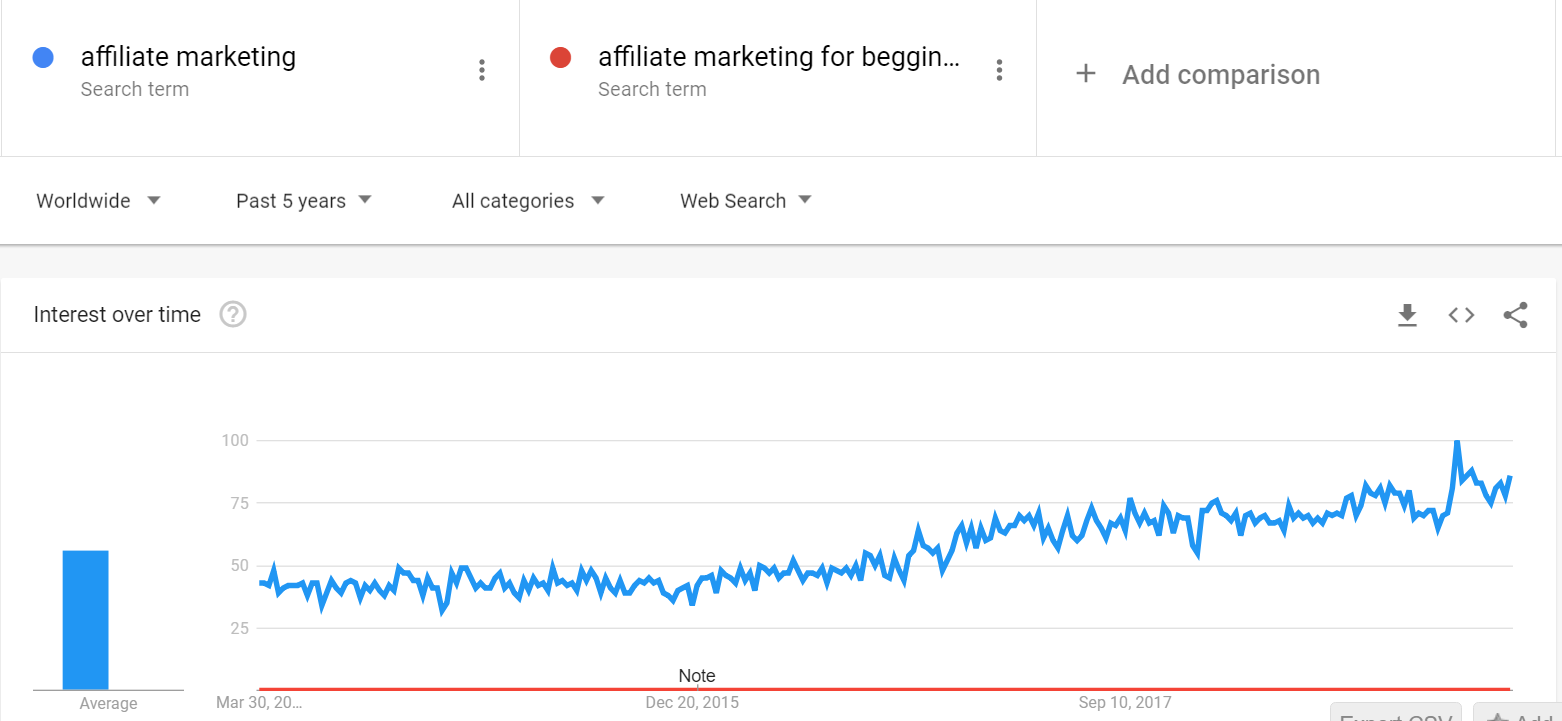 Google Trends comparison, is a great way to know which keyword is trending and here we can see that "affiliate marketing" is gaining popularity over the years.
YouTube
Youtube is the second largest search engine after Google, so you should target your audience on this platform.
Type your keyword in the search bar, and you will find related videos,  subscribe to the channels which have maximum views.
Interact and engage with the audience.
Facebook Groups
Once you find out where your audience is, the next step should be to join Facebook groups.  Head over to FB and type the keyword in the search bar.
It will show up all the groups regarding your keyword.  Now check all the blogs, and see how many followers each group has, more the merrier!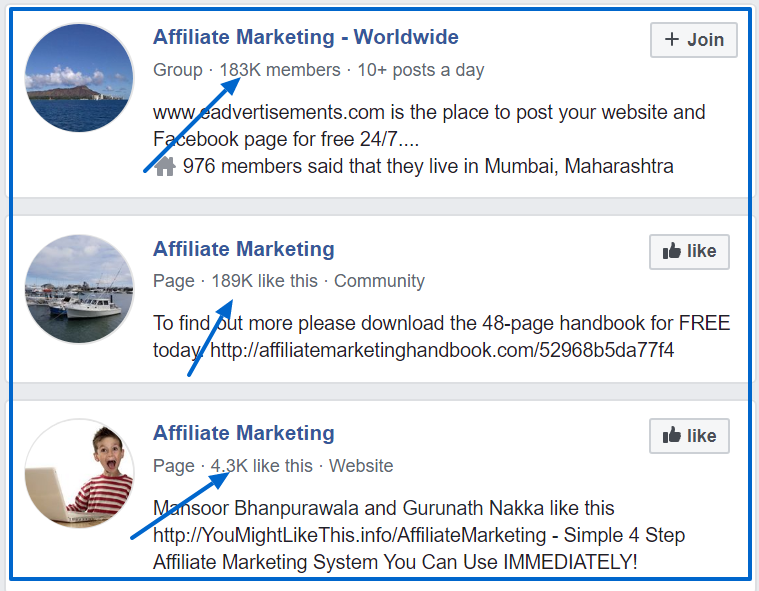 In just a single click I found these facebook group, which have more than 4 k members, now these are your targeted audience, join the group, and engage within the group.
Slowly you will be able to drive traffic to your site!
Quora
Quora is another great place to find a targeted audience.  Basically, Quora is a question-answer kind of platform, where you can ask questions and give answers.
You can create a feed for your keywords,or you can follow the feed like this one for Search Engine Optimization

Now this feed has 1.1million followers, and this is super targeted traffic!  You can join any number of the group, so join feeds and get engaged in it.
Pinterest and Instagram
These Two platforms are visual platforms, mean you need to connect with others through images and visuals.  But these two platforms has a vast capacity to draw the traffic to your site.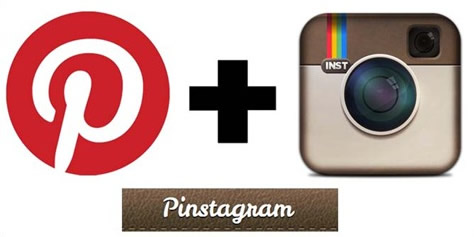 But as I said earlier, it is important to find out where your audience is, first find out where your audience is – be active and engage with your audience.
Use any of the tool mentioned above, to find out where your target audience is and leverage that platform.  You can use all of these social media platforms, as ignoring one of them is not advisable, but concentrate on one of the platforms which are ideal for your niche.
What is your way to find out your audience, and what are the other ways through which you connect with your audience?  Let me know in the comments below.  Also, let me know which is your favorite social media platform.
Watch this Live WAbinar: