In this third part of our series of Repurpose content, today we are going to discuss how to Repurpose Content for YouTube.  In the last two parts, we have discussed how to repurpose content for social media and email. Videos are huge today and are becoming more and more popular because of their visual format, at the same time it's very easy to consume videos and get all the information.
YouTube has grown over the years, and become the second-largest search engine after Google.  One of the major reasons it's popular is because it also offers you a way to monetize your content.  So you can actually a good amount of money by creating youtube videos. So how cool is that if you can create Youtube videos by taking the help of your existing content?   Let me show you how you can create Youtube videos from your existing content step by step.
What is Repurposing Content For YouTube?
If you are following this series, then you should know by now that repurposing content is an easy task and you can leverage it for creating new content.
you'd notice that we've talked about taking snippets of content from your existing blog posts, putting it up on social media, and then driving it back to your website that is really what the premise of all of this is.
If you are new to this series, then I recommend you to go through:
Repurposing content for Youtube means taking your existing content or blog and turn it into a video and uploading it to Youtube.
 How to drive traffic back to your website from a YouTube video?
 Well, in every single video that you upload on YouTube, there is a little description area in that description area, you have the ability to post hyperlinks, so post links that point back to your website. 
So in this particular case, if you were to do a video about a specific blog post that you wrote and turning it into a video in the description area, you can indeed have a link that points back to your website. 
And then inside the video, you can say, hey, don't forget to like comment, and share. 
Also if you want to read more about whatever you just talked about, there is a link down below in the description area.  And now you can add the link in the Youtube description, that goes directly to your blog post.  And in this way, you can drive more traffic to your blog post.
Steps to Turn Blog Posts into Videos
Now that we are clear that we are going to use our existing blog posts for creating Youtube videos, let's make it simple by creating simple steps that you will need to create a video.
When we write a blog post the structure of the blog post is somewhat like this:
Blog Title: H1                         
Subheading: H2
Subheading: H3
Subheading: H4
Conclusion
Now we are using all these headings and subheadings for creating video.
Your blog title can be a video tile.
All your subheadings can be different slides if you are doing a slideshow presentation and you can do it in Google Slides, Powerpoint, or even Canva.
It is as simple as it is. And then after you've created your video, you would be sharing the link to the video to all of those social media posts, Twitter, Pinterest, Facebook, Instagram.
So if you think about what you're doing here is, You are sending traffic, not only to your YouTube video but also to your website.
I have also created a worksheet where you can list all your articles and break down them into headings and subheadings, and thus help you to create more YouTube videos, Feel free to download it.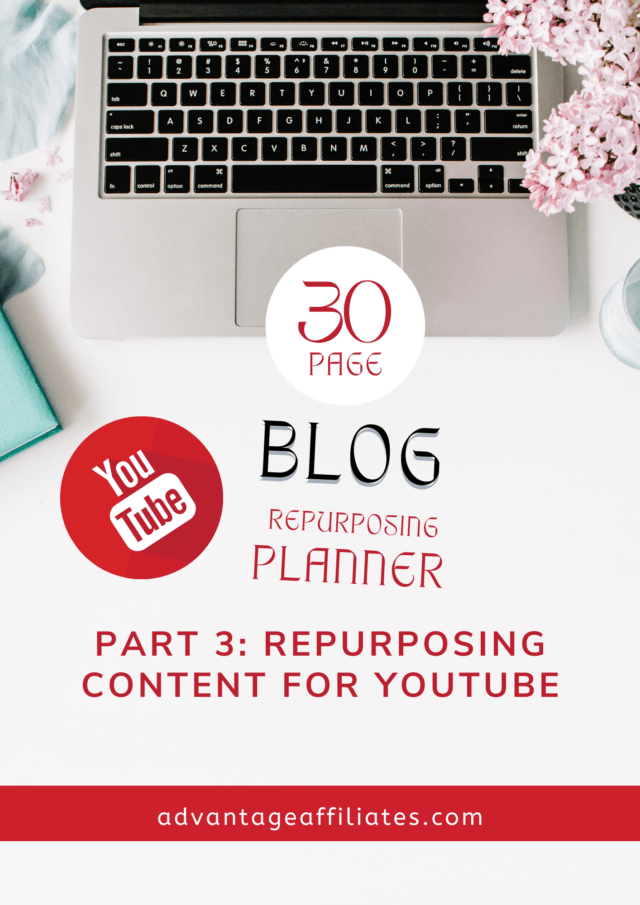 so the first round was doing it for social media so specifically, taking snippets of your content and turning them into social media posts, and then bringing them back to your website. 
Now, this step is turning your article into a video, taking content from your article and talking about it, using the subheadings and producing that video uploaded to YouTube, and then take, go to your social media accounts, share that video that goes back to YouTube all in those social media accounts. 
So you're essentially getting all this great amount of traffic, not only to the YouTube video but then it'll saunter over into your website.
And if you are not yet ready to create Live videos, you can always practice it in Zoom. In Zoom you can record yourself, and you do not need to post on social media or Youtube unless you become comfortable with the camera.
Going Beyond YouTube
One more benefit of creating videos is you can upload them not only to YouTube but also to Vimeo, Facebook, Tiktok, and Instagram.
If you want you can post your videos under "unlisted" so that it becomes visible only to a specific group of people, with whom you have shared the link.
So if you want your content for a specific group, you can do that On YouTube and Vimeo.
Conclusion:
Creating new content can be difficult sometimes, and if you are facing this issue repurposing content can be a great option.  
Instead of creating a new piece of content from scratch, you can create different pieces of content using your own existing content.
You can turn your existing content into small pieces and use it for sharing on social media, or for email marketing, or even for creating new Youtube videos.
The best part is by following this method, you are creating a great amount of content just by a single article.  
A single article can be divided into small pieces of content and shared on social media, emails, and on Youtube can drive a targeted audience to your website.
You can embed your YouTube video on your website and thus drive traffic from Youtube to your website also.
So either way, you are getting a lot of traffic to your website and YouTube Channel.  So I hope you like this article and if so do not forget to share it with your friends.
And if you have any questions or suggestions pl let me know in the comments below.
Free Resources for This Article: