Canva is one of the most popular platforms for image creation.  I am not an expert but quite often I use canva for image creation and image editing.  Canva is a place also to create your great images.
once you login to your account through Facebook or using other social media credentials, on the left side you will see a basic menu bar, full of series provide canva for free.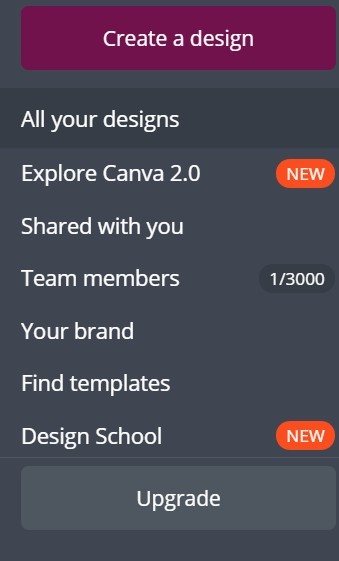 on the left side you will see a left sidebar with different navigations.  Let's see how to navigate canva.
All Your Designs- It is the place where all your designs are stored and you can say it is the desk of Canva, where all of your designs are visible.
Explore canva 2.0: This is a new version of Canva, and if you want you can always checkout with this version of Canva.  Almost all the features are the same, but using download images in the new version is a time-consuming task.  Whenever you want to see your uploaded images, you have to scroll images for an unlimited time.  As in this new version new images get continuously scroll, which makes it difficult for any old images you might have uploaded.d
Shared with you
It's a great feature of Canva, where you can share your images with others.  You can create your own team and share your works with other members.
Team members
Team members are the people you are allowed to invite and make them your team members.  You can make up to 3000 members.
Your Brand
Today to create your own brand for marketing is a must thing, Canva lets you upto 3 colors for your brand palette.  You can then consistently used these colors in your brand.
Find Templates
It's a great resource of templates that can be used for any occasion.  It is very important, to have a template ready for every occasion.  You will literally find templates for any and every occasion.  Just select the template and add your image and details to create a stunning image for free.
Design Schools
It is a section for tutorials on canva.  If you don't know how to create your images, here blogs also videos are available to teach you all about canva.
Canva Interface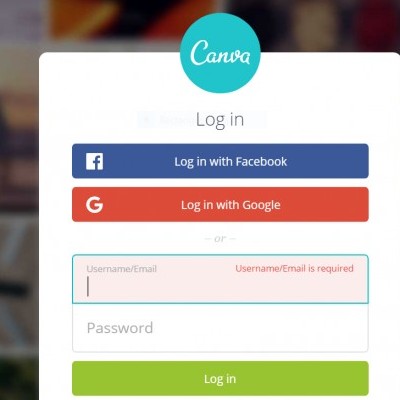 In the canva workplace, you will come across the following tools, let me explain one by one.
Search – Canva has images for your designs, you can create your designs using these images, you will find free as well as paid versions of the images.
layouts are the pre-designed templates that you can use and tweak to form your own designs. It is very easy to create your own images this way.
elements
these are little add ons like different fruits, flowers and so on which you can add to create your greeting cards or other designs.
text
you can add different fonts and text blocks to create your stunning text quotes.
background
you can change background colors with a click.  so very helpful feature to create different images with different backgrounds.
Uploads
You can upload your own images to canva, create stunning designs and download it in any format png, jpeg, PDF.
On the vertical bar, you will find the File menu where you can resize your images, but it is a premium feature.
Resize separate menu navigation for it.
Undo
undo and redo features are really helpful when creating designs, without these features it will be a waste of a ton of time.
Help
You can ask any questions regarding any designs or if you stuck somewhere help is available. in chat form
Share is another great feature of canva where you can immediately share your designs on Facebook Twitter and some email options are there to send email to particular persons.
It is a great way to keep connected with social media.  Mainly visuals are the post that receives the most engagement.  so creating engaging images is of utmost importance.
Pl let me know your experience with canva, I am sure you must have used canva or would be glad if you share some images you created with my audience and me.
If you have any questions let me know in the comment section below, I will be more than happy to answer them.